The Nightly Turbo: Partouche Poker Tour Update, Boxing and Poker, and More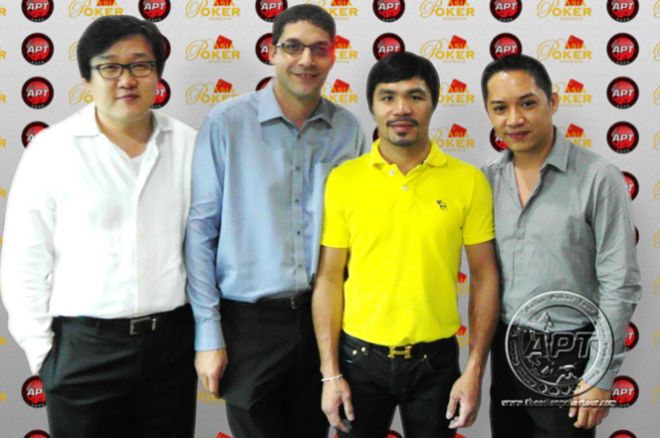 We know you want to get your weekend kicked off just as bad as we do, so we're going to get straight to the point today. First we'll give you an update from the Partouche Poker Tour, then we'll tell you what Manny Pacquiao has to do with the Asian Poker Tour, and after that, we'll sprinkle in a few other news.
In Case You Missed It
We know you miss the PokerNews hostesses when there aren't live tournaments running, but we've remedied the situation this week. Kristy Arnett and Sarah Grant discuss the top poker news stories in the newest edition of the PokerNews Weekly.
You get daily recaps of the PokerStars World Championship of Online Poker, but what about the high-stakes online cash games? Don't worry, not everyone is grinding tourneys, the Online Railbird Report has the scoop on the heavy hitters.
On Day 12 of the PokerStars World Championship of Online Poker, Shane Schleger added his name to the list of Team PokerStars members to win a gold bracelet. He wasn't the only one to win a bracelet though, read our daily WCOOP recap for all of the results.
Who are you going to start on your fantasy team this week? Should you bet that team with that spread? The Pigskin Diaries attempts to help you out for week two of the 2011-2012 NFL season.
There's has been a bit of controversy surrounding poker player Michael DiVita and the Epic Poker League. We sat down with DiVita, and EPL's Standard and Ethics chair Stephen Martin, to get their stories.
*Photo courtesy of TheAsianPokerTour.com
Une Mise à Jour (an update)
Our French is getting better. If the Partouche Poker Tour Main Event doesn't end soon, we may be writing the Nightly Turbo in French every night — not. Day 4 of the PPT began with 47 of the original 579 entrants.
It was a bad day for start-of-the-day chip leader, Juan Maceiras he began the day in the "penthouse," but was eliminated in 36th place, taking home €20,000. Ludovic Lacay, who began Day 4 second in chips fared a little better. He has moved on to Day 5, but bagged up the third-shortest stack in the room — 365,000.
Sam Trickett (512,000), Juha Helppi (366,000), and Will Failla (775,000) are also part of the 18 who moved on to Day 5.
The €5,000 buy-in heads-up event also kicked off on Friday at the Partouche Poker Tour in Cannes. Thirty-two players entered, including Phil Hellmuth, Sorel Mizzi, Alex Kravchenko, Olivier Busquet, Daniel Cates, James Bord, Andrew Feldman, Jake Cody, and JP Kelly.
To find out who advanced in the heads-up event, check out the PPT chip counts.
PartouchePokerTour.com has all the updates from the Main Event.
Let's Get Ready to Ruuummmbbblllleeeee!
Manny Pacquiao and the Asian Poker Tour are joining forces. From Dec. 7 through 12, the APT is holding Manny Pacquiao World Poker Event at the Pan Pacific Hotel's Asia Poker Sports Club in Malate, Philippines. The deal was signed last week, and will become an official APT Accredited Event given the approval from the Philippine Amusement and Gaming Corporation.
"The APT is obviously proud to be ensuring its popular and trusted protocol is followed at the Manny Pacquiao World Poker Event. I'm sure it will be a pleasure working with such a respected personality as Manny and we're looking forward to seeing a large turnout come December 7," said APT tournament director Lloyd Fontillas.
Pacquiao, who is a ten-time world boxing title holder, is a supporter of poker in the region. The event will feature a PHP 500,000 High Roller, PHP 11,000 Pot-Limit Omaha event, and PHP 50,000 buy-in Main Event.

If you want to find out more, check out TheAsianPokerTour.com.
It's Tiiiimmmmeeeee
Was there ever a day we thought we'd use both of Buffer's catchphrases in headlines in the same piece? No, but it happened. There are two big fights going down this weekend: Floyd Mayweather is fighting Victor Ortiz, and Jake Shields and Jake Ellenberger are headlining the UFC's Battle in the Bayou.
You may be concerned with those fights because you plan on dropping serious dough on them, but you should also know that fellow poker player Terrence Chan is making his fighting debut at Battlefield Fight League 11. The fights take place Sept. 17 at the Vogue Theatre in Vancouver, B.C., Canada.
Chan was busy cutting weight on Friday, but for the last few weeks, he's been answering questions in a TwoPlusTwo thread dedicated to his fight.
To find out more about the Battlefield Fight League 11 card, check out BattlefieldFight.com and you can read about Chan's MMA journey on his blog.
LGA on LockPoker.eu
Last month, the Lotteries and Gaming Authority of Malta announced that LockPoker.eu had "no connection whatsoever with the Authority" and the LGA logo on LockPoker's website was "false and misleading."
The LGA issued another announcement regarding LockPoker on Thursday, clarifying some things.
"Lockpoker.eu is a website which has now been notified to the Authority as an intermediary of Alfard Malta Ltd (holder of a Maltese Remote Gaming Licence LGA/CL3/694/2010) which is to be operated on the Merge Gaming Malta platform (holder of Licence LGA/CL4/693/2010). Although duly licensed in Malta Alfard Gaming Ltd does not yet have the authorization to go live from Malta as currently Merge Malta Limited is in the process of finalising its technical setup in accordance with the Maltese Regulations, a process to be concluded shortly."
"The Authority, however, denies spins by certain sections of the media. This was a case of having failed to notify the Authority of an intermediary arrangement in a timely fashion. The Authority, ever vigilant in the public interest, took immediate action as it does in all similar cases, irrespective of the nature of the infringement."
It seems as though it was all a misunderstanding.
Read more at LGA.org.mt.
Follow us on Twitter for up-to-the-minute news, tell your friends about us by "liking" the Nightly Turbo, and while you're at it, sign up for the newsletter below.