The Nightly Turbo: Peter Eastgate Auctions off WSOP Bracelet, APT Macau Crowns Winner, and More

Elaine Chaivarlis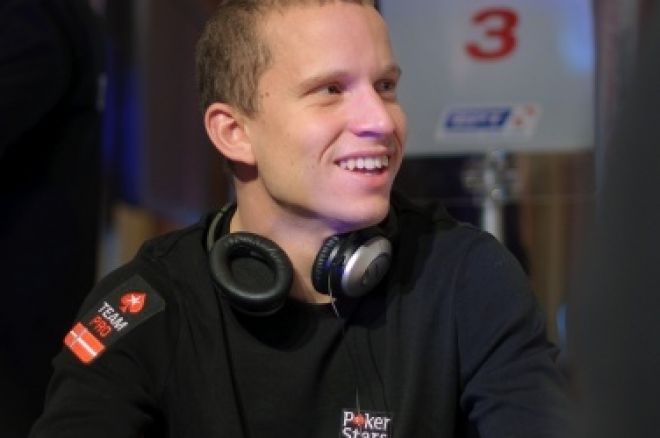 A week after Jonathan Duhamel was crowned 2010 World Series of Poker Main Event champion, taking home the coveted bracelet (not to mention $8.9 million), a previous WSOP Main Event champ is putting his bracelet up on the auction block. Who is it? Well, if you read the title, you already know, but we'll give you the scoop on that, the new Asian Poker Tour winner, and much more in tonight's Nightly Turbo.
In Case You Missed It
The PokerStars.net North American Poker Tour Los Angeles is in full swing. The money bubble has burst and 81 players will make their way back for Day 3. Who's left? Find out in the Day 3 NAPT LA recap.
The PokerStars.net Asia Pacific Poker Tour Cebu Final Table is set. Check out the APPT recap for the chip counts and how the final nine got there.
Kristy Arnett checked out Jon Turner's grind station and discussed some tips for playing poker for a living, oh, and why there's a huge hole in his door. Watch the latest edition of the Sunday Grind for more.
Sunday was a busy day for the online poker tournament scene with the regular tournaments running, as well as the FTOPS. Find out who some of the biggest winners were in the Sunday Briefing.
This year, Team PokerNews took part in ESPN's Poker Pick'em. How'd we do? Take a look at the 2010 November Nine ESPN Poker Pick'em Competition to find out.
For Sale
Want to own a part of poker history? You could always bid on the 2008 World Series of Poker Main Event bracelet. Yes, you read that right. Peter Eastgate is putting his bracelet is up for grabs in an auction on eBay. "Well, it was just lying around collecting dust," Eastgate said.
Now don't go thinking he's doing this for his own profit; he's not. He's donating 100 percent of the money to UNICEF.
"Of course, I am still extremely proud of my title to this day. But the bracelet itself, I am never wearing, since I really don't wear any jewelry. So I thought that by giving away the bracelet and watches, a lot more people will hopefully be able to benefit from the items."
The starting bid for the bracelet is $16,000. He is also putting up two watches he wore for the auction, as well.
"I hope that the auctions will attract a lot of people. Every new bid is a help for the less fortunate children helped by UNICEF," he said.
Want to bid? Head on over to Ebay.
APT Macau Champion Crowned
The nine-day Asia Poker Tour Macau Festival kicked off on November 6 and among the events was the HKD 35,000 buy-in Main Event. It attracted 161 players including Tom Dwan, Phil Ivey and John Juanda.
It wasn't one of the big guns who came out on top, however, it was 18-year-old Zhang Dan Peng. Zhang is the first-ever Chinese champion of the APT Macau Main Event. Just six months after taking on poker, he now has HK$1.678 million, or $215,000, to add to his bankroll.
"I'm incredibly happy and really, really lucky to have won in my first tournament, especially as so many great players were here," Zhang said. "I joined APT Macau to accompany my friend who lost, but I managed to progress. I honestly had no expectations before the final table and would have been happy with any result."
TheAsianPokerTour.com has more.
All In for CP
The third annual All In for CP charity poker tournament will be taking place December 11 at the Venetian Hotel and Casino. The $550 buy-in/$200 rebuy tournament benefits the One Step Closer Foundation, which aims to ease the lives of those affected by cerebral palsy.
Expected to attend are Cheryl Hines, Jason Alexander, Mekhi Phifer, Sam Simon, Montel Williams, and Donnie Wahlberg, among a slew of poker players.
If you want to find out more on the event or register, head on over to AllInForCP.com.
Advice for the Young Guns
Just days after 23-year-old Jonathan Duhamel won the 2010 World Series of Poker, Victoria Coren takes a look at young poker professionals in her latest article for The Guardian.
"If you still imagine poker as an outlaw pastime for old men in dusty back rooms, you should get out more. Following the internet revolution, a new generation is growing up with poker as a serious career choice," she writes.
She goes on to discuss how most parents aren't usually excited when their child comes to them and says he or she want to pursue a living playing poker, and she recounts her own experience telling her father she'd won a £14,000 in a tournament.
She also offers advice to the young poker professional, saying, "If you're any good at the game, you can play for tiny stakes and spin them up into large amounts. A clever player doesn't buy into these huge tournaments, he (or she) will win their ticket for £10 in an online competition. A clever player doesn't chase rainbows, but saves for rainy days."
Guardian.co.uk has more.
Ready! Aim! Fire!
If you bust from a tournament, it's always nice to be in an awesome location like Cebu, Philippines. It also doesn't hurt to have fun things to do while you're there. Lynn Gilmartin caught up with some poker pros who didn't have much luck at the PokerStars.net Asia Pacific Poker Tour Cebu on excursion to shoot BB guns in a tropical rain forest.
Like us on Facebook, and follow us on Twitter for up-to-the-minute news.
For a limited time, you can get 30 percent back (up to €10) on your first MoneyBooker's Deposit, exclusive to Club PokerNews. But hurry, only the first 250 sign-ups will get in on this great promotion.