Phil Hellmuth's Hold'em with HospiceCare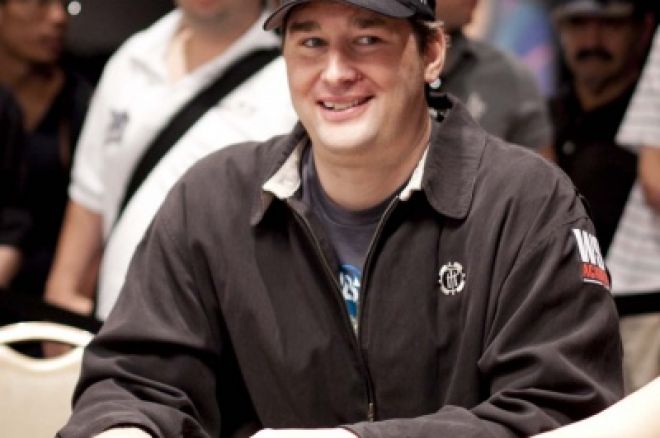 Phil Hellmuth has been in the news recently because of his split with UB; however, before that happened he used his celebrity for a great cause in a charity event called Phil Hellmuth's Hold'em with HospiceCare. On Saturday December 18, 2010, I had the opportunity to attend the event, which happened to be just down the road in Madison, Wisconsin, Hellmuth's hometown. The poker event, which was sponsored by UB.net and Baker Tilly, was designed to raise money for a great charity in HospiceCare.
As the flyer states: "Since 1978, HospiceCare Inc. has worked to bring exceptional end-of-life care to patients and their families. We serve more than 650 patients each day throughout south central Wisconsin. HospiceCare's goals, such as enhancing the quality of our services and expanding our reach to all those who need us, are supported by Phil Hellmuth's Hold'em with HospiceCare."
When I arrived, I picked up my media pass and made my way up to the tournament area in the penthouse. I was immediately taken aback at the setup. Simply put, it was amazing and much more professional than I expected. There were decent poker tables, a silent auction, a VIP area, two bars, a buffet, and much more. As I made the rounds, I began taking note on the various poker players in attendance. Aside from Hellmuth, I spotted 2009 Player of the Year Eric Baldwin (who also hails from Wisconsin), UB pros Mark "P0ker H0" Kroon and Gary "Debo34" Bebanardi, Shawn Rice, David Plastik, Dixon Ruecker, Jon Green, Morgan Machina, and 1998 WSOP Main Event fourth-place finisher Dewey Weum.
In addition to professional poker players, the charity event also drew a slew of national and local celebrities including Olympic gold medalist speed skater Casey Fitzrandolph, PGA professional Jerry Kelly, NASCAR professional Matt Kenseth, Radio personalities Johnny Danger & Van Edwards, NBC-15 News Anchors Leigh Mills & Charlie Shortino, former UW Badgers football head coach Barry Alvarez, and former Madison mayor Paul Soglin.
I actually had the opportunity to play in the tournament and had a lot of fun. I thought it ironic that on the very first hand I looked down at
, the same hand Hellmuth had when he won the 1989 World Series of Poker! Unfortunately I wasn't so lucky and lost that hand to
, dropping me into an early hole; in fact, after just three hands I was down to 6,550 from the original 10,000 starting stack.
I managed to grind back to even when Jon Green was moved to my table. In one hand, he limped under the gun and action folded around to me in the small blind. I limped with
and the big blind checked his option. The
flop gave me top pair but I opted to check, as did the big blind, and Green bet 500. I made the call, the big blind folded, and I checked in the dark. Surprisingly, Green bet 3,000 in the dark. The dealer then burned and turned a
! I had hit two pair and moved all-in. Green, who only had 2,000 behind, called with his
and was left to rebuy when a
hit the river. ($200 rebuys for the first six levels was offered in an attempt to help raise money for HospiceCare - and there were a lot of rebuys)
I ended up playing for a couple more hours, with Phil Hellmuth Sr. to my immediate right, but was eliminated after the blinds ate away my stack. I later heard that Hellmuth Sr. managed to make it all the way to the final table. Not too shabby considering there must have been around 240 players in the tournament. Even more impressive was that Mark "P0ker H0" Kroon went on to win, quite the amazing feat for a pro to emerge victorious in a charity event full off amateurs.
In addition to the tournament, there was a raffle held for some great prizes. Some of the prizes included heads-up matches against Hellmuth and a custom-made autographed poker table, but the two big prizes, a two-year lease on a Zimbrick Honda Accord LX and a seat to the 2011 World Series of Poker Main Event, were won by Art Luetke and Joe Anderson respectively.
All told Phil Hellmuth's Hold'em with HospiceCare raised nearly $140,000 for patients and families of South-Central Wisconsin. It was a great event that had the energized the Wisconsin poker scene. Hopefully it'll become an annual event because anytime poker can be used to raise money for a good cause, everyone wins.
For all the latest happenings in the poker world, be sure to follow us on Twitter and like us on Facebook.
Executive Editor US, PokerNews Podcast co-host & 2013 WSOP Bracelet Winner.