Hellmuth to Hold Charity Event to Benefit HospiceCare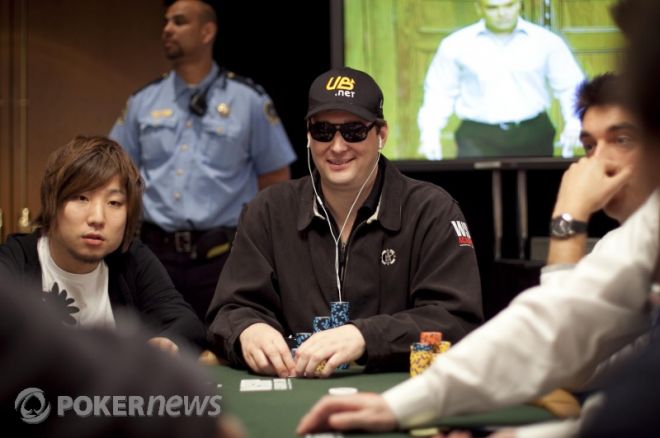 On Saturday, December 18, 2010, Phil Hellmuth will return to his native Madison, Wisconsin, to host Phil Hellmuth's Hold'em with HospiceCare. The full-day charity event is being conducted to help raise money for those served by HospiceCare Inc., South Central Wisconsin's premiere nonprofit hospice providing support for more than 650 area patients and families each day.
Phil Hellmuth's Hold'em with HospiceCare will feature food, entertainment and a poker tournament emceed by "The Poker Brat" himself. In addition, a silent auction and raffle will offer an array of exclusive opportunities and fabulous prizes, including a two-year lease of a 2011 Honda Accord LX automatic and seat in the 2011 World Series of Poker Main Event, worth $10,000. To top it all off, players who make the final table of the charity tournament will have the opportunity to go head-to-head with Hellmuth to test their poker skills.
Not only will attendees get the chance to meet Hellmuth, but they'll also be able to mingle with other local celebrities from the Madison area such as Brett Bielema, Matt Kenseth, and Jerry Kelly. All the while, proceeds from tickets sales and the silent auction will go to benefit a great cause in HospiceCare Inc., a nonprofit, community-based hospice dedicated to providing physical, emotional and spiritual support to patients and families dealing with life-limiting illnesses in Dane, Green, Jefferson, Rock and Walworth counties.
The event is expected to draw more than 500 players from across the Midwest. One such player is Hellmuth's fellow Madison native and UB pro, Mark "Poker Ho" Kroon, who expressed his excitement in his blog:
"Recently I signed up to be part of a committee for an upcoming charity poker tournament, to be held here in Madison. Its going to be held on December 18th of this year, and so fat it's really shaping up to be a nice event. UB's very own Phil Hellmuth is hosting the event, along with other celebrities local to Madison, and some not . . . It's amazing how many people's lives have been touched by Hospice Care and it is really great knowing I will be able to help. Our goal is to raise at least $500,000 for Hospice Care. The event promises to be a ton of fun, with a VIP area, celebrities, raffles for amazing prizes, and much more. If anyone wants to be a part of this as either a player of volunteer, feel free to find me at the tables and let me know. There are plenty of opportunities to help or play."
There are a number of ticket options available for those wishing to attend, with each package providing its own special perks.
VIP tickets: $500/person
Includes food, entertainment, poker playing, VIP room access (exclusive room for celebrities and VIPs to relax in during breaks, specialty drinks and food) and one re-buy in the tournament
Poker tickets: $300/person
Includes food, entertainment and playing poker
Entertainment tickets: $100/person
Includes food and entertainment only (available closer to date of the event)
Some tickets still remain for the poker, food, entertainment and fun that will run from 3 p.m. until midnight in the penthouse of Arbor Gate, 2501 W. Beltline Highway in Madison, Wisconsin. For more information, please visit hospicecareinc.com, www.holdemwithhospice.com or contact Liz Kopling at Liz.Kopling@hospicecareinc.com. You can find more information on Facebook.
Phil Hellmuth's Hold'em with HospiceCare has positioned itself as one of Wisconsin's premiere poker events and it is highly anticipated. Of course, it wouldn't be possible without the help of both local and national businesses such as Adams Outdoor Advertising, Arbor Gate, Bob Armstrong, Baker Tilly, Bonfyre American Grille, Clear Channel Radio, Coors Light, McDonalds, Miller Lite, Mortenson Realty Group, NBC-15, Ultimate Bet, and Zimbrick Honda.
Sign up to Everest Poker and earn 25 Summit Points to play in our exclusive €3,000 freeroll to the 3 Lander Poker Tour Grand Final at Montesino Pokertainment Centre in Venice next month.