Poker PROductions' Mori Eskandani Talks Poker After Dark Relaunch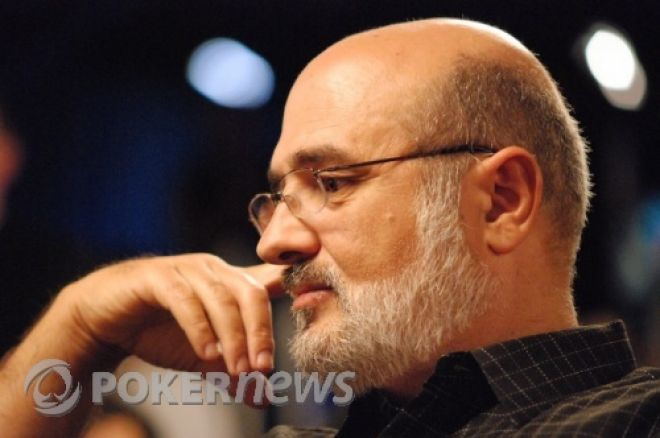 The week kicked off with some big news about poker on television, namely that Poker After Dark would be returning to the air. Beginning on March 5, NBC Sports Network, previously known as Versus, will air five 24 unaired episodes over five weeks, including four weeks of a cash game and one week (six episodes) of a sit-n-go.
The announcement made waves in the poker world and inspired a lot of questions. PokerNews reached out to Mori Eskandani of POKER PROductions, the company behind shows like PAD and the NBC National Heads-Up Championship to find out more.
Can you confirm that Poker After Dark will be returning to NBC Sports Network in March?
It sure is, and obviously we're all excited. It's nice to have these shows stay on the networks and stay in the public eye, especially Poker After Dark, since it's such a big franchise. So, yes, it is coming back to NBC Sports Network. They'll start this March 5. They have a late-night block of games, so it'll show at midnight for one hour, and just like before, you'll see it Monday through Friday and then the Director's Cut on Saturday.
Why did NBCSN decide to air these now?
This didn't go away, it was only taken off in September, so it hasn't been a year since it's been off television. There are so many dark clouds right now over poker. I certainly don't want to put my flashlight back over the dark clouds, but I'm sure sooner or later [networks shying away] will be lifted and it will be business as usual.
The show is coming back without the sponsors, that's one requirement they had. All we want to do is put our shows back on TV, and I think it's good for the industry, for sure.
You say that the show will be back without the sponsor, which was Full Tilt Poker. Does this mean that the logos will be digitally removed from the table, players, etc.?
There will be no more branding on the table. No one sponsors the players except the players, so they're pretty much stand-alones. If we talk about the show itself, any signage is gone.
What can viewers expect to see when PAD is back on the air?
The show is coming back, and all the HD shows are the ones they're going to re-air. They'll start off with a lot of reruns. They're still trying to work out what is the best way of bringing back five weeks of unaired shows that were supposed to be on NBC last year.
We never got to see them, so they're planning to see about bringing those episodes back. When is the best time? What basically creates the most viewership? They haven't made up their minds for the new shows, but they will air.
So come March, reruns will be aired at first?
Yes, come March 5, if I'm not mistaken, it probably starts with the $100,000 Sit-n-Go that had John Juanda, Erick Lindgren, Phil Galfond, Huck Seed, Tom Dwan and Phil Ivey, so it will start with that and the order will go with however they line it up. Obviously you'll know every week what is coming the next week. Again, the new shows, which I'm sure all of us want to watch, they haven't made up their minds as to the best plan of attack.
Are you able to tell us which players will be featured on the five weeks of the unaired cash game and one week of the sit-n-go?
All the big names that you know from Patrik Antonius, Phil Ivey, Tom Dwan, Eli Elezra, David Oppenheim, Phil Hellmuth, Andy Bloch, Justin Smith, they're all there, and Annette Obrestad — we've never seen her play cash game — but she'll play the cash game.
When were these shows shot?
These were all shot in 2010, so it's been a long while, but cash games never die. We all want to watch them no matter when they were shot. I'm just happy that NBC has given us the opportunity to bring the show back, that's obviously important to us, and who knows what the future holds. Hopefully there will be many more Poker After Darks — new ones — shot and aired.
Are you saying that there is a possibility for new episodes of Poker After Dark if these reruns and unaired episodes are successful?
One thing is for sure, it can't hurt [if they're successful]. If a show goes off the air, that's not good. It's always been well received by the poker community. We always try to make entertaining groups [of players], put the right lineup together, and we know the cash games are getting high accolades from the community. So people realize that. They understand the value of that, but once it's off the air, it could be off their mind. Now that it's coming back, they can go back and revisit.
Like I said, I don't want to speculate, but I am always confident. I feel like in a year or so, we're going to see a whole bunch of shows coming back, and hopefully even better than before.
Is there any hope of bringing back the NBC National Heads Up Championship?
Is there any hope? I would say there's a 90 percent chance it will play in 2013. That's a very fun event and I know it's going to be sorely missed this year, but it's coming back. All these shows are coming back, it's just that things got murky out there, and like I said, all of a sudden there were dark clouds up there. I know it's still there and all of us are hoping it'll go away. I'm confident, I have a lot of faith in our justice system, and I think things will get worked out.
Is there anything else you'd like to add?
Mainly, I just want everyone to stay positive. I think poker's not going anywhere, the game itself is so great that if we in the industry stay positive and give it the right light, it'll come back. It generates a lot of money, generates a lot of excitement, and I just don't see what has happened over the last year as a hurdle that can't be overcome.
Stay up to date on all the latest news by following us on Twitter and liking us on Facebook.