Republican Presidential Race Could Determine Fate of Online Poker Legislation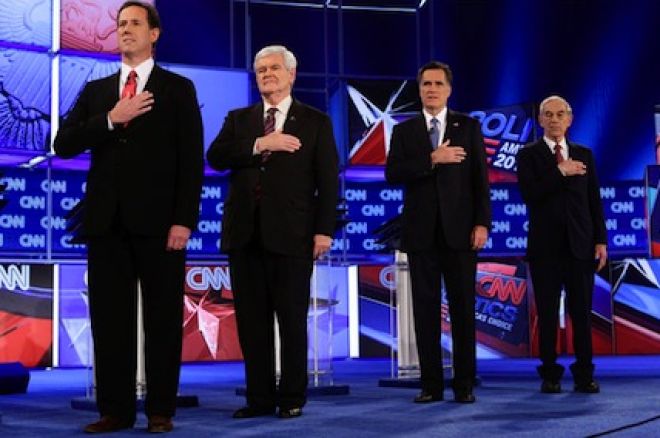 The battle for the Republican presidential nomination will intensify over the next couple of weeks and could affect the possibility of legislation to license and regulate Internet poker passing through Congress this year.
One candidate is likely to emerge as the clear frontrunner for the nomination on March 6, also known as Super Tuesday, when 10 states vote on who will get their delegates.
The race is down to four candidates. With eight states having already voted, Mitt Romney has the lead with 123 delegates to Rick Santorum's 72, Newt Gingrich's 32 and Ron Paul's 19.
The frontrunners, Romney and Santorum, have both come out against Internet gambling.
Leading up to the Nevada Caucus at the beginning of this month, journalist Jon Ralston interviewed each of the candidates for his local NBC show called Face to Face. With gambling a key issue in Nevada, Ralston asked each candidate about his position on Internet gaming.
With 1:45 remaining in this video, Romney is asked if he is a supporter of legalizing online gaming. He responded: "No, no I'm not. Gaming has a social effect on a lot of people. I don't want to increase access to gaming. I feel that we have plenty of access to gaming right now through the various casinos and establishments that exist."
Santorum took an even harsher stance with 15 minutes remaining in this video, saying: "I'm someone who takes the opinion that gaming is not something that is beneficial, particularly having that access on the Internet. Just like we've seen from a lot of other things that are 'vices' on the Internet, they tend to grow exponentially as a result of that. It's one thing to come to Las Vegas and do gaming and participate in shows and that kind of thing as entertainment. It's another thing to be able to sit in your home and have access to that. I just think it would be dangerous for our country to have that kind of access to gaming on the Internet."
So there are the two most likely candidates to win the Republican nomination, and that could be a problem. Bipartisan support will be needed for legislation to license and regulate Internet poker to pass. The person who wins the Republican nomination serves as a leader and figurehead of the party, at least until the election is over, and that could influence Republican lawmakers not to go against the viewpoints of their nominee.
It could be worse, though. These stances haven't been part of their campaign. The comments were made on a TV show in one market. Outside of people in Las Vegas and the poker community, few people probably even know the comments were made.
"I don't think their opposition was high-profile enough to impact day-to-day thinking of lawmakers on this issue," said John Pappas, executive director of the Poker Players Alliance. "If they were to come out in a debate or campaign ad or something like that, I think it would elevate the issue among rank-and-file Republicans. An on-the-spot question resulting in the answer that they are opposed to it is not all that surprising or damning to our effort. I don't think it diminishes our opportunity to move Republicans in the House or Senate."
There's another issue in that Ralston's question was not specifically about poker but Internet gambling in general. Legislation like Rep. Joe Barton's in the House and presumably whatever eventually comes from Majority Leader Harry Reid in the Senate are framed as bills that will strengthen prohibitions against other forms of Internet gambling while regulating the skill game of poker. This is the deal that is expected to get UIGEA proponent Sen. Jon Kyl and other Republicans on board.
Romney also wasn't against gambling in general as governor of Massachusetts, and he did make that gaff in a debate last December when extended his hand and offered a $10,000 bet to Texas Gov. Rick Perry. A little education on the issue might get him to support legislation.
"I don't know if they are opposed to regulating Internet poker under any circumstances," Pappas said. "I don't think they are that informed on the issue. While their position is pretty clear right now, it could evolve."
Unless he wins the election, the Republican candidate also is only relevant into November. There may be a couple opportunities to move legislation over the next few months, but then the summer months come to stand still on Capitol Hill as election preparations take over. The most likely opportunity to pass an Internet poker bill this year will come in the lame-duck session following the election.
It's important for Santorum not to seize real momentum on Super Tuesday. He is the ultraconservative type, religiously and morally opposed to all kinds of gambling, who seems more likely to make this a major issue in the future. He already has some momentum, having won two of the past three caucuses heading up to this Tuesday's votes in Arizona and Michigan.
Gingrich has been thought to be an opponent because Sheldon Adelson, chairman of Las Vegas Sands, is against legalizing online poker. Adelson is one of the biggest backers of Gingrich's campaign. It's also been reported that Adelson will put his support behind Romney if he becomes the nominee.
Gingrich spoke cautiously but didn't come out strongly against Internet gambling when speaking to Ralston. With 12 minutes remaining in the video, Gingrich said he worried about making online gambling available 24/7 to everybody. He added: "I would raise questions about whether it ought to be done on a federal level. I'd want to look at it very carefully."
The best Republican candidate for Internet poker of course is Paul, who has long been a supporter of legislation to legalize all forms of Internet gambling. Paul, who has a libertarian viewpoint, doesn't believe the government should interfere in people's lives. Asked if there should be legalized Internet gambling, with five minutes remaining in the video, Paul responded: "I think people should have legalized freedom. I think people should be free in the nation to make their own decisions and there should be no regulation of the Internet."
Unfortunately, Paul doesn't appear to have much of a chance at the nomination. But that is the beauty of Super Tuesday. Everything can change on March 6 when 437 delegates are up for grabs.
Get all the latest PokerNews updates on your social media outlets. Follow us on Twitter and like us on Facebook today!
*Photo courtesy of KATU.com