Adelson Morally Opposes Internet Gambling; PPA Urges Players to Take Action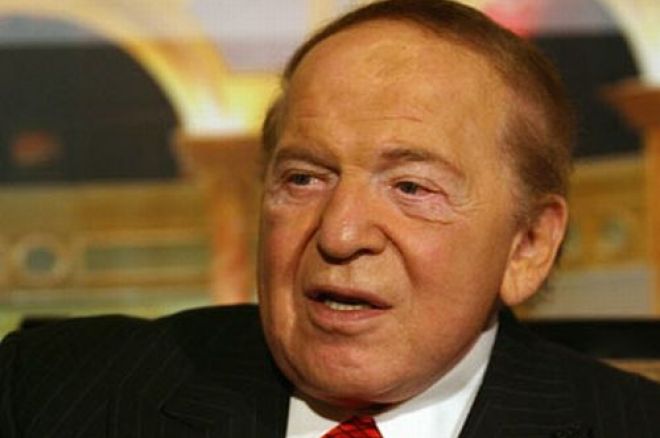 Just when it seemed like the push for Internet poker legislation was progressing nicely and all the concerned parties were getting on the same page, Las Vegas Sands chairman Sheldon Adelson has come out against legalizing online poker.
After once opposing Internet gambling, it appeared that all the major Las Vegas casino owners had come to realize that Americans want to play poker online and that their companies could benefit.
Now Adelson, the world's richest casino executive and a large Republican donor with influence on Capitol Hill, has indicated that he morally opposes online gambling because he doesn't believe technology is good enough to prevent minors from playing.
It seems hypocritical for someone who operates casinos to oppose gambling on the Internet. Sands' Las Vegas holdings include the Venetian and Palazzo. It raises the suspicion that Adelson's real issue is that Sands has fallen behind Caesars and MGM in preparing for online poker.
"He does have young children, in their early teens, and he has raised this concern before," said John Pappas, executive director of the Poker Players Alliance. "I think he does have some concerns there, but I think he's somewhat misinformed. There are ways being used very effectively throughout Europe, where this is licensed and regulated, to keep children off Internet gaming sites."
Opposition from the Adelson could throw a wrench into Rep. Joe Barton's plans to get poker legislation passed by the end of next year. Getting a bill on the House floor will need the approval of Speaker of the House John Boehner (R-Ohio), and Adelson is very influential among Republicans.
It's long been thought that a bill getting through the Senate would need the support of Jon Kyl (R-Ariz.). The Las Vegas Review-Journal reported Thursday that Adelson discussed Internet gaming with Kyl in a visit to Washington, D.C., last week.
But Adelson is just one man. The American Gaming Association issued a statement saying that it will continue to support federal legislation to allow states to license and regulate Internet poker. Caesars, Wynn, MGM and Boyd Gaming remain committed to the cause. There is hope that they could eventually convince Adelson to come on board.
"It would be disappointing if one man's misconstrued conception of Internet gaming stopped it for all Americans who want to see it regulated," Pappas said. "I don't think one company or individual should or will derail good, sound public policy."
Las Vegas Sands made it clear that this is Adelson's opinion and that the company's board hasn't formally chosen sides.
The PPA is asking the poker community to use social media to voice disapproval of Adelson's opposition on the Facebook and Twitter accounts for the Venetian and Palazzo but has stopped short of asking for a boycott of those properties. The Venetian has one of the most popular poker rooms in Las Vegas.
"It's not something we're contemplating at this point," Pappas said of a boycott. "It's difficult to do, particularly because the company itself has made it clear that it does not associate itself with those remarks. Individual poker players can make determinations on that on their own."
Follow PokerNews on Twitter for up-to-the-minute news.
*Photo courtesy of Pul.se