My First: Mark "Pegasus" Smith on Winning His First WSOP Circuit Ring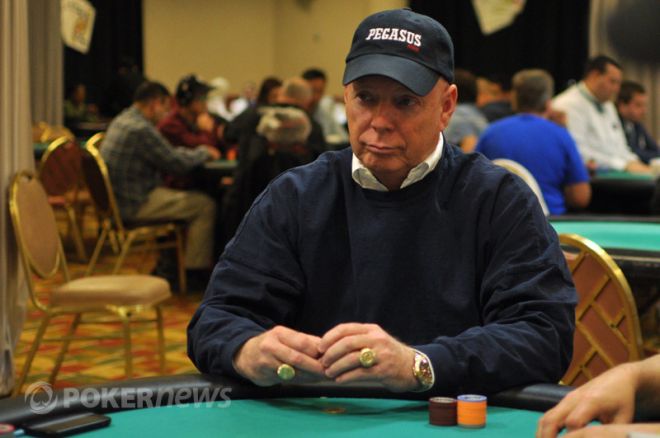 The World Series of Poker Circuit has its own set of superstars, most of whom double as average working men off the felt. None have found more success than Mark "Pegasus" Smith, who became the all-time WSOP Circuit ring leader at the Southern Indiana stop earlier this season.
Smith, a tournament regular for the past six years, has amassed four WSOP Circuit rings from 2006 to 2009, tying him with Men "The Master" Nguyen and Chris Reslock for the most rings in history. When Smith won No. 5 on Sept. 30, 2011, in a $345 ring event, he joined a class all his own.
Smith, who earned the nickname "Pegasus" after working in the professional horse racing and breeding industry, recently spoke with PokerNews about the first time he won a WSOP Circuit gold ring.
I'd only been playing about a year. I came down to Tunica and played pretty much all the tournaments in that series. It was in the fall of 2006. I'd gotten beat two or three times, but in my first cash, it was in the $1,000 tournament right before the Main Event, I finished tenth. Then I paid $550 to play a mega satellite. They gave away about 40 seats that year, and I won my seat in.
I'd only played in home games up until that point, but I'd been playing four to five nights a week. When I look back, I probably knew 10 percent then of what I know now. I won my way into the Main Event, and the first day I was very fortunate and had a fair amount of chips, probably in the top 30 percent at the end of Day 1. The following day was horrible. I didn't get to play many hands, I got beat up horribly.
When we got down to 12-handed that day, I had three T1,000 chips left. I was all in in the blind, I mean in the ante. There were five people in, I had
and I won with it, so that gave me about 18,000 in chips. Three hands later, I get
again. I go all in, another guy goes all in, and yet another guy went all in over the top of him. So the flop came two nines, I'd flopped quads! That ended up putting one of the guys out so I made the final table.
I came back the next day with 52,000 chips, I think there were 2.8 million chips on the table, and I wound up winning. Just by that story you can tell I'm extremely blessed. That was the largest win I've ever had; the only six-figure win I've ever had to date.
It was the first time I'd ever gotten the opportunity to play with some of the bigger players. I played with Chris Moneymaker that day, and he was coming off his big win. I got to play with Barry Greenstein and Hoyt Corkins — a lot of the guys that you normally only see in Vegas.
As far as the win, you can't spend the ring, and the money was wonderful. It was $306,000 to the winner. It was great obviously. I had a pocketful of cash and a pocketful of checks. The ring is what was number one at the time. You see the ring on the table, and I don't think you have a concept of the money until they pay you. For me, it was all about the ring from Day 1.
I thought I had gotten extremely fortunate. Every poker player you talk to, if you ask them if they're pretty good, any truthful player is going to say that they are, OK? So I felt like anybody could win a ring, so I needed to win a second one. I was fortunate in that it didn't really take me that long to win a second one. I think it was February of 2007. It didn't take too long.
It takes seven hours to drive home from Tunica back to Kentucky, and I had to plug my phone into the cigarette lighter on that drive home after winning my first ring. I was getting congratulations from everybody, and then they did a big front-page story in the Lexington paper. It was really something. I was so new to the game, I probably didn't have the full appreciation of what I had done until a year or two later. Now, I'm here at No. 5, and I've missed out on No. 6 three times here in the last couple years.
I love the World Series of Poker Circuit as much as anybody in this world. Everyone can play wherever they want to, and the WSOP Circuit is where I choose to play.
Smith's WSOP Circuit Rings
| Season | Location | Event | Prize |
| --- | --- | --- | --- |
| 2006/2007 | Grand Casino Tunica | $5,000 No-Limit Hold'em Championship | $306,003 |
| 2007/2008 | Caesars Indiana | $500 No-Limit Hold'em w/ Rebuys | $36,244 |
| 2009/2010 | Horseshoe Southern Indiana | $345 No-Limit Hold'em | $10,088 |
| 2009/2010 | Harrah's Atlantic City | $340 No-Limit Hold'em | $34,642 |
| 2011/2012 | Horseshoe Southern Indiana | $345 No-Limit Hold'em | $19,441 |
Get all the latest PokerNews updates on your social media outlets. Follow us on Twitter and like us on Facebook today!
Executive Editor US, PokerNews Podcast co-host & 2013 WSOP Bracelet Winner.