WSOP Circuit Harrah's Tunica Casino Champion, Matthew Weber Talks WSOPC, and More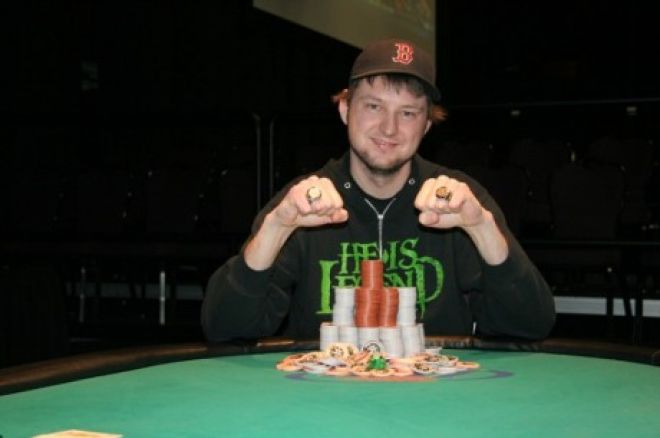 The World Series of Poker Circuit may have wrapped up at Harrah's Tunica over a week ago and moved on to the Palm Beach Kennel Club, but 24-year-old Matthew Weber of Sacramento, California, is still riding a high that accompanied an unmatched performance that earned him a spot in the National Championship $1,000,000 freeroll.
At WSOPC Tunica in Mississippi, Weber outlasted 359 players in Event #4: $345 No-Limit Hold'em to capture a $23,719 first-place prize and his second career WSOPC ring. He dominated that event's final table by eliminating seven of his eight opponents including "Captain" Tom Franklin, Richard Ricardo, Jesse Jackson, and Steve Melton.
Here's a look at that final table:
WSOP Circuit Harrah's Tunica Ring Event #4: No-Limit Hold'em
| Buy-in | Entrants | Prize Pool |
| --- | --- | --- |
| $300+$45 | 359 | $104,469 |
| Place | Player | Hometown | Prize |
| --- | --- | --- | --- |
| 1 | Matthew Weber | Sacramento, CA | $23,719 |
| 2 | Steven Williams | Little Rock, AR | $14,662 |
| 3 | Steven Melton | Noble, OK | $10,697 |
| 4 | William Buckmaster | Atlanta, GA | $7,934 |
| 5 | Jesse Jackson | Cathage, NC | $5,977 |
| 6 | George Perkins | Kennesaw, GA | $4,571 |
| 7 | Richard Ricardo | NA | $3,547 |
| 8 | Tom Franklin | Gulfport, MS | $2,792 |
| 9 | Brandon Horton | Anderson, SC | $2,229 |
In addition to his win, Weber notched a third-place finish in Event #6: $345 NLHE Six Handed for $11,256 and enough points (80) to put him atop the Casino Championship leaderboard. As fate would have it, no one was able to catch him over the course of the next six events.
With two gold rings and six WSOPC cashes totaling $70,455, Weber is quickly becoming one of the more formidable forces on the Circuit. PokerNews recently caught up with Weber to get his thoughts on the WSOPC, the National Championship and what his plans are in the poker world.
Can you tell us a little bit about yourself? How did you get your start in poker?
I'm a 24-year-old student from Elk Grove, California, a city just south of Sacramento. I was an athlete in high school. Over the course of my career, I played four different sports; however, at the start of my senior year, I began dealing with some serious medical issues that forced me to end my sports career early.
Being the extreme competitor that I am, I needed an outlet for all of my competitive energy. One night I saw a broadcast of the WSOP on ESPN and decided to check out one of the online poker rooms they were advertising. Once I started playing poker, I knew it was a perfect match for me.
In 2011, you captured your first WSOPC Ring at Harrah's Rincon. What was it like winning that event and taking home WSOP gold? Likewise, what was it like padding your bankroll by $16,711? Did you buy anything fun?
It was a relief to take home the win this time. I took second in my very first WSOPC event back in November of 2009 at Lake Tahoe. I was very unhappy with the way I busted from that tournament in second, and it had been hanging over me ever since. Believe it or not, the win in San Diego was only my second WSOPC tournament I ever entered. I didn't really end up making any big purchases, but the winnings did allow me to quit my bartending job and pursue poker full time.
You recently took first place in Event #4: $345 NLHE at Harrah's Tunica to capture your second WSOP Circuit ring. How did that win feel? Did you feel like you had an advantage at the final table having won a ring before?
Coming into Tunica, I was riding a very bad run in which I had failed to even cash about 15 straight tournaments. The win came at the perfect time, it was just the boost of confidence that I needed. I definitely felt like the experience of my three previous WSOPC final tables gave me a leg up on the competition. I won the first huge pot early on at the final table. With my experience and the chip lead I was able to steamroll my way through the rest of the competitors.
Not only did you win a ring in Tunica, but also you placed third in Event #6: NLHE 6-Handed for $11,256. Together, those two scores earned you the "Casino Championship" title and a guaranteed spot in the National Championship; however, it was initially reported that someone else had won the title. What was it like thinking someone else had won and how did you discover the error?
I had already left Tunica and was on my way to the next WSOPC stop in West Palm Beach, Florida, when I read the erroneous report. Although I was slightly disappointed, I already had 110 total points for the year, which was more than likely enough to qualify as an at-large bid. I checked the WSOPC leaderboards a couple of days later and that's when I realized the mistake. I'm very happy to be able to add "2012 Tunica WSOPC Casino Champion" to my poker résumé.
How did it feel when you actually found out that you had, in fact, won and punched your ticket to the $1 million National Championship Freeroll?
I decided a few months ago that I was going to put poker on the back burner for a little while and go back to school in the fall of 2012. I wanted to take one more final shot at a big score before taking my break from poker, so I planned a trip to travel along the WSOPC for two months to start off 2012.
Starting in Northern California, I drove all the way out to West Palm Beach, Florida, making stops in Los Angeles, Las Vegas, and Tunica along the way. The primary goal of the trip was to qualify for the WSOPC National Championship. When I realized that I had achieved my goal, I finally felt that it was all worth the time and effort.
Will you continue to play on the circuit now that you've already qualified for the national championship?
My plan is to finish the West Palm Beach series and then return to California to take a few months off.
What is it about the WSOPC that interests you? It looks like you played it for the first time a few years ago, but really upped the amount of tournaments you played this year?
There are no better value tournaments than the WSOPC events. For the price, the structure and the staff are second to none. I played my first couple WSOPC tournaments while I was in school, but when I took a couple of semesters off, I was really able to travel and increase my volume.
What's next for you as far as poker is concerned? What do you hope to accomplish in the poker world?
Although I enjoy poker immensely and always see myself playing it, I've never wanted to make a career out of it. I will probably continue to play several WSOPC events each year along with some WSOP events each summer.
Speaking of the WSOP, what are your plans for the summer?
I am going to rent a house in Las Vegas this summer with a few poker buddies of mine and spend six weeks playing as many tournaments as I can. I will probably play most of the WSOP events that are $2,000 buy-ins and under. If things go well, I hope to play the Main Event to end the Vegas trip. No matter how successful the summer is for me, I will be going back to school full time in the fall and taking a break from full-time poker.
Get all the latest PokerNews updates on your social media outlets. Follow us on Twitter and like us on Facebook now!
Executive Editor US, PokerNews Podcast co-host & 2013 WSOP Bracelet Winner.