Dan Livingston Wins World Series of Poker Circuit Horseshoe Chicago Main Event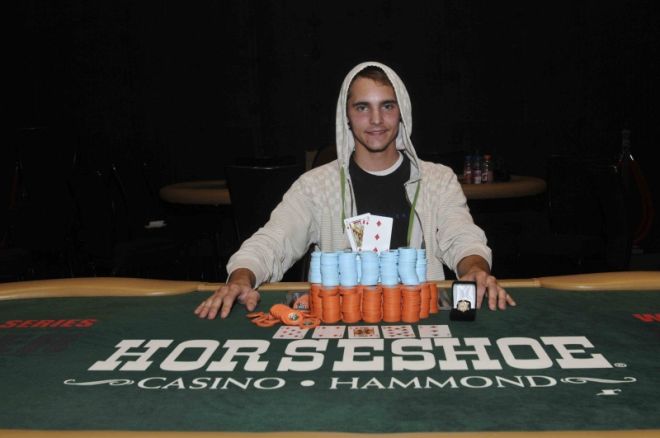 The World Series of Poker Circuit Horseshoe Chicago Main Event came to a conclusion that saw Dan Livingston of Oak Forest, Ill., snag the first place prize of $291,749. Despite facing a field of 248, which grew in attendance by 12% from the previous year, the 22-year-old part-time poker player felted the field on his way to the win. According to Livingston, his victory was well worth the effort. "I feel really good. What was it? Forty hours of work for nearly $300,000? I'll take it," he said.
Although Livingston mostly plays low- to middle-limit buy-in tournaments at the Horseshoe Casino, he found his way into the $5,000 buy-in thanks to a special promotion from the poker room. Livingston gained entry to the Circuit tournament while playing one afternoon inside the Horseshoe poker room. As part of the special promotion, the Horseshoe gave away as many as four Main Event seats daily. Each day, on four occasions for two full weeks prior to the start of this year's Chicago series, one poker table was randomly selected with the player at the table who was given the highest card received an entry into the Main Event championship. Livingston received his high-card entry about two weeks ago and was pleasantly surprised to play in his biggest poker tournament ever.
According to Livingston, he realized he had a solid shot at a victory once he made the final table. "When we got to the final table, I had about 900,000 in chips. Then, I won a few early pots and I was up to 2,000,000. Then I said to myself, 'wow, I might win this – I have about a fourth of the chips in play. I have a really good chance.' And, I did it."
Thanks to his new-found confidence at the final table, Livingston was able to make quick work of his opponents when the field narrowed to the final four players thanks to his sizable stack. "Everybody else as the table was around a million and I was up to four-million at that point. So, I could pretty much do what I wanted."
With Livingston's biggest previous cash having come online ($4,000), this marks the biggest payday for the young player and he is setting his sights on the upcoming 2010 WSOP. "I have always wanted to really win a gold bracelet. But I must say that the gold ring will really do for now. This win was a big confidence booster."
The Final Table:
1st: Dan Livingston - $291,749
2nd: Tom Floros - $180,287
3rd: Chris Gentile - $119,556
4th: Tad Mosele - $84,594
5th: William Schweinebraten - $63,744
6th: William Miner - $50,871
7th: Joshua Goldstein - $42,881
8th: Jacob Bazeley - $38,082
9th: Michael Parisi - $35,533
Follow us on Twitter for up-to-the-minute news, and also become our fan on Facebook.