PartyPoker Weekly: Mike Sexton Speaks, Premier League Kicks Off and More!
Welcome to the latest edition of the PartyPoker Weekly, your one-stop shop for all the latest PartyPoker news and promotions. This week we bring you the views of poker legend Mike Sexton, details of the Premier League, how to win a WSOP seat and how to get your hands on some free cash. Interested? Then keep on reading!
Mike Sexton Reviews Premier League Players
The PartyPoker sponsored pro Mike Sexton is one of the most experienced poker players in the history of the game. He has seen the likes of Stu Unger emerge from a nobody and turn into a World Series of Poker champion and has rubbed shoulders in some of the biggest games around with some of the most established names in the business. So when Sexton gives his opinions people usually sit up and take note.
The Premier League V kicks off this week in Vienna and Sexton has given his opinions on each of the players who are registered in the $125,000 buy-in main event. Who do you think he describes as the most "wowing to watch" or which player does the legend call the best No Limit Hold'em player of the past year? Check out the links below to find out.
Mike Sexton's views on the Premier League players 1/4
Mike Sexton's views on the Premier League players 2/4
Mike Sexton's views on the Premier League players 3/4
Part 4/4 will be released later this week so make sure you keep checking back into the PartyPoker Blog for that. Also, the PartyPoker live reporting team are in Vienna bringing you live updates from the final heats and the actual Premier Legue. They can be found here.
Last Week To Qualify For GSOP Final In The Domincan Republic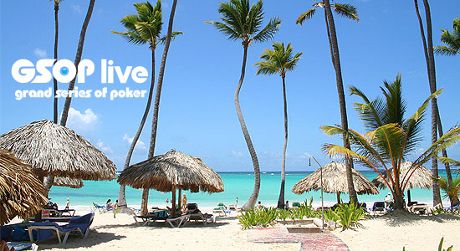 Time is rapidly running out if you want to bag yourself a $7,000 package to the GSOP Live Grand Final that is being held in the picturesque Dominican Republic! You only have until Sunday 8 April to qualify for one of the exclusive PartyPoker packages, that are made up of:
$3,300 GSOP Live Dominican Republic buy-in
$2,000 spending money
Seven night accommodation at a luxurious hotel
An exclusive VIP welcome party
For a list of the available qualifying routes check out the official GSOP Domincan Republic pages over on PartyPoker.
Boost Your Bankroll With PartyPoker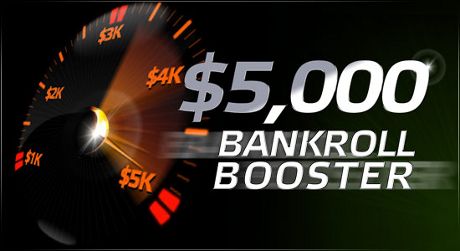 You can boost your bankroll every single week with a share of $5,000 thanks to the ongoing Bankroll Booster promotion. Every Sunday at 14:30 EDT you can participate in a freeroll with a $5,000 prizepool absolutely free of charge!
All you need to do to qualify for this superb $5,000 freeroll is to make a deposit into your PartyPoker account and use the bonus code "BOOSTER" and you will be awarded a seat to the next available Bankroll Booster $5,000 Freeroll!
But what if you do not need or want to make a deposit we can hear you asking, well you are also able to qualify for the freeroll too. All you need to do is earn five PartyPoints during the week and the seat to the $5,000 freeroll is all yours. Earning five PartyPoints is very easy to do because two PartyPoints are awarded for every $1 taken in rake or tournament fees!
Check out the $5,000 Bankroll Booster pages for more details.
Pokerfest II Online Just Around The Corner!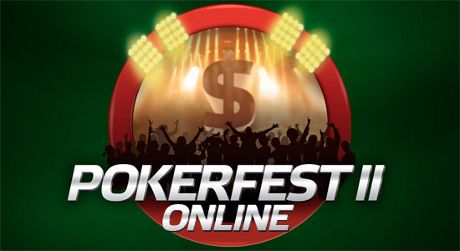 The eagerly anticipated Pokerfest II Online gets underway on Apr. 22 and it promises to be bigger and better than ever before. The second edition of the online festival boasts at least 47 events between Apr. 22 and May 22 with $3,500,000 in guarantees and a massive $1,000,000 guaranteed Main Event!
Along with the 47 tournaments there will be multiple side events taking place between April 22 and May 6, meaning PartyPoker is the place to be when it comes to tournament poker.
Pokerfest II Online gets under way at 13:30 EDT on Sunday, April 22, with the first of four events scheduled for that day — the $215 buy-in $350,000 guaranteed no-limit hold'em event. Half an hour later, there is a $2,500 guaranteed no-limit hold'em event that costs just 20 PartyPoints to enter then at 14:30 EDT there is a $22 buy-in no-limit hold'em event with a $35,000 guaranteed prize pool. Rounding off the day's action is a $530 event that will see at least $250,000 in prize money be won.
Daily Dollar Side Events
Every day during Pokerfest II there will be two tournaments, each with a $1 buy-in, running at 13:45 and 16:00 EDT that have what PartyPoker say is "a twist." The reason for the inverted commas is the fact nobody knows what these twists will be and they will only be revealed in the lobby at the last minute! What these twists are only PartyPoker know but we expect them to be different formats with added prizes and value.
Pokerfest II Jackpots
Not only could you be walking away with bags full of cash after your Pokerfest II exploits, but you could also find yourself heading to the 2012 World Series of Poker armed with a package worth $14,000, iPads, and cash bonuses of between $2,500 and $20,000 if you manage to trigger one of the five Pokerfest II jackpots.
PartyPoker have added a whole host of prizes to the Pokerfest II Online festival in the shape of jackpots. Win three events and you will not only be rolling in cash but PartyPoker will give you an additional $20,000and a $14,000 package to the 2012 World Series of Poker Main Event!
The full list of jackpots are shown below:
Win any three Pokerfest II tournaments and you will win $20,000 plus a $14,000 package to the 2012 WSOP Main Event!
Reach the final table in any 10 Pokerfest II tournaments and receive $15,000 and a brand new iPad
Reach the final table in any five Pokerfest II tournaments and receive $7,500 and an iPad
Finish in the money in any 20 of the Pokerfest II tournaments and $5,000 and an iPad will be yours.
Cash in any 10 Pokerfest II tournaments and you will win an additional $2,500 and an iPad
Leaderboards
If the chance to walk away with a $20,000 bonus and a $14,000 WSOP package is not enough to whet your whistle then how about leaderboards with combined prizes of $50,000? There is a leaderboard for points buy-in, the low buy-in ($6-$33) and high buy-in ($55 and above) tournaments that pay out between 250 and 500 place with prizes of up to $2,500!
Help Yourself To a Free $50 Bankroll!
Thanks to the special relationship between PokerNews and PartyPoker you can help yourself to a free $50 bankroll! That is correct, $50 absolutely free. $50 that you could use to enter some of the Pokerfest II Online tournaments and possibly turn into a huge sum!
All you need to do is follow the simple steps below, and $50 is all yours to keep!
Download the PartyPoker software through PokerNews
Create a new PartyPoker account and enter the bonus code "PN50FREE"
Fill in the registration form in the PartyPoker cashier
Return to PokerNews and fill in our small registration form
Check your email inbox for a confirmation email from free50@pokernews.com
Once you have received the confirmation email, $20 will be placed into your PartyPoker account. You must earn at least 40 PartyPoints before you will be able to withdraw the free $20. If you do not earn 40 PartyPoints within 60 days, the initial $20, or whatever remains of it, will be forfeited. PartyPoints are earned at a rate of two PartyPoints per $1 in rake or tournament fees, so earning 40 within a 60-day time frame is quite an easy task.
Once you have earned 40 PartyPoints a further $30 will be deposited into your account bringing the total free cash amount to $50. You must then generate 160 points before you can cash out any of the the $30 and must do so within 120 days otherwise the $30, or the remainder of it will be forfeited.
Follow PokerNews on Twitter for up-to-the-minute news.
If you experience any problems with this or any of our promotions, please contact our Ticketed Promo Support System.