Scott Stanko Wins World Series of Poker Circuit Horseshoe Council Bluffs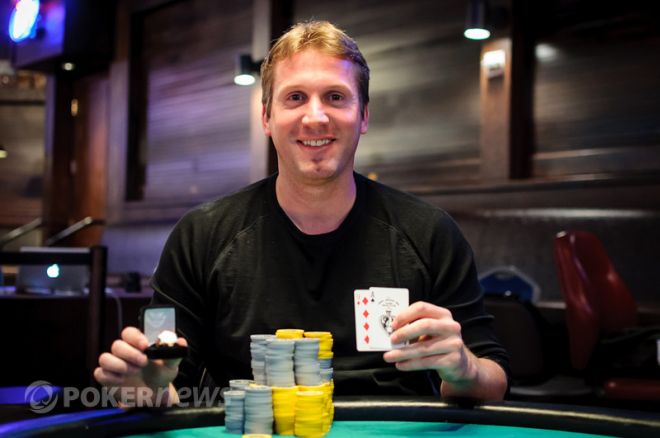 After three long days of action and an off day for the Easter holiday a winner has been crowned at the World Series of Poker Circuit Horseshoe Council Bluffs Main Event. Scott Stanko emerged victorious after a two-hour heads-up battle against Charles "Woody" Moore. For the win, Stanko takes home a seat to the $1 million National Championship freeroll in Las Vegas, a WSOPC gold championship ring, and $101,266.
Stanko began the final table as the chip leader at the start of the day:
| Seat | Player | Chips |
| --- | --- | --- |
| 1 | Charles Moore | 623,000 |
| 2 | Mark Bonsack | 283,000 |
| 3 | Stephen Ma | 928,000 |
| 4 | Pej Niyati | 875,000 |
| 5 | Sean Moore | 278,000 |
| 6 | James Smith | 465,000 |
| 7 | Casey Cavanaugh | 745,000 |
| 8 | Scott Stanko | 1,481,000 |
| 9 | Jeremy Jagoda | 199,000 |
The first player to depart the final table was Jeremy Jagoda. He was significantly out-chipped at the beginning of the day, and was looking to double up early. He shoved from the button holding
after Stanko opened. Jagoda failed to connect with anything on the board and Stanko flopped a pair of tens with queen-ten, making Jagoda's day a short affair.
Pej Niyati entered play with an above-average chip stack, but the early goings were brutal for him. He lost three key hands in the second level of the day to Stanko, Casey Cavanaugh and Mark Bonsack. In his elimination hand, Niyati shoved from the cutoff and James Smith called from the small blind. Niyati held
and Smith held
. Smith spiked an ace on the flop and Niyati's day was done.
The next elimination occurred when Sean Moore jammed from the small blind and James Smith called from the big blind. The two were almost dead even in chips with Smith holding a 40,000-chip advantage. Moore was on a hope and a prayer holding
but Smith crushed those dreams when he tabled
. Moore didn't connect with the board and was eliminated, earning nearly $15,000 for his efforts in Council Bluffs.
Charles Moore ended James Smith's fate about 15 minutes later. The two saw a flop of
, Smith three-bet all in, and Moore called with
. Smith was outkicked holding
, he bricked on the turn and river, and was eliminated in sixth place.
Mark Bonsack's day ended with a curious hand that arched a few eyebrows around the room. Charles Moore opened for 80,000, Bonsack called from the button, and the flop rolled out
. Moore bet 375,000 and Bonsack said aloud, "I have a pair Woody." Bonsack just called, leaving only 120,000 behind. The turn was the
and Moore pushed out enough to put Bonsack all in. Bonsack called and tabled pocket fives. Moore showed pocket eights, the river bricked, and Bonsack was eliminated.
Stephen Ma entered four-handed play close in chips with his opponents. He slipped under 1,000,000 when he shipped about 300,000 to Moore, and then got involved in a hand with Stanko. Ma, holding
, called all in on the turn of a board reading
. Stanko had pocket aces and eliminated Ma when the
fell on the river.
There were dramatic swings for each player during three-handed play. Stanko, Moore and Casey Cavanaugh were not shy about getting chips into pots. Cavanaugh's fateful hand occurred when all three committed 80,000 preflop and watched the flop fall
. After two checks, Stanko bet 80,000, Moore folded, and Cavanaugh check-raised to 275,000. Stanko shoved and Cavanaugh called. They each held a ten but Stanko had him out-kicked with an ace. Cavanaugh couldn't boat up and was eliminated in third place.
The heads-up match between Stanko and Moore lasted nearly two hours. Moore doubled up with pocket aces and seemed to have gained the momentum, but Stanko would not relent. He ground Moore down over the next level and a half, taking mostly medium-sized pots. During the last 20 minutes of play, Moore was teetering just over 1,000,000.
The final hand began when Moore limped on the button and Stanko raised to 250,000. Moore moved in and Stanko called holding
. Moore held
and looked to double up after catching an eight on the flop. But this day belonged to Stanko and the turn brought the
. Moore bricked on the river and Stanko claimed the title.
WSOPC Horseshoe Council Bluffs Final Table Results
| Place | Player | Prize |
| --- | --- | --- |
| 1 | Scott Stanko | $101,266 |
| 2 | Charles Moore | $62,584 |
| 3 | Casey Cavanaugh | $45,410 |
| 4 | Stephen Ma | $33,503 |
| 5 | Mark Bonsack | $25,127 |
| 6 | James Smith | $19,148 |
| 7 | Sean Moore | $14,819 |
| 8 | Pej Niyati | $11,646 |
| 9 | Jeremy Jagoda | $9,261 |
Next up on the WSOPC is Harrah's St. Louis. The tournament rolls into town April 12, and the Main Event begins Saturday, April 21. PokerNews will be on hand bringing you all of the
Follow PokerNews on Twitter for up-to-the-minute news.