WSOP Circuit Harrah's St. Louis Main Event Champ Tripp Kirk on his Win and More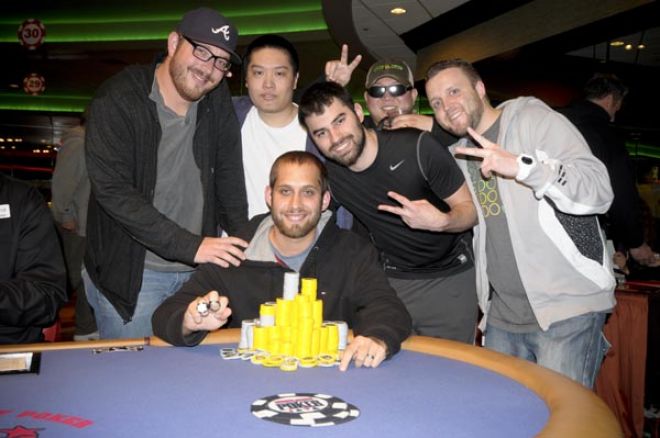 Last week, the World Series of Poker Circuit Harrah's St. Louis culminated with the $1,600 Main Event, which attracted 625 players and created a prize pool of $909,375. Early in that tournament, Tripp Kirk established himself as a force to be reckoned with, finishing second in chips on Day 1. In the two days following, Kirk used that big stack to navigate the massive field all the way to the final table. It was there that he captured his second ring, not to mention the $190,961 first-place prize.
Kirk, born Oct. 8, 1984, is from the Atlanta area and studied finance at the University of Georgia. Despite working full time and having a family, he has notched 11 cashes on the Circuit totaling $268,251.
PokerNews sat down with Kirk a few days after his win to get his thoughts on the $190,000 score, qualifying for the National Championship and capturing his second gold ring.
Can you tell us a little bit about yourself?
I grew up in, and currently live in, the Atlanta area with my wife. I graduated from the University of Georgia in 2007 with a finance degree and currently work as a consultant for Column5 Consulting, a small IT firm based out of Phoenix, Arizona. I've been playing poker "semi-professionally" for three to four years.
How did you learn to play poker?
The first time I remember playing was for $15\ to $20 cash games during college. We quickly became obsessed, and I spent a lot of time on PartyPoker playing small stakes sit-n-gos. Some of my best early memories of poker are sitting on the computer with my dad until three or four in the morning celebrating every time we won a $20 sit-n-go like we had just won the Main Event.
You're not only a workingman, you're also married. How are you able to travel and squeeze in poker success along the way? What does your wife think of you playing poker?
I am very fortunate to have an amazing wife who understands how much I love poker. Obviously, she enjoys the big scores like this, but she also had to suffer through the throwing of laptops on Sundays for a few years. Being that I do work full time, any free time I usually have, I try to squeeze in as much poker as possible, and without her support and understanding, I'd never have a result like this one.
My entire family has been ridiculously supportive of my poker playing. My mom was skeptical at first, but she now understands what a passion I have for it now. Her and my dad have always been so supportive of everything I've done and poker is no different. I can't express how amazing it felt to get text messages from my in-laws, cousins, sister and all my other friends within 10 minutes of winning the tournament. So happy I gave my mom a 10-minute lesson on how to get to PokerNews Live Reporting section on Monday morning before we started Day 3.
You just took down the WSOP Circuit Harrah's St. Louis Main Event where you finished Day 1 second in chips. You managed to ride that all the way to the end. Can you describe that tournament for us a little bit?
It's a little bit unreal to be honest. Thinking back, at no point in the entire tourney did I have under 40 big blinds. I remember having 13k in chips at 100/200 and doubling up, it felt like I had double average stack for the entire rest of the tourney.
My Day 2 table was the toughest table I've ever sat down at and I felt like if I could find a way to accumulate chips at that table that I could make a run. That table included Scott Clements, Blake Cahail, Steven Graham, Brett Schwertley, Joe Kuether and some other great young players that are just so tough to get chips from. Luckily, I was a bit of a card rack at that table and was able to chip up. The big pot of Day 2 was a hand where I flopped a set of fours versus Graham's
on a
board and doubled.
What was your strategy headed into the final table?
I kept reminding myself how great the structure was and that I didn't have to force anything. I wanted to just continue to pick my spots and play as well as I could.
I actually felt like I got a bit of a bad table draw when we redrew to the final table. Chris Conrad, whose game I have an unbelievable amount of respect for, was on my left with what seemed like a billion chips. I knew Chris was going to be tough to deal with. Luckily, I coolered him really bad three-handed with
versus
or who knows if I would even be doing this interview.
When you made it to heads-up, talks of a deal surfaced but you quickly squashed that idea. Why?
This had nothing to do with my thoughts of Tim [Killday] as a player. Tim played a very solid final table, but I have played tens of thousands of hands of mid-stakes heads-up cash games and was very confident that I could win it without a deal being made.
You won $190,961 for your Main Event win. Did you get all of that or were you backed, stacked, swapped percentages, etc.?
I am backed by a guy who has been great to me and given me a lot of opportunities I wouldn't have otherwise had. I also had some small swaps out with some players that I couldn't be happier to give a few thousand to, hello Kyle Cartwright and Matt Hankins!
Do you have any big purchases planned with your winnings?
I don't have any plans for any big purchases, aside from letting my wife spend a few days at the mall and treating friends and family to some good food and drinks, there probably won't be much else.
By winning the Main Event, you earned a spot in this year's National Championship; however, you briefly mentioned you might not be able to play. Is this true, or will you be attending the event?
I said that it was a possibility that I wouldn't be available to be in Las Vegas that week for work reasons. And while that's still a remote possibility, this may be a once-in-a-lifetime opportunity, and I'm going to do everything I can to play the National Championship and the WSOP Main Event.
This year's National Championship will feature an influx of pros who are allowed to enter by posting $10,000. Assuming you're going to play, are there any pros you'd enjoy playing against? If so, who and why?
I have mixed emotions. On one hand, the thought of sitting down with the likes of Jason Mercier, Ben Lamb, Pius Heinz, Phil Hellmuth and so on is a dream come true and something I've dreamed about for years. On the other hand, having 100 guys that are experienced beyond belief in $10K buy-ins in a tourney of 200 people makes for an incredibly tough field. I couldn't be more excited to play this event though, as I only had about 40 points coming into this stop and didn't think there was much of a chance that I would qualify.
Not only did you win the Main Event, you took third earlier at the stop in Event #4, which was the largest tournament in Missouri state history. What event was tougher for you, the Main, which had 625 entrants, or Event #4, which had 1,066 players?
Each of the fields had its challenges. The sheer number in Event #4 was a challenge in itself. Anytime you get a field of 1,000+, there are going to be so many bad players that you should get a lot of good spots to pick up chips. On the other hand, you are forced to win a good number of 60/40s and 70/30s, which I was fortunate to do.
The Main Event was odd, my Day 1 table draw was maniacal, to put it mildly. I remember telling friends at first break that it was a table that I thought I had a shot to get 80k+ chips on Day 1. Day 2 and 3 the tables just got tougher and tougher and I was lucky to pick up enough hands and hit flops well enough to continue to accumulate.
What's your best memory from Event #4?
It seems like so long ago now that Event #4 is such a blur. Late on Day 1, I had the majority of my stack in with
against the
of Luther Lewis, a really solid player I've played with a lot, and I drilled a river
to give me a large stack.
Interestingly, both you and Brad Lipsey made the final table of that event. Are you friends with Brad? What was it like playing against him at both final tables?
Brad, or "Tip," as everyone calls him, is one of my good friends and a hell of a poker player. Making final tables of the two largest tournaments of the week is a ridiculous accomplishment and for both of us to do it was pretty special. Tip was the chip leader for the majority of Event #4 and got really unlucky or he would have had a ton of chips at that final table.
Unfortunately for Tip, he caught, by far, the worst table draw at the final table [in the Main Event]. He had me on his right so he rarely got to open a pot, and Conrad on his left so when he did open, he got played back at a ton.
You room with Kyle Cartwright and A.P. Phahurat when you travel the circuit, both of who have had quite a bit of success. Likewise, you're friends with Kurt Jewell, who just won his fourth gold ring. You guys have a "crew" of sorts that's been dominating the WSOP Circuit. What are your thoughts on that?
I have roomed with Kyle for the last year or so and he has become one of my best friends in the world. This is the first stop I have roomed with A.P. Both of those guys think about the game at such a high level that I can't even explain. One of my other best friends, Matt Hankins, decided to come to St. Louis last minute, so he missed the boat on our hotel room.
But being able to go back and discuss tough spots with those guys every night is so valuable and is so important to becoming a better player. I've gotten to know Kurt a lot better over the past few months and he is a great guy and plays poker better than pretty much everyone. I have so much respect for the way he plays the game. As far as having a "crew," I think being around and listening to great players is by far the best way to learn the game.
What do you think accounts for the success of young players on the WSOP Circuit?
I think it has a lot to do with the fact that a lot of the kids travel together and discuss every hand and situation that we get put in each other. I think a lot of the older players are stubborn and don't want to take the advice of other players. Having one of my buddies tell me "Hey, I think you played that pretty bad" can actually be really helpful.
What's next for you? Can we expect to see you at the WSOP this summer? If so, what events do you plan to play?
I plan on being in Vegas for the National Championship and for the Main Event. Other than that I've haven't made any plans yet.
Get all the latest PokerNews updates on your social media outlets. Follow us on Twitter and like us on Facebook now!