Greg Ronaldson on Winning the Largest Tournament in Africa's History and More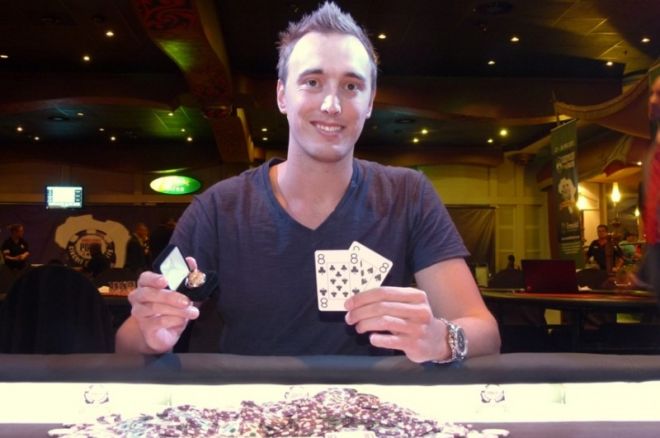 Chances are that before this year, you never heard of 28-year-old South African Greg Ronaldson. The poker pro has been making the long haul to Las Vegas every summer for the past few years, but it wasn't until recently that he put up some big results and jumped onto the poker radar.
We first reported on Ronaldson at the end of January when he won the $5,300 Heads-Up Event at the 2012 Aussie Millions Poker Championship. He defeated Sorel Mizzi in the finals, and took home $80,000. From there, Ronaldson went back home to South Africa and prepared for the World Series of Poker Circuit, which was making its second annual stop at the Emerald Casino. The year before, Ronaldson had placed 20th in the $5,000 Main Event for $7,229, but he was looking to make an even bigger impression this year.
In the first tournament of this year's WSOP Circuit Africa, Event #1: $350 No-Limit Hold'em, Ronaldson made his presence known when he conquered a field of 324 players, making it the largest tournament in Africa's history. He won his first WSOP Circuit ring and $22,842.
WSOP Circuit Africa Ring Event #1 No-Limit Hold'em
| Buy-in | Entrants | Prize Pool |
| --- | --- | --- |
| $300+$50 | 324 | $97,200 |
| Place | Player | Hometown | Prize |
| --- | --- | --- | --- |
| 1 | Gregory Ronaldson | Gauteng, South Africa | $22,842 |
| 2 | Jaco Van Tonder | Pretoria, South Africa | $14,123 |
| 3 | Jospeh Antony | Johannesburg, South Africa | $10,255 |
| 4 | Mario Michaels | Windhoek, Namibia | $7,582 |
| 5 | Nicholaas Wleynhass | Klerksdrop, South Africa | $5,686 |
| 6 | Nick Sissou | Pretoria, South Africa | $4,335 |
| 7 | Tony Semmens | Johannesburg, South Africa | $3,360 |
| 8 | Eugene Du Plessis | Stellenbosch, South Africa | $2,642 |
| 9 | Mark Botha | Benoni, South Africa | $2,046 |
As if that wasn't enough, Ronaldson went on to navigate his way through a field of 218 players to make the final table of the $3,300 Main Event. He ultimately finished in fifth place and collected $39,649. PokerNews recently caught up with Ronaldson to get his thoughts on his great start to 2012.
Can you start by telling us a little bit about yourself such as where you're from, what your life is like, and how you came to start playing poker?
I'm 28 years old from Johannesburg, South Africa. My life is 98 percent poker, traveling to play tournaments and cash games around the world. I started playing poker with friends and really enjoyed the game. When I stumbled across poker online, I deposited $25 and the rest is history!
Using my online bankroll, I started playing tournaments in South Africa and in 2007 I made five final tables, including a win at the All Africa Poker Tournament. After the win, I started a business and didn't play much at all for the next two years, but last year I decided to focus on poker, and now I'm playing full time.
You went to the University of the Witwatersrand. What did you study?
I originally studied bachelor of accounting but realized in my third year that it wasn't the right field for me. I might have been crushing the online games at this stage. I changed my course to a bachelor of commerce and graduated in 2005.
What is the poker scene like in South Africa?
Other than the WSOP Circuit it has been very quiet, only very small tournaments with buy-ins around $1,000.
You were at the Aussie Millions in January and had some success. Can you tell us about your time in Australia including your tournament success and what you did outside of poker?
It was my first trip to Aussie Millions, and I started really well, cashing in the first two events. I was really unlucky in the next four or five tournaments though, getting some sick beats when pretty deep like having
vs
all in on a nine-high board in the Bounty Event only to have a
hit the river.
After this I almost skipped the heads-up event to go watch the Australian Open but decided at the last minute to play the second flight. I went into the event as a complete unknown and this definitely worked to my advantage. None of my opponents expected a tough match, and I was able to win three of my five matches without even using a rebuy card. In the second round, against Faraz Jaka, I lost a big all-in with
versus
and was down 5-1 in chips with no rebuys left. Luckily I was able to fight back, win the match and from then on I never felt under any pressure until the final against Sorel Mizzi.
I didn't have much time outside poker because I played so many events, but we did party at Fusion and Club 23 a couple of times. After the women's tennis final we were sitting at Club 23 when [Victoria] Azarenka arrived at the table next to us and we celebrated her win.
You've been to the WSOP in Las Vegas numerous times. Have you had any success?
No bracelets yet, but my best finish was 12th in the $3,000 Triple Chance in 2010. I've run deep in the Main Event for the last two years — 450th in 2010 and 198th in 2011 — but couldn't find any form when it counted. Also cashed 35th in the $2,500 Mixed Hold'em last year.
What's you favorite part about being in Las Vegas during the WSOP?
I should say the poker atmosphere and the potential to win millions of dollars, but let's be honest, the beautiful women and the sick nightclubs!
Most recently, you won Event #1 at the WSOPC Africa, which attracted 324 players and was the largest live tournament in Africa's history. What did it feel like when you won that event and the WSOPC gold ring?
It was really an amazing feeling. I was playing with a lot of confidence after my win in Australia but I still wanted to prove that I had the ability to take down a large tournament field. Coming into the final table I wasn't even concerned with the prize payouts — it was first or nothing!
Not only did you win a ring in that event, you went on to finish fifth in the Main Event. What was it like making the final table?
It was great to make the final table and get through another big field. I was playing really well and it was such a good chance to take down another title!
Were you disappointed or pleased with your performance?
I was really disappointed with the result because I wanted to win so badly, but I wouldn't change the way I played. I shipped
from the small blind to an aggressive button opener who had
, which is really standard and I don't think I could've got away from the hand.
You won over $60,000 at the WSOPC Africa. Do you have any plans for that money?
Run it up at the WSOP this year!
Now that the WSOPC Africa is done, what are your plans?
I'm in Mauritius at the moment for a World Poker Tour event. After that I might play some European Poker Tour events, but I think my next major focus will be the WSOP. I want to play as many events as possible this year, and I will be staying in Vegas for the full duration of the WSOP. Then probably WSOP Europe in September!
Stay up to date on all the latest news by following us on Twitter and liking us on Facebook.