Catching Up with World Series of Poker Circuit Harrah's Rincon Winner Joe Kuether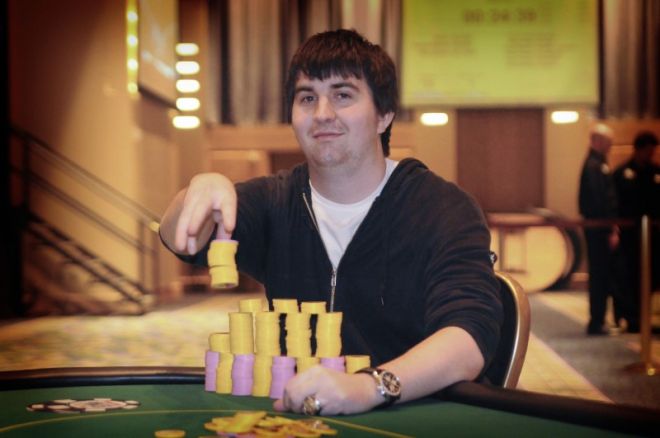 Working your way through the poker ranks can be tough. For every success story, there are dozens of futile tales. Luckily for Joe Kuether, he can count himself in the former camp. The 24-year-old has followed in the footsteps of Phil Galfond and Phil Hellmuth by going from the classrooms of the University of Wisconsin Madison to the bright lights of Las Vegas. While Kuether hasn't attained the extraordinary results as his fellow alumni, he is well on his way to a successful poker career.
Kuether recently made poker headlines when he conquered a 332-player field at the World Series of Poker Circuit Harrah's Rincon Main Event for $111,104. Kuether defeated a stacked field and a tough final table that included WSOP Circuit Bicycle Casino Main Event Champ Freddy Deeb.
Since 2009, Kuether has amassed $445,113, including $191,083 of which has come in the first three months of 2012.
Kuether's 2012 Results

| Date | Event | Place | Prize |
| --- | --- | --- | --- |
| January 27 | WSOP Circuit Caesars Palace $1,600 Main Event | 7th | $29,686 |
| February 7 | LAPC $150 NLHE Double Stack Turbo | 192nd | $400 |
| February 14 | LAPC $225 NLHE Turbo | 12th | $780 |
| February 19 | LAPC $550 NLHE | 27th | $1,030 |
| February 22 | LAPC $340 NLHE Double Stack Turbo | 6th | $5,550 |
| February 29 | Wynn Classic $500 NLHE | 7th | $2,027 |
| March 2 | Wynn Classic $500 NLHE | 1st | $21,139 |
| March 6 | Wynn Classic $500 NLHE | 1st | $19,367 |
| March 24 | WSOP Circuit Harrah's Rincon $1,600 Main Event | 1st | $111,104 |
PokerNews recently spoke with Kuether to talk about his big WSOP Circuit win and his great start to 2012.
Can you tell us a little bit about yourself?
I grew up in Elm Grove, Wisconsin, just outside of Milwaukee. I went to college at UW-Madison and graduated with a degree in accounting. I've got an older brother and younger sister, neither of whom play poker.
How did you learn to play poker and when did you start taking it more serious?
It's the standard poker story I think. I played with friends in high school, tried online, kept playing, and won. I started taking it more seriously when I won a little and realized you could win money. I really enjoyed playing.
Is poker your full-time job? If so, can you tell us a little bit about your lifestyle? For instance, what's your normal daily schedule?
Ya, I live in Vegas and travel around some for live tournaments. I play a lot of live cash, but play a lot less then I did when there was online. I moved out to Vegas after Black Friday and have just been playing live cash here and traveling to some live tournaments.
What was it like playing against Freddy Deeb at the WSOP Circuit Harrah's Rincon Main Event final table?
It was alright, nothing really of note. He was getting frustrated with me because I had won some big pots off him.
Tell us about that last hand against Chris Cronin when you held aces? Can you describe your thought process?
Well, he was calling pretty much all my min-raises preflop, so preflop, it was standard [for me to raise]. I decided to check back the
rainbow flop because he was just folding when he missed so I wanted to give him a chance to catch up. The
turn put two hearts on the board. He checked, I bet like half pot and he check-raised around three times. I just didn't think he was bluffing and has a king here almost always, so I just shoved knowing he wasn't going to fold.
Do you have any big plans for the $111,000 payday? Did you get it all or did you have a backer?
No real plans about the $111,000. I'm not backed or anything. I had to pay out a little with a few small swaps with friends. I'm just trying to build up. I had a rough last year, like everyone with Black Friday, obviously. I had my biggest online cash like two weeks before Black Friday, so that sucked having all that money frozen — still is. Then had a couple stakes go bad/scammed and what not, so was just a little lower on money then I'd like to be. Just nice to have more money and some nice scores with the WSOP coming up.
Care to elaborate on the FTP win and the scam?
A good chunk [of my money is] on Full Tilt Poker. Because the win was right before Black Friday, I wasn't able to get it out. I won the Sunday $100 Rebuy Turbo multi-entry for around $115,000. The scam I don't want to elaborate on too much. Just a staking deal with a supposed friend gone wrong where he was stealing and lying.
What does owning a WSOPC gold ring mean to you or was it mainly about the money?
Having a ring is cool, a nice little accomplishment/trophy/memento I suppose; however, it was mainly about the money.
You've had a great start to 2012 primarily in the Vegas and California. Do you have any plans to branch out and play any tournaments further away or will you be sticking around the West?
Ya, I don't plan too far in advance. If a tournament series is close to Vegas, I'll look into going. Might go to Florida for the World Poker Tour event in April.
What are your plans for the summer? Can we expect to see you at the WSOP? If so, which events will you be playing?
Ya, I'll be playing most, if not all, events at WSOP. Very excited obviously.
Are you excited to be playing the National Championship? Will you be doing any preparation, such as studying or researching your opponents, or will you just go in there and play it by ear?
The National Championship is cool. Not sure [of my strategy], I'll probably look and see who all is in it before, but who knows.
Stay up to date on all the latest news by following us on Twitter and liking us on Facebook.