The Nightly Turbo: PartyPoker Makes Cash Game Changes, MicroMillions Update, and More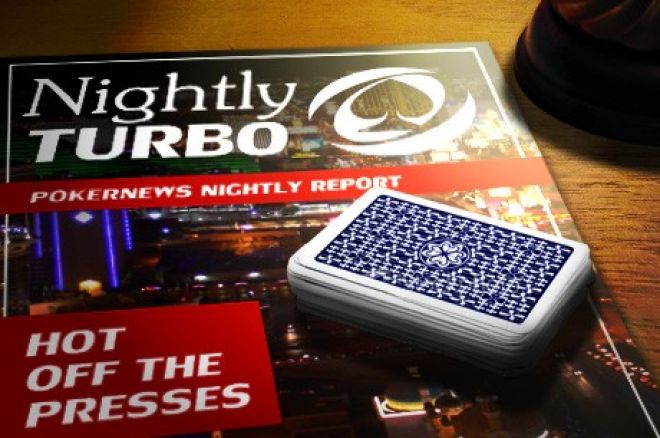 In Case You Missed It
Jason Mercier has already given us a peek at his life before poker, but what about his journey to becoming a professional poker player? Find out all about it in the latest video from the Seat Open series.
The top two spots on the Global Poker Index didn't change from last week, but the player in third moved up five spots thanks to a WSOP Main Event finish. Who is it? Check out this week's Global Poker Index to find out.
Throughout the 2012 World Series of Poker Main Event, Onnit held a Last Sticker Standing promotion, where the winner would win $5,000. Who pocketed the cash? Here's a look at the details along with an interview with the winner.
High Stakes Cash Games on PartyPoker?
They gone.
On Thursday, PokerNews obtained a statement from PartyPoker regarding the removal of its high-stakes cash games.
"We have removed some of our super high stake games, this decision has been taken to make improvements to our poker ecology and in our players best interests. We believe this change will improve the action at our tables and is in the best interest of the poker room as a whole."
The cash games that have been removed include all no-limit and pot-limit games with blinds of $10/$20 and higher, and fixed limit games with blinds of $50/$100 and higher.
If you want to find out more, head on over to UK.PokerNews.com.
Thursday's PokerStars MicroMillions Update
The PokerStars MicroMillions II is in the home stretch. The online tournament series is scheduled to end on Sunday. Through Day 7, over $4 million has been paid out to players and there have been 807,430 entries.
And yes, Team PokerStars Online member Andre Coimbra is still working through his challenge of playing all 100 MicroMillions II events. According to the PokerStars Blog, Coimbra has slept 31 hours and 10 minutes, and has $296.23 in tournament earnings. Here's his latest video diary.
Here's a look at the 2012 PokersStars MicroMillions II winners through Event #65.
| Event | Entrants | Winner | Prize |
| --- | --- | --- | --- |
| #54: $5.50 NL Hold'em | 5,136 | zandermak | $4,031.85 |
| #55: $2.20 NL Hold'em | 9,728 | fecooo | $2,212.97 |
| #56: $3.30 FL Badugi | 2,233 | pahancik | $923.27 |
| #57: $8.80 NL Hold'em | 4,008 | bgigra4 | $4,332.56 |
| #58: $2.20+R NL Hold'em (Big Antes, 2x-Turbo) | 10,899 | Noogaii | $12,852.61 |
| #59: $3.30 NL Omaha H/L | 8,323 | GGFML | $3,642.68 |
| #60: $8.80 NL Hold'em | 14,710 | nafnaf_funny | $9,896.06 |
| #61: $1+R NL Hold'em (3x-Turbo) | 15,824 | HansGusen112 | $9,386.94 |
| #62: $4.40+ R PL Omaha (6-Max) | 2,065 | akaTomash | $3,229.62 |
| #63: $5.50 NL Hold'em | 5,524 | Alvagaard | $4,324.13 |
| #64: $3.30 NL Hold'em | 9,090 | ber1212 | $3,596.37 |
| #65: $4.40 NL Hold'em (6-Max) | 8,376 | Chalkyman | $5,029.44 |
MicroMillions II runs through Sunday, July 22, culminating with a $22 Main Event with a $1 million prize pool. For an in-depth look at Wednesday's results, visit the PokerStars Blog.
Einhorn and Frankenberger Play Poker for Charity
On Tuesday night, Andy Frankenberger and Big One for One Drop third-place finisher David Einhorn were among the attendees at the REACH Take'Em to School Poker Tournament in Manhattan.
REACH is a nonprofit foundation that helps students in underserved New York City schools get into college. REACH offers free Advanced Placement prep courses to students from 30 different schools to help them take AP courses and AP exams. According to BusinessInsider.com, almost 19,000 students have attended the REACH workshops.
According to BusinessWeek, the tournament was sold out three weeks before the event. Hedge fund managers and bankers were among the attendees who ponied up the $1,000 buy-in for the event. JD Capital Management LLC CEO David Rogers emerged as the winner, and Greenlight Capital Inc. analyst David Tepperman came in second.
BusinessInsider.com attended the event, and we must say, that's one fancily-dressed poker tournament. Maybe we should be taking notes.
Doyle Updates Us on His Summer
After more than a month, Doyle Brunson has graced us with another blog. We can't blame him for the wait, he's "on the best heater" that he's had in years. We'd probably do the same thing, but we're not really familiar with "heaters" except for the kind that keep you warm in the winter, so on we go, writing away.
In his blog, Brunson tells us that the WSOP was "pretty uneventful," that he didn't really get into the bracelet race, and thinks the "tournaments are for younger players."
He also says that Vanessa Selbst "is not only the best female player in the world, she is one of the top players, male or female."
Brunson then reflects on his lost scooters (three scooters lost, all during the WSOP) and an interesting turn of events that occurred at the Bellagio one night.
"Some kid that looked like he might not be old enough to be in the casino walked into Bobby's Room. He looked at all the cash and large denomination chips then turned back and walked to the door as if he was leaving. He made a quick spin and came back to our game and looked directly at me. He then looked again at the money, turned and went out the door where several players at a different game heard him say, 'I'm going to come back with a gun and take that money.'"
Brunson being the old-school poker player that he is said that he told security if they let him get his gun from his car, he'd stay and keep playing. "I didn't like the idea of being a sitting duck for some nut case," Brunson wrote. (No, they didn't let him get his gun.)
Read about the Bellagio encounter and the rest of Brunson's summer in his blog on DoyleBrunson.com.
Hitler Reacts to 2012 WSOP Main Event Final Table
We know the "Hitler Reacts" meme is a little old, but that doesn't mean old things can't be funny — take Betty White for example. We're not going to give you any details for the following video, the title says it all. Our only request is that you should watch it. Seriously.
Follow PokerNews on Twitter for up-to-the-minute news.