The Nightly Turbo: Lee Watkinson's Chimps Escape, MicroMillions II Winners, and More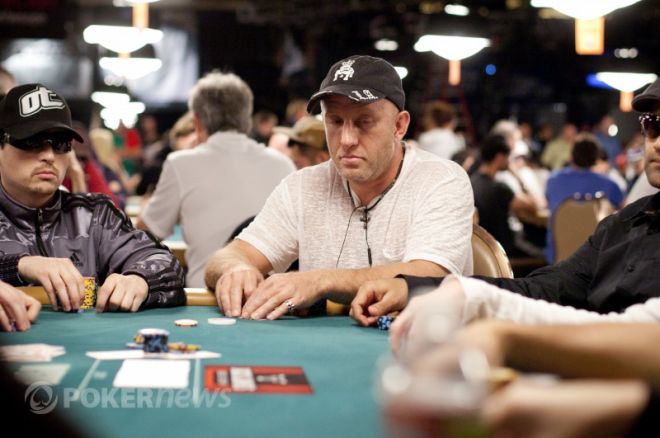 Friday brought one of the most exciting days of poker as the World Series of Poker Main Event played down through the money bubble. On Thursday, there was excitiment of a whole different kind in Las Vegas. We'll bring you that story and more in this edition of the Nightly Turbo.
In Case You Missed It
Dave D'Alesandro emerged as the chip leader on Day 3 of the WSOP Main Event. Find out who else built massive stacks in our Day 47 WSOP recap.
Sorel Mizzi is the newest endorser of Onnit Labs, a company that produces vitamin supplements. We caught up with Mizzi to ask him about the product and what he likes about it.
How was the high-stakes action at the PokerStars tables this week? Read the Online Railbird Report to find out the week's biggest winners and losers.
Looking for a fun, behind-the-scenes perspective of life at the WSOP? All Mucked Up has daily stories from inside the Rio, so check it out!
One For The Guys
PokerNews' Lynn Gilmartin sits down with former PokerNews hostess Amanda Leatherman for the latest edition of Explain This. You won't want to miss this one.
Follow PokerNews on Twitter for up-to-the-minute news.
WPT National Series Mazagan
The World Poker Tour National Series Mazagan kicked off Thursday with a €1,650 buy-in re-entry Main Event. Day 1a began with 77 players taking their seats at the Mazagan Beach Resort, El Jadida in Morocco.
Only 32 players were still alive when the day ended, with Bennani Fahd Smires leading the way with 143,600 in chips — nearly three times the average of 48,000. Javier Garcirreynaldos was close behind with 132,700, and poker pro Roger Harabedian was the only other player who eclipsed the six-figure mark. Harabedian bagged 100,300 at the end of the day.
Among the players who bowed out on Day 1a were Leo Truche, Pierre Drochon, Mikael Azoulay, David Jaoui, and Bruno Fitoussi, all of whom were expected to re-enter for Friday's Day 1b.
Here's a look at the top nine stacks from Day 1a of the WPT National Series Mazagan:
| Place | Player | Chips |
| --- | --- | --- |
| 1 | Bennani Fahd Smires | 143,600 |
| 2 | Javier Garcirreynaldos | 132,700 |
| 3 | Roger Hairabedian | 100,300 |
| 4 | Hamamsi El Madani | 89,000 |
| 5 | Peter Pieri | 86,000 |
| 6 | Philippe Barouk | 80,000 |
| 7 | Warren Knight | 50,000 |
| 8 | Paul Guichard | 31,000 |
| 9 | Philippe Garet | 143,600 |
| 10 | Bennani Fahd Smires | 143,600 |
Read more at Poker.fr.
The Micro Grind
The second installment of the popular PokerStars MicroMillions tournament series kicked off on Thursday with six events. More than 172,000 entrants took part in the first day of action, setting a great pace to catch the March edition's all-time record of 1,294,883 entries for a tournament series.
Team PokerStars Pro Andre "acoimbra" Coimbra, who announced he will be playing all 100 MicroMillions II events, failed to cash in any of the first six tournaments, but he was up bright and early Friday to take part in Event #7, a $5.50 no-limit hold'em event. Coimbra is updating his daily progress at the PokerStars Blog.
Here's a look at the winners from the first day of MicroMillions II:
| Event | Entrants | Winner | Prize |
| --- | --- | --- | --- |
| #1: $.011 NHLE Turbo w/ Rebuys | 56,870 | cittadipace | $7,332.37 |
| #2: $1 NLHE 3x-Turbo w/ Rebuys | 36,734 | geydrikh | $17,512.21 |
| #3: $3.30 NLHE 6-Max | 40,897 | Icegg 15rus | $9,506.31 |
| #4: $3.30+R NLHE | 13,757 | Iwantbearich | $18,566.47 |
| #5: $3.30 NLHE | 17,703 | Toria06 | $6,221.34 |
| #6: $2.20 NLHE 2x-Turbo w/ Rebuys | 6,589 | Beckersen81 | $7,927.33 |
MicroMillions II runs through Sunday, July 22, culminating with a $22 Main Event with a $1 million prize pool. For an in-depth look at Thursday's results, visit the PokerStars Blog.
Escape From L.V.
Four years ago, former WSOP Main Event finalist Lee Watkinson and his partner Timmi Derosa rescued two chimpanzees, which had been test subjects in scientific and medical research. Watkinson had since been caring for the chimps, CJ and Buddy, from his home in Las Vegas.
On Thursday, though, the two chimpanzees escaped their cage and rampaged through the neighborhood, forcing police to kill one of the chimps and tranquilize the other.
Derosa explained to ABC News that the chimpanzees kicked door of the cage until it broke free from the hinge, allowing them to escape. The chimps then ran wild in the streets, pounding on vehicles and jumping onto a police car. No people were harmed during the incident, but the male chimp, Buddy, was shot to prevent anyone from getting hurt.
CJ was returned to her cage at Watkinson's home, but members of the humane society are asking for the Nevada Legislature and U.S. Congress to prevent caregivers from keeping chimps as pets.
Watkinson used his winnings from the 2007 WSOP Main Event to rescue the chimpanzees with the help of the Cortland Brandenburg Foundation. He talked to PokerNews in 2008 about rescuing the chimps in Washington state.