All Mucked Up: 2012 World Series of Poker Day 47 Live Blog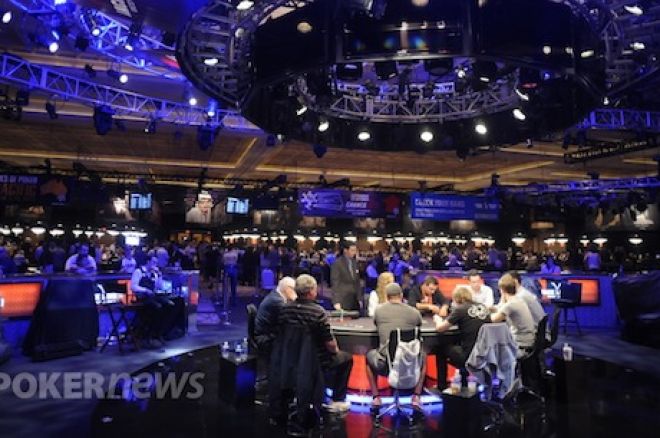 All Mucked Up is a live blog of all the stuff you want to know at the 2012 World Series of Poker, besides hand histories and bad beats. Well, we might add a few in here, everyone loves a good bad beat story — unless it happened to you. Check back often for polls, soundbites, celebrity sightings, and who knows what else!
A Legend Will Rise: Main Event- Day 4
It's Friday the 13th, 666 players will make the money today, and it's raining in Las Vegas. Needless to say, day four of the Main Event is off to an ominous start, but don't worry folks, PokerNews will be here providing updates, despite the pending apocalypse. With only 720 players remaining, all play has consolidated to the Amazon room. Here are some of the images right before the start of play.
Here is Kara Scott interviewing Team PokerStars Pros Vanessa Selbst and Liv Boeree along with Maria Ho.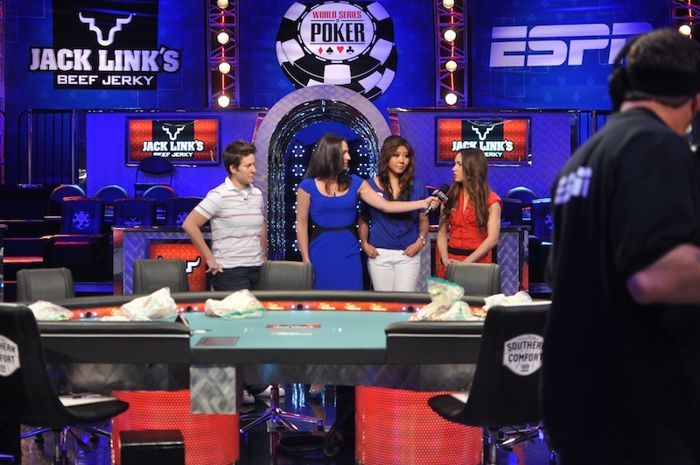 We spotted Team PokerStars Pro Daniel Negreanu with Ali Nejad.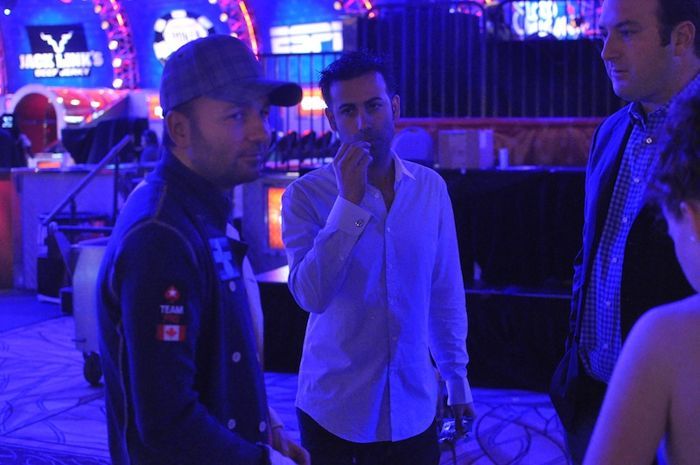 Actor Kevin Pollak is still alive. We'll be sure to keep an eye on him.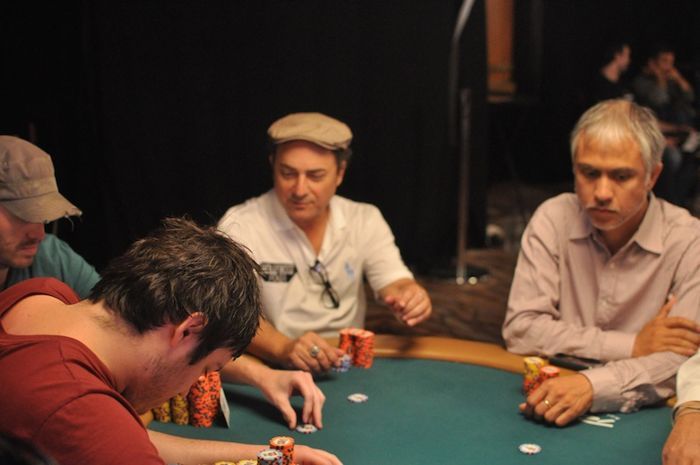 David D'Alesandro enters the day as the current chip leader.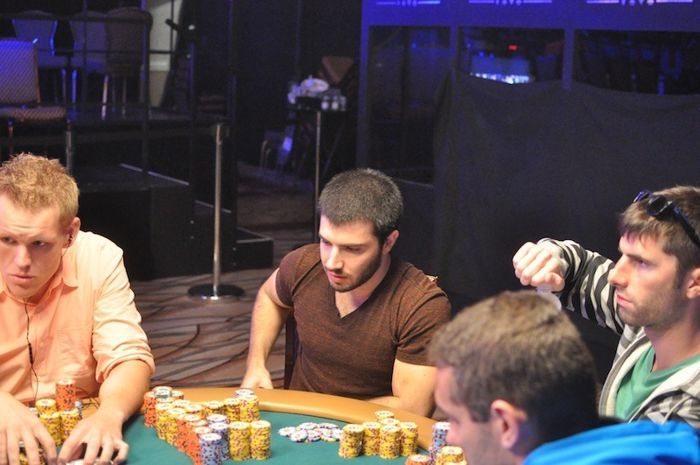 Here's fan favorite Gavin Smith getting ready for the day.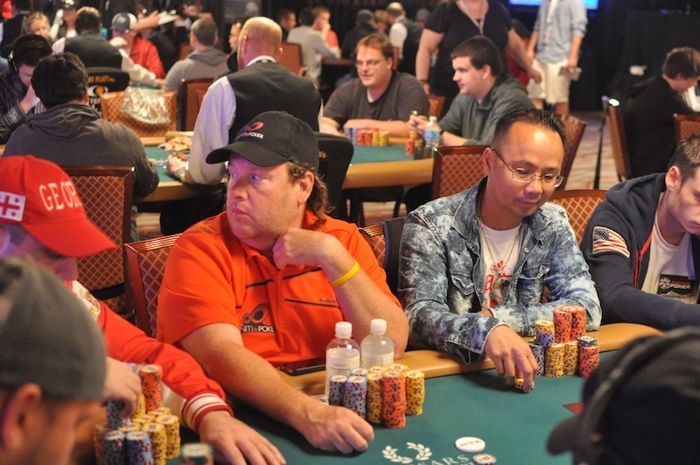 Murders Row
Here are images of the feature tables. Each is armed with a killer lineup.
Opponents will have their hands full with TeamPokerStars Pro Vanessa Selbst.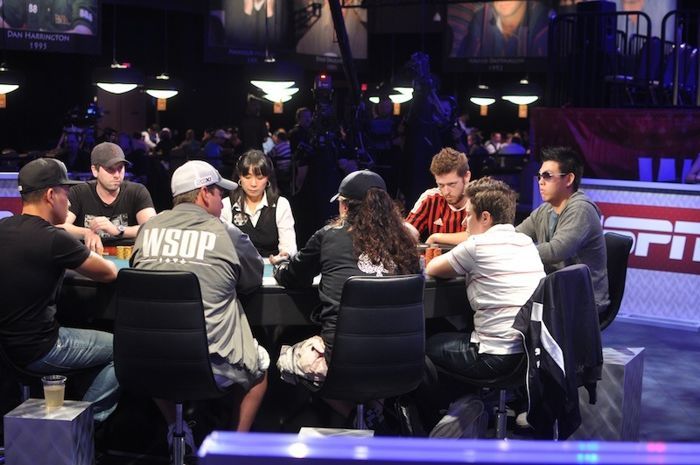 Eric Baldwin and Team PokerStars Pro Daniel Negreanu figure to butt heads.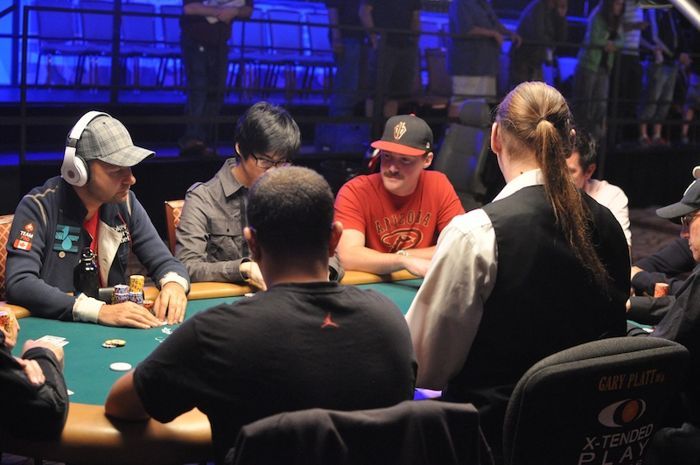 Antonio Esfandiari seems relaxed. Well, who wouldn't be after winning the One-Drop? As we passed by the table we overheard Esfandiari sarcastically lamenting his bad luck, "I've run so sh*tty this summer."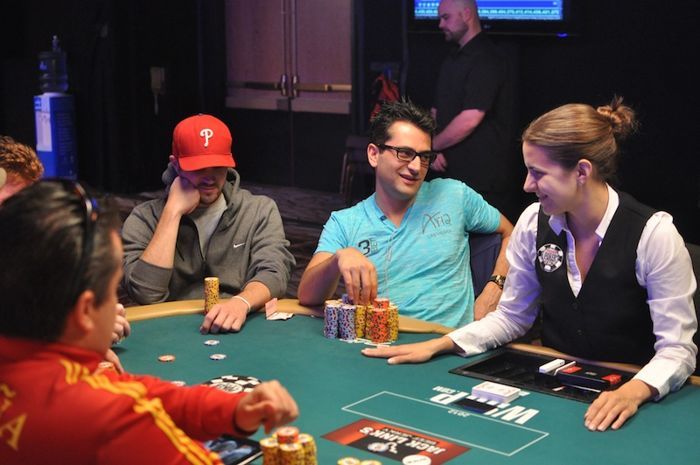 We're In The Money!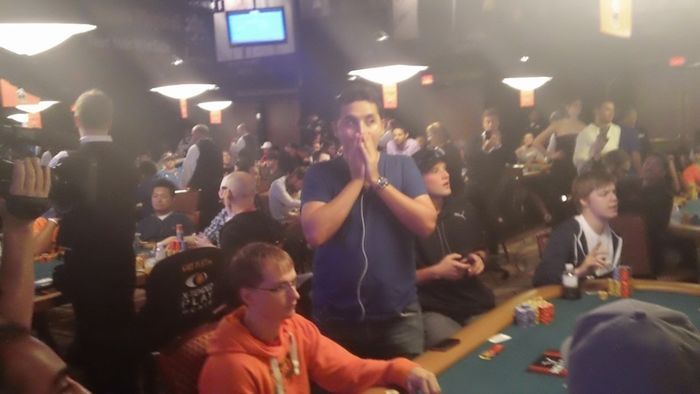 The money bubble broke before the end of the first level of play this afternoon. Amazingly, there was four all-ins with 667 players remaining (666 paid). We were able to catch some of the sights and sounds of the bubble bursting.
The dealers were instructed to stand during the hand-for-hand process: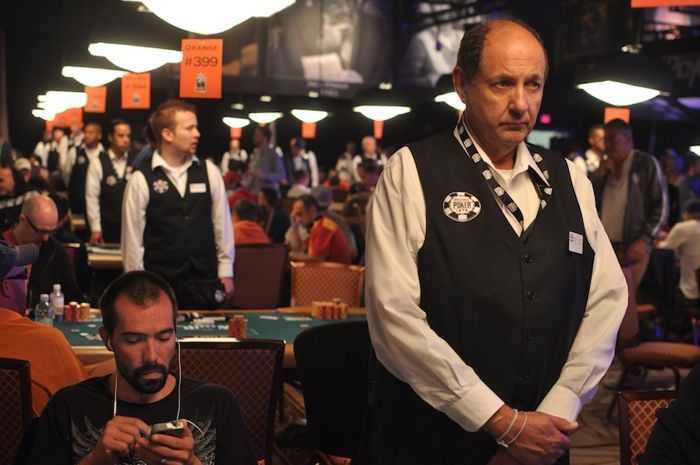 Here were some of the short stacks sweating it out: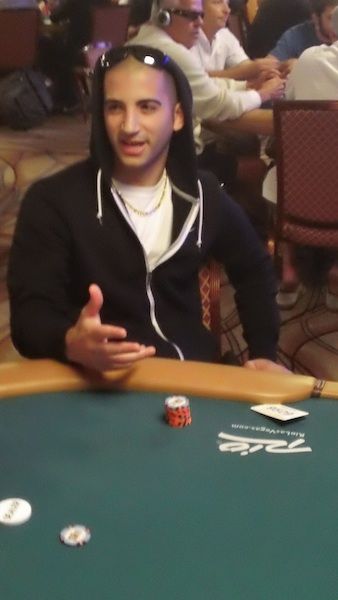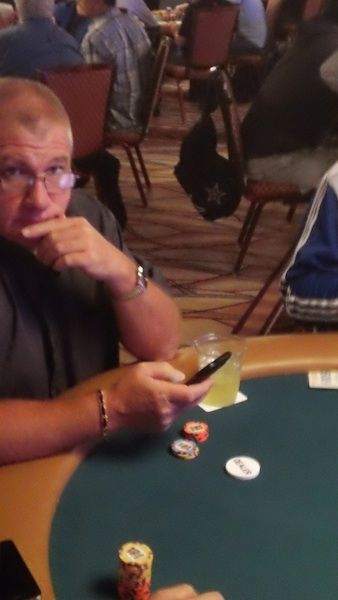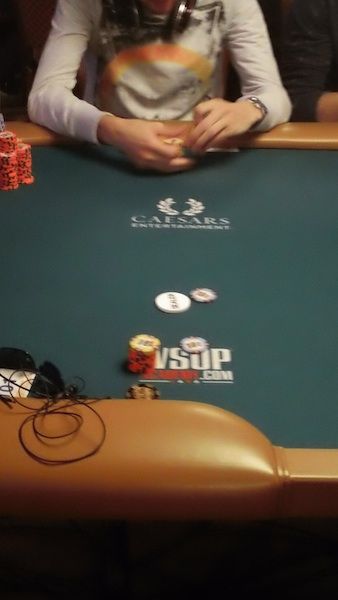 The bubble didn't seem to affect this player: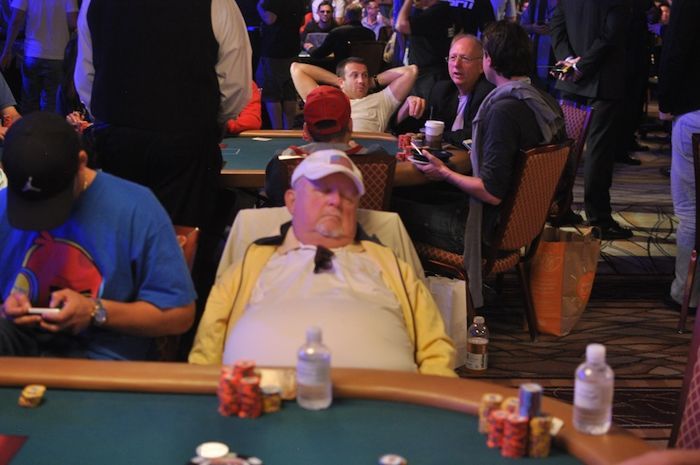 Here's a hand of one of the four unfortunate bubble boys:

Kevin Pollak Survives The Bubble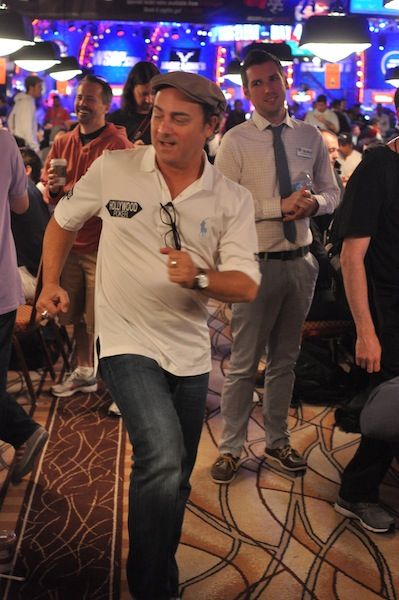 Actor Kevin Pollak has been entertaining his tablemates all series long with jokes, impressions, and even song and dance routines. We caught Pollak singing, "I'm a min casher", to the beat of the Wheel of Fortune promo song, "I'm a wheel watcher."
When asked how he felt about surviving the bubble, Pollak replied, "It's surreal, I've been grinding a shortstack forever. I'm sitting at around 200K. I need a double up."
---ReadMore---
Shirt Of The Day
It's hard not to root for this player. A very touching message from a cute pair of kids.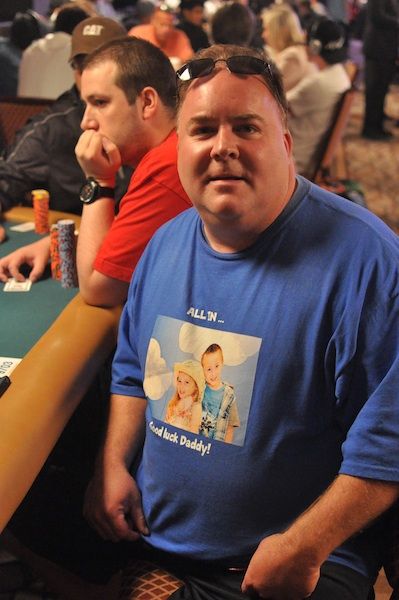 Celebrity Look-Alike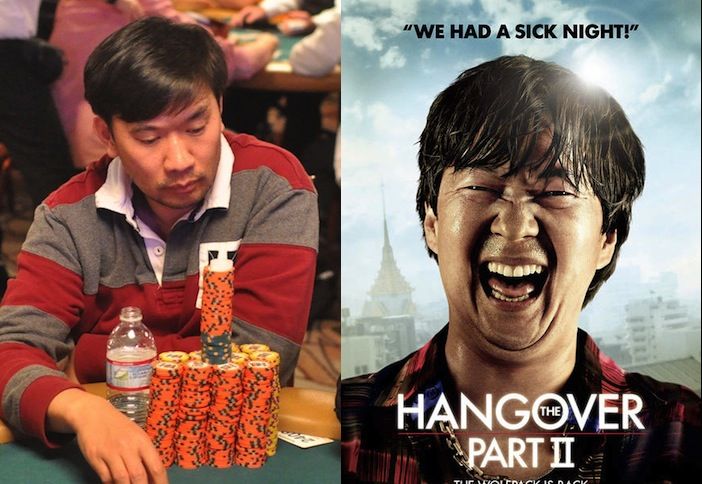 Let's take a second away from the Main Event madness for a poll. We overheard some players talking about this grinder looking like Mr. Chow from The Hangover. We think it's a pretty close fit, what do you think? He's ballin' like Mr. Chow too, check out that stack!
Poll
Does This Guy Look Like Mr. Chow
That's So 19th Century Of You
In this day and age of iPhones, iPods, and iPads, it was refreshing to see an actual book at the felt.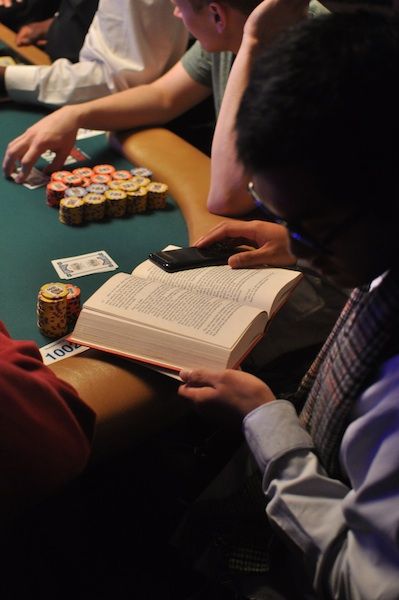 Pass The Pepper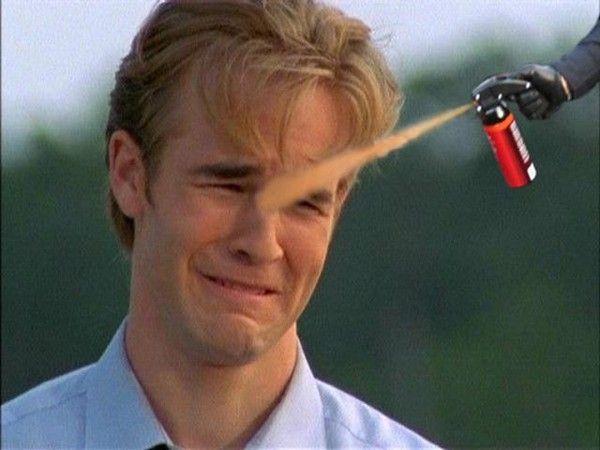 According to our live reporting team, somebody inadvertently used pepper spray in the Amazon.
No More Millions for Esfandiari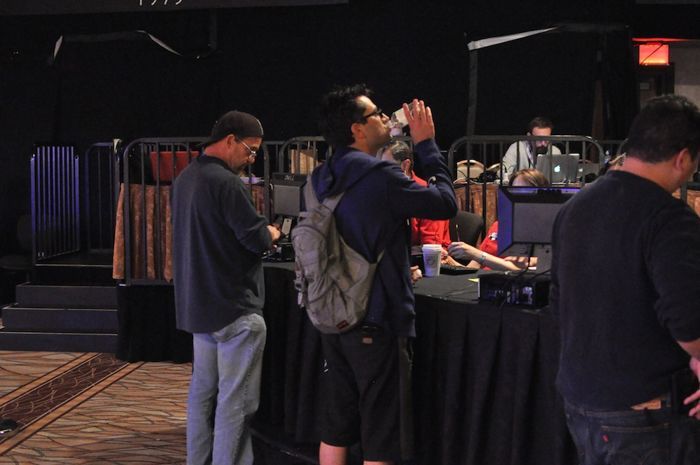 Antonio Esfandiari just got busted in 501st position of the Main Event, so no more multi-million dollar cashes for him this summer. Busting the Main Event is always an emotional affair for any player, but it doesn't seem to have affect Antonio's mood to much as he chats to the new crew and cheerfully collects his payout. Don't worry, maybe next year will be your year Antonio!
Ad Space For Sale!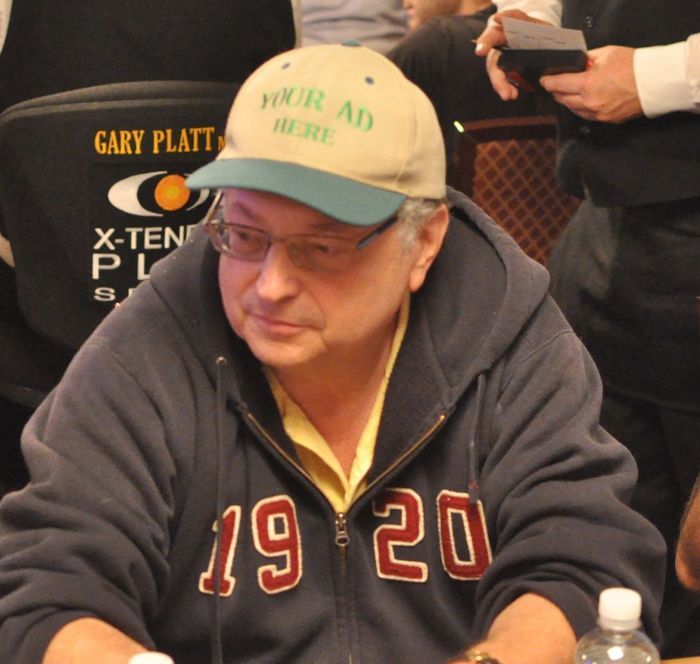 If anyone needs some advertising done in the Main Event, get in touch with this man in the next few days! He's renting out his hat!
Early Dinner
There seems to be some issue with the payouts going on in the Rio right now, with the floor men walking around and manually counting the players left in the event. After the players came back from their 20 minute break, there was no sign of play resuming and everyone was given an early dinner break! Our best guess is they've lost count of their payouts and are taking this time to work it out, if you're still in the Main Event and you're reading this you might come back to more equity than you left with! #SilverLining
Check out some pics of the players and cameras crews flaking out around the Rio, confused as to when they're going to be able to play again.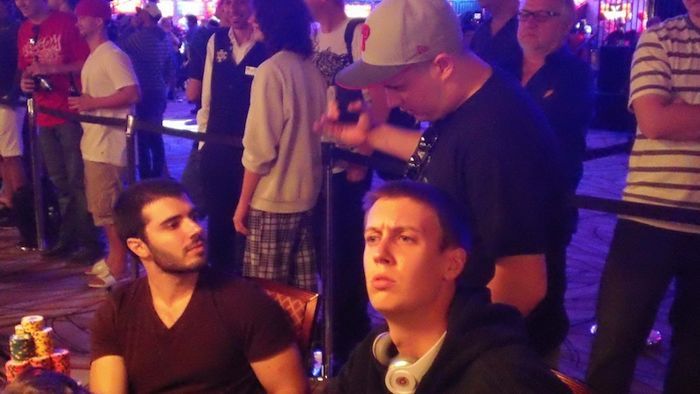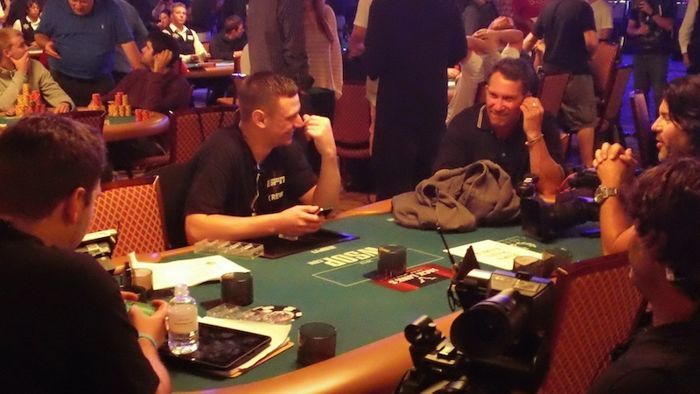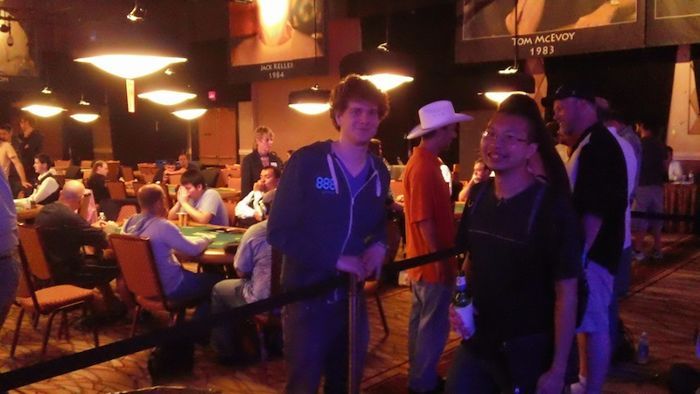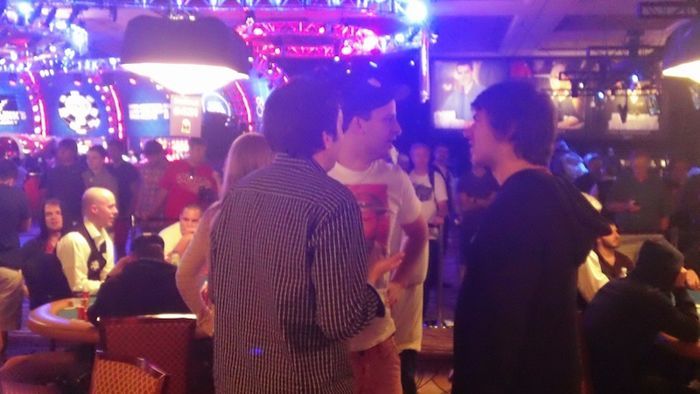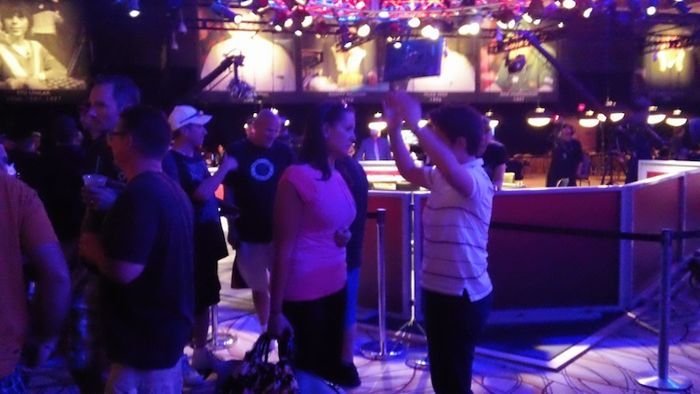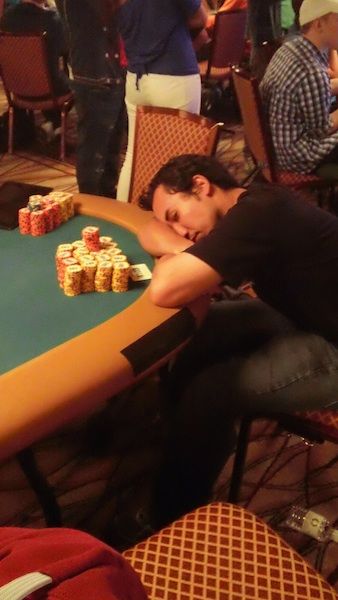 Castle Building
We're getting close to another color up, so we took this time to get some snaps of the coolest castles around the Amazon room. We're seeing the same faces all day today as some big name players push their way towards the final table. Seen below is David D'Alesandro with 1.8M and Paul 'paulgees' Volpe with 1.6M.
Chip Colors - For reference, the yellow chips are 1k, the orange chips are 5k and the sexy green chips are 25k... yellows going to be gone before too long, this main event is moving quick with only 447 players left!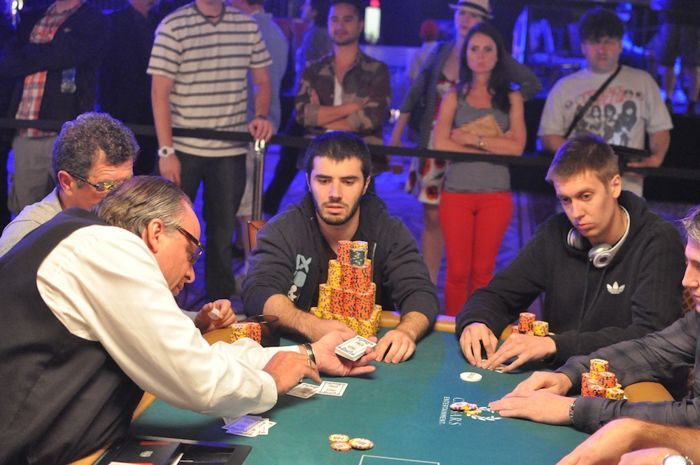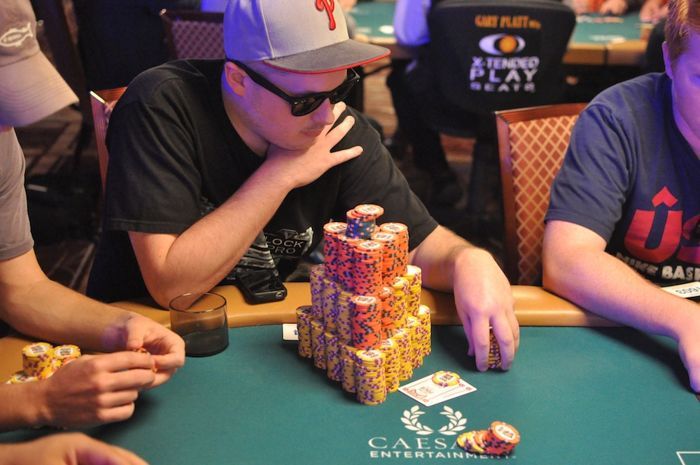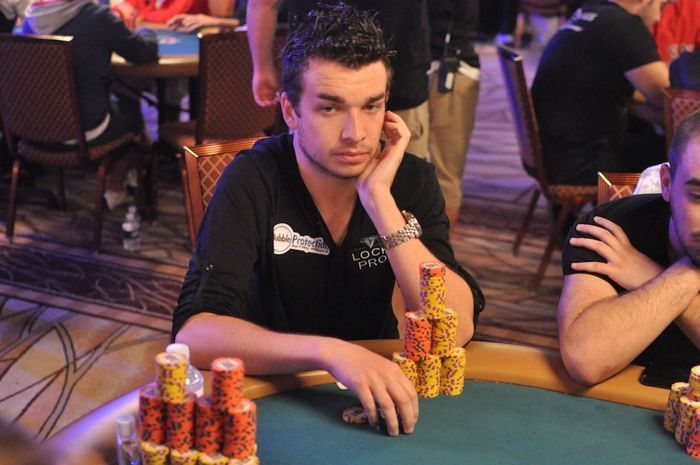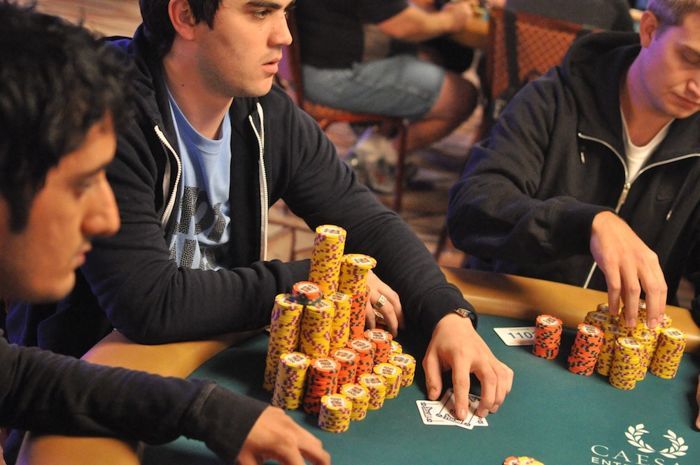 Celebrity Look Alike Part 2: "The Bride"
It's been a running joke that we at the PokerNews crew are going to buy Gaelle Baumann a bright yellow jumpsuit if she manages to make it deep into the Main Event. Why, you ask? Because we believe she bares a very striking resemblance to Uma Thurman/"The Bride" from Kill Bill.
What do you think? Let us know in the poll below.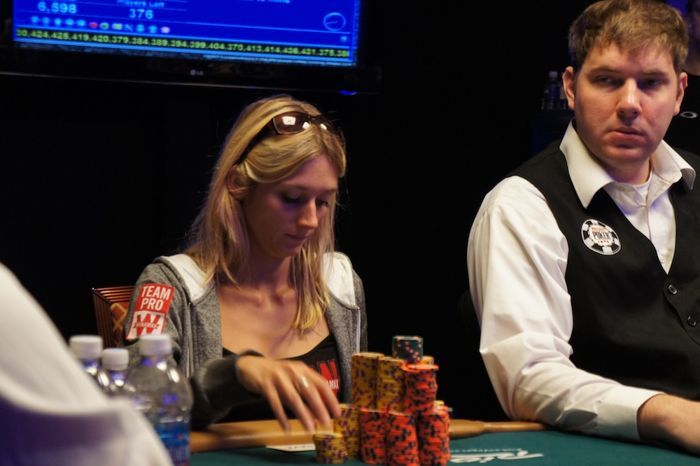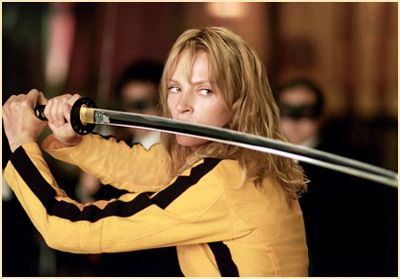 Poll
Does Gaelle Baumann Look Like "The Bride?"
What's on Your Head: Day 47
This gentleman who was playing in the Main Event must be from Australia. He was wearing a leather, crocodile dundee style hat, complete with prints of kangaroos on the hat.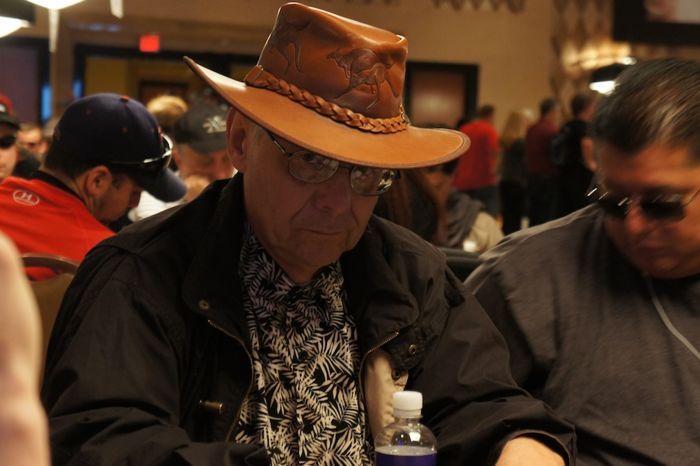 When we went to grab a shot of him, he didn't look too pleased. But we think he would've smiled had he known he was earning the Hat of the Day award.
Featured
The old ESPN Main Feature Table has recently broke and a new batch of players has moved into the stage. Oddly enough, there are not many recognizable faces at the new main feature table.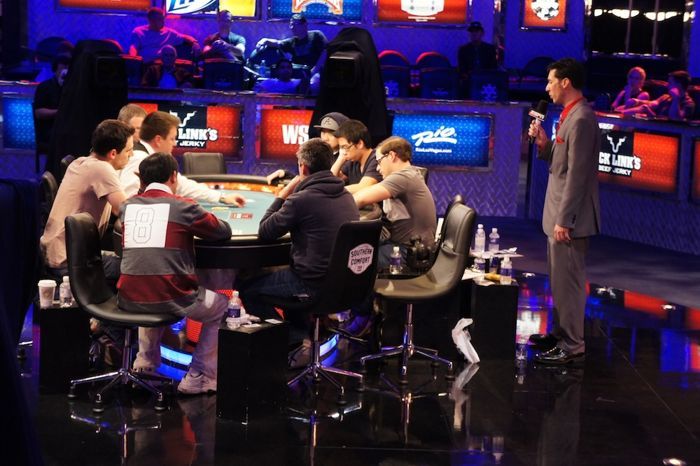 One player we did recognize though was Matt "Adzizzy" Marafioti. We're sure that Marafioti should bring some "interesting" table talk to the main stage and things should be active and fun for the ESPN cameras. Here's a list of all the players at the table with counts:
Nghi Van Tran: 1,364,000
Chanracy Khun: 486,000
Keith Johnson: 410,000
Jae Pak: 309,000
Jordan Batt: 221,000
William Klevitz: 212,000
Robert Kelepouris: 144,000
Matt Marafioti: 73,000
Debbie Haigh: 69,000
The Uncle Ron Chronicles: "Grant Mister Fish Hinkle"
Earlier in the series we brought you an amazing interview with Mason "Uncle Ron" Hinkle. Mason is the third Hinkle brother who was in full character and costume to rail Blair Hinkle, who had made a final table.
Today, Kristy Arnett caught up with yet another Hinkle: Grant. Grant was in full character as "Mister Fish," part of the Hinkle's home game crew. Check out the interview and the poker tips that Mister Fish has in the video below.
"You Don't Wanna Know What Happens When I Lose."
We were strolling through the Amazon room when from the other side of the room we heard the yells, "F***," and "Damn it!" screamed one after another from the table of Hollywood Star Kevin Pollak.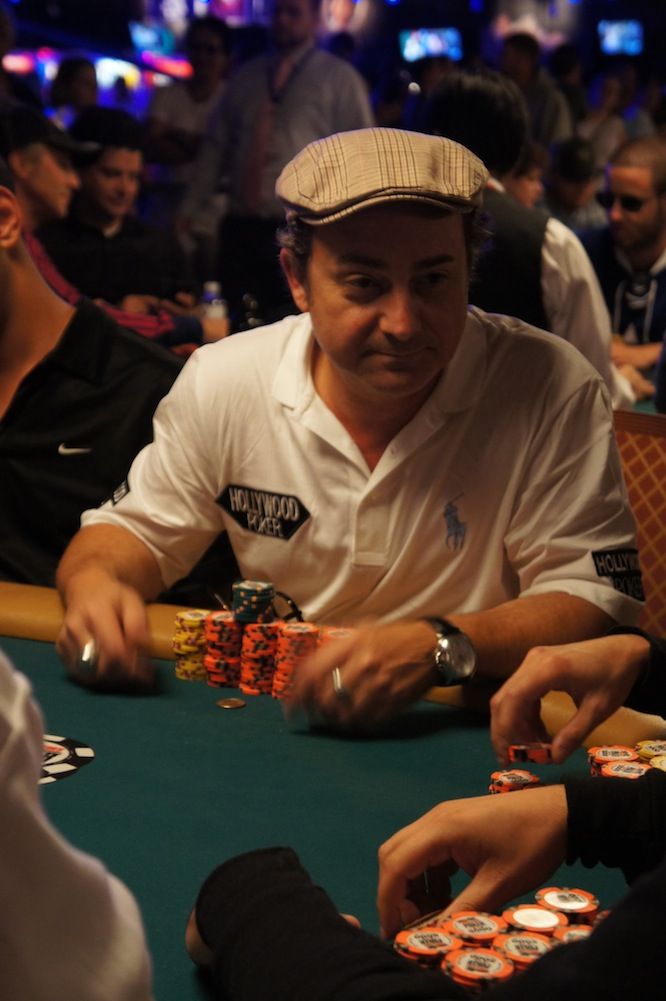 Apparently, Pollak had just won a huge pot with
against
and was excited about his double up. He stood up and began pacing around nearby tables pumping his fists, although it looked like he was going to make an exit, or that he just got sucked out.
"Kevin, you're meant to stay at the table when you win," someone said from an adjacent table.
"When you get a minute, go f*** yourself," Pollak said in return. "If you think this is bad, you don't want to know what happens when I lose."
Pollak excited sat back down at the table and began to scoop up his pot.
"How much do you have now?" a table mate asked him.
"Is that what it's about now? How much I have?" he said in return.
"I'm from Greece, remember?" the player said.
"Oh yeah, you're from Greece. You guys ruined the ruined the Euro, you shouldn't be worried about how much I have." he replied.
As soon as the ESPN cameras left though, Pollak apologized to his Greek tablemate: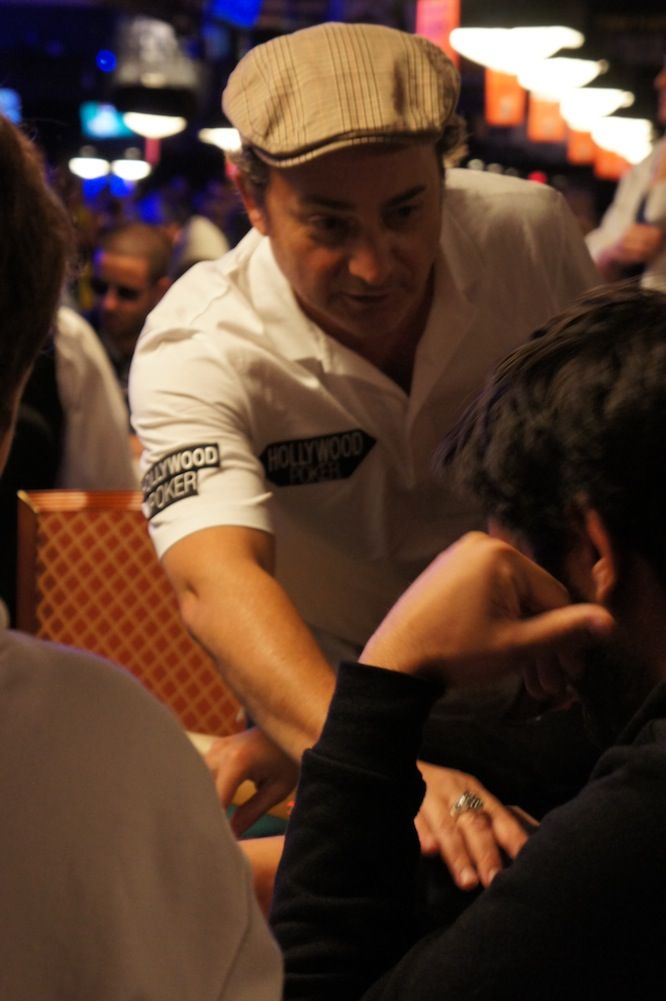 "That was uncalled for, and you didn't deserve that," he said. "I truly apologize."
What a showman.
Who Is Perry Green?
[From the PokerNews live reporting blog]
If you're part of poker's newer generation, you might not recognize the name Perry Green, but you should. The man is literally a living poker legend with World Series of Poker cashes dating back to 1976.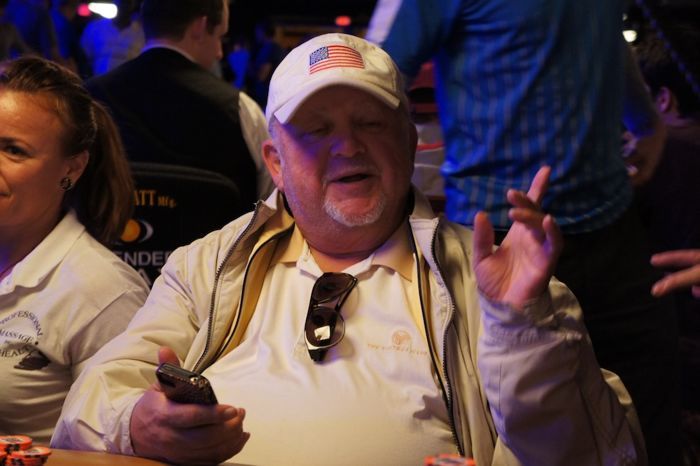 In fact, Green has three gold bracelets to his name:
1976 $1,000 Limit Ace to Five Draw for $68,300
1977 $5,000 Limit Ace to Five Draw for $10,000 (yes, there were only two entries)
1979 $1,500 No Limit Hold'em-Non Pro for $76,500
In addition, Green finished runner-up to the legendary Stuey Ungar in the 1981 WSOP Main Event, which earned him a cool $150,000. All told, Green has 23 WSOP cashes totaling $592,709, with his most recent cash coming in this year's Seniors Event where he took 217th place for $2,786.
One last interesting fact, this marks the first time Green has cashed in the Main Event since 1991 when he placed fifth for $69,000 and his fourth Main Event cash overall.
Short Day Today
Due to the unscheduled and extended break, there were only four levels of play today. Players are currently bagging it up and returning for day 5 tomorrow.
We encourage everyone to get involved with "The Muck." See something you think is Muck worthy Send it to the muck@pokernews.com. We accept all media including photos and videos.