All Mucked Up: 2012 World Series of Poker Day 43 Live Blog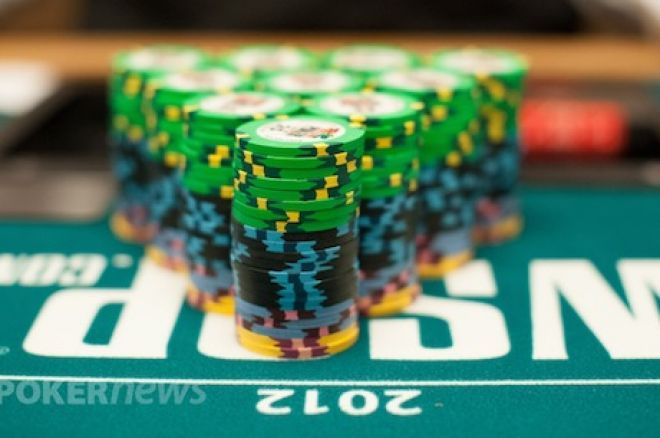 All Mucked Up is a live blog of all the stuff you want to know at the 2012 World Series of Poker, besides hand histories and bad beats. Well, we might add a few in here, everyone loves a good bad beat story — unless it happened to you. Check back often for polls, soundbites, celebrity sightings, and who knows what else!
Main Event Madness: Morning Shenanigans
It's another mad house at the Rio for the final day of starting flights for the 2012 Main Event. Seen among the crowds this morning were Tom Marchese, William Reynolds, Matt Marafioti, Jeff Madsen, Noah Schwartz, and many more. Also spotted this morning was the Jack Links Sasquatch: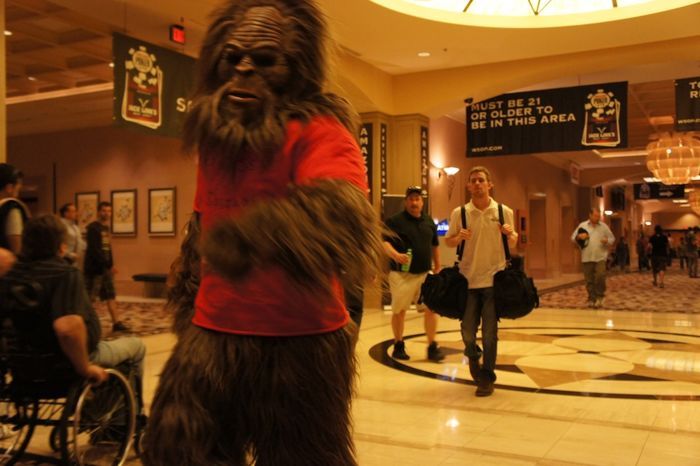 The PokerNews team was in a sticky situation this morning as we tried to capture a picture of Sasquatch, but he spotted us at the last minute. It was either stay and focus the picture, or run for survival. We chose the later option.
Sasquatch was angrily scouting the halls of the Rio just before the Main Event was about to kick off, and we think he was after the guy in the giant banana suit: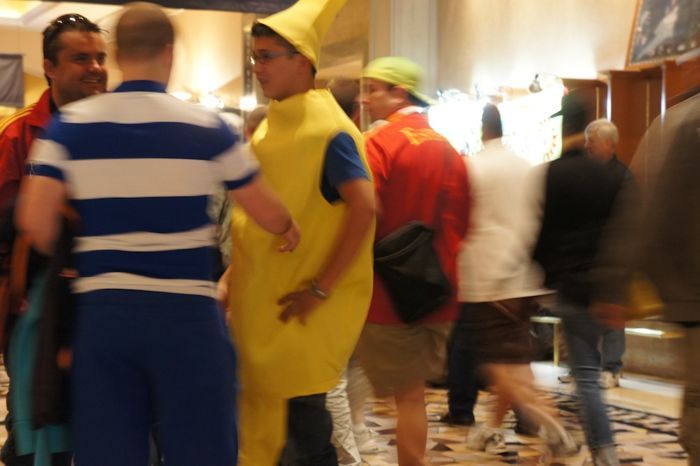 Either way it looks like it's going to be another eventful day at the Rio as the last of the starting flights should bring in the biggest crowd.
To check out hands, chip counts, and more updates from day 1c of the Main Event, make sure you check out the live reporting blog for all the updates.

Murderers Row: Main Event Day 1C
Today in Murderers' Row are three more champs, and even more big names and faces. In case you didn't know, Murderers' Row is the name we've given to the space in the Amazon Room under the Main Event Champion's Banners where three different Main Event champions have been seated every day so far of the Main Event.
At the table closest to the door in the corner of the Amazon room is 2010 Main Event champion Jonathan Duhamel. Next to Duhamel is Scott Baumstein.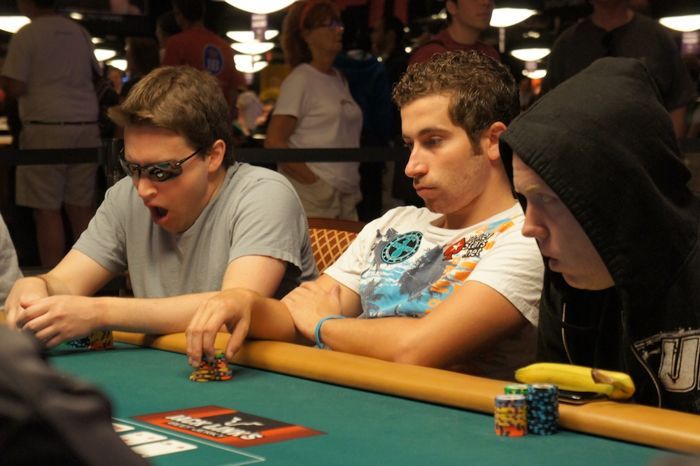 ---ReadMore---
At the next table over is 2009 Main Event champion Joe Cada. Seated a few seats over from Cada is Dan Kelly.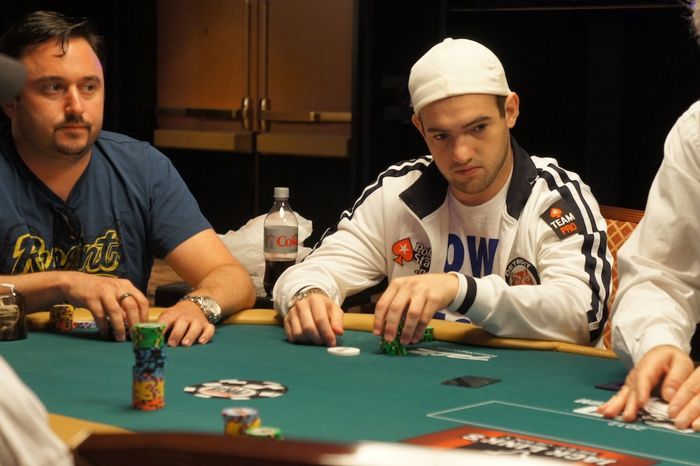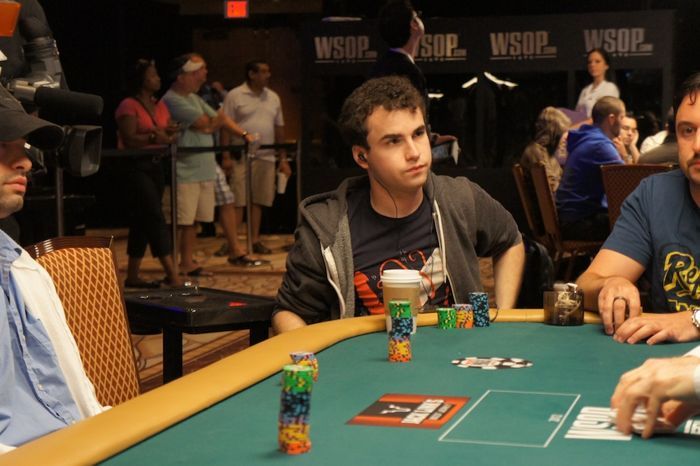 On the furthest table is 1987 and 1988 two-time Main Event Champion Johnny Chan. Seated to Chan's left is Humberto Brenes, and to his right is David 'Doc' Sands.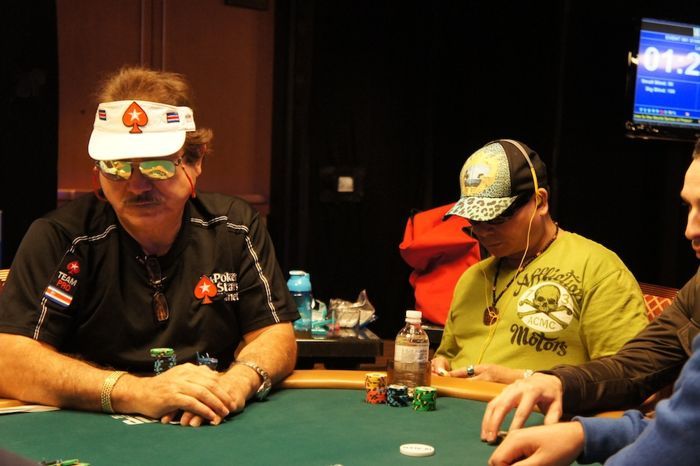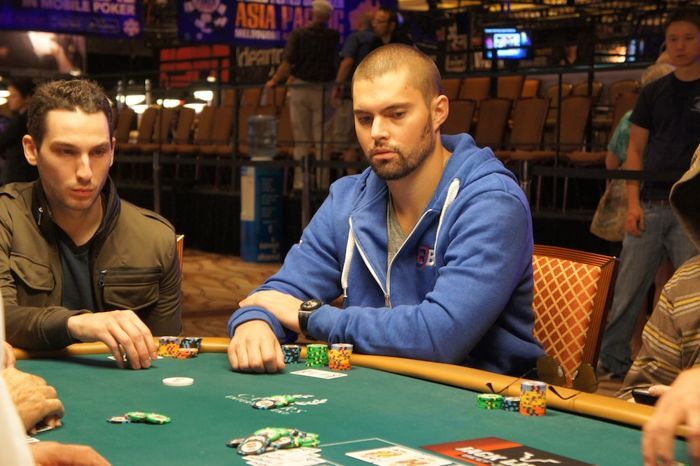 Update:
David 'Doc' Sands doesn't seem to be having the best time in Murderers' Row. Here's his tweet on the matter: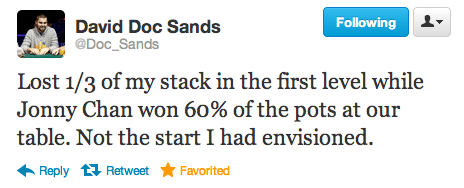 We'll keep you updated throughout the day on any more action we see going on in Murderers' Row.
Murderers' row has been a great spot for action so far, and should be event better today with more big names and faces than any day yet.
A Movie Star Rail
Former cricket playing superstar Shane Warne is in the field today playing the Main Event and we caught him while he was at the table: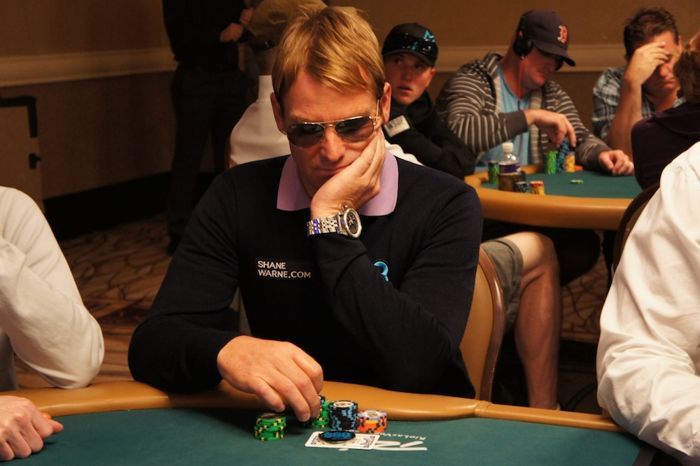 On his rail is his movie star fiance Elizabeth Hurley. Hurley can be seen in such films as Austin Powers, Bedazzled, and My Favorite Martian. Hurley seemed to be enjoying her time with Warne and even took to twitter to voice some of her thoughts:


The two lovebirds were seen hugging and snuggling on the rail, but we weren't able to snap a pic quick enough. We did however catch a pic of Hurley texting behind Warne though, and here it is: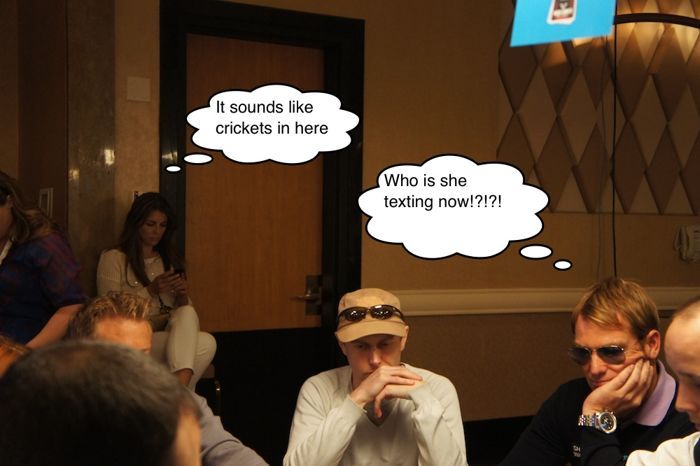 Pro Basketball Player Earl Barron in the Field Today
[From The PokerNews Live Reporting Blog]
One of the notables PokerNews has spotted in the field is professional basketball player Earl Barron. Barron's seated over at Table 84 in the Red Section of the Brasilia Room in the World Series of Poker Main Event and you can't miss him, seeing as he is seven feet tall. He even had to use two chairs just to sit comfortably!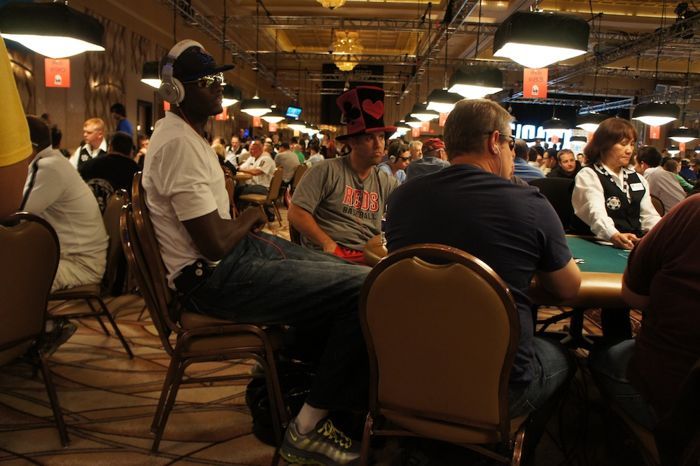 Barron graduated from the University of Memphis in 2003 and went into the NBA undrafted after a small stint in Turkey, the NBA's D-League and the Philippines. Barron joined the Miami Heat in 2005 and stayed with the team until 2008. He was fortunate enough to be part of the championship winning squad in 2006 to earn an NBA ring.
Over the course of his career with the Heat, Barron played 82 games over three seasons until he was not resigned in 2008. After that, he joined Italy's GMAC Bologna by signing a one-year, $2 million deal, but that journey was cut short due to an injury. Over the course of his career in the NBA, Barron has played in 112 games, averaging 15 minutes, 5.1 points and 3.6 rebounds.
When it comes to his poker career, Barron has earned nearly $50,000 in live tournament cashes. His best result came at the 2010 Gold Strike World Poker Open in Tunica where he took fourth in the $4,800 Championship Event for $33,896. Barron also has two WSOP cashes on record, one from 2009 and one from 2011.
The game of poker continues to expand, as more and more athletes venture to the WSOP each year. PokerNews will keep an eye on Barron throughout the event and hopefully many other professional athletes will join him on the felt. We all know athletes love competition and there's no greater one in poker than the WSOP Main Event.
Baby's Got A Brand New Bracelet
If you didn't know, in December of last year, Jonathan Duhamel's home was invaded. Taken from him was loads of cash and his 2010 Main Event Gold Bracelet. The bracelet was found months later in a street sweeper in Canada. It had been nearly destroyed and almost unrecognizable. Luckily it was turned into the police and used as a piece of evidence in the crime.
According to the WSOP Official Twitter, at today's bracelet ceremony, not only will Antonio Esfandiari be receiving his platinum One Drop bracelet, Duhamel will also be presented with a brand new bracelet himself:

We'll head over to the ceremony and try and catch some photos.
Costanza Back At It
George Costanza, or Jason Alexander, is back on the felt for Day 1C of the Main Event. PokerNews Hostess Kristy Arnett has been stalking him for the majority of the day so she can be the first to get an interview.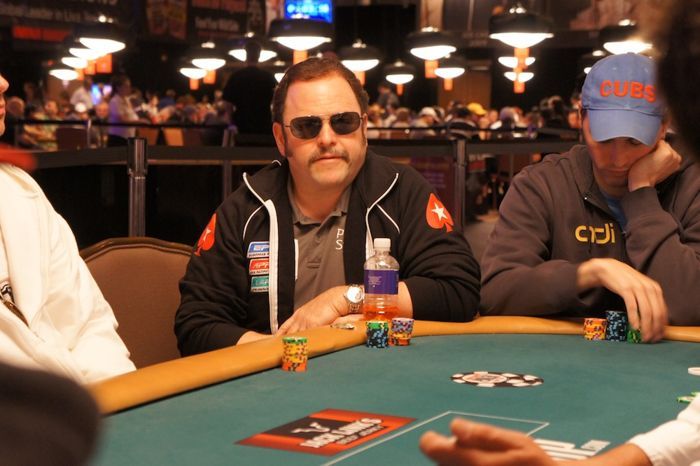 Alexander looks to be rocking a brand new mustache and even a pair of killer sideburns. We'll be sure to post the interview as soon as it's up!
Bracelets!!!

We rolled by the Brasilia Room to catch some of the action from the bracelet ceremonies where Jonathan Duhamel was presented with a new 2010 Main Event bracelet. "This is sort of exciting because it's almost like I'm winning a second bracelet," Duhamel said. "But don't worry, my plan is to win the Main Event again this year, and I really will have a second bracelet." Here is some photos from the presentation: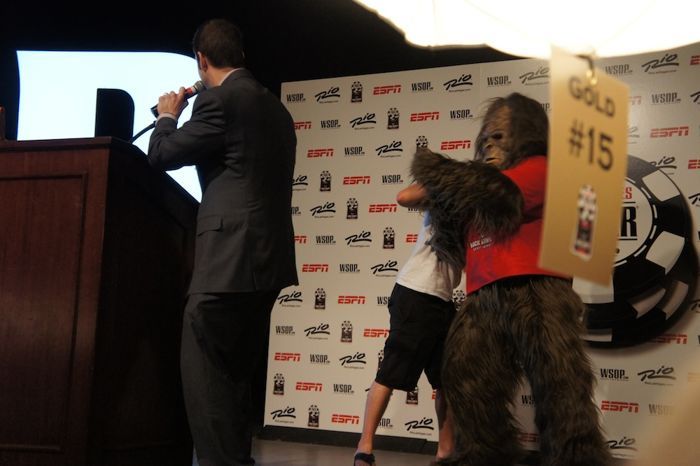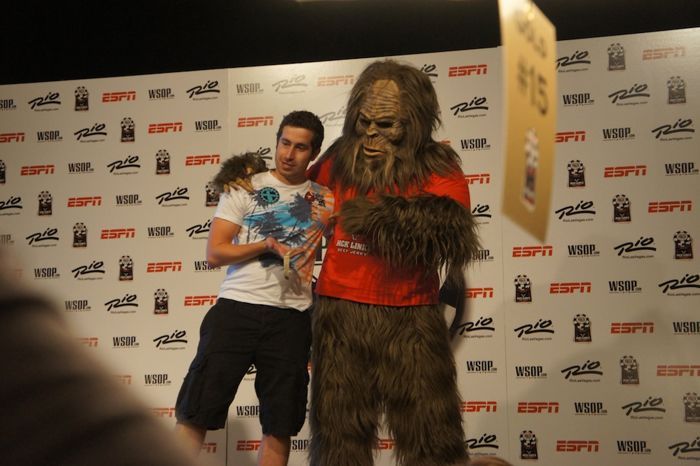 Also a part of the bracelet ceremony was Antonio Esfandiari, who was already presented with his bracelet earlier. As you may already know, Esfandiari presented his One Drop bracelet to his father, and he had a few words to say about that today. "My father brought me and my brother over here from Iran so that we could live a better life. He's always been my biggest supporter" Esfandiari said. "This just goes to show you that dreams can come true."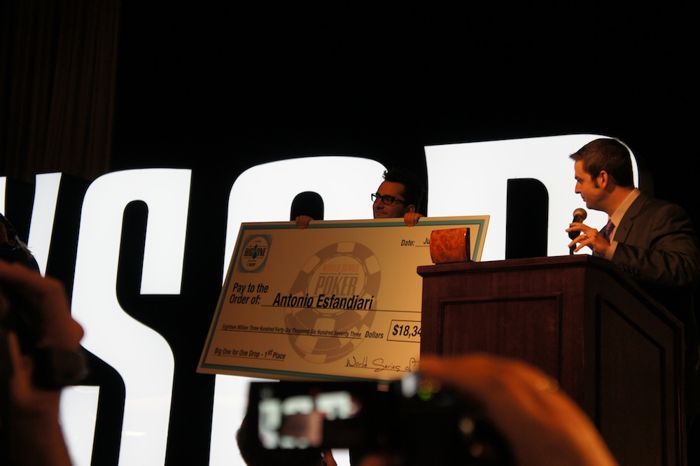 "Can I take this check to the bank and cash it?" Esfandiari joked.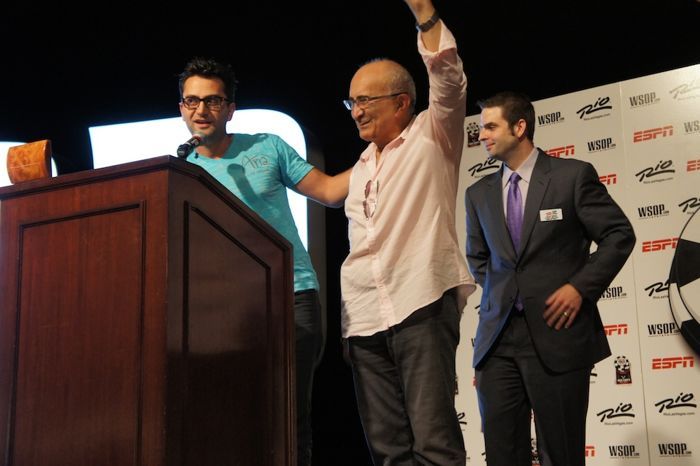 The Brasilia Room was electric with applause as both men got their well deserved bracelets.
Jason Alexander and the Porn Stache
Earlier in the day we mentioned that Kristy Arnett was preparing for an interview with Jason Alexander. Well here it is! In the Video, Kristy confronts Alexander about his porn stache as well as his bum knee. Make sure you watch the video below to see his response.
Polar Opposites: The Man in the Tuxedo and the Spiderman
Maybe he's missing his wedding today, or maybe he just wanted to look sharp for the main event. For whatever reason, this gentleman in the Amazon room decided it would be best for all of us if he showed up in a tuxedo today for the tournament.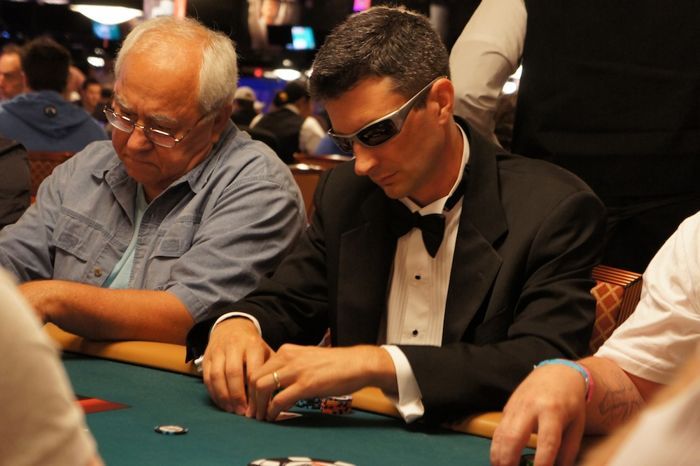 On the other side of the Rio in the Pavilion room is another man in and interesting outfit. This one was dressed as Spiderman.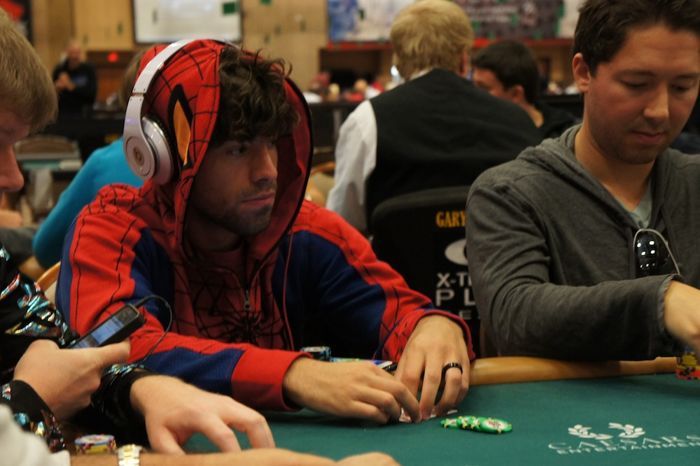 Maybe if the man in the tuxedo needs help getting to his wedding, spiderman can give him a hand, or eight. We'll keep you posted on any more ridiculous outfits we see over the series.
Card Protector Chronicles: Day 43
We're always on the lookout for zany, crazy, and unique card protectors. We figure to run across a bunch during the week of the Main Event. Here's a couple we came across so far:
Jennifer "J-Tilla The Killa" Tilly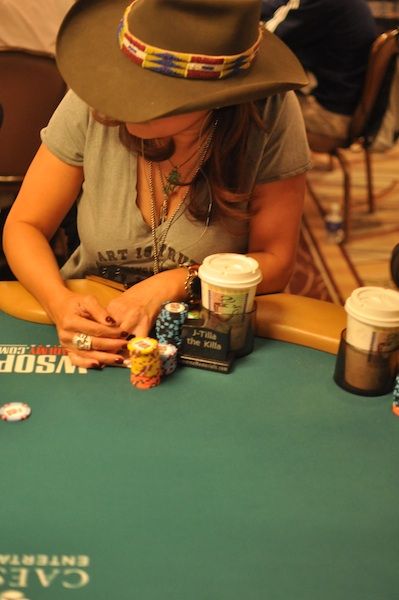 Here's Buddah taking over till his/her owner comes back.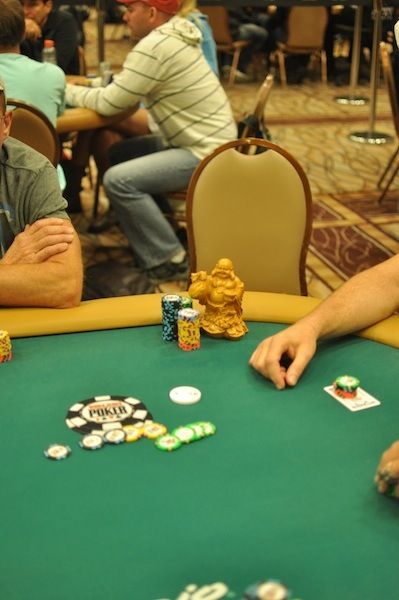 Doyle Brunson in the House

We just got word that two-time Main Event Champion ('76,'77) Doyle Brunson is in the house: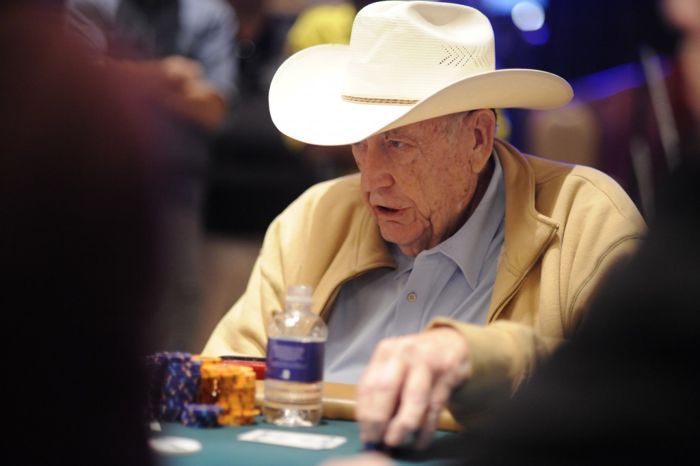 Tweets have been going out welcoming him to the tournament. Here's a very hilarious one from William Reynolds:

A Walking Crime Scene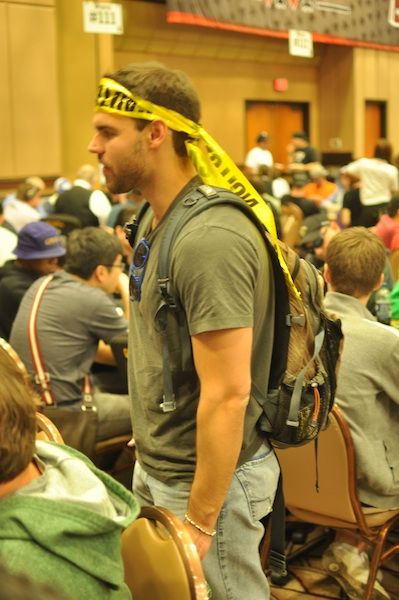 Stay away! Maybe the police tape is to warn people of a pending bad-beat story. This guy might be on to something.
On Break With Gus Hansen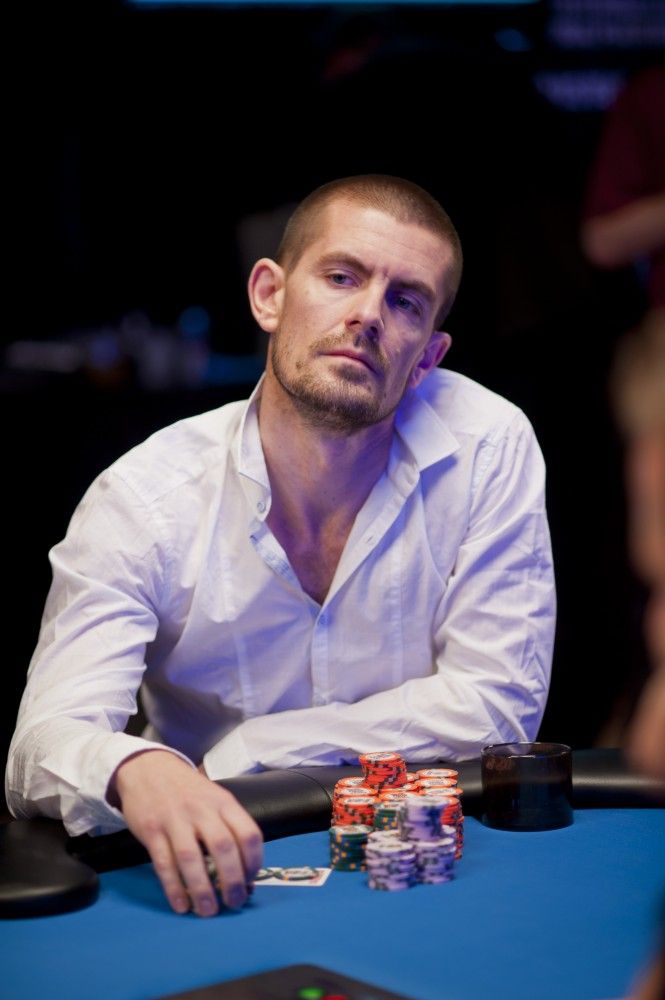 We caught up with Gus Hansen on break to chat for a bit.
How's the Main Event going so far?
I haven't played a hand yet. I just reg'd actually (five hours after tournament started).
Where's your favorite place in the world to play tournaments?
Well, when you're playing in a tournament you spend most of the time inside the casino, so it's all the same, but I would say Australia. I love the people and the surroundings.
Where's you favorite place to play cash?
Las Vegas. I like playing Bobby's Room at the Bellagio.
If you weren't a poker player what line of work would you find yourself in?
Well, before poker I was a professional backgammon player. I played a lot of sports too, tennis, soccer and squash, but I wasn't good enough to play professionally. I could see myself coaching.
Featured
Today's feature table is showcasing Big One for One Drop winner Antonio Esfandiari, with no other notables at the table. You can catch the feature table streaming almost live online at WSOP.com.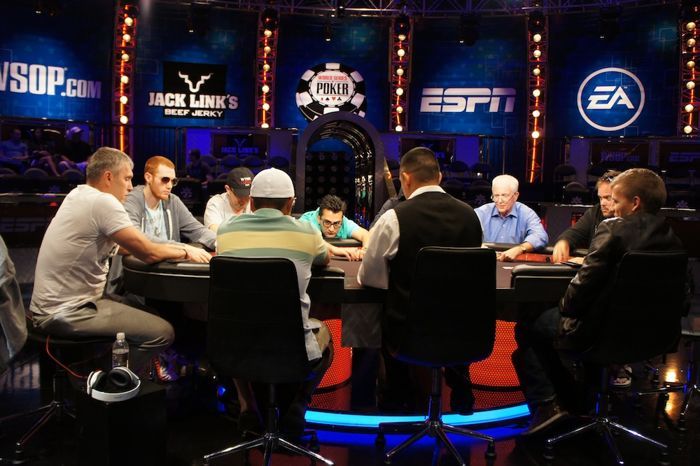 Antonio should be having a really fun time at this table as earlier in the day he was presented with his $18 million dollar giant check.
Also, ESPN crews are setting up the secondary feature table for the main event which will play out right along side the feature table. Here's some shots of the construction process: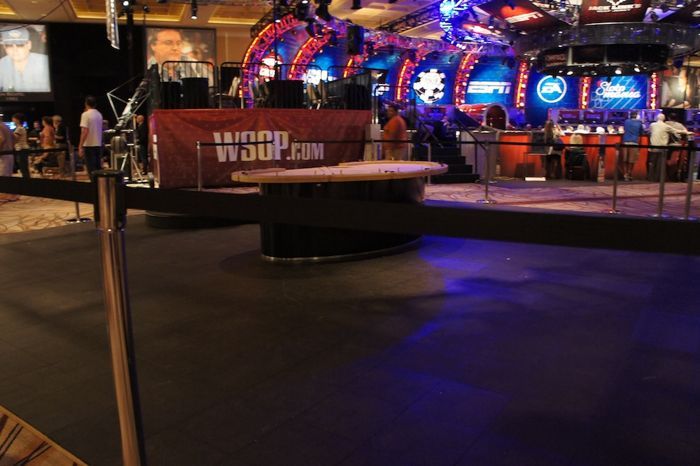 We'll be sure to give you a daily line-up of all the players at the feature tables and maybe even catch up with a few of them and ask what it's like to be playing on the main stage under all of the lights.
What's On Your Head: Day 43
Back to the hats, as we like to say. We strolled through the Rio this fine afternoon to find and bring you some of the best hats from Day 1C of the 2012 Main Event. Here's what we found today:
Earlier in the day we found the Mad Hatter seated among the players in the Rio. He was seated right next to Earl Barron (See Above) who dwarfed him at the table.
After finding the mad hatter, we found the man with the golden gun. Er, we mean top hat: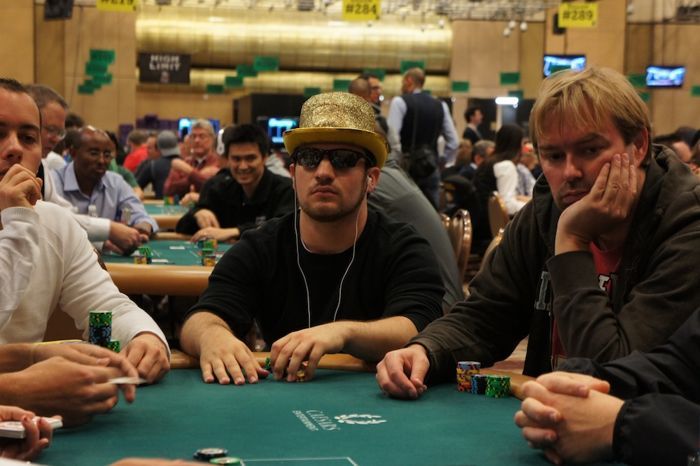 Finally, we found two members of the Wolf Pack on the rail. And no, we're not talking about the gang from the popular movie The Hangover. They were however wearing two fair soft and fluffy plush wolf hats. Check them out: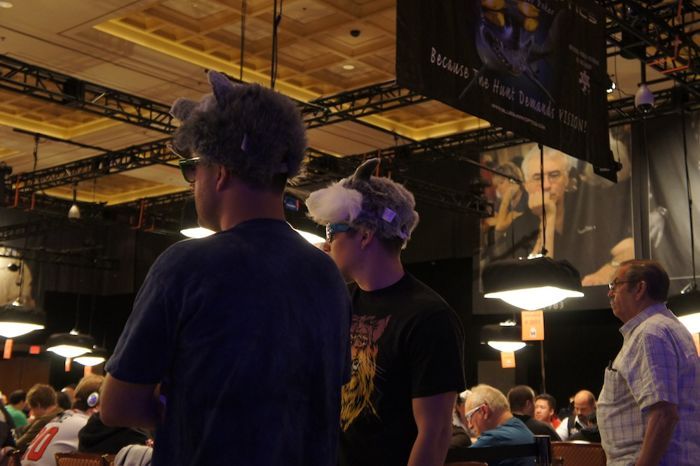 We be sure to bring you anymore crazy hats we see as the 2012 World Series of Poker comes to an end.
Under The Radar
From time to time we'll be featuring certain players that aren't necessarily household names in the poker world but "grinders;" a players that grinds out a living in a blue-collar fashion.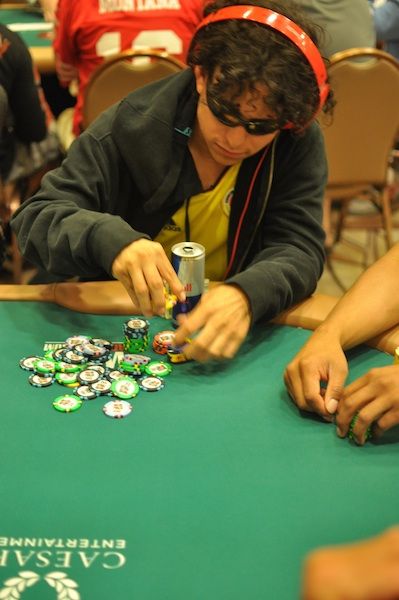 Nicolas Vaca-Rondon, hailing from Bogota, Colombia, already has three cashes this series including a final table appearance in Event 1: $500 Casino Employees No-Limit Hold'em. He's also playing today in the Main Event and has run up his 30K starting stack to over 50K. We'll keep an eye on Rondon and do our best to catch up with him at break to get his story. Poker is gaining popularity in Latin America, but we haven't come across many Colombian players before.
Sinister Numbers...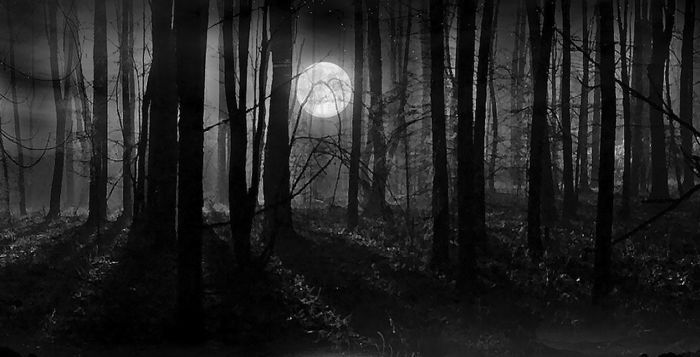 We at the PokerNews office got some official numbers for the Main Event just now. We have 6,598 runners with 1,066 on Saturday, 2,114 on sunday and another 3,418 today. This means that the money bubble will likely fall on Friday the 13th.... and even creepier, the bubble boy's bustout will leave 666 runners left in the event... Unlucky for some.
A True Warrior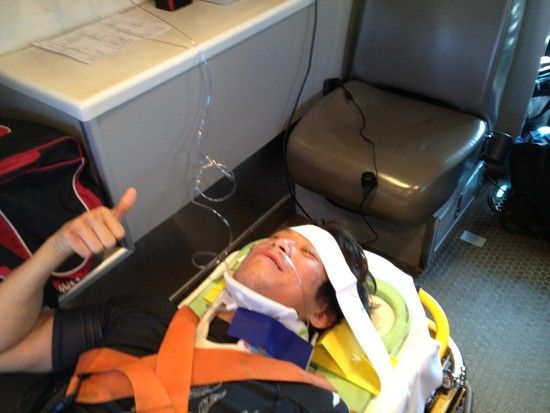 Poker Pro and MMA fighter Terrance Chan suffered an injury in his latest grappling match last Friday. He spent some time in the hospital and was out of commission for a few days but we saw him today in day 1c of the Main Event.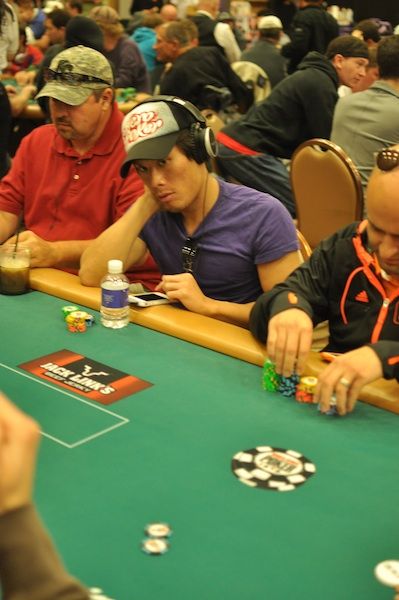 Custom Plates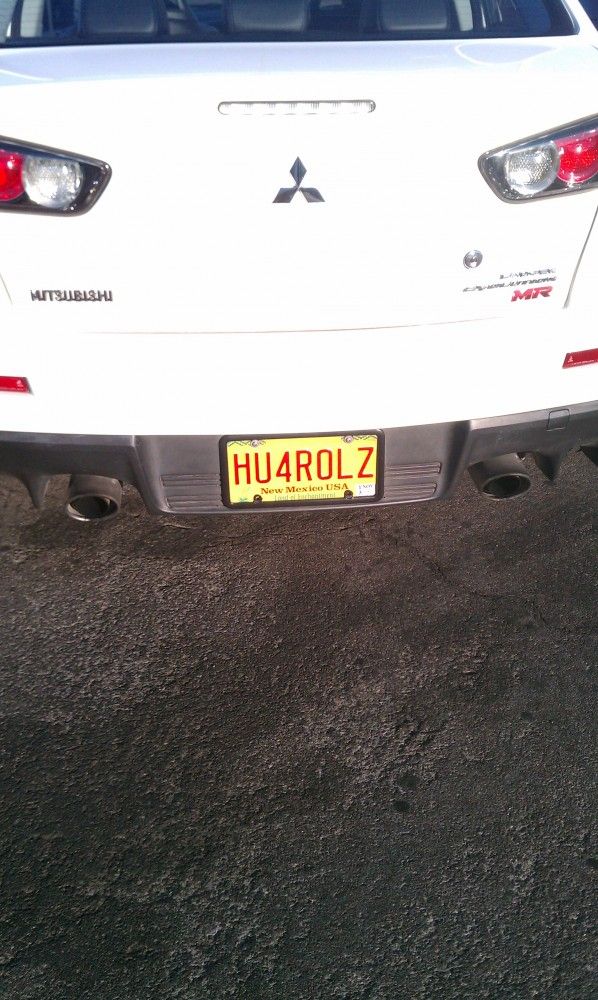 Check out this brilliant custom plate from the Rio car park today. Victor 'isildur1' Blom is in the field today... anyone want to bet this is his Mitsubishi? Nah I guess we don't either...
The Twitter Metagame


We just caught Phil Galfond angling his opponents on twitter. This is probably the first time the words 'twitter metagame' has been used by a big name, but those 'in the know' will tell you twitter metagame has been going on for centuries. 'Forum Metagame' is commonly employed, where one makes them self out to be tighter or looser than they actually are on a forum. 'Chat Metagame', where someone indicates that they are strong or weak in the PokerStars chat box to try to create an advantage, is certainly in the early days of development. 'Twitter Metagame' could be the next to hit the mainstream. Watch this space...
Haseeb Qureshi Look-Alike?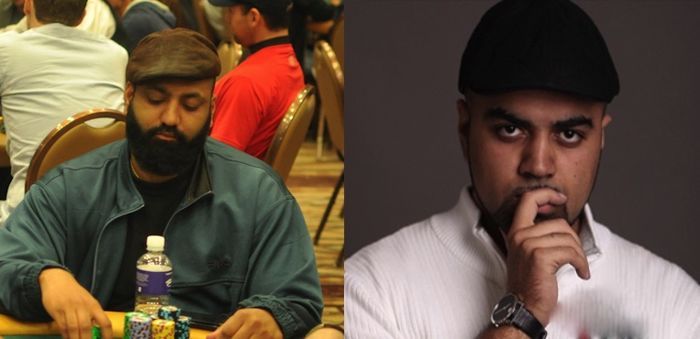 We spotted this guy in the Main Event Day 1C who looks just like former noseblood-player-come-retired-poker-player Haseeb 'DOGISHEAD' Qureshi. What do you guys think?
Poll
Does This Look Like Haseeb Qureshi?
Blast From The Past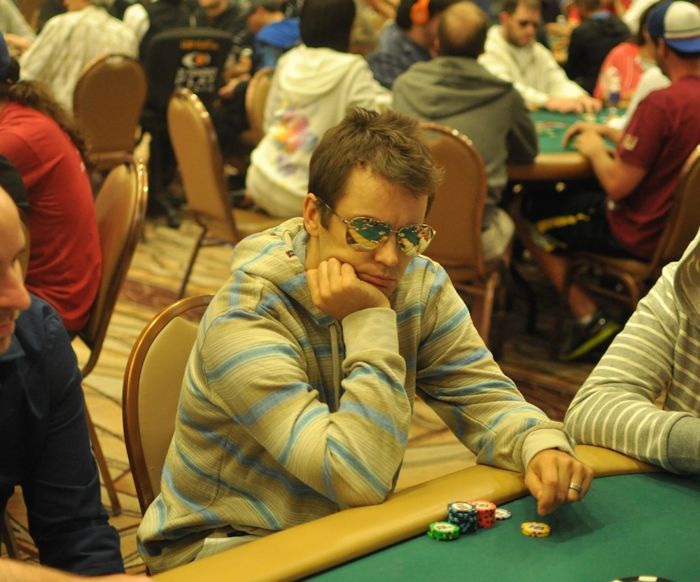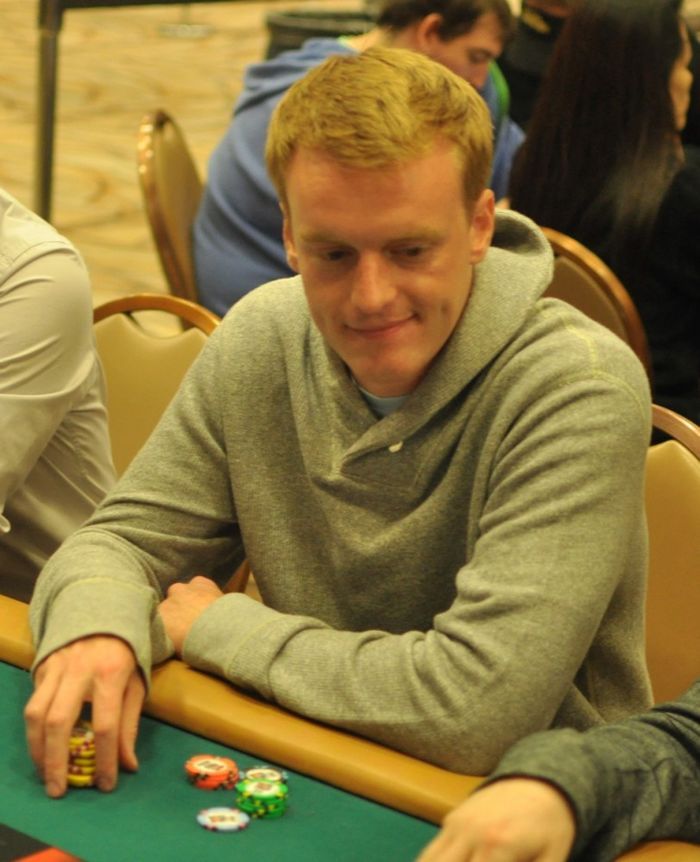 For any old school railbirds, these two legendary online grinders were seen sitting 5 feet from each other today in the Pavilion room - Prahlad 'SpiritRock' Friedman and Cole 'cts' South. While these two have faded from the limelight somewhat in recent years, they were among the most feared players in their day and clearly still hold a passion for the game.
Celebrity Look-Alike?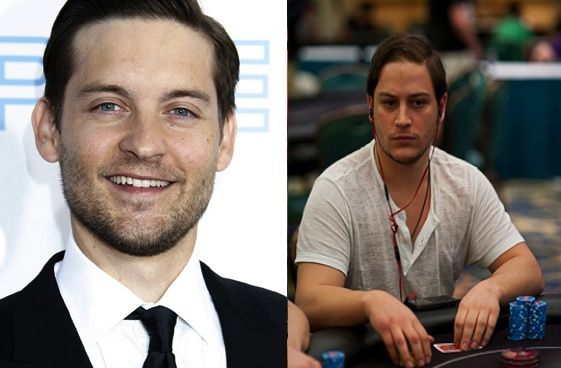 Check out this tweet from Matt Marafiota where he talks about players at his table mistaking him for Spiderman's Tobey McGuire. What do you think?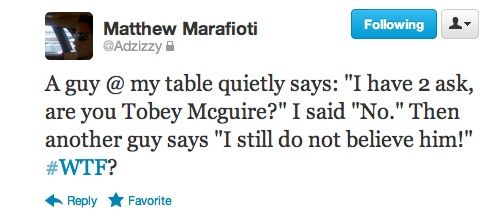 Poll
Does Matt Marafioti Look Like Tobey McGuire?
We encourage everyone to get involved with "The Muck." See something you think is Muck worthy Send it to the muck@pokernews.com. We accept all media including photos and videos.