All Mucked Up: 2012 World Series of Poker Day 42 Live Blog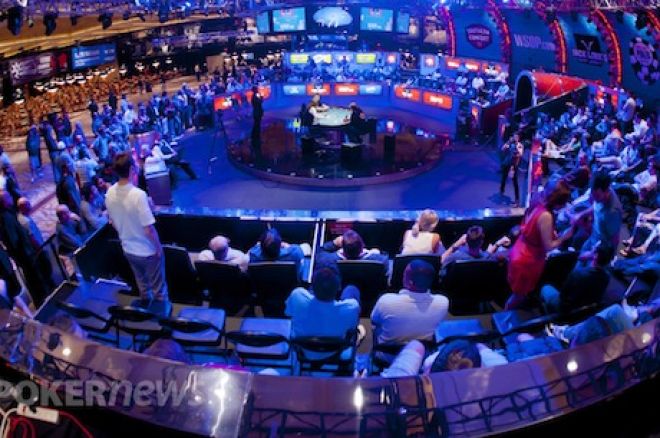 All Mucked Up is a live blog of all the stuff you want to know at the 2012 World Series of Poker, besides hand histories and bad beats. Well, we might add a few in here, everyone loves a good bad beat story — unless it happened to you. Check back often for polls, soundbites, celebrity sightings, and who knows what else!
Shuffle Up And Deal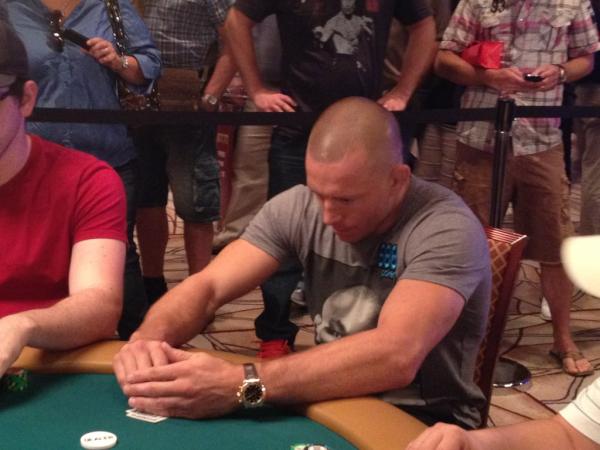 Today's Event #61: No-Limit Hold'em Main Event Day 1c was introduced with a rousing speech by MMA fighter Georges St. Pierre. St. Pierre is playing today, so the opening words contained at least 4 puns about him 'putting a bad beat' on someone, and the aim of the tournament being to 'not tap out too early'. It's all in good fun and it kicked the day off in an exciting fashion. We'll keep an eye out for St. Pierre and see how his stack is coming along as the day progresses.
GSP wasn't the only familiar face around the Rio early this morning. Also up and ready to rumble were Dennis Philips, Collin Moshman, Dan Harrington, Mickey Petersen and Ashton 'Ashman' Griffin. All will be hoping for a strong start to their Main Event campaign, which will stretch over the next week here at the Rio. Tune into PokerNews for all the latest updates.
Back In Fashion
Daniel Day Lewis mustaches are making a big comeback in the Rio today and, despite the sweltering weather today in Las Vegas, so are big red bobble hats! Also featured is one of the original members of Village People in his leather biker hat!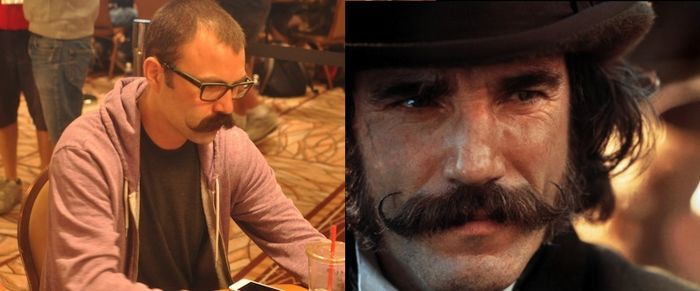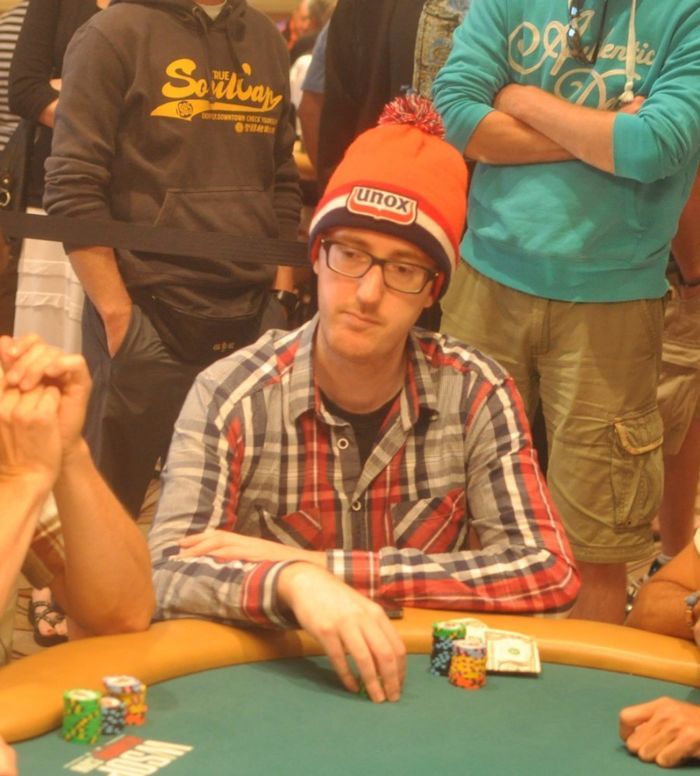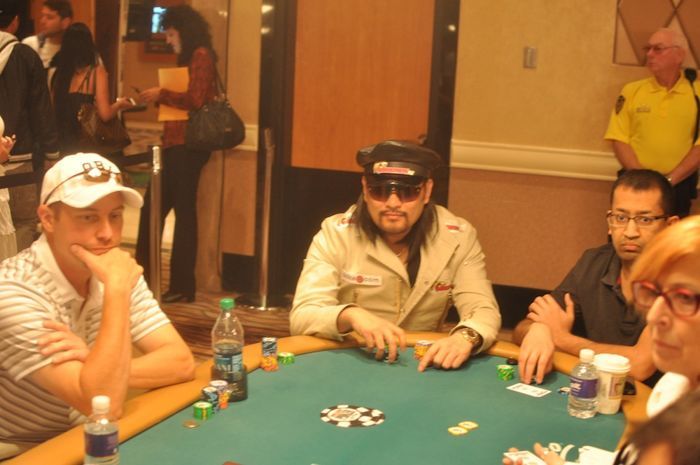 ---ReadMore---
Kara Scott: Doing It Right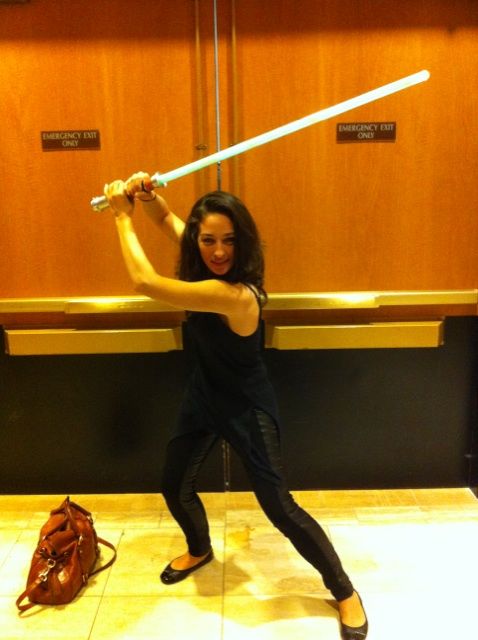 We've seen a lot of desperate or lethargic attention grabbing stunts this World Series, but we think Kara Scott is doing it right. While many females load up on the sex appeal or try different angles, today Kara's done something we haven't seen and dressed up as a Jedi from George Lucas' Star Wars. It's complete coincidence then that the outfit is also very endearing to the opposite gender.
We've seen Kara tweeting about a lightsaber battle that's been approaching, we'll try catch up with her later to find out what it's all about.
Athletes In The Field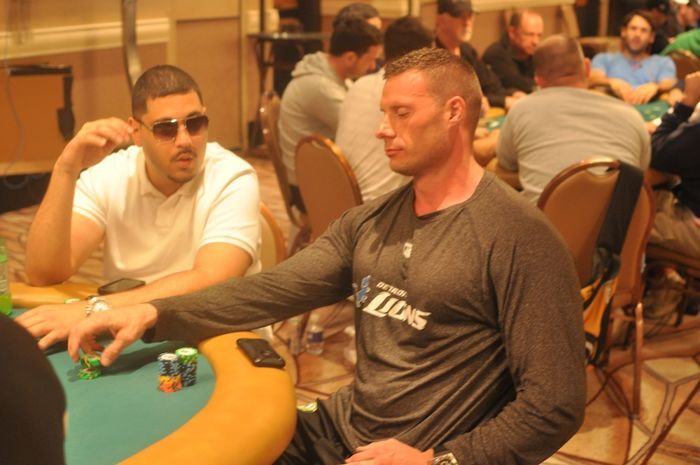 We spotted some pretty big athletes in the Main Event field today. First up we saw former Detroit Lions Tight End Eric Stocz sitting the the Silver section of the Amazon room, his huge frame decked in Lions merchandise and angled at the table for comfort. After deliberating over taking Stocz's picture for a moment, Eric asked us 'did my face break your camera?'. We ran away quickly.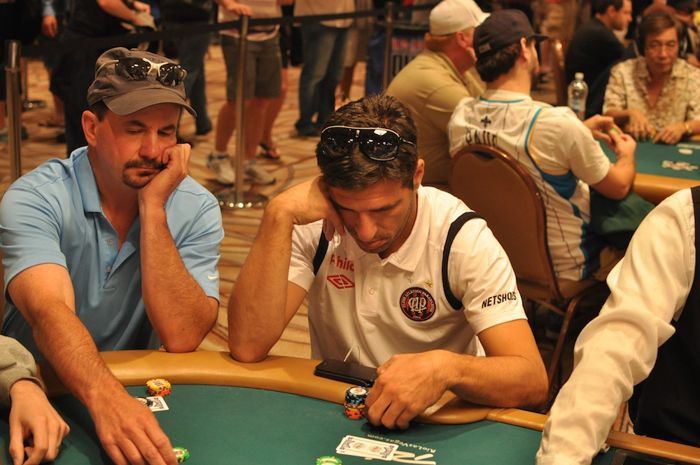 Elsewhere in the Brasilia room we spotted former Brazil and Bayer Leverkusen star Paolo Rink. Curitiba born Rink is seen here sporting his Clube Atlético Paranaense jersey. We've seen Rink at the WSOP before, so we'll try catch up with him later (assuming he speaks English) and find out just what keeps him coming back.
Kara Scott: Episode II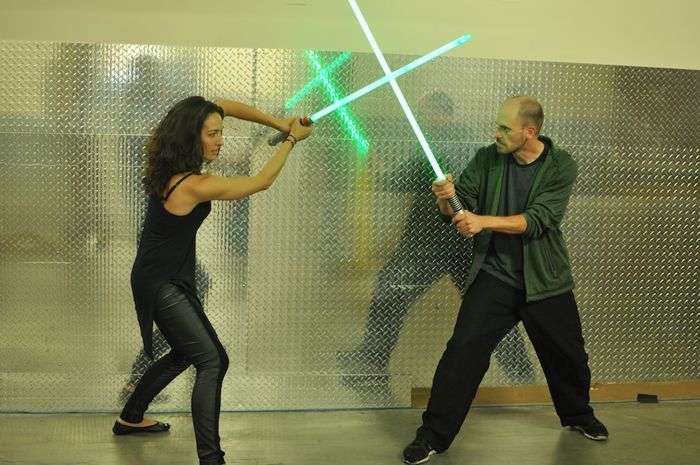 While sneaking around backstage in the Rio, we came upon the long awaited grudge match between Kara Scott and BJ Nemeth. We asked Kara what was up with the lightsaber fight.
"It's exactly what it looks like" laughed Scott. "I got the lightsaber in a garage sale, and BJ already had one, so we decided to have a battle".
Standard.
---ReadMore---
Car of the Day: Day 42
We saw this beauty sitting among the RVs in the Rio parking lot.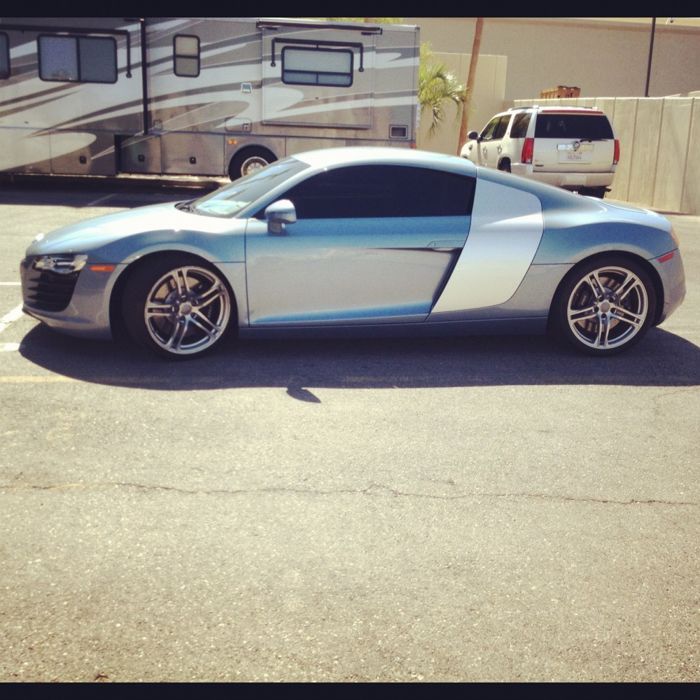 The MSRP on an Audi R8 is near $120,000. That's almost the price of a house in some places. #mbn
Greenfit Of The Day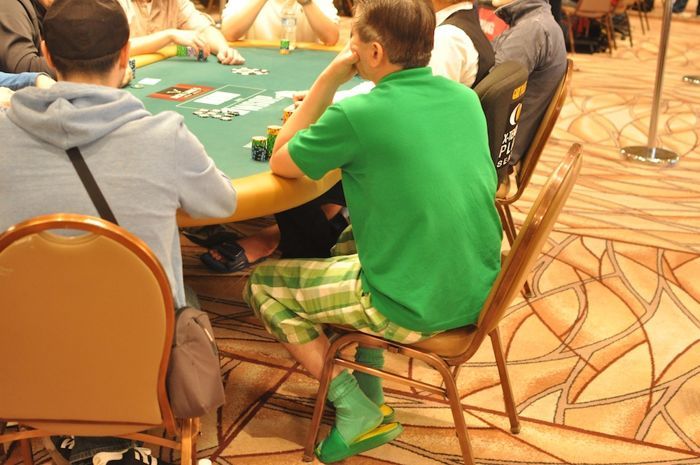 Check out this guys flawlessly coordinated main event wardrobe! He knew exactly what he was doing this morning!
Georges St-Pierre with Kristy Arnett
We mentioned earlier how GSP was in the field for the Main Event. Our very own Kristy Arnett caught up with GSP during break in the Main Event and talked to him about poker and fighting. Check out what he had to say below.
Can You See With Those Things On?
Check out this guys interesting choice of shades! He doesn't look at all out of place in the Amazon room surrounded by pro's and former Main Event winners, and just a few tables away from Scotty Nguyen, shown below wearing all three of his World Series Of Poker bracelets!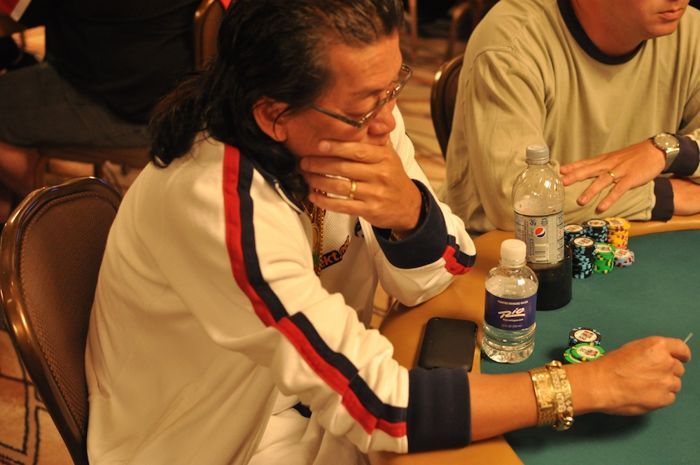 Murderer's Row
Tucked away in the corner of the Amazon room, in the same spot where the majority of the One Drop tournament played out is three tables. Whether is just by coincidence, or it was done on purpose, three former main event champions, Peter Eastgate (2008), Carlos Mortensen (2001), and Dan Harrington (1995). Oddly enough, the champs are all seated beneath the banners of the former main event winners. It couldn't have been planned any better.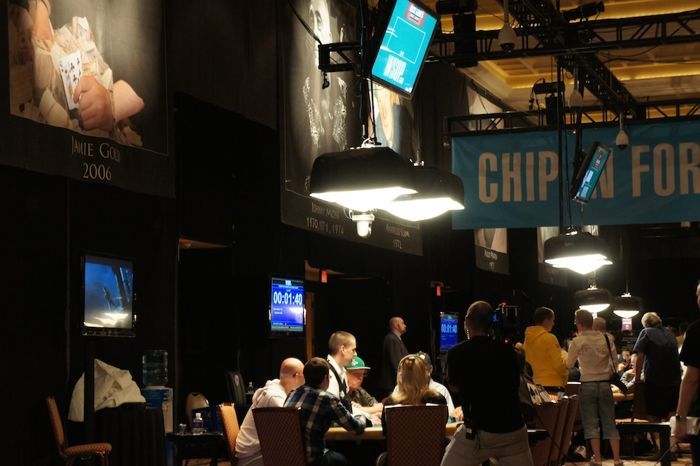 The three champs are all seated at adjacent tables and have all built up quite healthy stacks.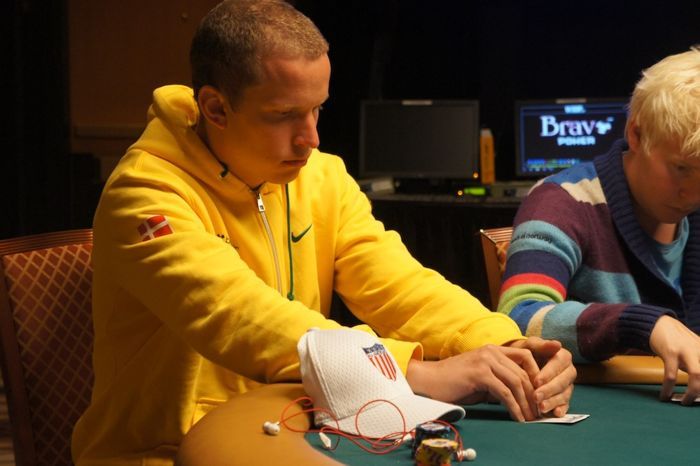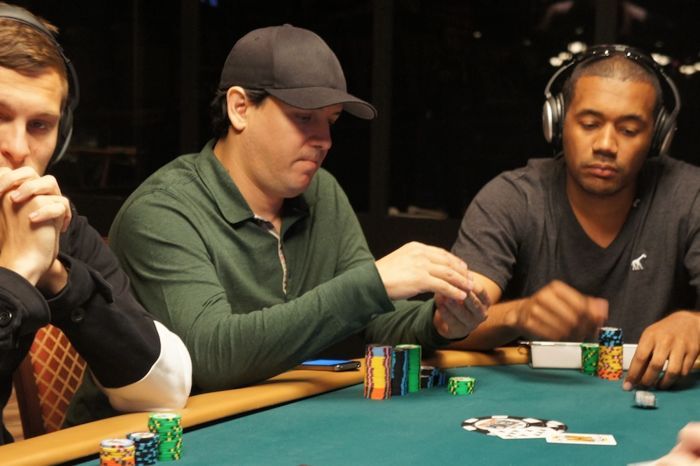 Harrington has three main event final tables under his belt. Eastgate had a deep run the year after his win. All three know what it takes to win, so this could be the year that we see a former main event winner make the final table once again.
Check Out These Fresh Beats
During the 2012 World Series of Poker we've seen a lot of different pairs of headphones. TheBeats by Dre are the most popular pair. We've also seen several hundred pairs of Skullcandy, and the Souls by Ludacris. Down on the bottom rung arethe standard white iPod buds. But one pair of headphones that really stood out to us are the pair worn by Team PokerStars Pro Richard Toth.
Left Side: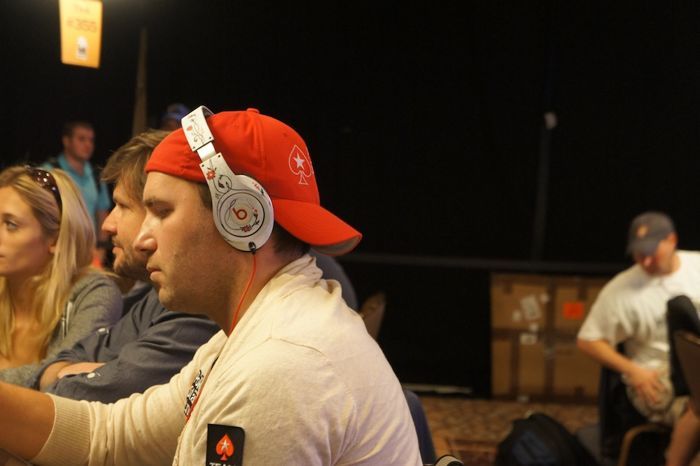 Right Side: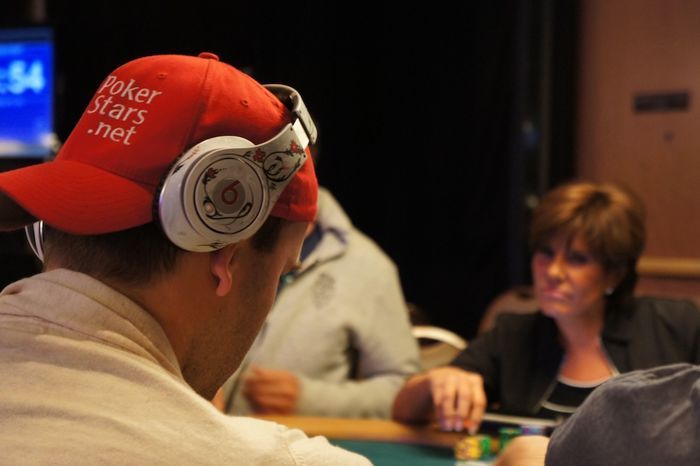 The flower print designs may be a bit girly, but the headphones are actually rather original compared the countless hundreds of pairs of Beats we've seen over the series. Unfortunately, we don't know if Toth drew them on himself, or if they came printed that way. Either way, we might have to give Toth the coolest headphones award.
How...? Why...?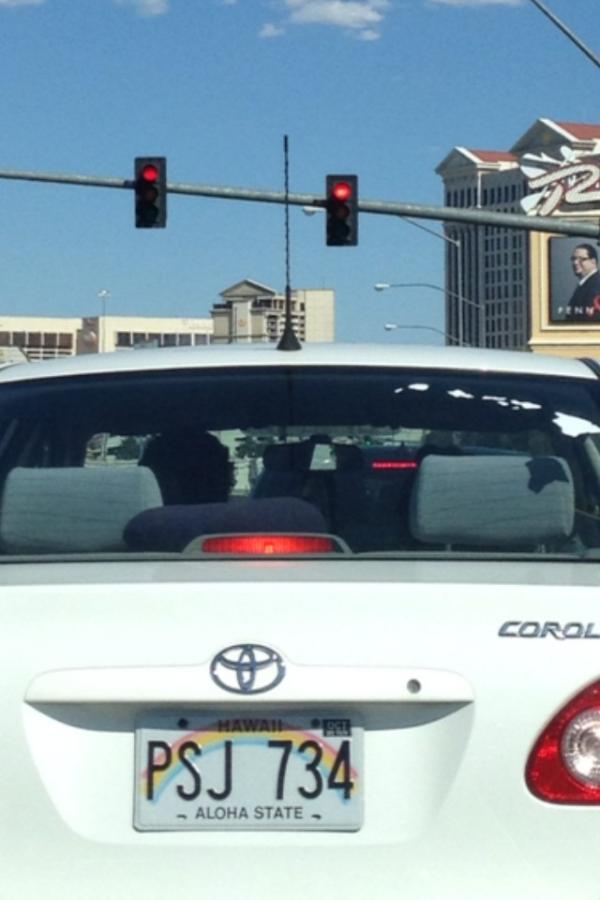 As Will Reynolds rightly points out on his twitter, one of the weirdest things you can see thundering down the highway in Las Vegas is a Hawaii reg Toyota corolla. How did it get here? … Did you 'ship it'? ...
Ellen Deeb In Action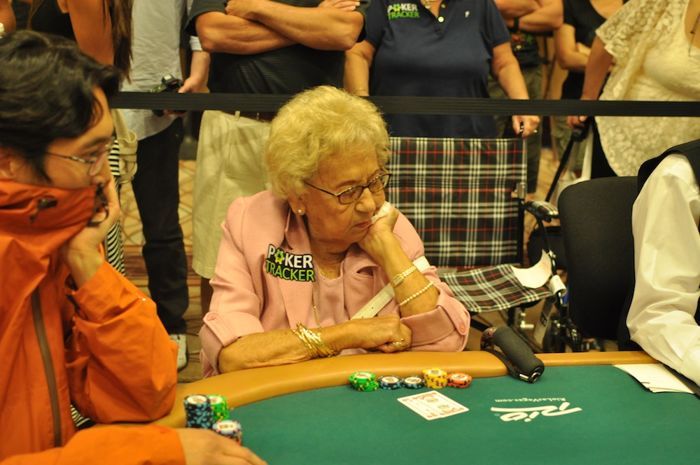 Here are some pics of Shaun Deeb's 92 year old grand mother Ellen Deeb in action today in Event #61: No-Limit Hold'em Main Event. Ellen, the woman who taught Shaun to play when he was 5 years old, was bought in by Shaun last year as well as this year, payment in kind for poker coaching + 20 odd years interest.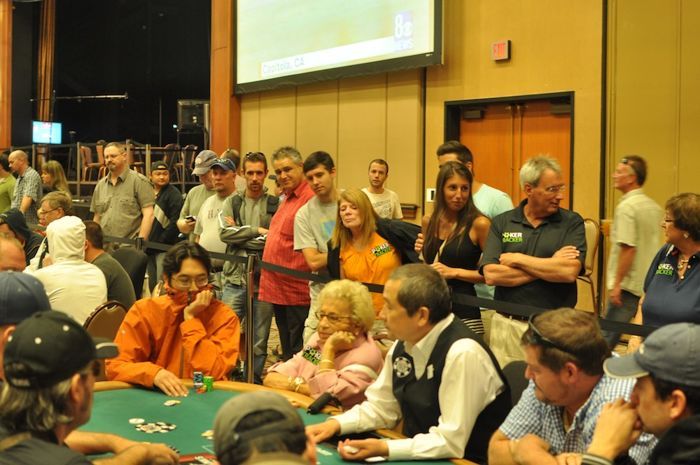 The rail is huge to see the nonagenarian play in the Pavilion room this evening. We had to fight our way through the crowds and camera crews to bring you this pic of her followers, so you better be thankful. We'll keep an eye on her stack as the tournament wears on.
Check Out Those Fresh Beats: Part Two
Check out this big tough guy we found playing the Main Event today: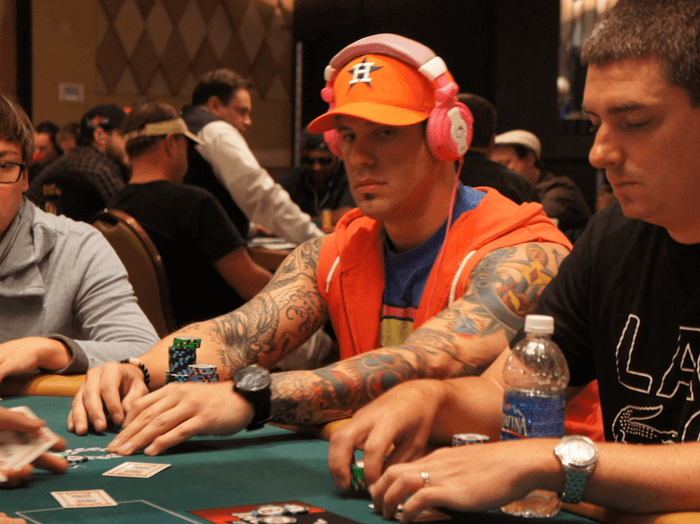 Pretty bad ass, wouldn't you think?
WRONG. Secretly, he's a sweetheart. Check out his Hello Kitty Headphones.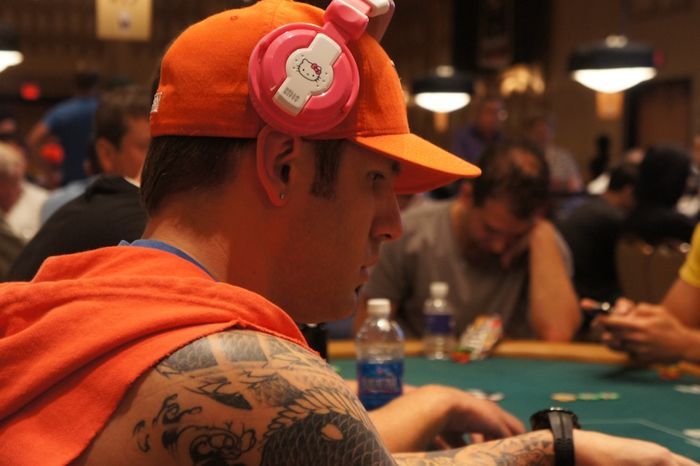 Just goes to show you, don't assume anything. Big muscly arms, filled with a sleeve of tattoos. Ruff and tough orange sweater vest. Superman t-shirt. Hello Kitty headphones. True boss at work.
The Card Protector Chronicles: Day 42
We found this one on twitter, but it was too much to pass up. Here is Marvin Rettenmaier's tweet about it:

And here's the picture: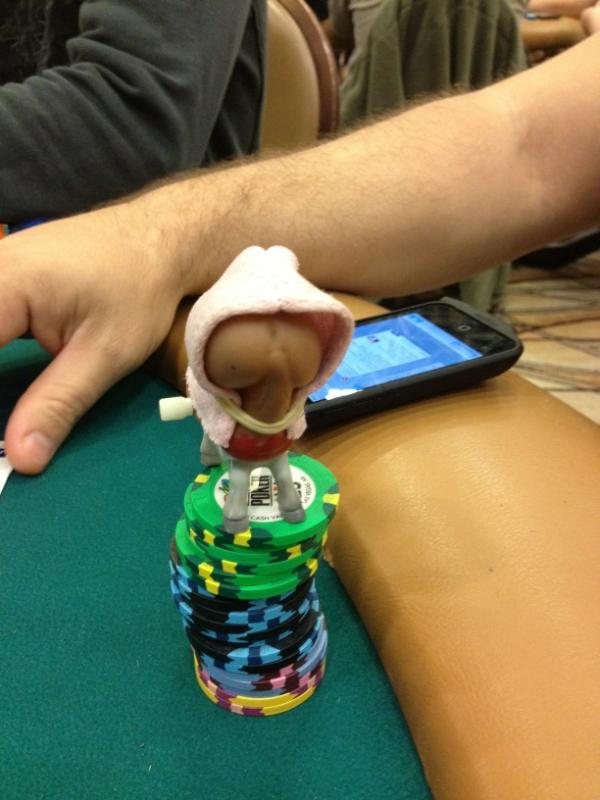 Ten Frames Before the Main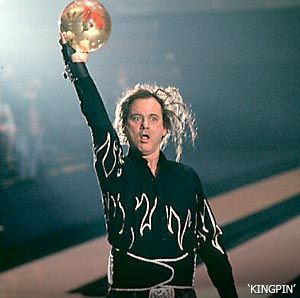 It's dinner break here at the Rio. The halls are bare, as many of the players have gone out to get a bite to eat, but will still saw some notables hanging around.
We talked to Marvin Rettenmaier, who will be playing in day 1c of the Main Event.
What's he doing to unwind before the big day?
"I'm on my way to the Gold Coast for a PartyPoker bowling party."
The Gold Coast is famous for it's 70-lane bowling alley. Poker TV host, Kara Scott, will be there as well.
Heading out to go bowling with the #PartyPoker crew and qualifiers. I hear we all get personalized bowling shirts. Can't lie. I'm stoked.

— Kara Scott (@KaraOTR)
Dinner Break Fun
We went to check out the Rio cash games to see if anyone decided to spend their dinner break playing instead of eating. The only player were were able to find was Jon 'PearlJammer' Turner, who was playing in a game of $75/$150 Omaha Hi-Low. Yesterday, we saw Turner in a $550 Mega Satellite to the Main Event. We're not sure if he won a seat or not, but if we get a chance, we'll ask him.
Oddly enough, the snake pit was full of tournament players for the $235 2PM Rio Deepstack. Must've been a busy day for the Rio dealers.
Red on Red on Red
We've seen a lot of color coordinated outfits as you can tell by the Greenfits, Bluoutfits, and Groutfits, but never have we seen an entirely color coordinated table... Until today.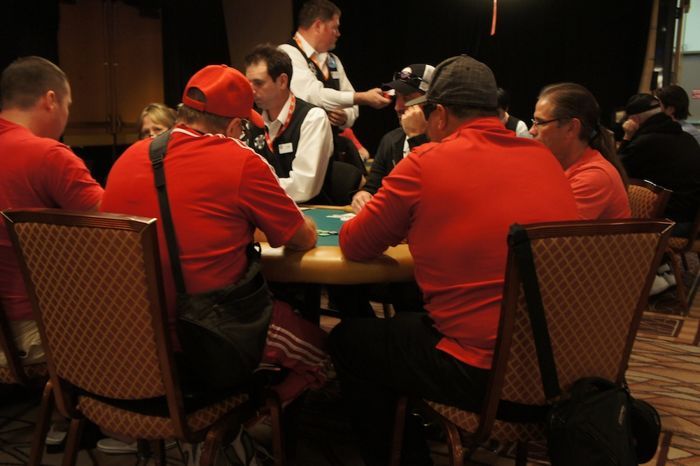 This can't have been planned, but all four gentleman were wearing redshirts, and sitting one after another in seats two, three, four, and five. It was a very interesting sight to say the least.
One of the gentleman was even decked out in a full Redoutfit: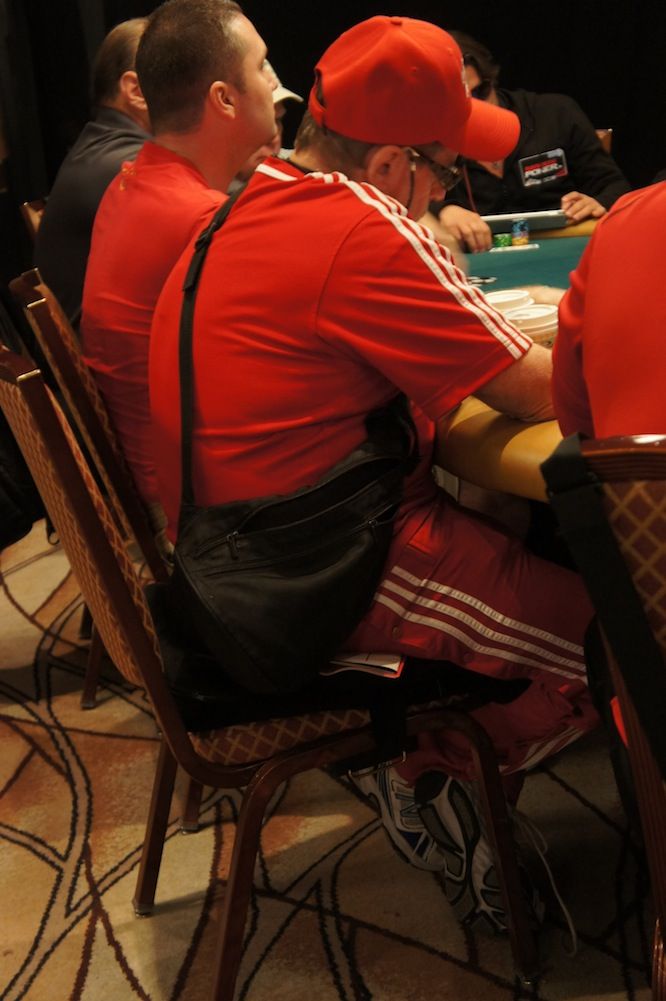 While mostly coincidental, it was still one of the weirdest coincidences that we've seen at the World Series of Poker so far.
Celebrity Look Alike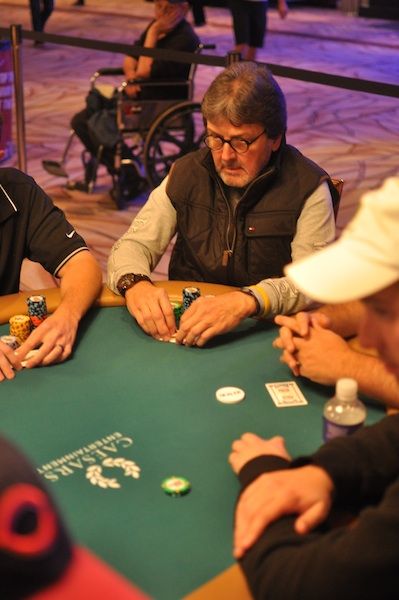 Okay, so the PokerNews staff is divided on this one. Some of us think this player looks like Beatles frontman Paul McCartney. What do you guys think?
Poll
Does He Look Like Paul McCartney?
The Grindettes
Jamie Kerstetter, Katie Stone,Jenifer Shahade, and Katie Dozier are four women from different backgrounds that play poker for a living. The quartet refers to themselves as the"Grindettes." We'll attempt to catch up with all four and find out how the group came together.
Here's Dozier at her Main Event table sporting the Grindettes patch.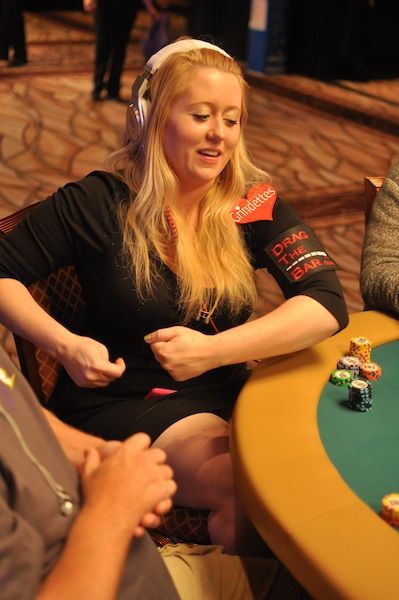 The Durrrr Escapades
Tom Dwan has finally shown up for his second tournament of the 2012 World Series of Poker:

We went by his table and took a few pics of him: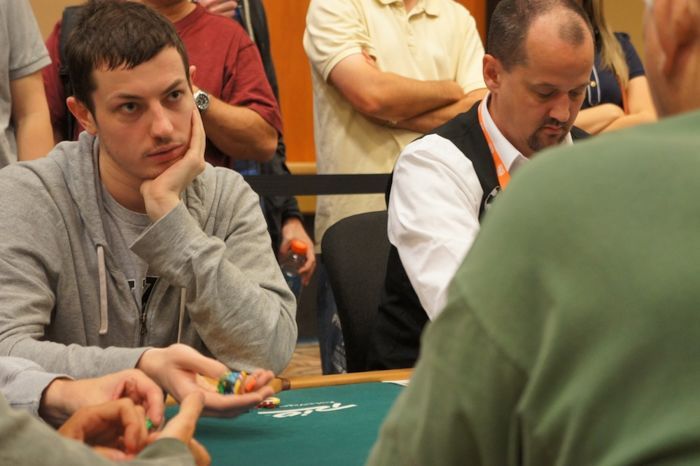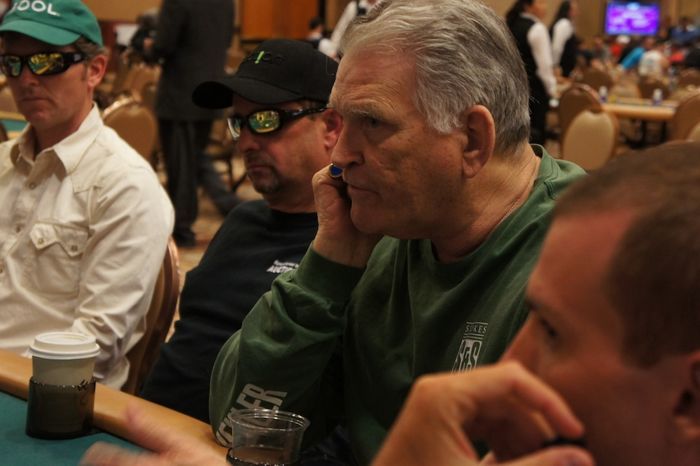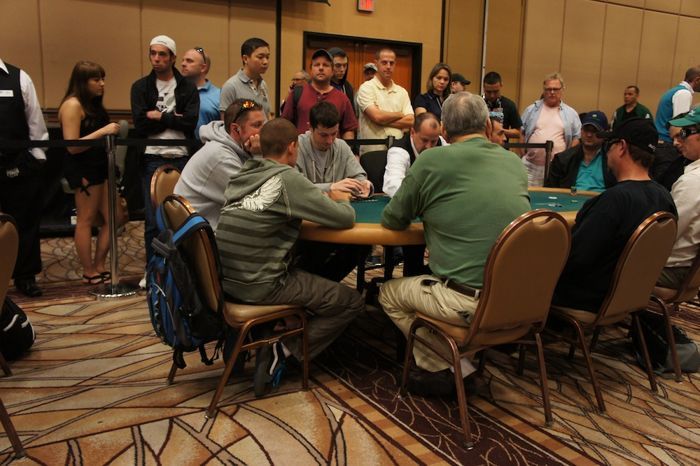 Durrrr has already lost about half his stack, but with the way he plays, he could end the day with 100,000 or be out within the level. Either way it will be a fun spectacle to watch and the rail birds seem to be enjoying themselves.
Either way you can check out Dwan's progress in the live reporting blog on PokerNews.
Feature Table Baby!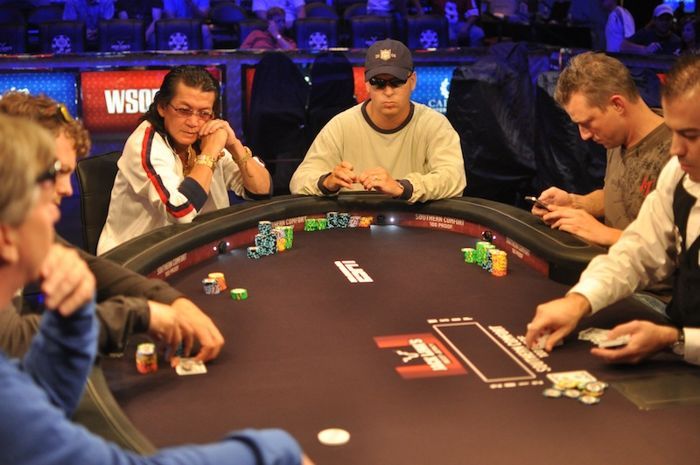 Today it's Scotty Nguyen at the feature table in the Amazon. Nguyen knows how to work a crowd, so we'll be sure to report on any further developments.
Cutest Couple Of The day
We came across this dynamic duo on break from the Main Event.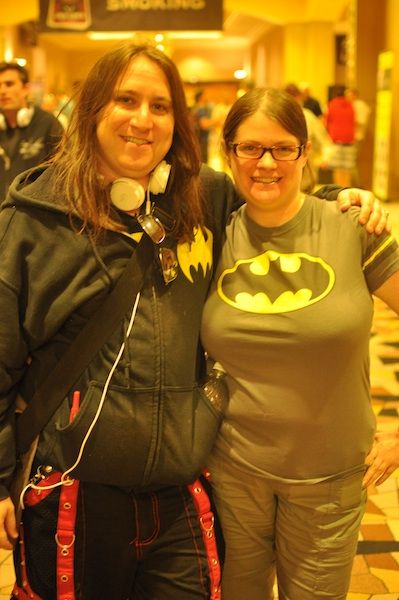 Billionaire Boys Club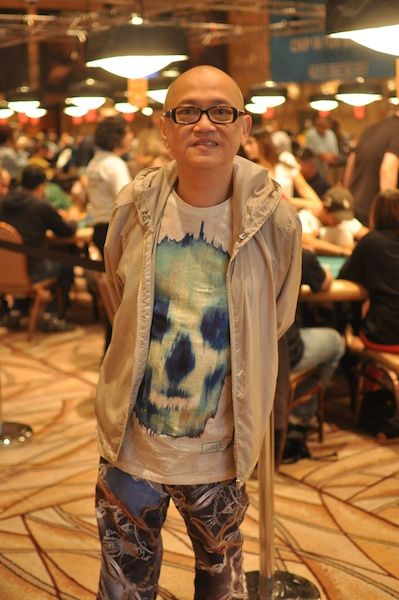 We ran into billionaire businessman and poker enthusiastRichard Yong in the Brasilia room. Yong made the final table of the Big One for One Drop and busted theMain Event on Sunday. Nevertheless, Yong was gracious enough to chat for a bit.
How did you like your experience in the WSOP so far?
Guy (Laliberte) did a great job with the One-Drop. I enjoyed it. This was also my first time playing the Main Event.
What tournaments do you plan on playing next?
I like the high stakes. The WSOP APAC (Asia Pacific) of next year in Melbourne will have a $500k buy in tournament with one re-entry. It will better for players because no tax like in U.S.
Feature Table Update
We reported earlier aboutScotty Nguyen at the feature table of the Main Event. Things have gotten even more interesting with the arrival of Team PokerStars Pro Vanessa Selbst and Sammy Farha.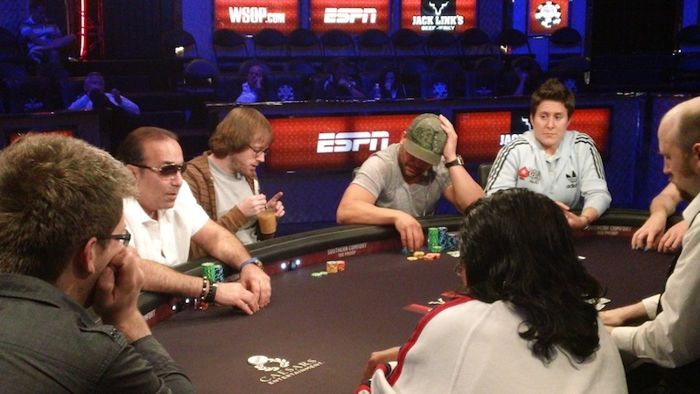 MC Negreanu
We spotted Team PokerStars Pro Daniel Negreanu rapping to a Dr. Dre song. Like a true MC, Negreanu commanded the floor as the rail cheered him on. We're not sure exactly what Dr. Dre song it was but we'll be keeping our eyes on Negreanu 'till "The Next Episode."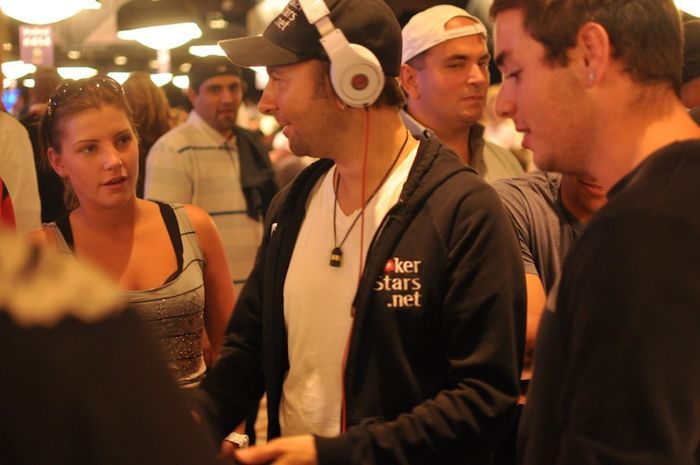 Maybe this rapping thing is helping Negreanu on the felt as well. He's been very vocal throughout the series lamenting his run-bad but he's got a healthy stack today.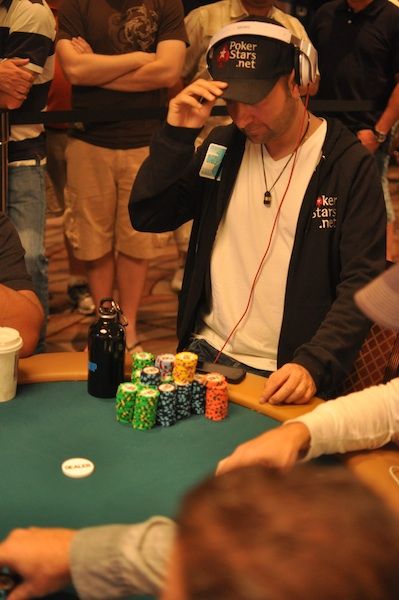 We encourage everyone to get involved with "The Muck." See something you think is Muck worthy Send it to the [email protected] We accept all media including photos and videos.