All Mucked Up: 2012 World Series of Poker Day 40 Live Blog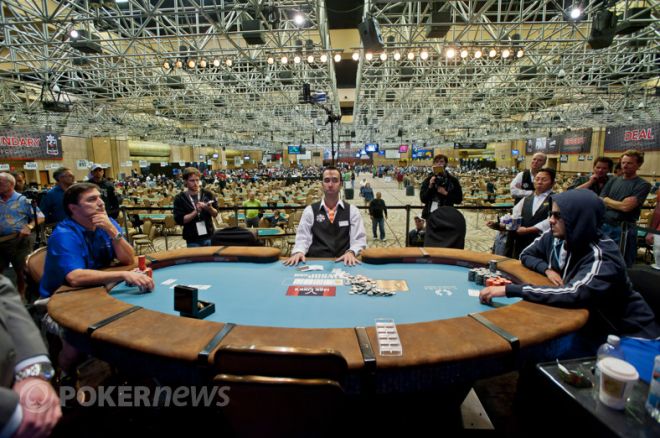 All Mucked Up is a live blog of all the stuff you want to know at the 2012 World Series of Poker, besides hand histories and bad beats. Well, we might add a few in here, everyone loves a good bad beat story — unless it happened to you. Check back often for polls, soundbites, celebrity sightings, and who knows what else!
The Calm Before The Storm
Today the Rio hosts The WSOP $10,000 National Championship. This prestigious tournament is one of the invite only events, open to the years most successful circuit grinders and the top 100 WSOP ranked superstars alike. It will take place in a small corner of the Brasilia room today, and a lot of big names are likely to feature. At 11:45 this morning we saw David 'Doc' Sands and Joseph Cheong already in their seats, ready to begin play. We'll let you know who else shows up as the day goes on.
Really though, this is just the calm before the storm. Tomorrow the much anticipated Main Event will begin, and it's likely most pros will be taking today off to get their heads right for the big one.
What? Why Didn't Anyone Tell Me?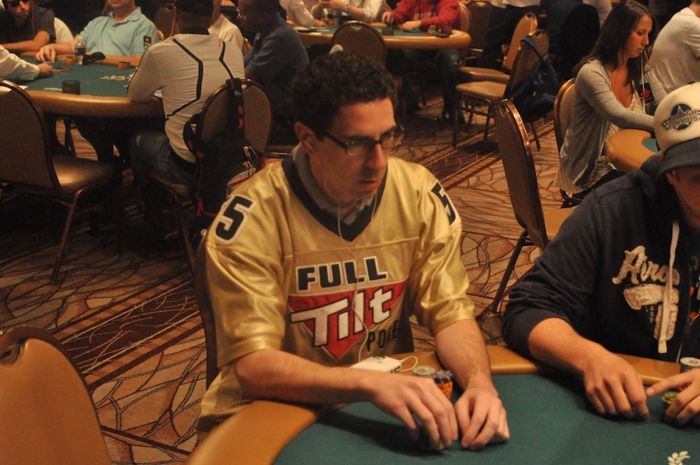 One player in the invitational hasn't kept a very close eye on the the world of the poker this last year. Seen here wearing a particularly infamous jersey, he's either the bravest or most uninformed man in the Rio today!
---ReadMore---
Main Event Registration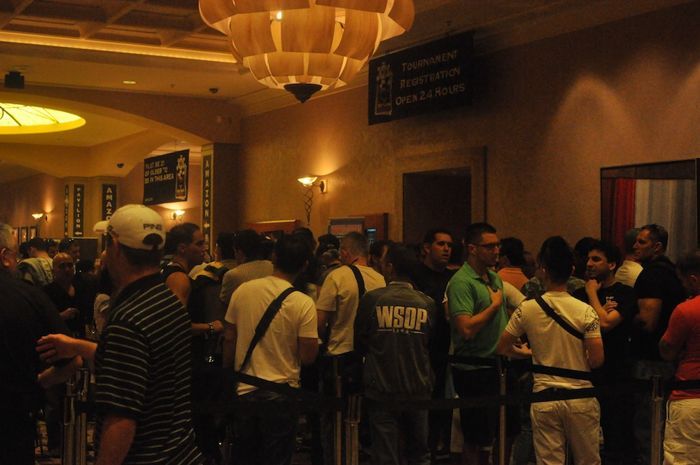 The crowds are gathering outside the registration office here at the Rio, waiting for their turn to transform $10,000 into a small slip of paper. There must be 100 people in the line right now, and its growing every second. 100 x 10,000... there must be a million dollars right outside the PokerNews office right now!!
It's Gotta Be The Watch?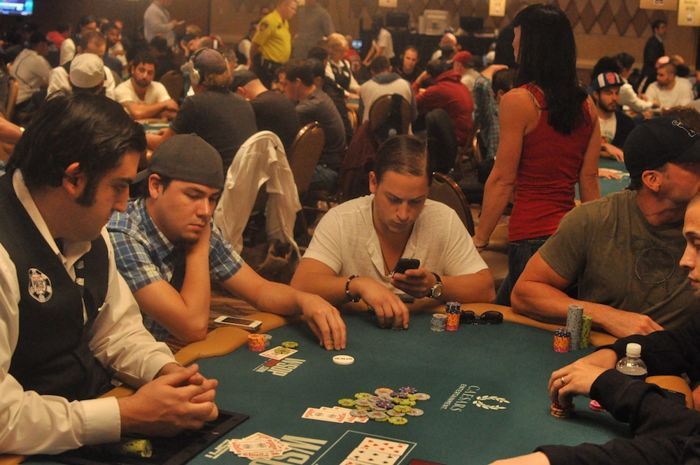 Check out this tweet from Matt Marifioti, where he claims his outfit today cost him $70,000 in response to a twoplustwo thread that's been ragging on him. It's got to be the watch right? We'd like to say we'd catch up with Marifioti later and ask him, but we're a bit scared of him at the moment... Better let him calm down a little.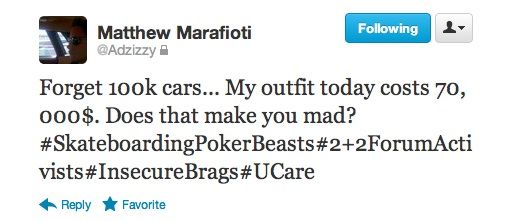 Also worth noting is that Matt is drawn next to Shaun Deeb, in what is one of many very tough table draws in the 10k National Championship today! We'll bring you some more tough match-ups shortly!
More 10k National Championship Table Draws
As the day goes on, the Brasilia gold area is filling out with more and more big names. Due to its fast structure, there's going to be a ton of action this morning, and some early afternoon heartbreak for plenty of players. Here are some interesting table draws from the tournament.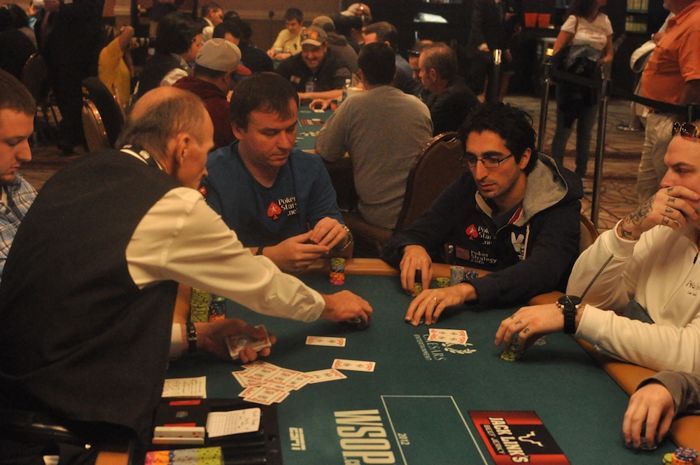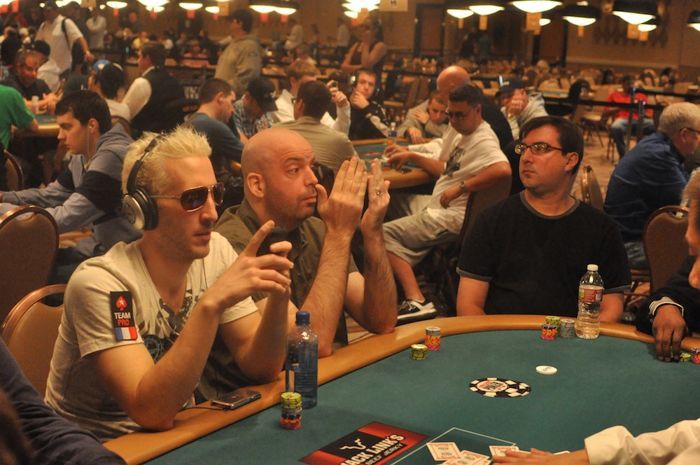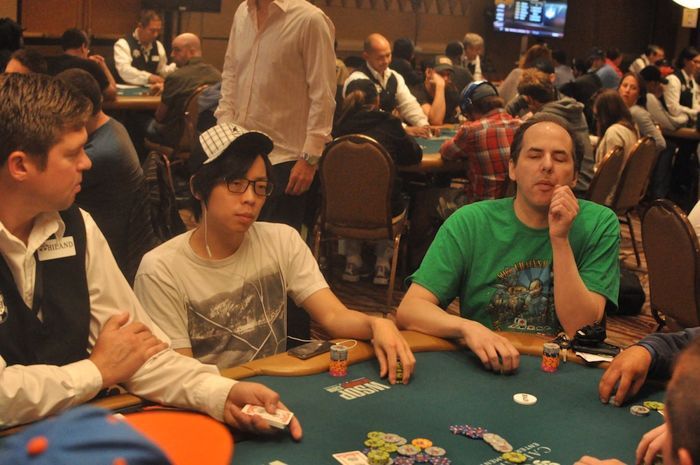 Ben Lamb Snapping Up Action
If you need a stake for the Main Event, give Ben Lamb a call! There is some joke going around at the moment where people are tweeting Ben Lamb trying to get him to buy their action, and twitter is on fire with funny tweets about it.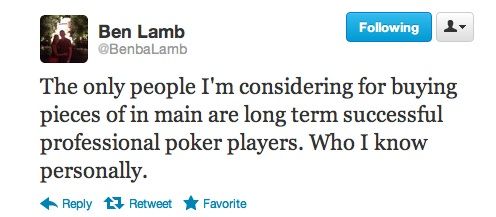 The Chips Are Stacked But Nobodies Home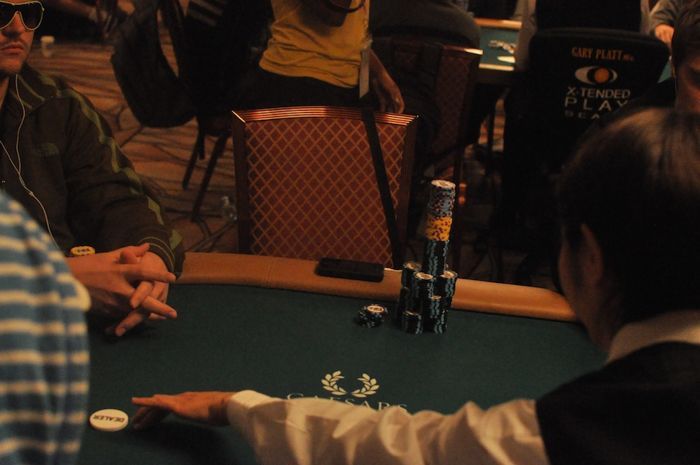 Check out this cool chipstack belonging to a mystery runner in day 2 of Event #59: $1,000 No-Limit Hold'em. We hung around the table but no sign of our mini-Da Vinci! Lets hope he keeps building a stack and can create his masterpiece before the tournament is up!
Double Sharkin'
Phil Ivey was, until recently, double dipping the Deuce to Seven and $1,000 No-Limit Hold'em. While everyone cheered to be in the money at 3:45 in the 1k NL, Ivey stayed in his seat, bopping around to the music on his beats headphones. As play resumed, a brave tournament director came by Iveys table, tapped him on the shoulder and reminded him that headphones aren't allowed while you're in the money. Ivey, the rookie.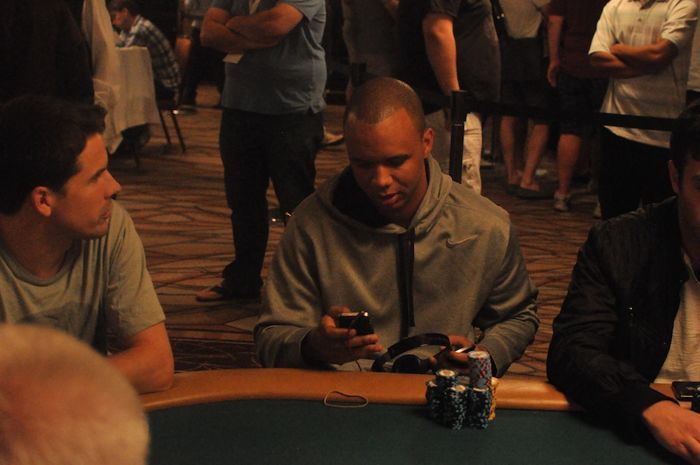 Elsewhere in the 1k NL, Humberto Brenes is double sharkin'. His usual shark mascot has a new companion and they're both guarding his chips proudly.
Fantasy Draft Warning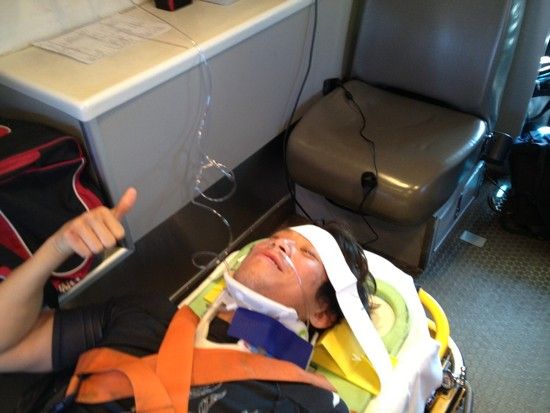 If you were thinking about putting Terrence Chan in your fantasy draft for this year World Series Of Poker Main Event, think again. Chan busted early this morning so headed over to Mandalay Bay for an MMA fight, and is now in hospital with a minor concussion. His backers won't be pleased...

Can You See In Those?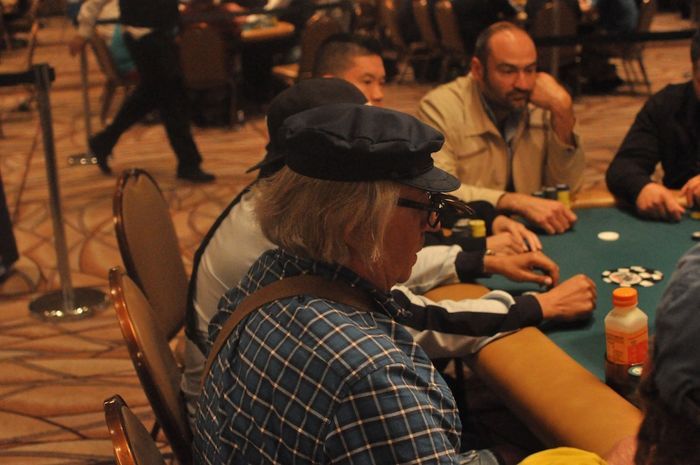 Well, we're pretty sure he can since there's nothing in front of his eyes. This gentlemen stood out from the crowd in the 10k National Championship this afternoon not just because of his farmer-esque dungarees, but because of his stylish, but somewhat out of character, reflective flip shades!
Deuce For Dinner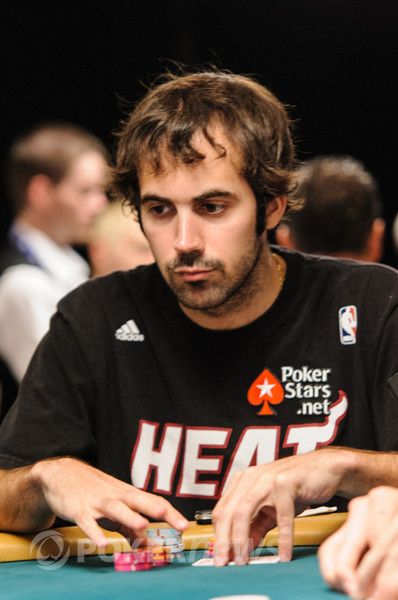 We just saw Jason Mercier sprint from the Amazon room to re-join his table in the 10k National Championship. Mercier double dipping as hard as he can right now after a disappointing and with no bracelet. The Deuce to seven lowball is now on break so he has time to put in some hands in the 10k.
Once in the Brasilia room for the 10k, Jason is approached by one of his friends and asked what he's doing for dinner? "The deuce" he replies. #WhenWillItEnd
What's On Your Head: Day 40
We've seen a lot of cowboy hats in the 2012 World Series of Poker, but never one quite as lavish as this one: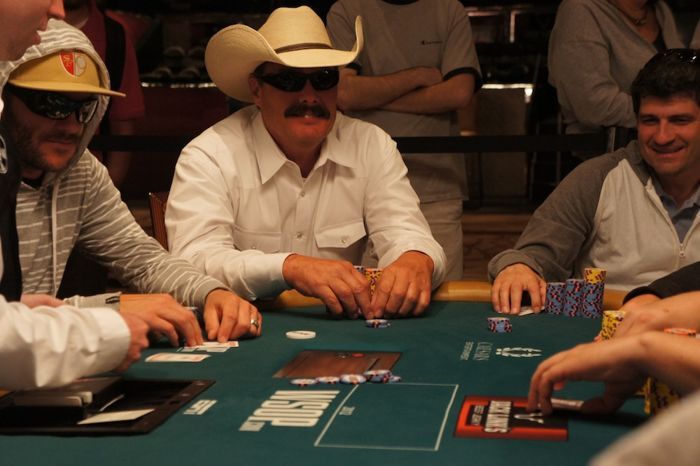 The gentleman with the large hat was still alive in Event #59: $1,000 No-Limit Hold'em when we saw him and his hat. It's definitely the biggest hat we've seen of the series, and he might get one of the side awards for the "Best Cowboy Hat of the Series."
Side Events at the Rio
We took a stroll around the Pavilion room in the Rio today to check out some of the side events going on at the World Series of Poker. Playing out today was the $560 Bracelet Bounty side event. In the field was Ylon Schwartz, Kathy Liebert, and Steven Loube. There were more than 1,100 players that entered the event. When we walked the room we only saw 136 players remaining and from what we saw, only one bounty left to claim.
Also playing out in the Pavilion room was the 2 PM $235 Deepstack tournament where we found one of our very own interns, Andres Martinez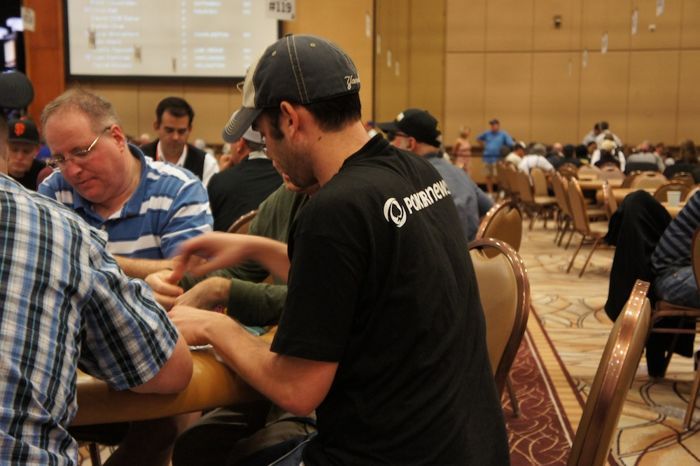 Martinez is still alive with a decent stack and less than 200 players remaining, poised to make the money if he can stay focused. Up top for 1st place in more than $50,000, so we might not see Martinez around for much longer if he wins. We'll be sure to keep you updated on his progress especially if he makes the final table.
Fashion Faux Pas of the Day
We saw George Danzer today playing inEvent #60: $10,000 2 - 7 Lowball (No Limit) wearing one of the oddest outfit combos that we've seen so far.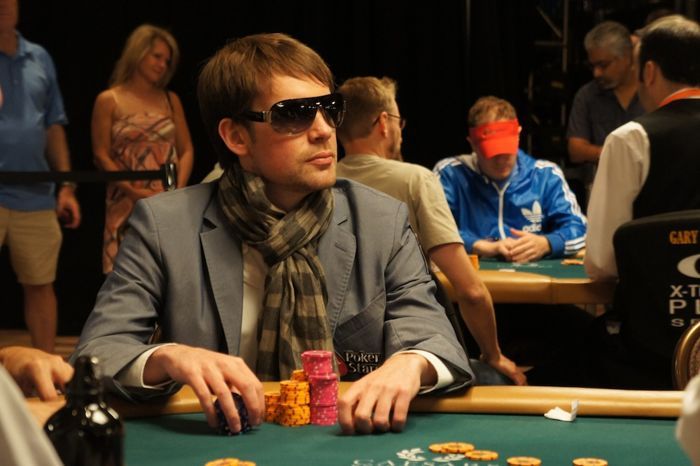 It's hard to tell if Danzer is dressed for Summer or Winter with the hat and scarf combo. Maybe a combination of the bright lights and the cold air conditioner in the Amazon room is throwing him off.
Even Daniel Negreanu took to twitter to make a subtle comment about Danzer's outfit, who is sitting at his table:
We encourage everyone to get involved with "The Muck." See something you think is Muck worthy Send it to the [email protected] We accept all media including photos and videos.