All Mucked Up: 2012 World Series of Poker Day 39 Live Blog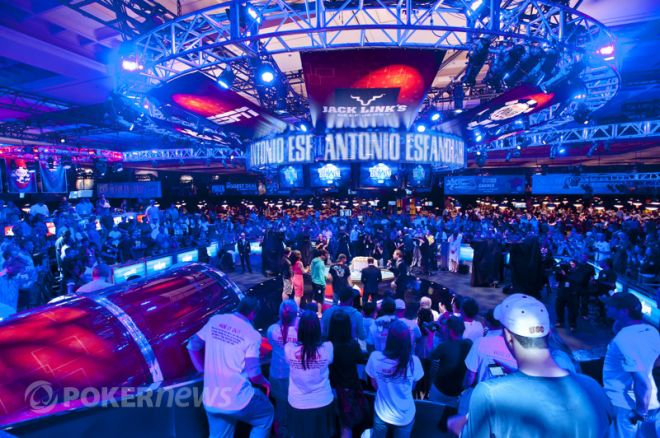 All Mucked Up is a live blog of all the stuff you want to know at the 2012 World Series of Poker, besides hand histories and bad beats. Well, we might add a few in here, everyone loves a good bad beat story — unless it happened to you. Check back often for polls, soundbites, celebrity sightings, and who knows what else!
May The Odds Be Ever In Your Favor
The fields are stacked today for the conclusion of Event #57: $10,000 No-Limit Hold'em Six Handed and Event #58: $3,000 Pot-Limit Omaha Hi-Low Split 8-or-Better. For Event #57, there are plenty of good bets, with great odds since the field still has 27 players remaining. Going at 9/1 is Andrew Lichtenberger, a good bet for a good player in a great tournament format for him. Also still alive is Eugene Katchalov who doesn't have many chips, but if he can get lucky he will be a great bet going at 27/1. Here's a look at some of the notables still in the field.
Andrew Lichtenberger: 9/1
Nick Maimone: 5/1
Keith Lehr: 25/1
Tony Hachem: 17/1
Roberto Romanello: 12/1
Jason Mercier: 12/1
Layne Flack: 20/1
Jason Senti: 12/1
Josh Brikis: 30/1
Carter Phillips: 13/2
Shannon Shorr: 25/1
Edward Sabat: 11/1
There are several good bets available for Event #58 as well. Former November Niner Antoine Saout is still alive and going at 15/1. And the most insane bet that we've seen all year: John Guth going at 90/1. Guth has an extremely short stack, but it's Omaha so anything could happen. Scotty Nguyen is also still alive in the field and is going off at odds of 25/1. Here are some of the notables still alive in the field:
Randy Ohel: 19/1
Antoine Saout: 15/1
Bryan Devonshire: 15/1
Stephen Su: 19/2
Roch Sousineau: 11/1
David Baker: 3/1
Anthony Lellouche: 27/1
Scotty Nguyen: 25/1
Yuval Brohnstein: 4/1
Bleed American
This gentleman in Event #59: $1,000 No-Limit Hold'em - Day 1b was suffering from what we will refer to as an all American hangover. Check it out:
Poor guy, that stuff probably wont ever wash out. At least we know he loves his country. Looks like a bit of dye even got down into his beard.
Found on a Rio Urinal
Earlier in the series, PokerNews' Live Reporting Global Manager Donnie Peters found an apple on a Rio Toilet: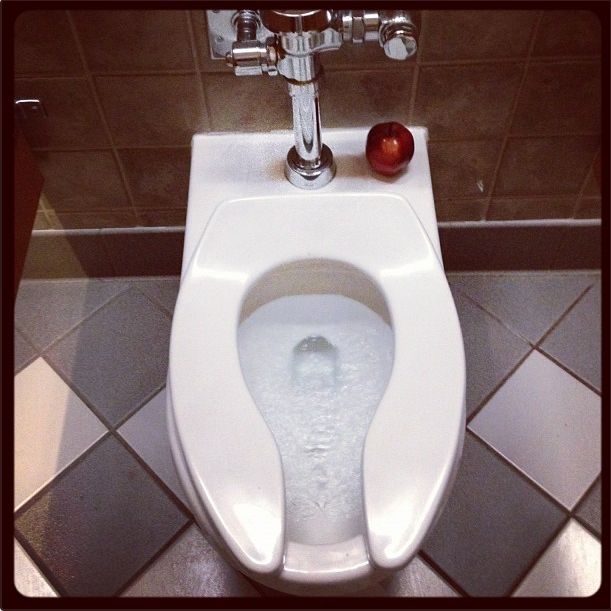 Today, we found something a little different on the Rio urinals: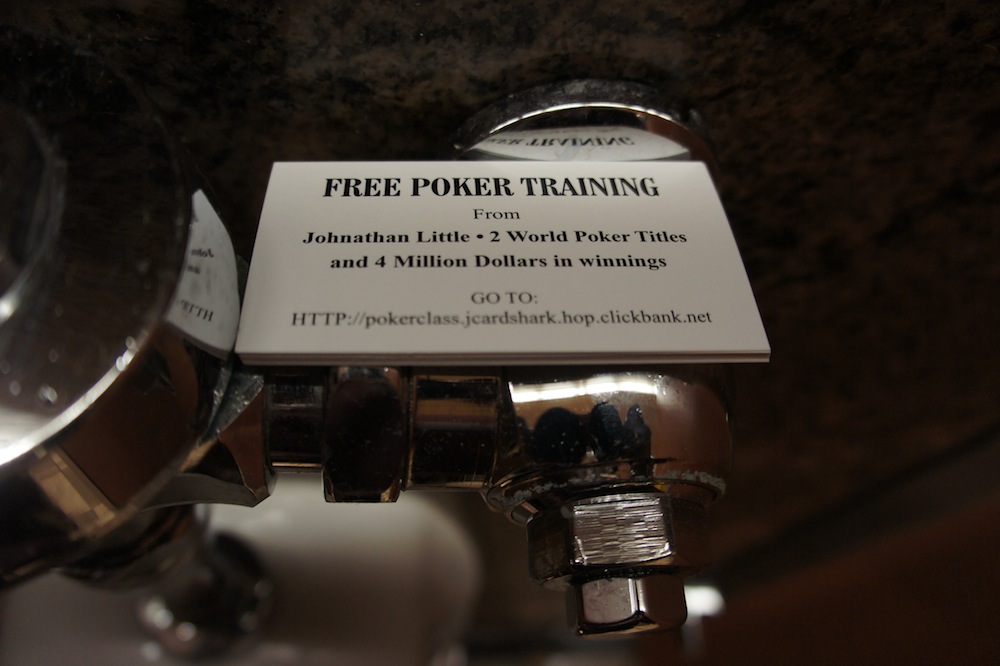 30 seconds on the clock, lets see how many funny things we can come up with: Couldn't you have found a better spot for product placement Jonathan Little? Haven't you ever heard the phrase, don't pee where you teach? We wonder how many people will 1. grab the card, 2. sign up for the training lessons after having found it on a urinal. $4million in tournament winnings and you couldn't find a better place to advertise for training lessons?
We might catch up with Little a little later and ask him about the decision to leave his calling card on the Rio urinals.
Follow Up, With Jonathan Little
We tweeted at Jonathan Little about the cards found on the urinal advertising for his training lessons, and he got back to us via twitter. Here's what he said:
@MrCleverFox affiliates can do whatever they want. Anything I do will be at @BlueSharkOptics or @3BetClothing booths.

— Jonathan Little (@JonathanLittle)
Which he followed up by saying:
Poor Little. Not only is his name plastered all over the Rio urinals, it's spelled wrong too. We guess that's what happens when you win $4 million in tournaments.
The Card Protector Chronicles: Day 39
It's been a while since we've done an issue of the Card Protector Chronicles, and with one of the largest fields of the series in Event #59: $1,000 No-Limit Hold'em - Day 1b, now was a better time than any to hop back on the bandwagon.
Unfortunately, there weren't a slew of awesome card protectors that donkeys use today in the field, but we did manage to find a couple.
The first one that we saw was this awesome, scaly lizard/dinosaur like creature:
If I were a dealer, I'd be sure not to muck anyones cards with that sitting on them. Not only was that one of the more noticeable card protectors, it was also one of the larger ones we've seen as well. We wonder if the owner has to feed him chips for all his duties.
The second one we saw was this very unique spider/Pepsi can UFO.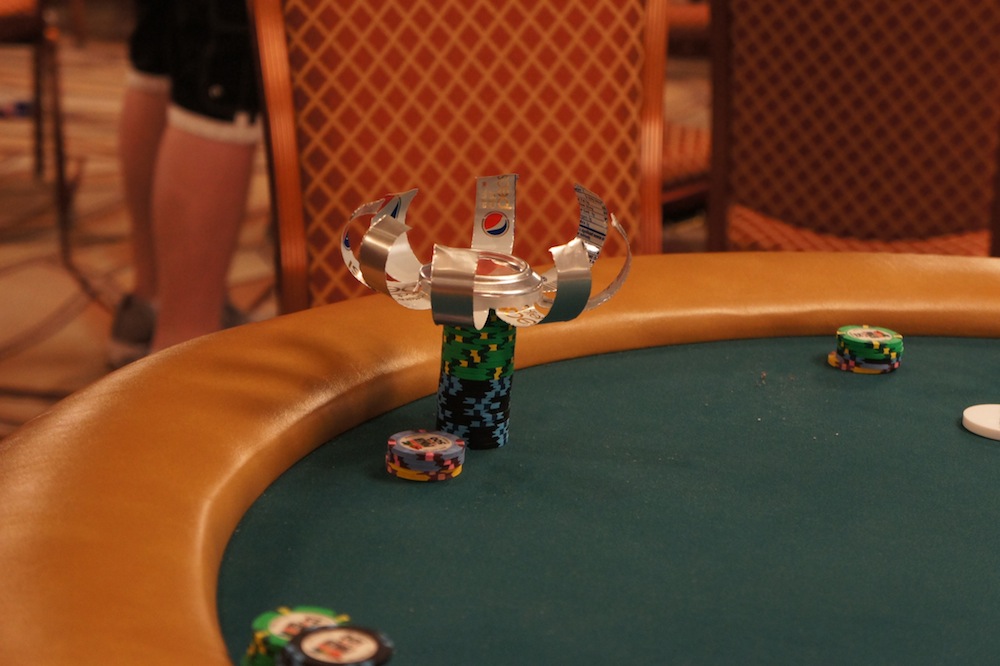 We're not sure how good of a job this thing does protecting cards, or it it's dangerous to move between hands, but it certainly caught our eye. It appears as if the thing is made completely out of a cut up pepsi can. We're not sure if it's intended purpose was to protect cards either, or if it was just meant to sit on top of a chip stack. Either way, we think it's still good for the game.
---ReadMore---
The Biggest Field So Far
Event #59: $1,000 No-Limit Hold'em Day 1b has already drawn out 2,798 runners. Combine that with the 1740 runners from Day 1a, and that makes a total of 4,538 players, creating the largest field so far in the 2012 World Series of Poker. The prize pool has not been announced yet, but we expect it to be a monster one with main of the players treating this event as a satellite to the World Series of Poker Main Event, which begins on Saturday.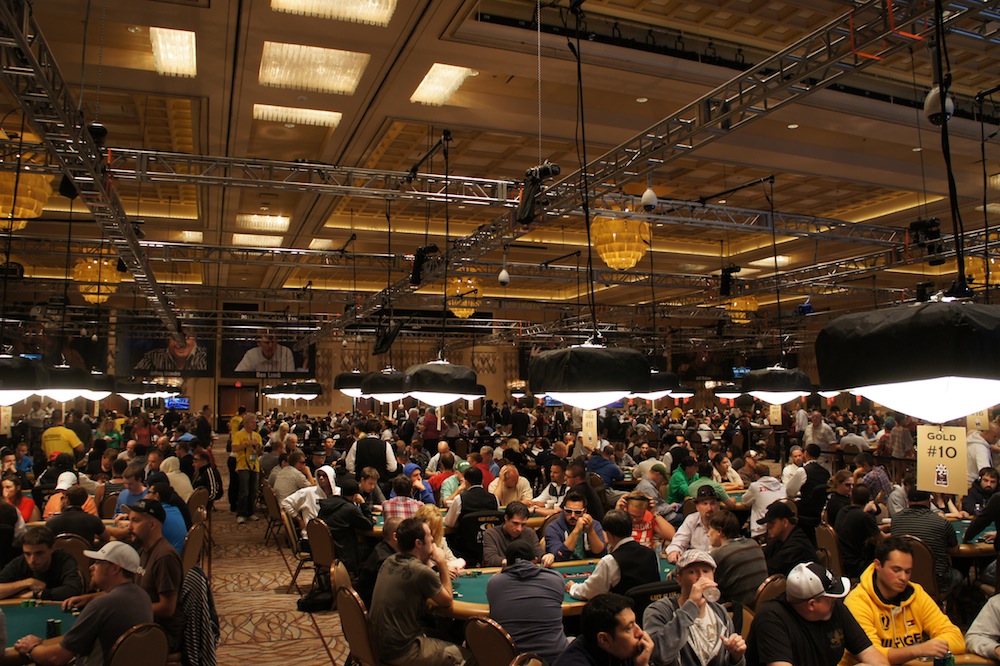 PokerNews once again has one of its own in the field. Danielle Barille is taking a shot at navigating through a monster field in Event #59. She has already built up a healthy chip stack, and we can expect her to make a good run at this event.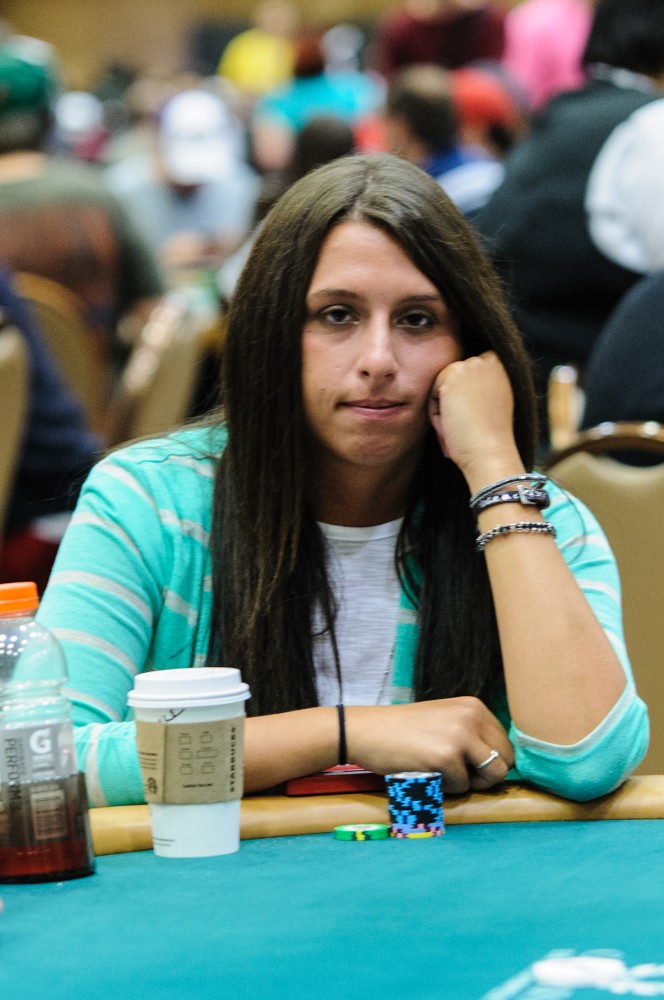 We'll keep you posted with chip counts and updates from thelive reporting blog, so be sure to check it out.
Can You See With Those Things On: Day 39
We found this gentleman playing in Event #59 as well. On his face was a pair of what we think were sunglasses, but they could also probably have a double function as a visor.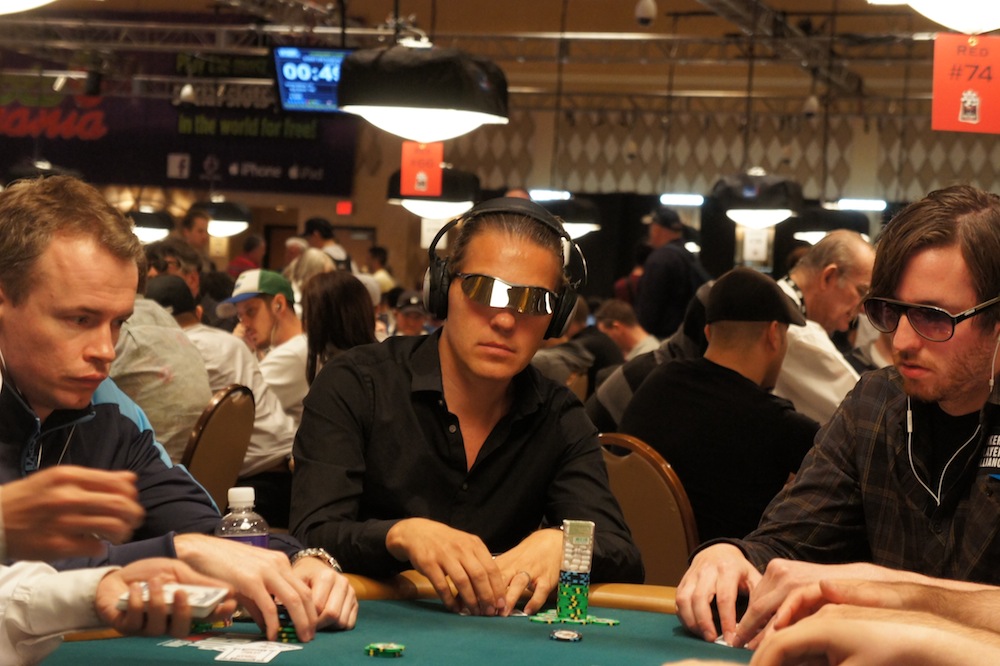 The glasses certainly look like something straight out of the future, and clearly haven't caught on in the American fashion scene yet, but we really question whether or not he can see out of those things.
Overheard in the Dealer Break Area: Smells Like Something's Dead, Baby
We overheard a pro having a chat with a floorman in the dealer break area, smoking a cigarette. From what he was saying, we heard that he was not having the greatest time at his table in the Event #58: $3,000 Pot-Limit Omaha Hi-Low Split 8-or-Better. We don't want to mention who the pro was, since it was off the record, but it was still a rather funny conversation.
"It smells like bread?"
"No baby. It's his breath. It smells like somethings dead inside his mouth."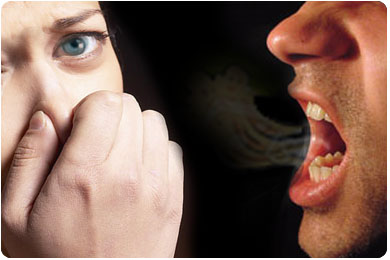 You may be able to guess who it was, but we didn't tell you.
Lost and Found
Apparently at last night's 4th of July party at Vanessa Rousso's house, there was some kind of Lost and Found competition. The winner? Daniel Negreanu of course. Here's the tweet on the subject:

First prize? A $5,000 Bellagio chip of course!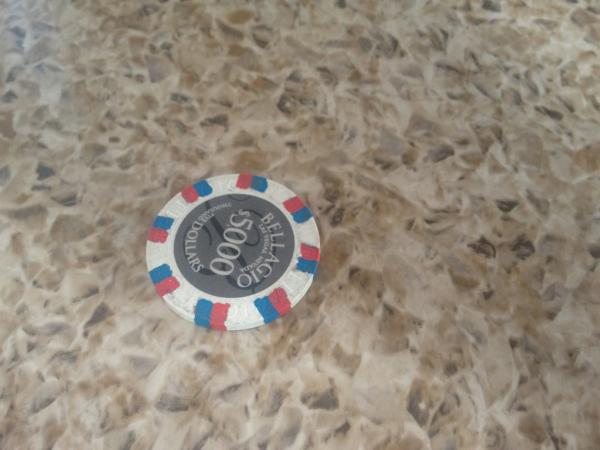 Mustache Rides Anyone?
Eric Baldwin has re-introduced his signature mustached look and we found it in the field of Event #59. He's grown it out a few other times and really sports it during baseball playoffs.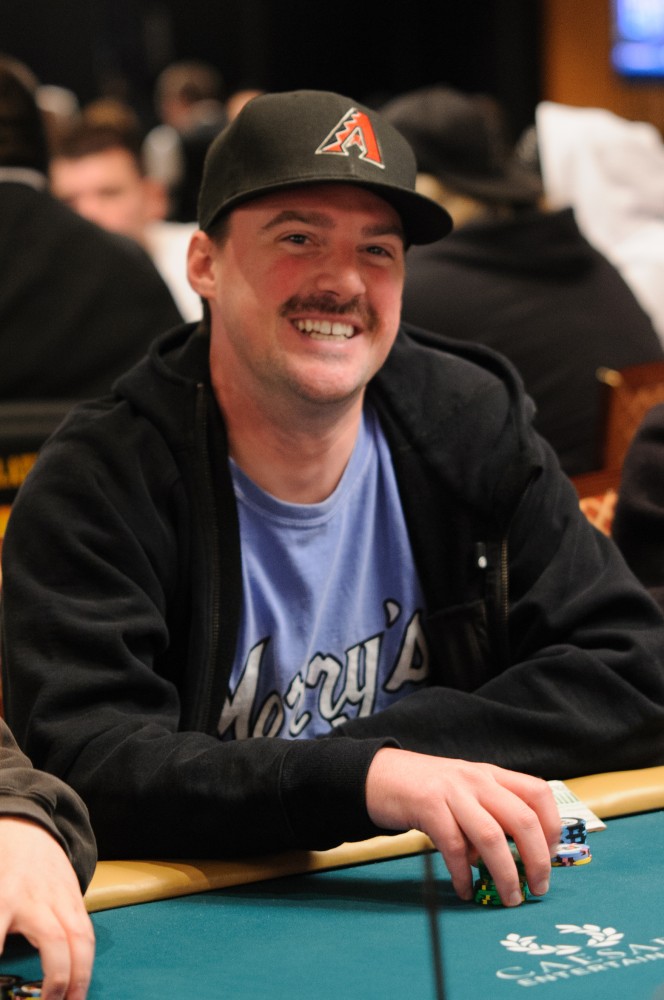 "I wasn't going to grow it in until the Main Event," Baldwin said. "But it was just too perfect with the 4th of July party."
He plans to keep the mustache throughout the Main Event. We can only hope he makes the final table and will have sport the Main Event Mustache for several more weeks.
Sicko Tables in the 2 - 7 Lowball (No-Limit)
We took a stroll to the Amazon room to check out some of the table draws for Event #60: $10,000 2 - 7 Lowball (No-Limit) and we saw a couple of really disgusting ones, and when we say disgusting we just mean that we wouldn't want to get caught in the middle of those bunches. Here's the first: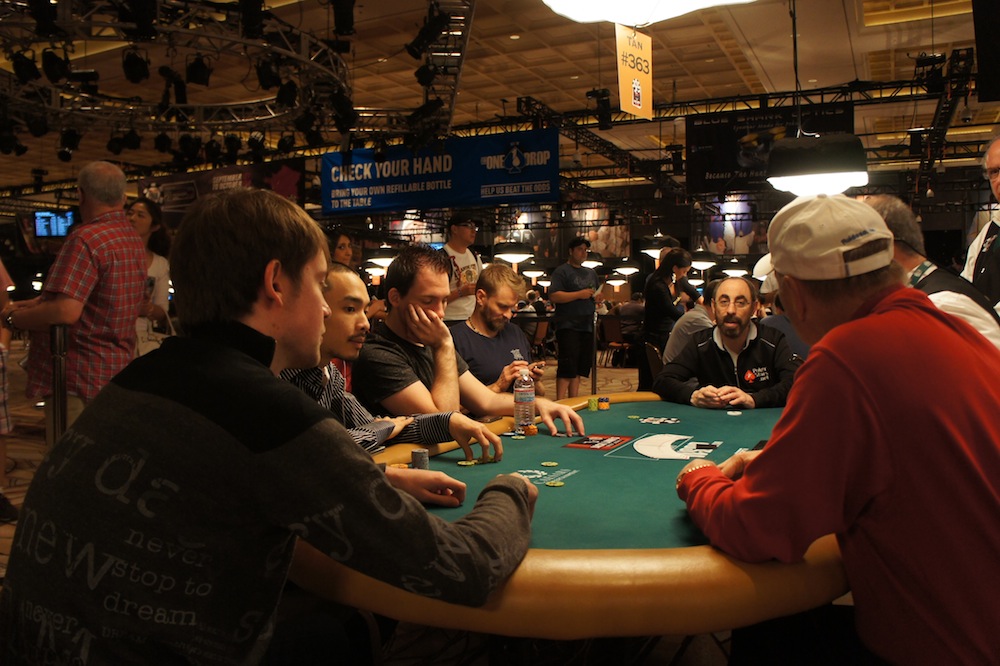 The table consists of
Seat 1: Unknown Player
Seat 2: George Danzer
Seat 3: Chino Rheem
Seat 4: Justin Bonomo
Seat 5: Michael Binger
Seat 6: Barry Greenstein
The second table was Erick Lindgren's table which consist of
Seat 1: Konstantin Puchkov
Seat 2: Erick Lindgren
Seat 3 & 4: Unknown
Seat 5: Tom Schneider
Seat 6: Mike McDonald
We'll see if we can catch up with some players on break for some strategy tips on 2 - 7 Lowball (No-Limit).
What We're Playing For: The Main Event Bracelet
As we mentioned earlier, the 2012 World Series of Poker Main Event begins on Saturday. That being said, we feel like it's only customary to post a picture of what all the players will be playing for. Not only will there be a six figure first prize, but there will also be this on the line: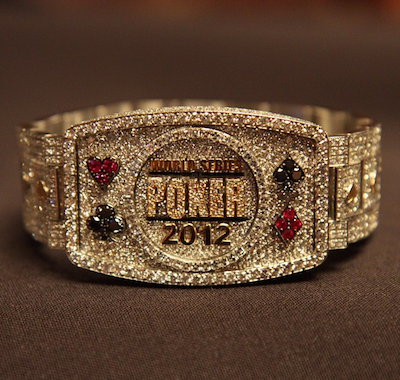 Since tomorrow is the last day before the big one stars, we'll try to catch up with some pros to see how they have been preparing for the Main Event.
Just Nguyen Baby!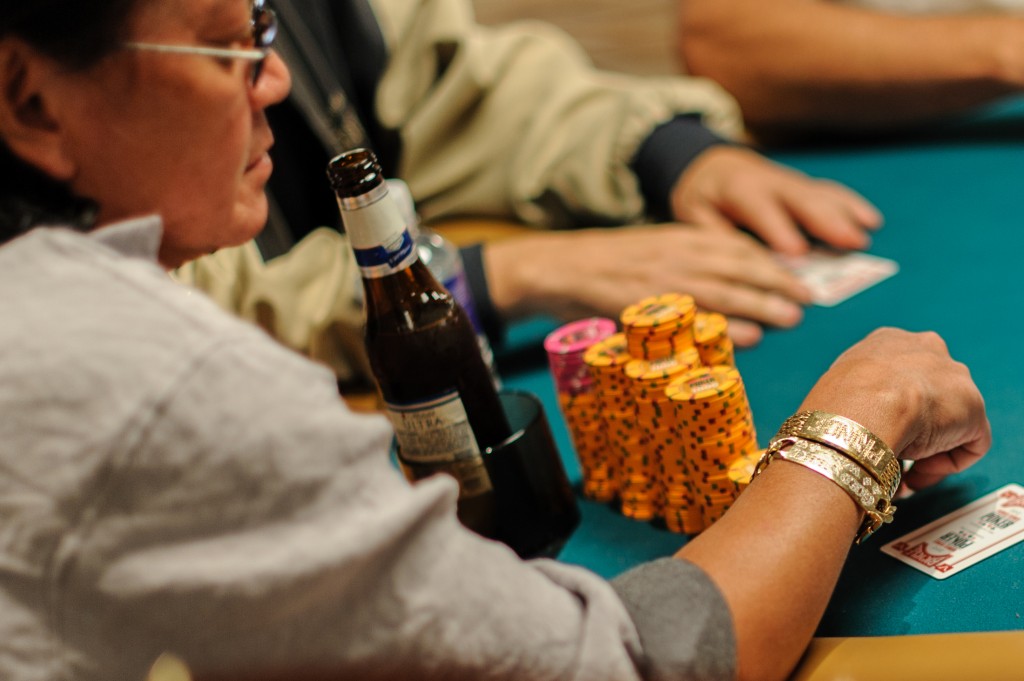 Scotty Nguyen is at the final table of Event 58: $3,000 Pot-Limit Omaha Hi-Low Split 8-or-Better. Other notables include David "ODB" Baker. Will Nguyen get his sixth bracelet? He'll have some work to do; Nguyen is currently seventh in chips. The table has drawn a sizable rail.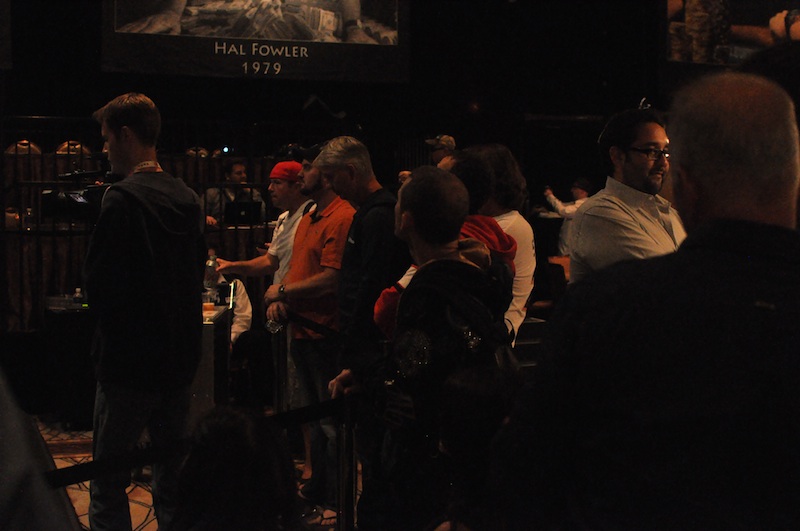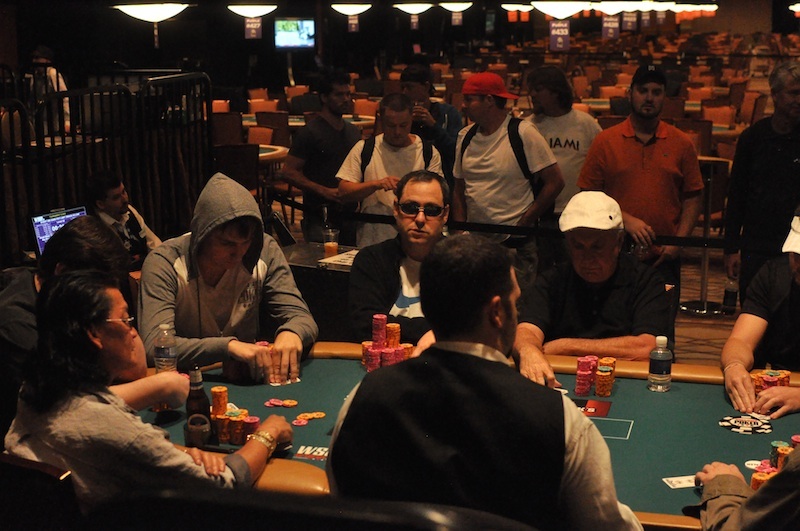 Sights In The Brasilia
The Brasilia room in the Rio is hosting Event 59: $1,000 No-Limit Hold'em. They're down to 810 players. Over 4,000 entered the event. Ben Yu, Cherish Andrews, and Team PokerStars Pro Humberto Brenes are among the chip leaders.
In a field this size there's always interesting characters, outfits, and God knows what else. Here's some sights from the Brasilia:
The state of Michigan was well represented.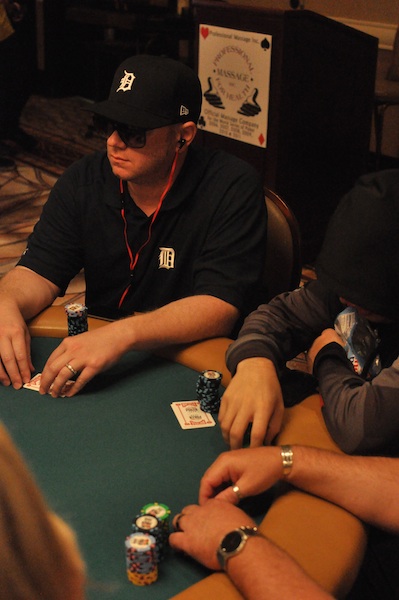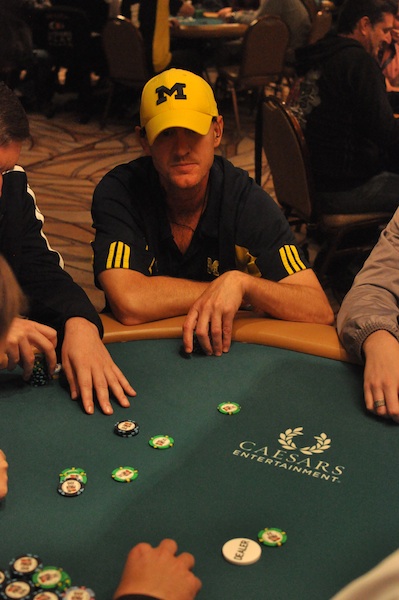 Here's Marvin Rettenmaier with the world's largest iPad.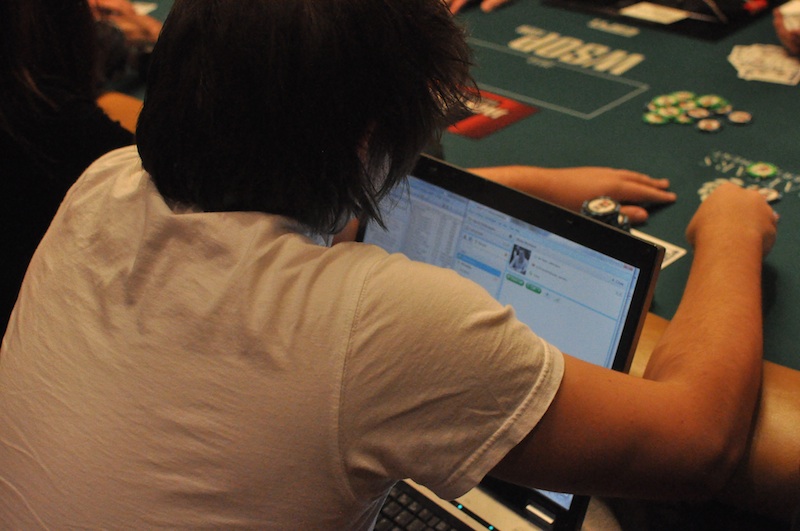 This player was wearing a Matt Kemp jersey. Dodger fans everywhere are counting the days 'till Kemp comes of the DL.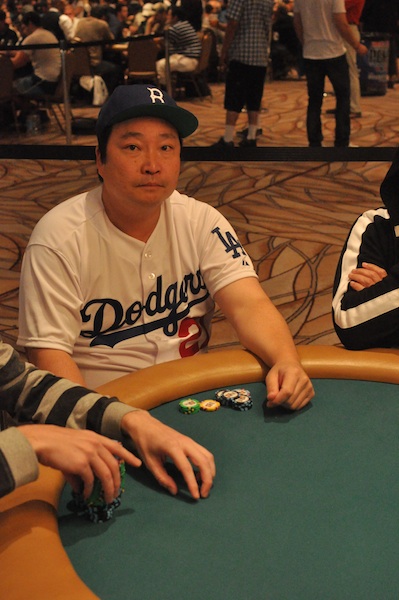 The Hamburglar's cousin?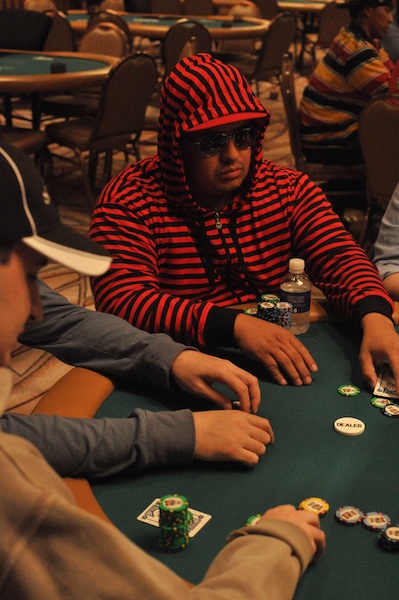 We spotted Robert Iler, who played A.J. on the Sopranos.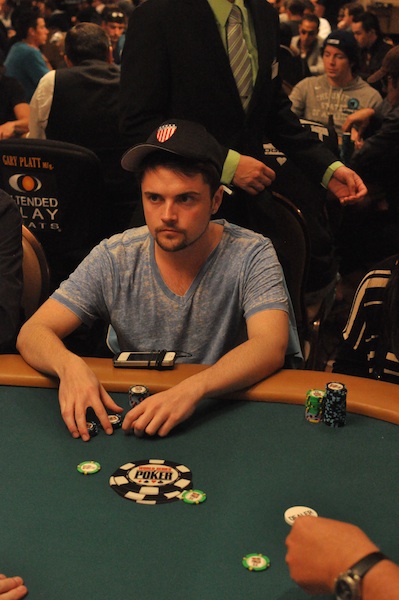 Brett Richey In The House
If you haven't heard the PokerNews podcast then you're doing it wrong! Tonight, poker pro Brett Richey paid us a visit to talk beer, poker, and music.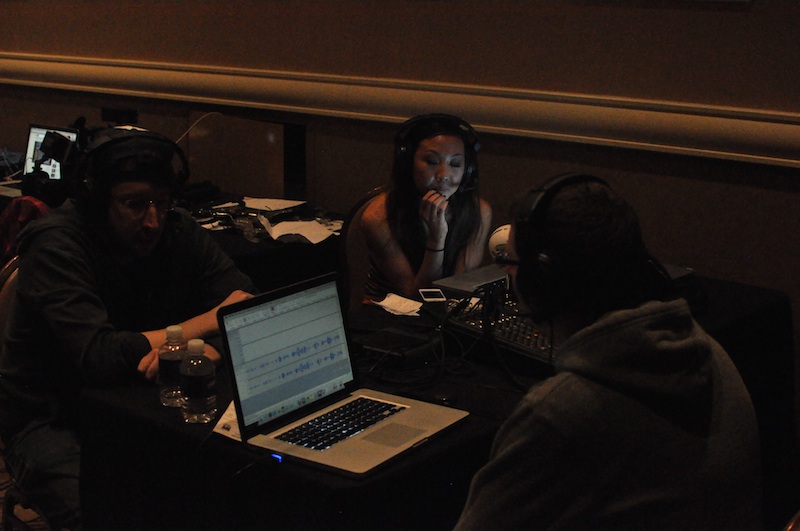 Epic Table Chatter?
We spotted a table with Team PokerStars Pro Daniel Negreanu, Mike "The Mouth" Matusow, and Shawn Sheikhan in Event 60: $10,000 2-7 Draw Lowball (No-Limit).
These are three big personalities and we'll be eavesdropping on their table throughout the night to report back any interesting banter.
Here's a blast from the past of fireworks between Sheikhan and Matusow:
2-7 Draw Lowball (No-Limit) Strategy: Justin Bonomo and Joe Tehan
We caught up with Justin Bonomo and Joe Tehan on break from
Event 60: $10,000 2-7 Draw Lowball (No-Limit) to talk a little 2-7 strategy.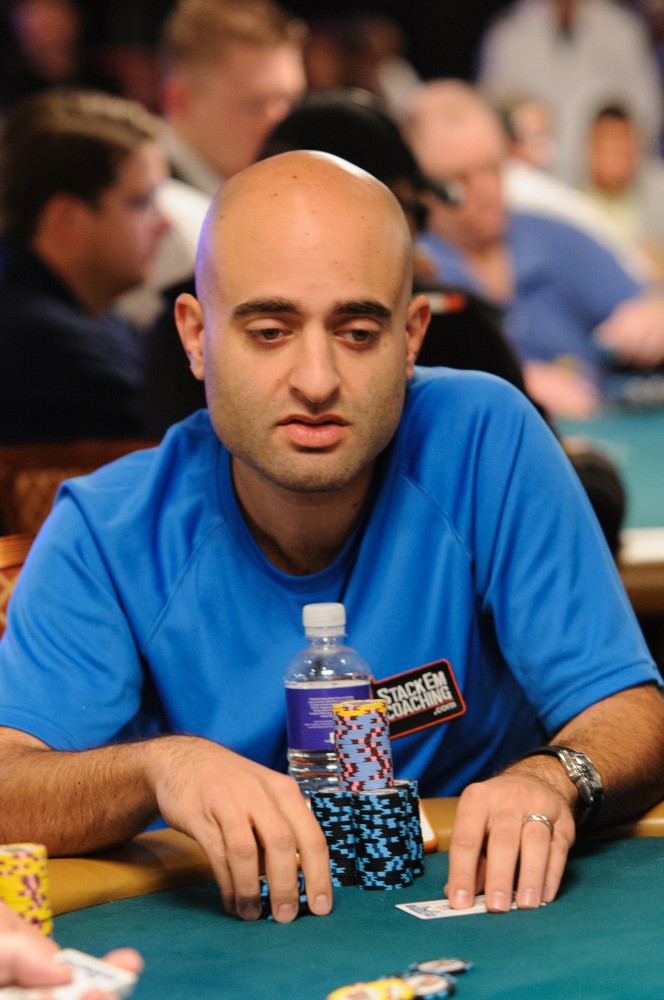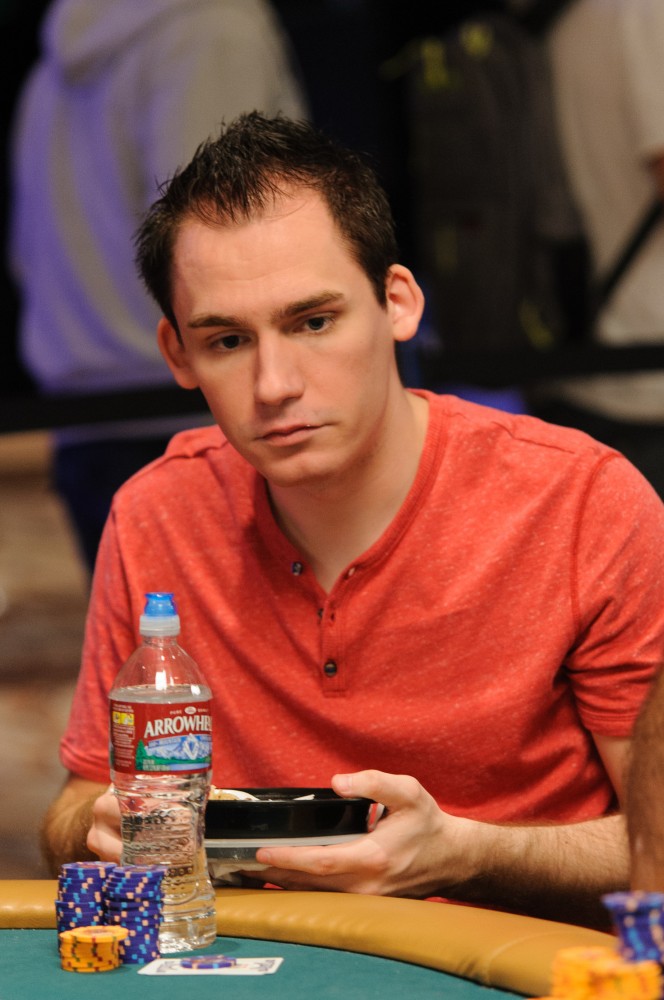 "No one really knows how to play game," Tehan said jokingly.
He maybe exaggerating a bit, but there's some truth to that statement. According to Greg Raymer, 2-7 Draw Lowball is one of the least researched poker games out there.
Tehan did give some insight about drawing hands.
"Two card draws are tempting but should be avoided, said Tehan." However, he said exceptions can be made when in position. "Position is so important in this game. You can really put a lot of pressure on your opponents that way, but much of it is just a guessing game."
Bonomo stressed the importance of bluffing.
"Most players need to increase their bluffing frequency. And not just bysnowing (to stand pat). Balance by randomizing what you bluff with."
Stay tuned for more 2-7 lowball strategy.
The Red Coats Are Coming!
They're down to the final table of Event 57: $10,000 No-Limit Hold'em - Six-Handed. Among the notables left are Andrew "luckychewy" Lichtenberger, Shannon Shorr, and Brit Christopher Brammer. The rail is huge and there's plenty of Brits in the crowds, and you know what that means. That's right, lots of chanting and beer drinking. There's lots of notables on the rail as well, including, Sam Holden, Sam Trickett, Mike Sowers, and Justin Young.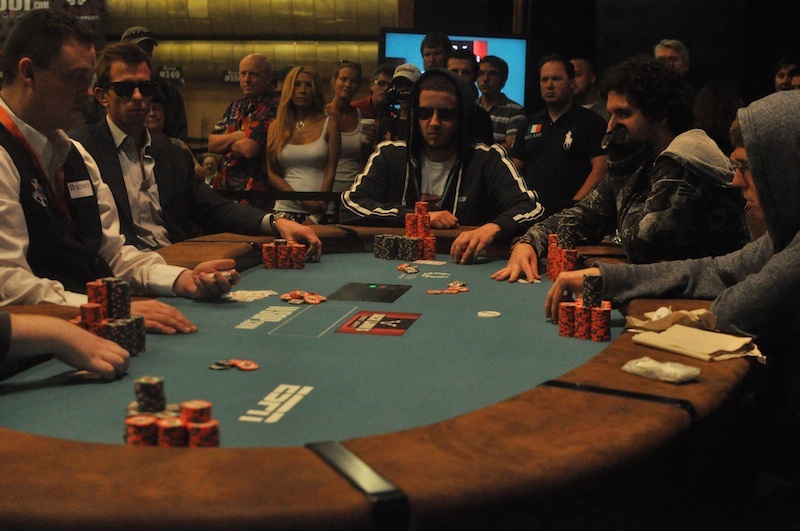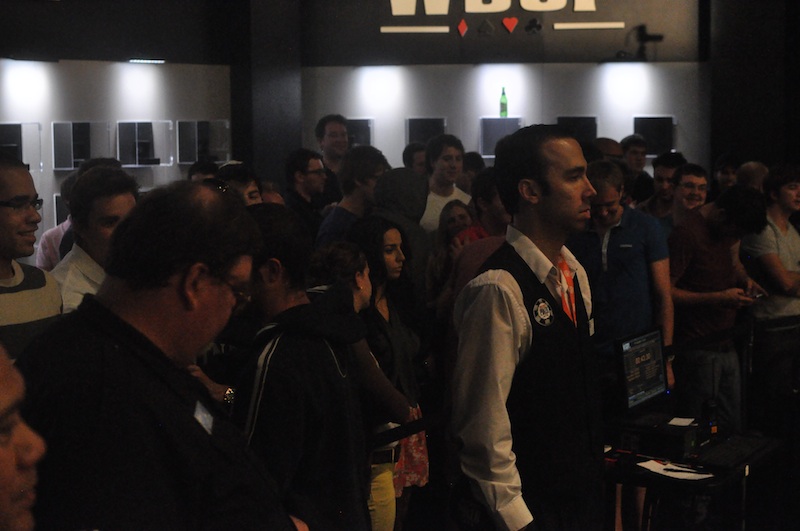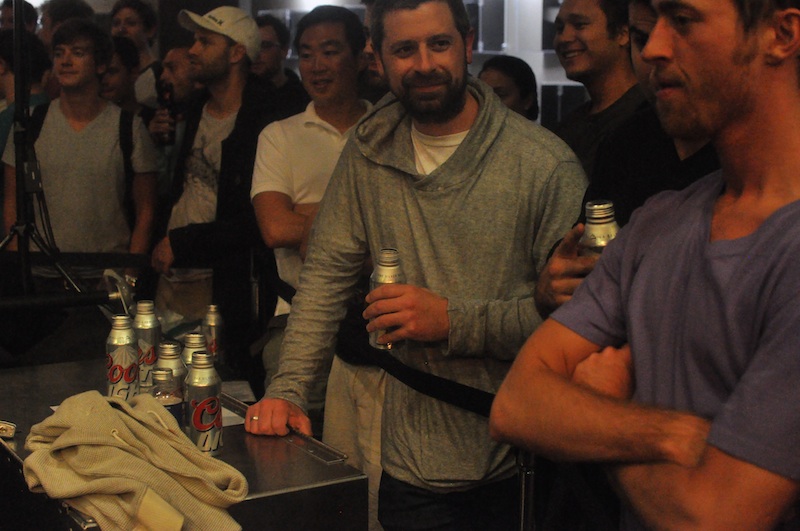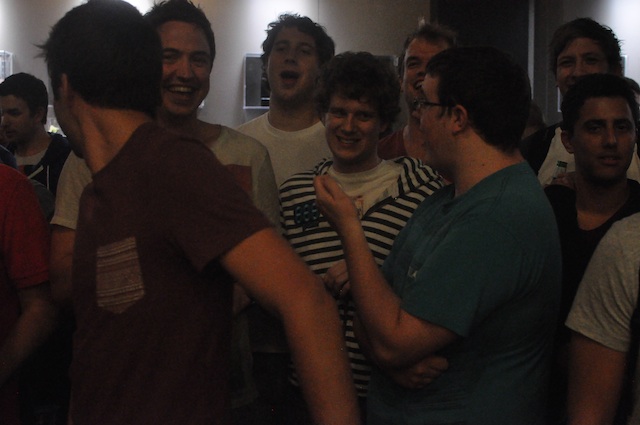 Cash Game Patrol
As we like to do, we took a stroll through the high limit cash pit of the Pavilion to see if any notables were getting their cash grind on.
We came across a stacked game of $100/$200 Limit Mix Game, featuring David Singer, Amnon Filippi, Mark Gregorich, and Brandon Cantu.
We also saw Stud specialist Cindy Violette at a $50/$100 7 Card Stud table.
The Red Coats Are Coming: Part 2
Unfortunately for the British rail, Christopher Brammer busted in fifth place in the $10,000 Six Max No-Limit Hold'em, although the $200K payday may ease the sting. The rowdy rail left the Pavilion and continued the chanting and drinking at the Blue Moon Bar in the halls of the Rio.
We caught up with Brits Sam Holden and Jon Spinks, who were in the middle of the party, to ask where the inspiration for the boisterous British rails comes from.
"It's just the general culture," Holden said. "We're a small community of friends here (in Vegas) that have know each other for years."
After the Brits left the level of enthusiasm in the Pavilion dissipated. When asked why the American rails aren't as demonstrative, Holden attributed it to the sheer size of the US.
"There's so many Americans….you got the East Coast and West Coast. We're just a smaller community. It's also part of the British sense of humor. It's all meant to be fun."
Spinks shared those sentiments.
"Final tables are so f**king boring to watch, the chanting and drinking makes it fun. Its just banter for us. We're not trying to be nasty. Its like sports in England. Football, rugby, even cricket. It's like protecting your team."
Here's some pictures of the party, which was capped off by a "shoe bomb" (where one drinks beer out of one's shoe).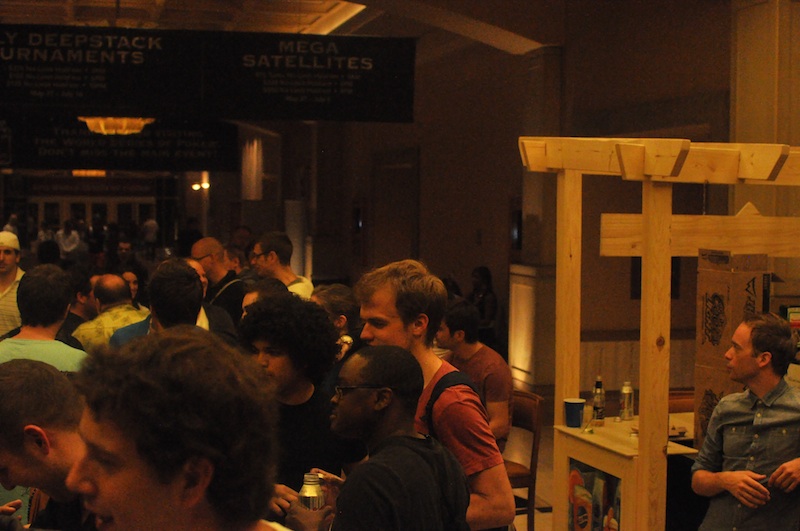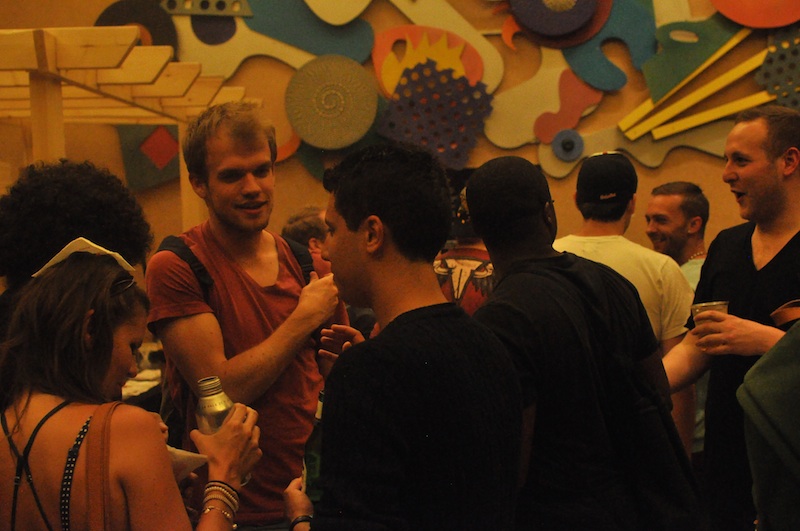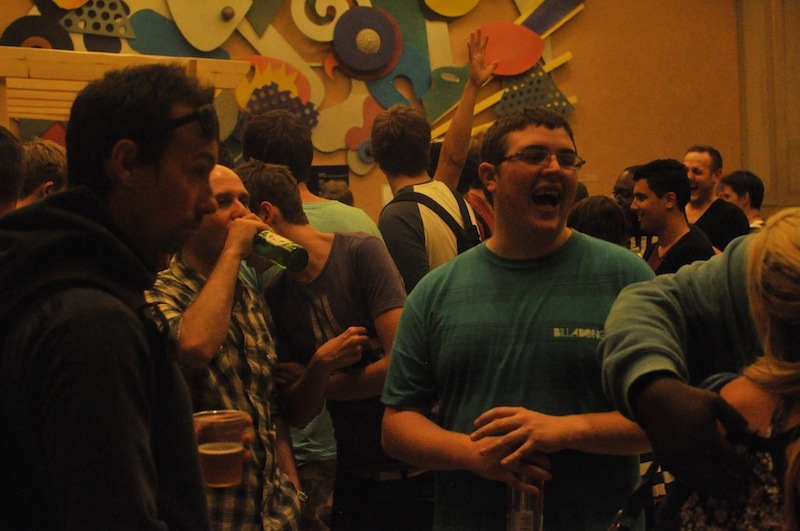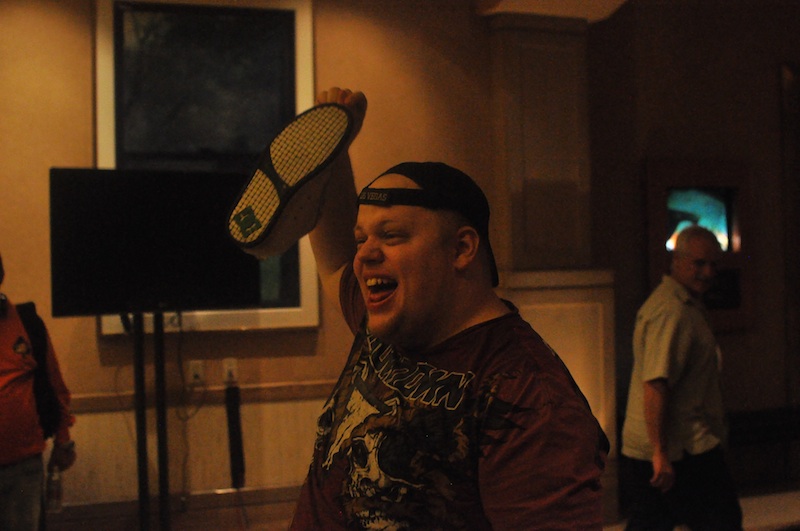 Love Hurts
We saw this tweet from Jen Harman.
First time playing at the same table in a tournament with @marcopoker #hateit

— Jennifer Harman (@REALJenHarman)
We ran over to their $10,000 2-7 Draw Lowball (No-Limit) table to snap a couple of quick pics.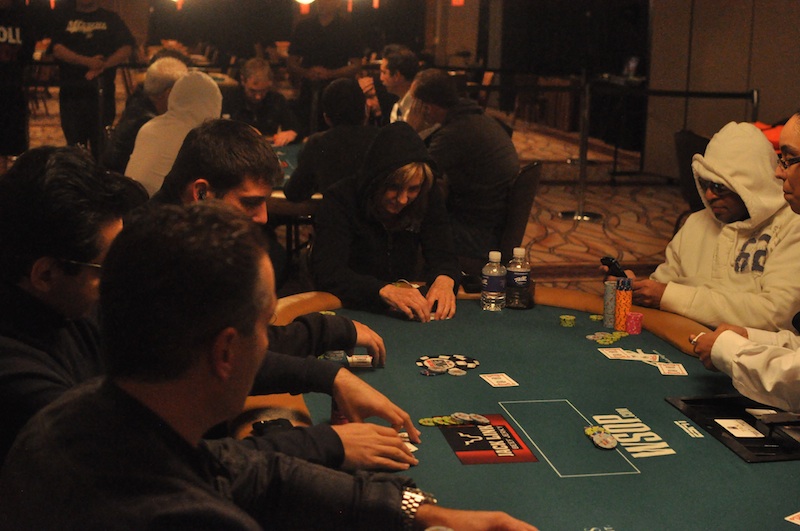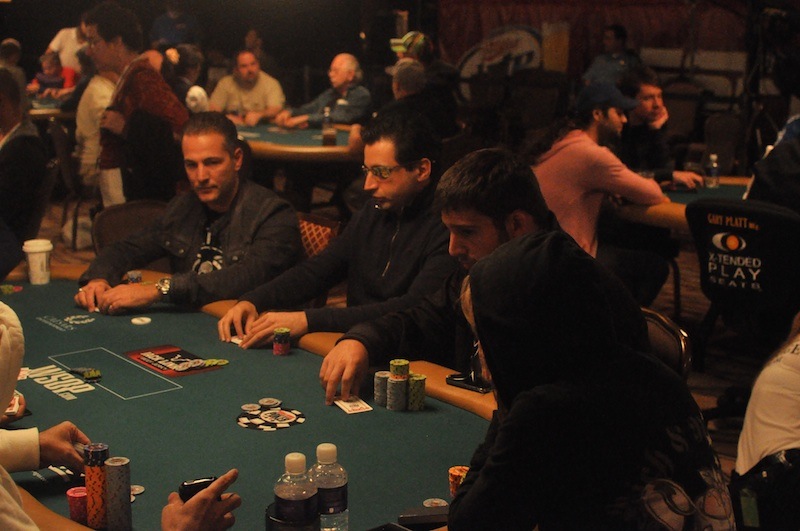 We encourage everyone to get involved with "The Muck." See something you think is Muck worthy Send it to the muck@pokernews.com. We accept all media including photos and videos.