All Mucked Up: 2012 World Series of Poker Day 38 Live Blog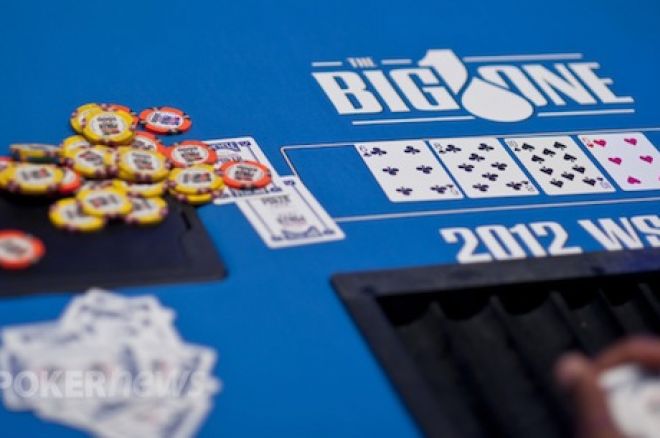 All Mucked Up is a live blog of all the stuff you want to know at the 2012 World Series of Poker, besides hand histories and bad beats. Well, we might add a few in here, everyone loves a good bad beat story — unless it happened to you. Check back often for polls, soundbites, celebrity sightings, and who knows what else!
May The Odds Be Ever In Your Favor
No rest for the weary in the aftermath of the Big One for One-Drop. There's still plenty of poker to be played. Be prepared for fireworks in Event 56: $1,500 No-Limit Hold'em. Only 21 players remain in the quest for the $661,022 first prize. Here are the odds for some of the notables courtesy of the Rio sports book:
Peter Eastgate: 3/1
Will Failla: 70/1
Sam Holden: 50/1
Donald Vogel: 4/1
Mick Graydon: 19/2
Gianluca Mattia: 2/1
David Borg: 6/1
Bastian Fischer: 15/1
Independence Day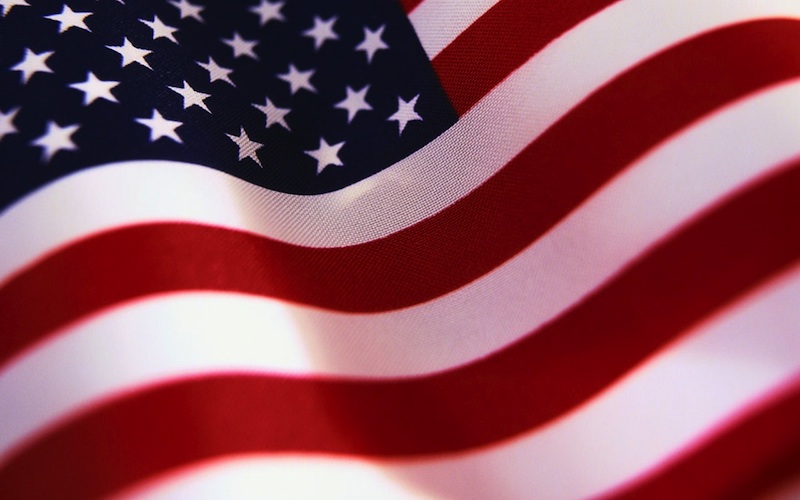 Poker is as American as apple pie. In honor of our Founding Fathers, which do you think would make the best poker player?
Poll
Which Of Our Founding Fathers Would Make The Best Poker Player?
Red White And Blue
We came across several players decked out in patriotic gear today.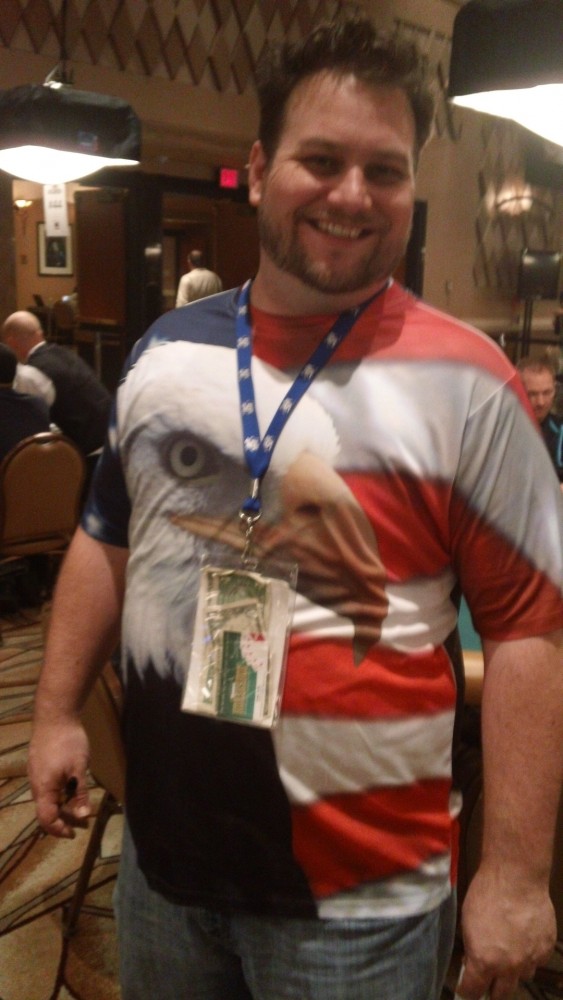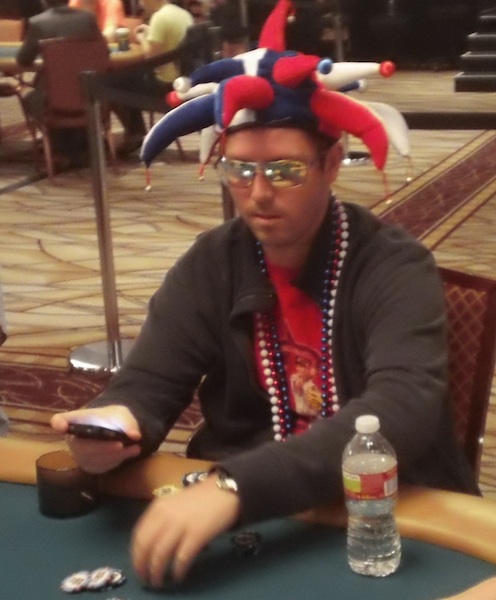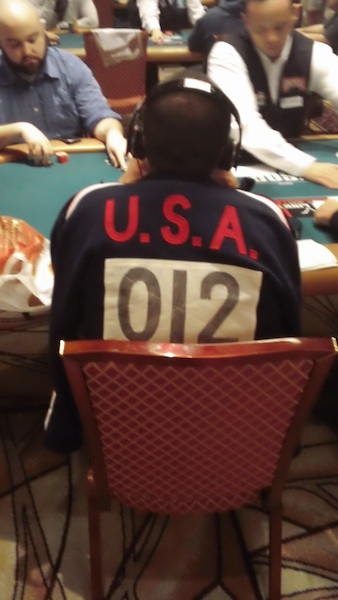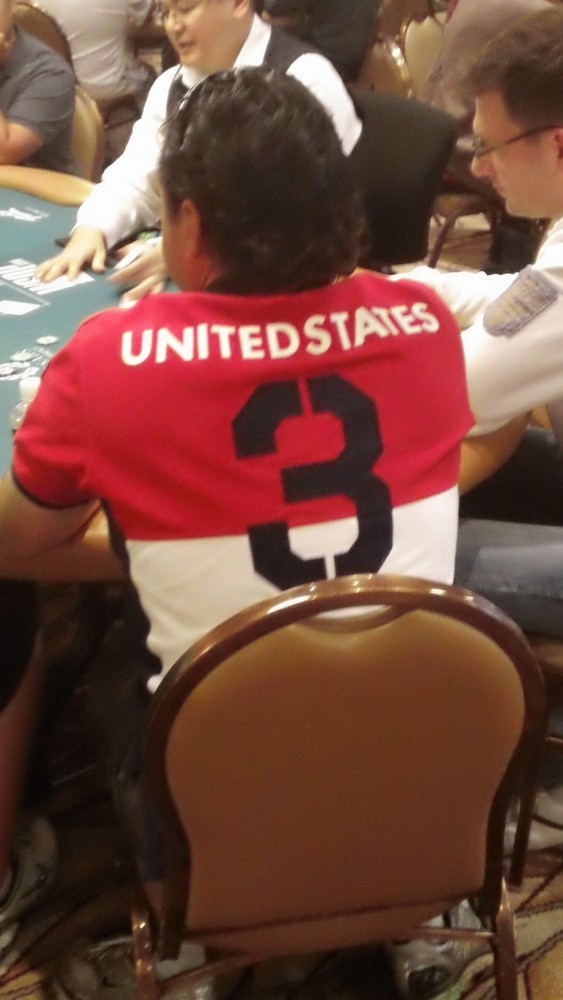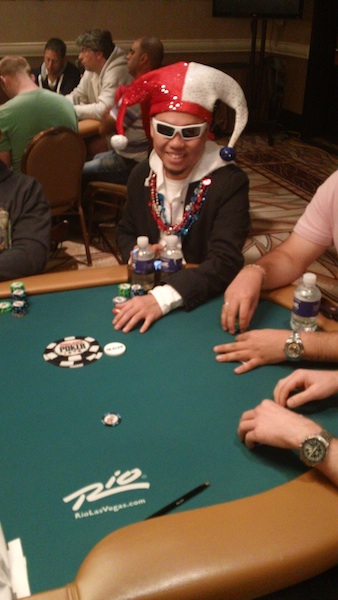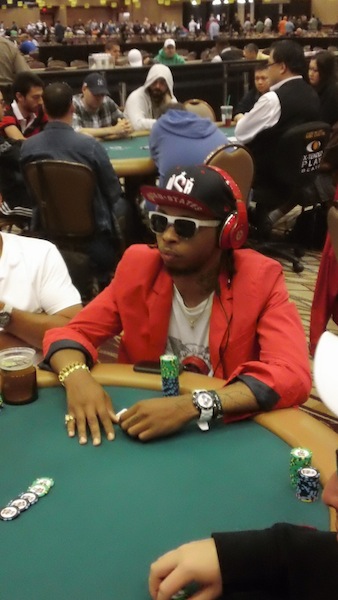 We'll be sure to post more throughout the day.
Look Who's Back!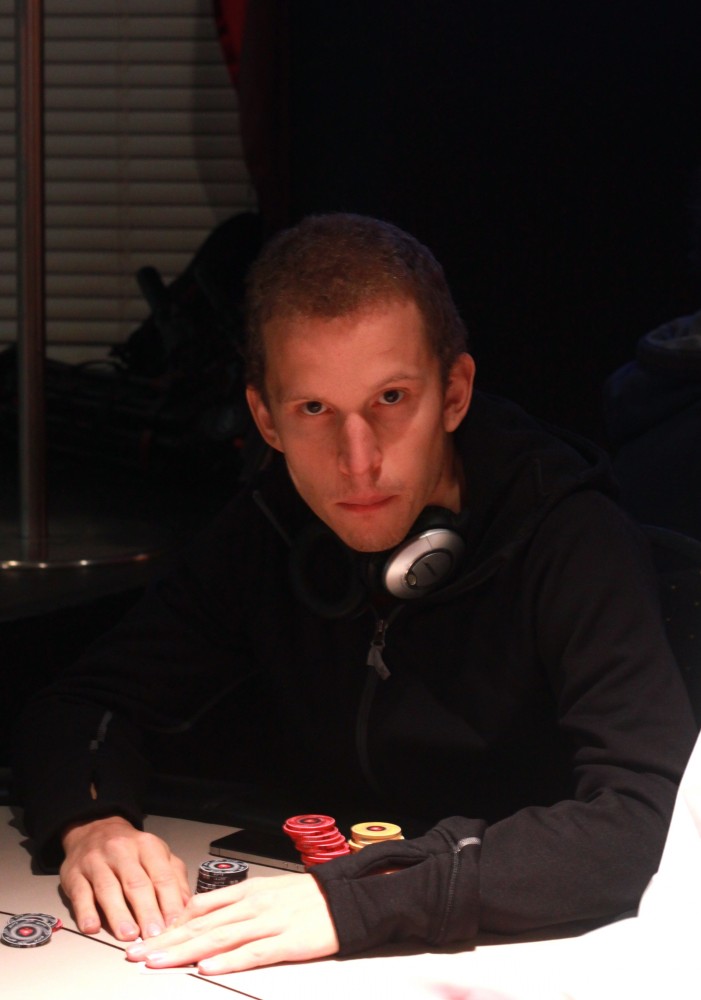 Peter Eastgate took a much-publicized break from poker shortly after his 2008 WSOP Main Event win, but he's resurfaced recently. He's currently third in chips in Event 56: $1,500 No-Limit Hold'em. We'll do our best to catch up with Eastgate to see what he's been up to and also ask him how it feels to be playing poker again.
---ReadMore---
American History Trivia
How well do you know your American History? We caught up with several pros to test their knowledge.
Moorman Vs Deeb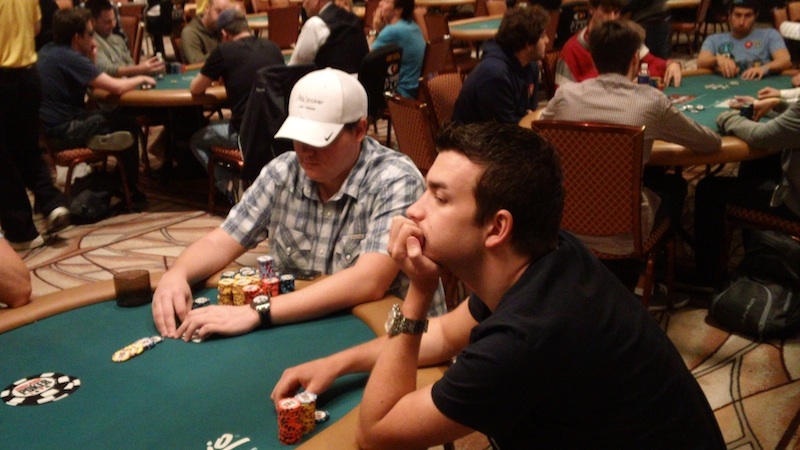 We followed up on Chris Moorman's tweet from earlier about a hand he played versus Shaun Deeb in Event 57: $10,000 No-Limit Hold'em - Six-Handed.

Moorman wouldn't reveal his hole cards, but he was kind enough to break down the hand for us.
"Deeb opened in the Cut Off, I called on the Button and the Big Blind called as well. Flop came
with two hearts. Deeb bet, I called and the Big Blind called. The turn brought an off suit
. It checked to me. I was really happy with my hand at that point. Deeb then check/called my bet. The river brought the
completing the flush draw and Deeb shoved 2x pot. I tanked for like 10 minutes and folded."
Event #57 is a star studded affair including the aforementioned along with the likes of Jason Koon, Mike McDonald, Team PokerStars Pro Jason Mercier, Layne Flack, and Carter Phillips. We'll be sure to keep the Muck faithful updated on any major developments.
Carnival in The Rio
While strolling through the Rio Poker Kitchen we came upon a celebratory scene. About an hour earlier, Brazilian native Luis Campelo had just finished placing second in Event 54: $1,000 No-Limit Hold'em for $309,429.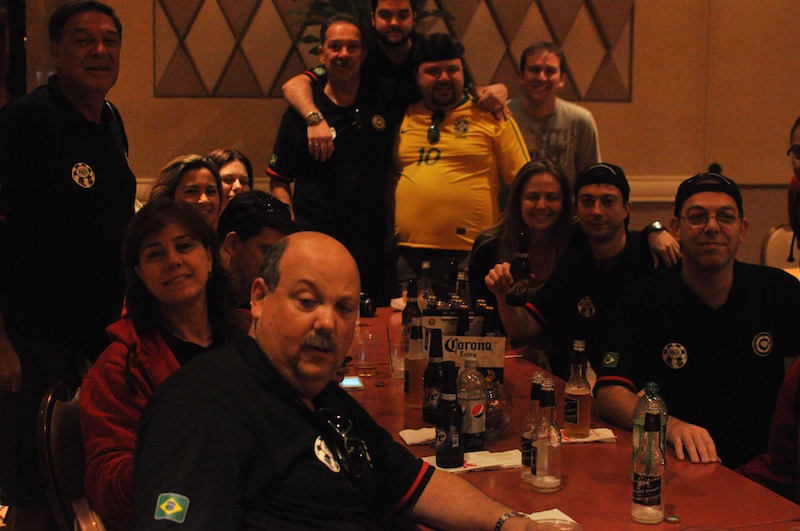 He won't be taking home a bracelet but that didn't put a damper on the mood of Campelo or his rail. And what a rail it was! Loud chants of "Ole! Ole! Ole! Ole!" rang though the Amazon Room. It was so loud that they had to move the heads up portion of the match to the Pavilion as to not disturb the neighboring tables.
We spoke to Campelo, a non-English speaker, but we made due with a combination of our Spanish and his Spanish mixed in with some Portuguese.
Despite not winning the bracelet, how did it feel placing second?
I'm am very happy! I'm excited! I still won over $300,000. I did the best I could. My opponent (Will Jaffe) is an excellent player. He dominated the heads up portion of the match. I give him a lot of credit.
How did it feel to have the support of your family and friends?
The energy! It's a feeling I can't describe. I'm so happy to share this moment with them. It's an experience I will never forget.
Last question. What would you rather have happen? You win a bracelet or have the Brazilian national soccer team win another World Cup?
Ha-ha! They have already won five World Cups, so I have to say I'd rather win a bracelet.
Campelo's modesty and respect shown for his opponent is very refreshing and shows great sportsmanship. We can only hope it will serve as an example for the future of poker.
Most Patriotic Outfit Of The Day
The award goes to Mr. Bruce Lee (yes, that's his real name).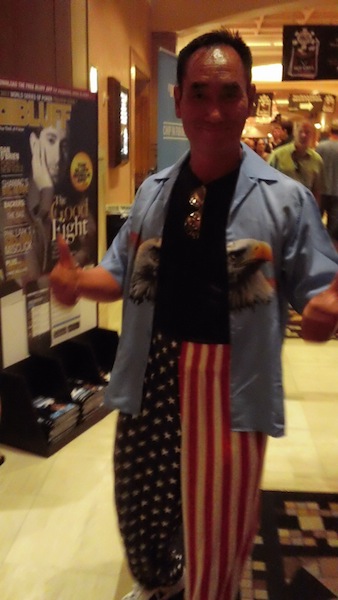 Look Who's Back: Part 2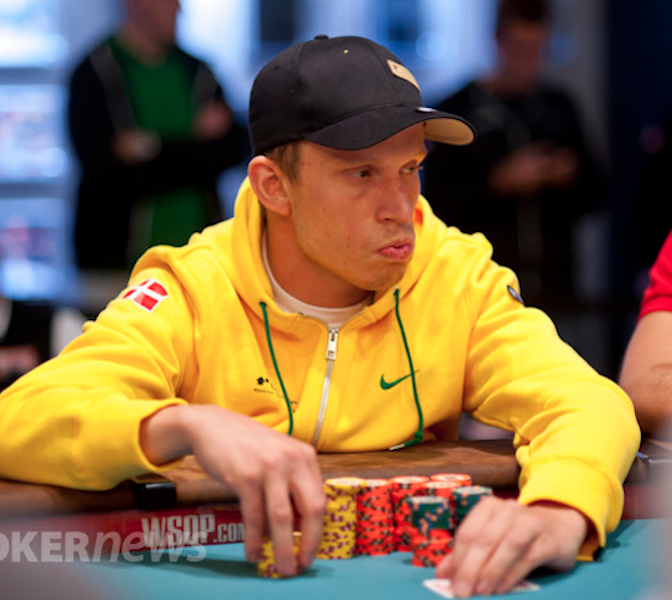 We blogged earlier in the day about 2008 Main Event WSOP champ Peter Eastgate making a run inEvent: 56 :1,500 No-Limit Hold'em. Well, he's at the final table now, third in chips. We've been unable to catch up with Eastgate on breaks thus far, but the night is still young. Stay tuned.
Walk Through The Valet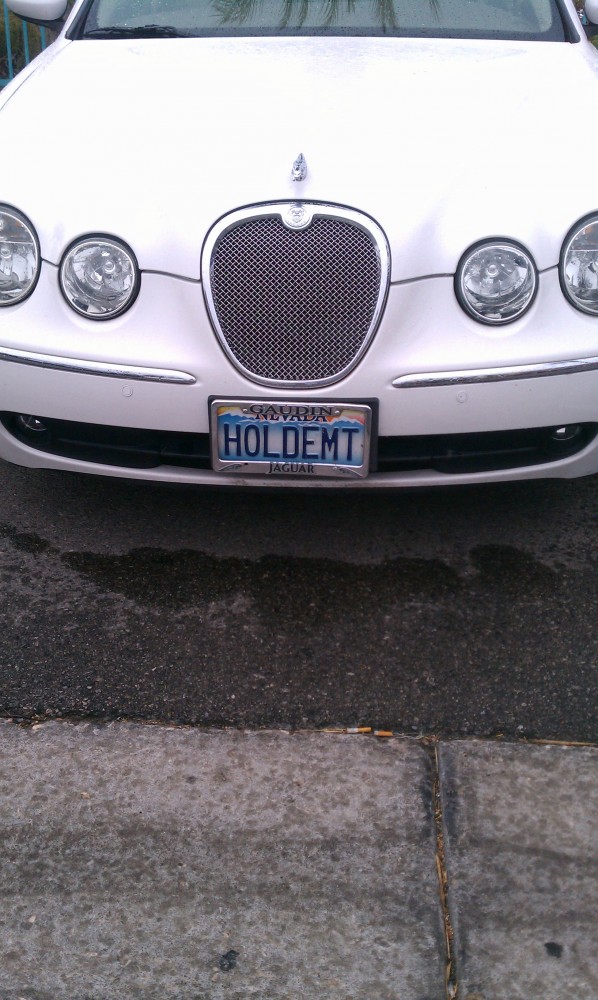 On our way into the Rio this evening we saw this nice license plate in the Valet! There are a lot of custom poker licenses in Vegas this summer, so many people must feel so irrelevant the other 10 months of the year! At least this one is a Nevada License!
Cash Game Watch
Dan Bilzerian just tweeted this picture of his chips in a huge cash game at Aria! These huge games have been running consistently in the Aria over the last few weeks, lets hope some of that action comes the Rio's way during the main event! For whoever is wondering, that's about 9.5 million in Aria chips.
Hands And Strategy From The Rookie Rumble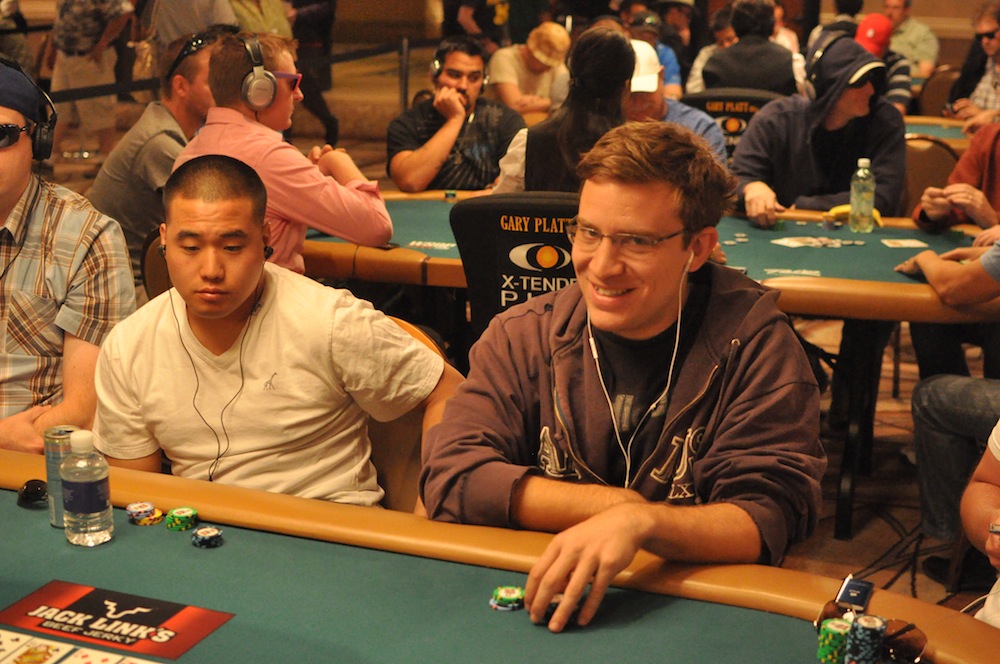 Cardrunners Pro Gareth Chantler stopped by the PokerNews office this afternoon after busting Event #59A: $1,000 No-Limit Hold'em to tell us about a funny hand that went down at his table this afternoon.
"So first there's a really inexperienced player playing first to act, I wouldn't be surprised if this was his first World Series Of Poker event ever. He limps and another guy shoves about 1,700 at 100/200 blinds. The Small Blind flats and then the Big Blind goes all in for about 7,500. The original limper calls and then the Small Blind calls, the pot is huge."
"The limper turns over AA for a sneaky limp/call. The first shover has 99, the Small Blind has KK and the Big Blind has AK. The flop comes
and the AA limper has to be feeling good. The turns comes
and the river
making a broadway for the AK guy."
"The dealer ships the pot to the AK guy but the guy who has AA just stands there looking confused. He was just looking for a K or a 9 on the turn and river, he doesn't know how he's lost the pot" laughs Chantler. "He actually stood there for 2 more hands, lost in this world."
We asked Gareth about his bust out hand, a three barrel bluff that he ran, to see if he could shed some light on his thought process.
"Well I raised pre-flop with
and a guy called. Flop came
. Straight away I know I'm going to be running a big bluff on this board a lot. I bet the flop and he just calls. Since the flop is so draw-heavy, he's going to be raising all of his strong hands on the flop to charge my draws. Even if he has a straight already, he's usually going to raise because there are two diamonds out there"
"Turn is a
so I continue my betting. If I bet this turn then I have to bet the river, that's important to remember. He will have a lot of hands here that have a pair and straight draw, like 78, 79, 74, 45, so they will want to call another street. There are draws I could be betting too so he could have 99 and not want to fold incase I'm betting draws."
"The river is a
and I go all-in for a slight overbet. All the draws I can have got there so if he doesn't have a straight or a flush he has a tough spot. He throws his hands up in the air, and then calls me with 74s for rivered two pair. I have no idea how he made the call, but it was the right one. He didn't even ask the dealer for a chip count for how much I had, he just wanted to see the showdown." Gareth concludes.
These $1,000 Rookie Rumble events always bring out some insane hands and different spots. We'll keep an eye out for anything else of interest you guys might want to hear about!
The 10k Bubble
While many of the big poker names are out partying in the name of America, these young gentlemen have had a good run and are now deep in Event #57: $10,000 No-Limit Hold'em / Six Handed.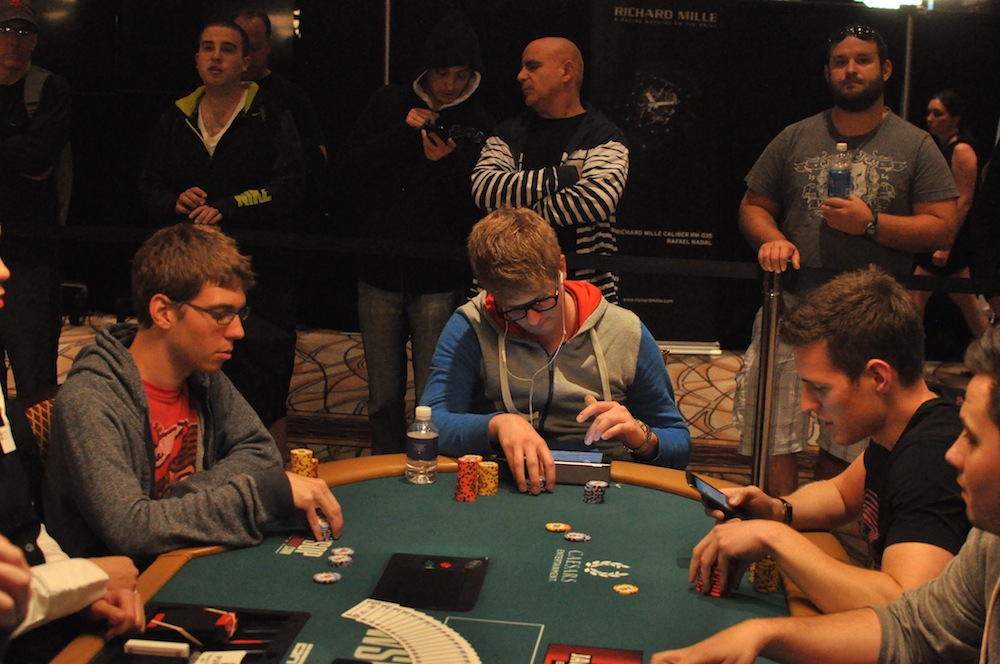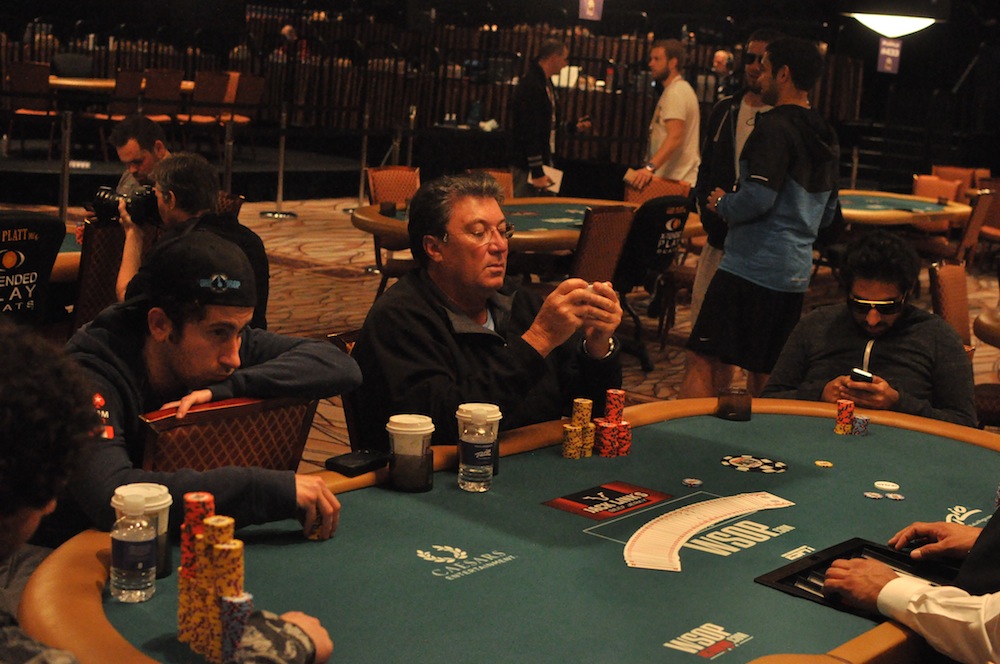 The bubble just burst in this event, with Yev Timoshenko one of the unfortunate names next to the word 'busted' in our live reporting chip counts.
Ivey's Good Luck Charm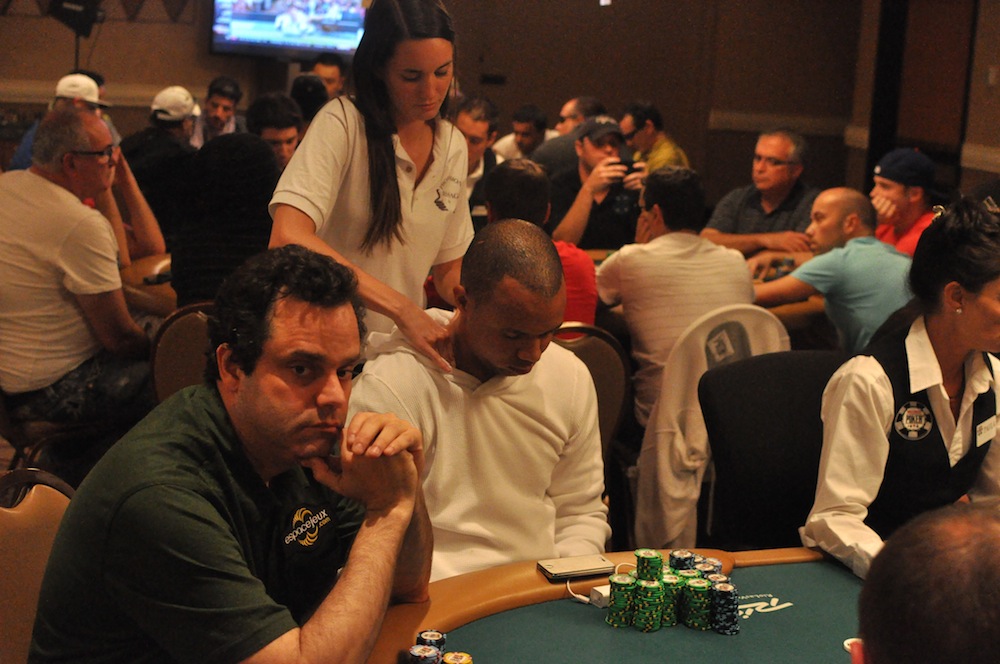 Phil Ivey's back at it again - not making final tables (yet), but getting hour long massages from his favorite masseuse (who's going to have serious RSI issues later in life). One day soon, we're going to add up the likely amount Ivey has spent on massages this series. It might be worth every penny however if this woman's a good luck charm for Phil. Terrence Chan's latest tweet suggests she might be.
Moved to Ivey's table, immed he plays huge pot calling 3-bet jam with AK on KT88. Guy has TT, K on river. Jeez even when he's wrong, he wins

— Terrence Chan (@tchanpoker)
July 4th With Rousso And Boeree
Some of the aforementioned absentee pros who are out partying are Vanessa Rousso and Liv Boeree, as evidenced by the pictures on Boeree's twitter account of the two girls in a Borat Mankini!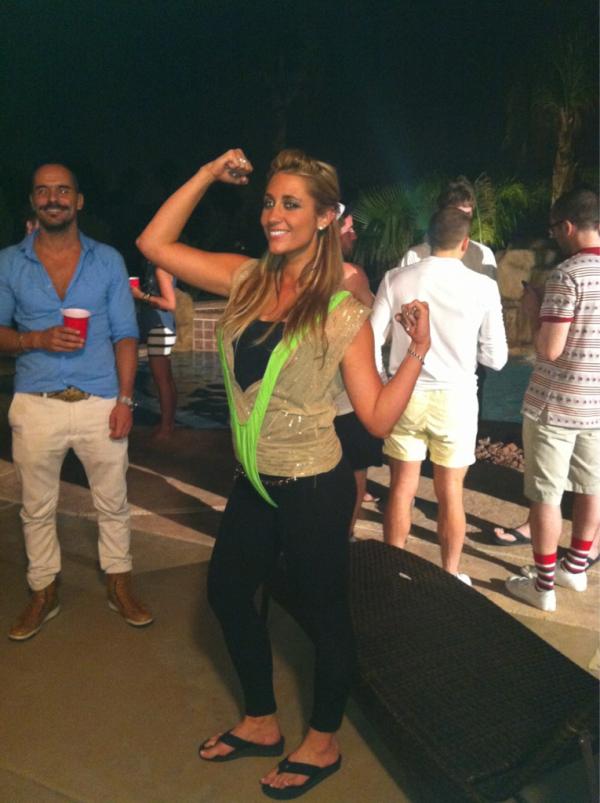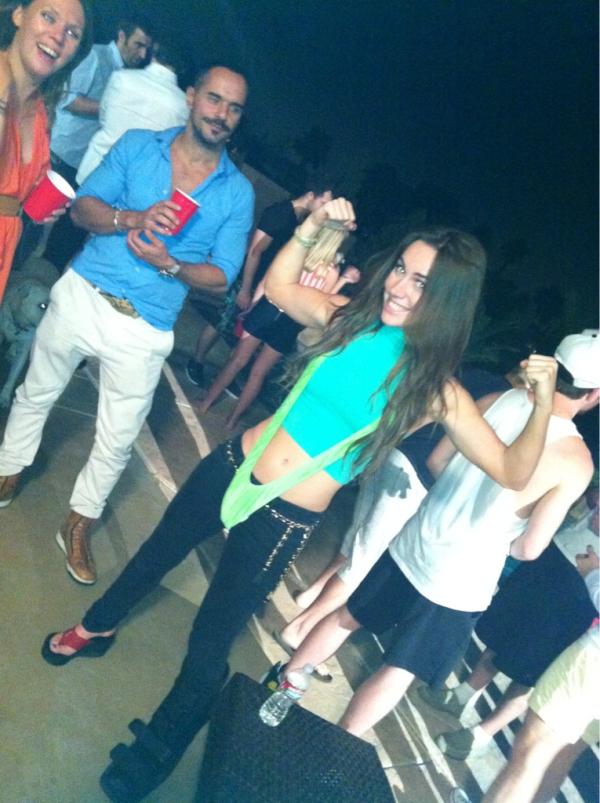 Also tweeting about their night out is Bill Chen, who had only good things to say about Vanessa Selbst's Tee-shirt when they met up tonight!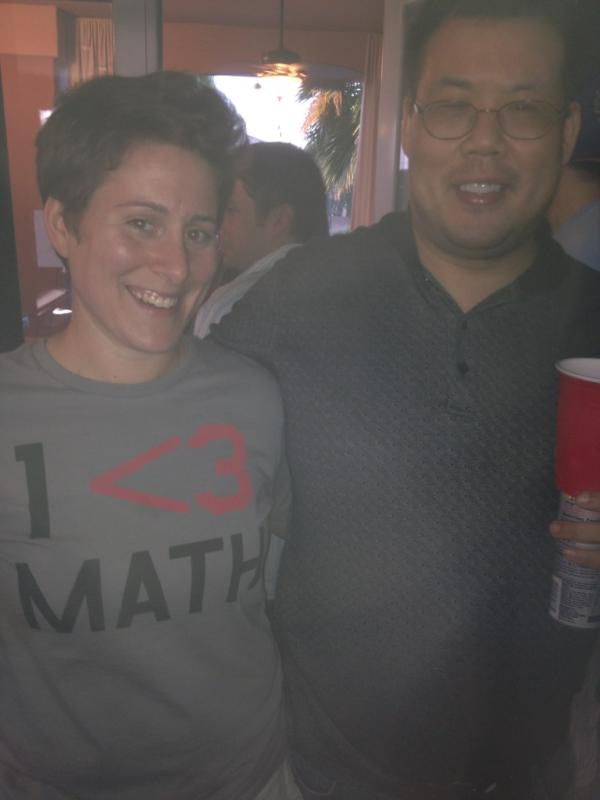 Team Doc Sands
David 'Doc' Sands tweeted that he swapped action with 3 of his friends that are still in the tourney, with none of them having less than 500k. There are only 7 players left in the tourney with more than 500k, so Doc is in pretty good shape with 30 left in the tourney. The seven left over 500k are Christopher Brammer, Stanislav Barshak, Frederik Jensen, Andrew Lichtenberger, Carter Phillips, Nick Maimone and Darren Elias. Our guess for who Doc Sands swapped with is Lichtenberger, Carter Philips and Darren Elias. We'll try catch Doc later to see if we're right...
Shannon Looking Sharp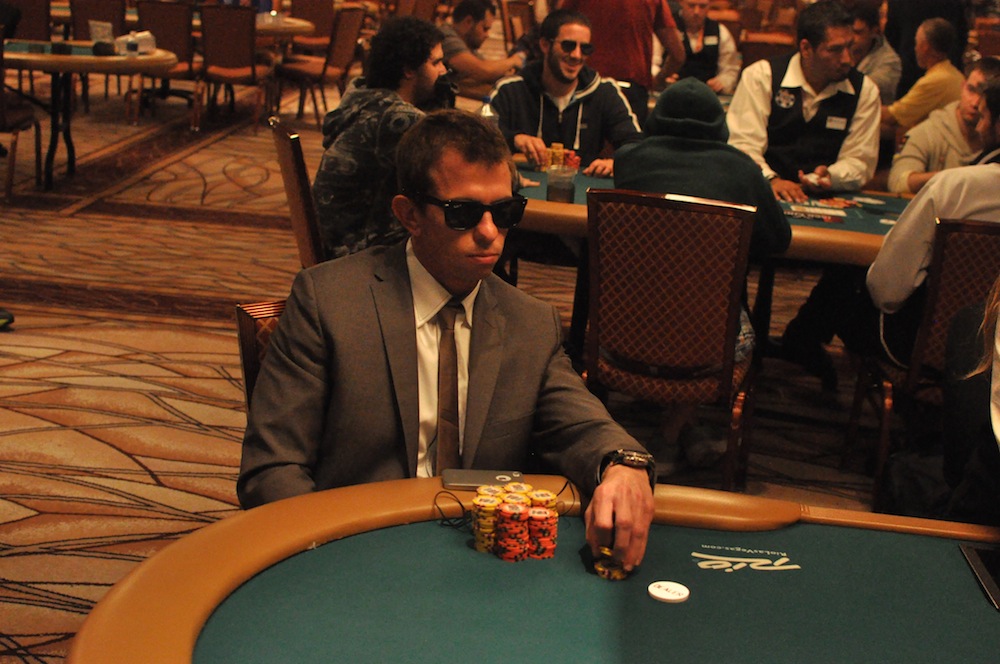 Shannon Shorr is at it again, wearing a suit and blues-brothers style ray-ban sunglasses while going deep in Event #57: $10,000 No-Limit Hold'em / Six Handed. In Ben Yu's words 'You gotta dress for success'.
We encourage everyone to get involved with "The Muck." See something you think is Muck worthy Send it to the muck@pokernews.com. We accept all media including photos and videos.