Off the Felt With Shaun the Dealer: Fame, Fortune, and Twitter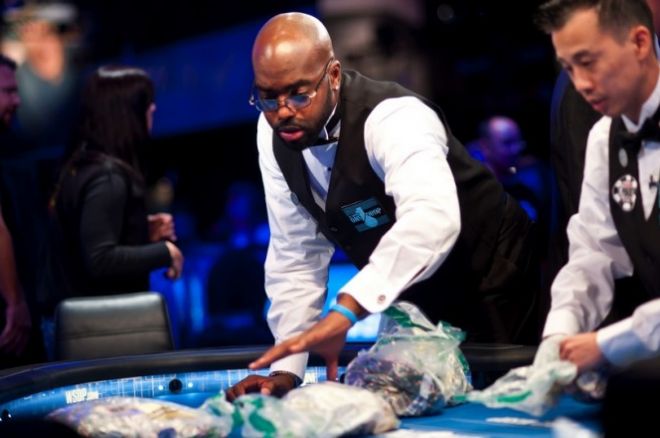 You may recognize Shaun Harris from televised poker, but not as a poker player. Shaun Harris, or "Shaun the Dealer," has dealt numerous high-profile events, and has developed quite the reputation because of it. In his career he has dealt the Main Event final table for four years, he has also dealt the $50,000 Poker Players Championship as well as the Tournament of Champions. Sunday, his task was to deal at the Big One for One Drop. PokerNews caught up with Harris to ask him a few quick questions about his job, the fan base he has gathered, and his relationships with some of the poker pros.
Does it ever get nerve wracking doing your job; being in so many high pressure situations?
It does. And I'm not going to deny it, either. I've been dealing since '05. I've done the Main Event final table since '07. I did the Tournament of Champions in '09.
What sets you apart from the other dealers that gets you to deal at higher-profile events like this?
I think it's very obvious that I enjoy what I do. I learn and practice dealing all the games and I seldom make mistakes. It just shows that all the work I do is really paying off.
Do you have a relationship with any of the pros? If so, how have those come about for you?
It was very surprising to me really that they remembered me. I remember two years ago at the Poker Players Championship final table, I was dealing to Michael Mizrachi, and I ended up dealing him a pretty bad beat, but after the tournament he came up to me and talked to me and we ended up becoming very good friends. Even Phil Ivey will come up to me sometimes and say hi to me before I say hi to him. It's flattering and it's very good for me, too, because that might be that extra step I need to set myself apart. It also helps me because eventually I want to start coming from the other side of the table and playing a little bit.
Are you a very big player then?
I do play a lot, but I only play $2/$5 and $1/$3. I don't play a lot of tournaments because I don't have the patience to sit there. I like to just get the money in and win. I like to grind it out.
One of the other things we meant to ask you about was the big following that you're starting to develop on Twitter.
Oh, that's a funny story. Back in October, I only had very few followers on Twitter, maybe only 10 or 20. I remember I was dealing at the PCA in the Bahamas and Jonathan Duhamel came up to me and he recognized me as the dealer who dealt his winning hand from the 2010 final table, and he ended up shouting out a tweet to me. On that day I ended up getting to like 100 followers, and from there I was all the way up to 500. Today, Daniel Negreanu recognized me and he shot out a tweet to me too. I went from 787 followers to over a thousand today, maybe almost 1,200 in just one hour.
Would you say you're the most famous dealer?
I wouldn't say I'm the most famous. I am one of the more noticeable dealers. Twitter helps a lot. I'm not going to say that I do my job better than these guys (pointing to his coworkers); I'm not much different than any of my coworkers. They do the same job as me and work just as hard.
"He's definitely the most famous dealer," one of his coworkers chimed in.
You can follow "Shaun the Dealer" on Twitter: @Shaunthedealer. He is currently back to work dealing at Event 55: $1,000,000 Big One for One Drop and you can follow the PokerNews coverage of the event here.