All Mucked Up: 2012 World Series of Poker Day 36 Live Blog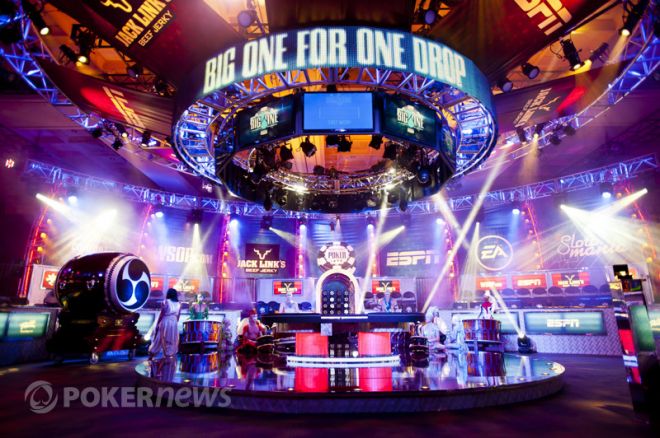 All Mucked Up is a live blog of all the stuff you want to know at the 2012 World Series of Poker, besides hand histories and bad beats. Well, we might add a few in here, everyone loves a good bad beat story — unless it happened to you. Check back often for polls, soundbites, celebrity sightings, and who knows what else!
May The Odds Be Ever In Your Favor
Only 28 players remain inEvent 53: $1,500 No-Limit Hold'em. Here are the odds of some of the notables courtesy of the Rio Sports book:
Victoria Coren: 7/1
Lee Childs: 14/1
Bryan Piccioli: 6/1
Max Steinberg: 14/1
Age Ravn: 21/1
Getty Mattingsley: 35/1
Matthew Graham: 17/1
Ryan Hughes: 8/1
One Drop Table Draws: Day 2
| Seat | Player | Count |
| --- | --- | --- |
| | Table 445 | |
| 1 | Frederic Banjout | 7,070,000 |
| 2 | Chamath Palihapitiya | 635,000 |
| 3 | John Morgan | 2,000,000 |
| 4 | Ilya Bulychev | 1,880,000 |
| 5 | Paul Newey | 3,225,000 |
| 6 | Mike Sexton | 5,740,000 |
| 7 | Vivek Rajkumar | 1,270,000 |
| 8 | --Empty-- | N/A |
| | | |
| | Table 446 | |
| 1 | Cary Katz | 2,785,000 |
| 2 | Bill Perkins | 885,000 |
| 3 | Guy Laliberté | 6,555,000 |
| 4 | Phil Galfond | 445,000 |
| 5 | Tom Dwan | 4,810,000 |
| 6 | Daniel Negreanu | 470,000 |
| 7 | Mikhail Smirnov | 4,680,000 |
| 8 | --Empty-- | N/A |
| | | |
| | Table 447 | |
| 1 | Tobias Reinkemeier | 1,220,000 |
| 2 | Noah Schwartz | 3,120,000 |
| 3 | Richard Yong | 3,430,000 |
| 4 | Bob Bright | 3,880,000 |
| 5 | Jason Mercier | 4,210,000 |
| 6 | Roland De Wolfe | 2,960,000 |
| 7 | David Einhorn | 3,795,000 |
| 8 | Phil Ruffin | 3,750,000 |
| | | |
| | Table 448 | |
| 1 | Gus Hansen | 6,800,000 |
| 2 | Haralabos Voulgaris | 2,250,000 |
| 3 | Brian Rast | 10,710,000 |
| 4 | Philipp Gruissem | 3,600,000 |
| 5 | Bobby Baldwin | 4,225,000 |
| 6 | Rick Salomon | 3,285,000 |
| 7 | Phil Ivey | 2,840,000 |
| 8 | Phil Hellmuth | 8,395,000 |
| | | |
| | Table 449 | |
| 1 | Antonio Esfandiari | 6,880,000 |
| 2 | Sam Trickett | 6,700,000 |
| 3 | Dan Shak | 3,190,000 |
| 4 | Tom Marchese | 3,740,000 |
| 5 | Brandon Steven | 4,770,000 |
| 6 | Ben Lamb | 5,770,000 |
| 7 | Talal Shankerchi | 2,760,000 |
| 8 | --Empty-- | N/A |
---ReadMore---
Galfond Look Alike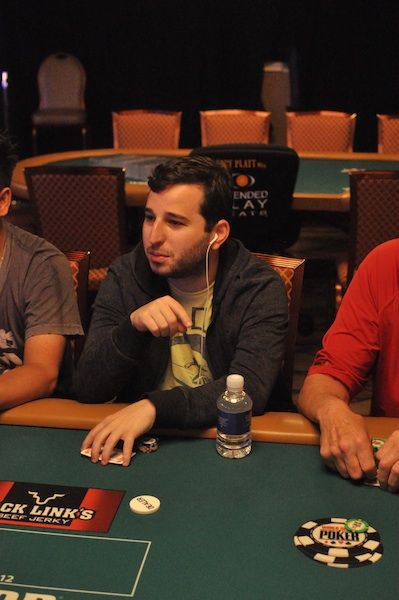 We had to do a double take when we came across this player. Did Phil Galfond bust the One-Drop and jump in the Event 56: $1,500 No-Limit Hold'em? Fortunately for Galfond, it was just a look alike. What do you guys think?
One-Drop Analysis: Jason Somerville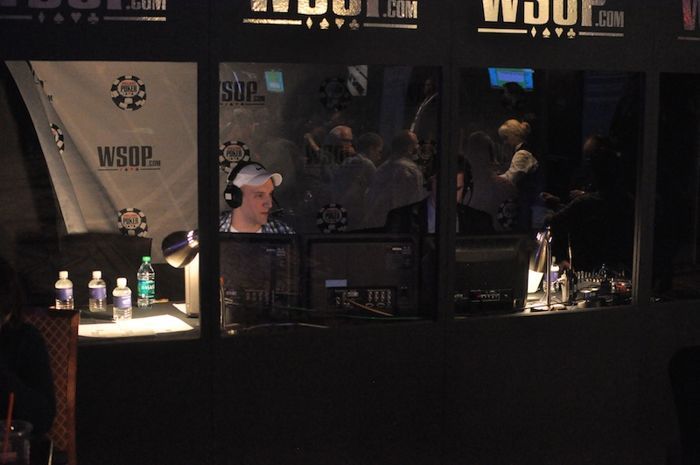 One great aspect of the One-Drop is the revolving door of poker pros joining play-by-play commentator David Tuchman in the booth. Today they're covering table 448, featuring Gus Hansen, Phil Hellmuth and Phil Ivey. Yesterday we spoke to Olivier Busquet and this afternoon we were fortunate enough to catch up with Jason Somerville at the break to get his impressions of the play thus far.
"It's been pretty crazy. First off it's great just being here and having the chance to commentate on such a big event," exclaimed Somerville. "Gus (Hansen) has been playing a lot of hands. The
--
hand was a standard spot (based on dynamics). Philipp Gruissem is a real threat. He's not intimidated at all by the table draw at all. He's a sicko. I've played with him before."
We'll be sure to catch up with any subsequent pros that join Tuchman in the booth.
ESPN Live Telecast Of One-Drop
We spoke to ESPN director Phil Smith and ESPN producer Dan Gati about what viewers can expect for the live telecast of the One-Drop.
"We're treating it with the respect it deserves. It's a unique charitable event," Gati said. "Can the pro poker players beat the multi-millionaire amateurs?"
Smith provided us with details of the telecast.
ESPN2 will air the final table tomorrow at 4:00 PM EST. When the action gets to four handed there will be a one-hour break, then coverage will switch to ESPN and will continue 'till a winner is crowned. Viewers will also be able to watch on ESPN3 as well. Norman Chad and Lon McEachern will be providing play-by-play along with, a yet to be determined, poker pro. In addition, Kara Scott and Olivier Busquet will be providing sideline reporting during the breaks.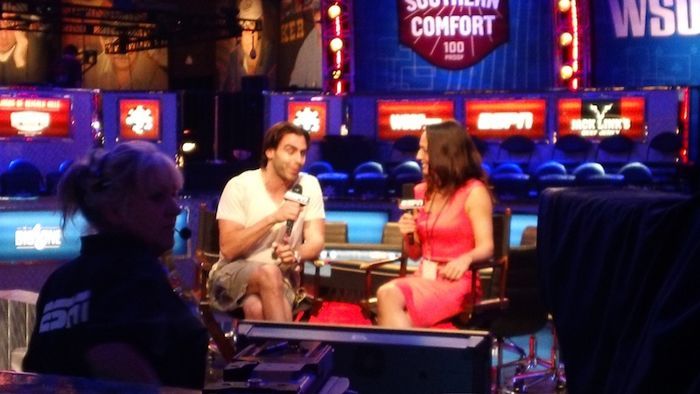 One-Drop Snack Time: Part 2
It's a new day, which means a new spread. Yesterday we reported of the snacks made available to the players. Here are pictures of today's: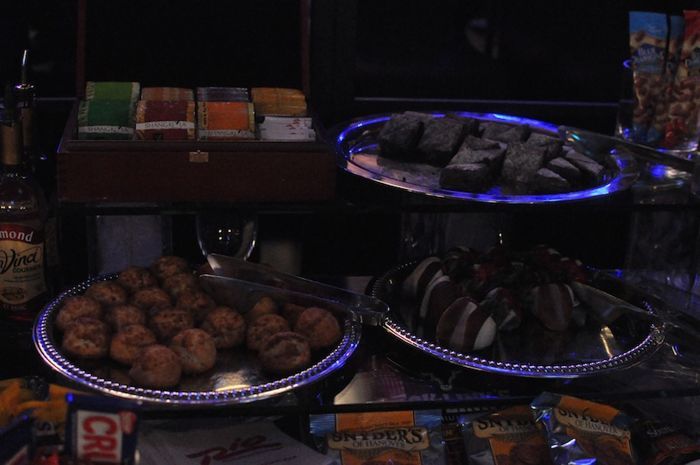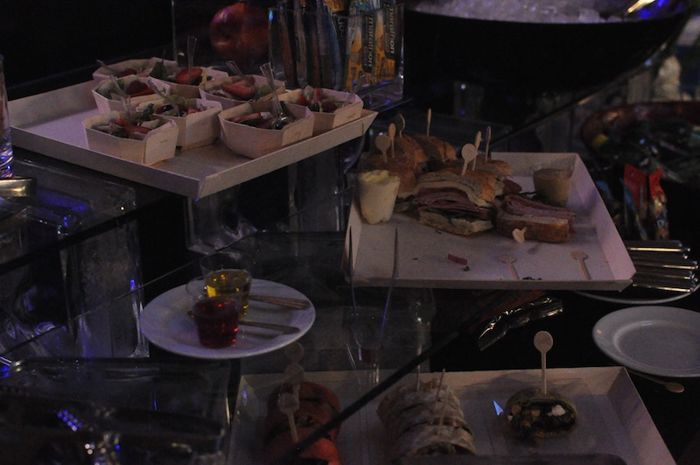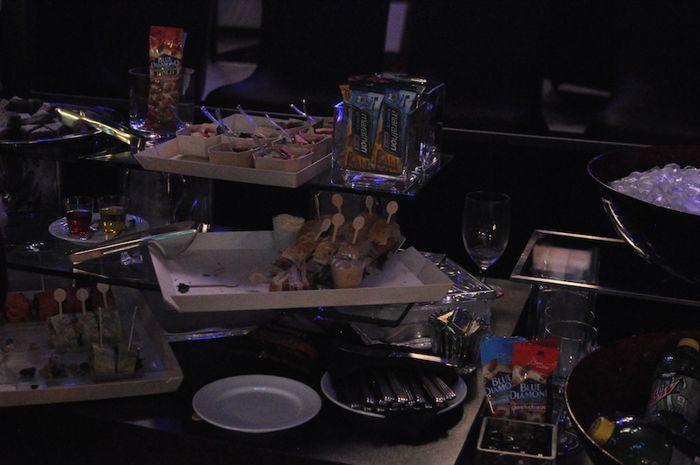 A Taste For Timex
We spoke to Mike 'Timex' McDonald in the One Drop spectators stand this afternoon, to see what he thinks of the event, who's he's pulling for and why he isn't playing himself.
"I think the event seems really cool. It's nuts how well the amateurs are doing, all the pros are busting and now it's mostly amateurs left. There's probably nine pros left, I don't know where to place Haralabos Voulgaris, I guess he's one of the ones who's right on the cusp of professional poker player."
"I have a piece of Tom Marchese, so it's sweet that he's just doubled up. I'm pretty excited about that. It's just a taste. I'd like to play this, and sell lots of pieces, but the truth is, between the rake and Canadian taxes I just don't think anyone would want to buy a piece of me. If I wasn't from Canada I would play for sure."
Cash Game Watch
After Tom 'durrrr' Dwan, Phil Ivey and Phil Galfond busted this afternoon, we swung by the high-limit cash game area in the Pavilion room is the desperate hope that the aforementioned players we're playing 2000/4000/8000 PLO. While we didn't see any of these guys, we did see some big action with Vanessa Selbst and Liv Boeree playing on one table of No-Limit Hold'em and Huck Seed and Ashton 'ashman' Griffin playing No-Limit Hold'em on the other. We'll swing by in a few minutes and try to find out the stakes, and snap a sneaky picture...
Hellmuth On Tilt
The real show begins now. Phil Hellmuth just lost a bit pot to Brian Rast and is muttering away to himself now. Here's a transcript of some some of his mutterings.
"My turns coming buddy…"
"You hit a runner runner, float me on the flop… you float ME on the flop??"
"I'm not gonna give you action for the rest of the day Rast, I'm gonna wait."
"How much do you bluff off if the draw misses, a million? I call any amount you know."
"You do everything wrong, and you have all the chips… you get QQ, KK twice…"
Rast quips:
"You got AA versus KK"
And Hellmuth responds:
"Yeah but I'm steady Brian, I'm steady…"
Seems Phil is anything but steady right now, and another beat might just set him off. Stay tuned.
Heisenberg!
Okay, so we may have been way off the mark with our Phil Galfond look alike from earlier, but we'll try to redeem ourselves with this one. Fans of the TV show Breaking Bad are familiar with Walter White's (played by actor Bryan Cranston) alter ego "Heisenberg." We spotted this player who we think resembles him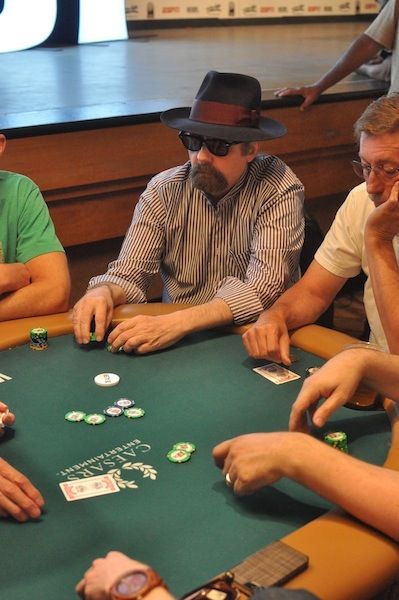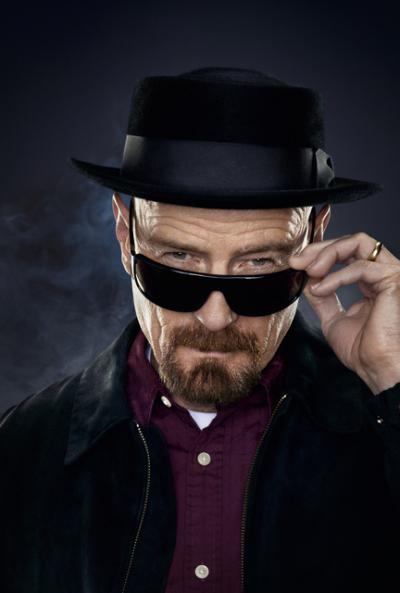 Sights in Event: 56 $1,500 No-Limit Hold'em
There's been plenty of coverage of the One Drop but there's lots of interesting stuff going on in other events as well. Here are some sights seen in the $1,500 No-Limit Hold'em event.
Here'sAndy Black, fifth place finisher in the 2005 WSOP Main Event: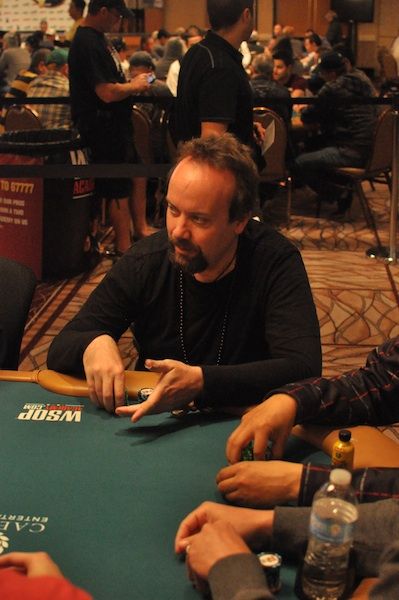 Jennifer "Bride of Chucky" Tilly: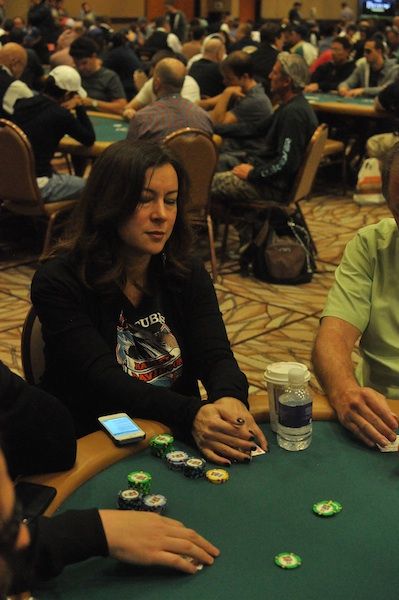 We spotted Team PokerStars Pro Mickey Petersen multi-tasking poker along with some sort of iPad game: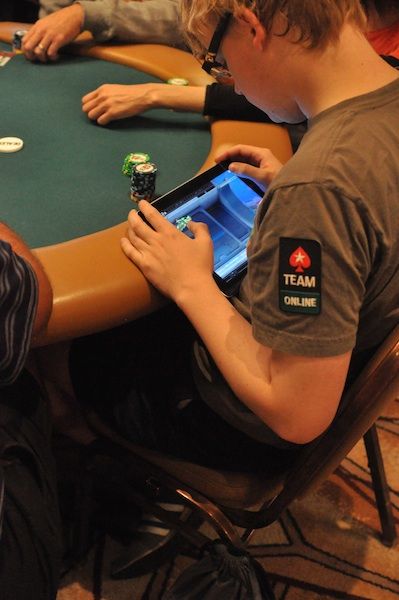 Finally, we spotted one of the tackiest hoodies we've come across thus far: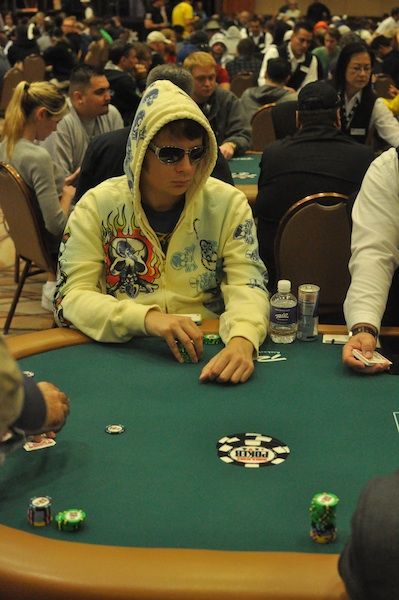 Being Warm > Looking Cool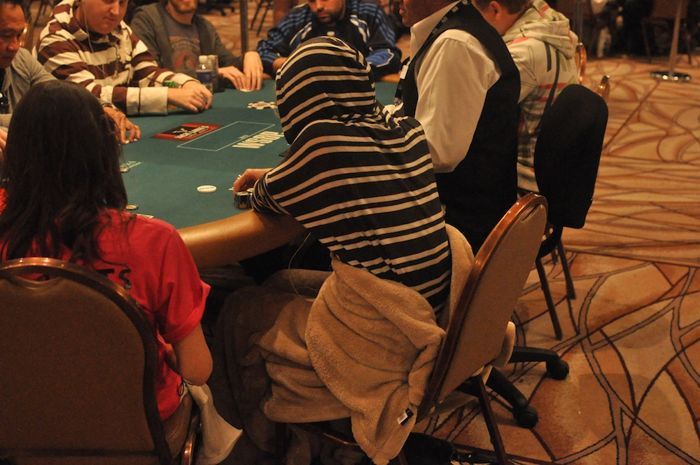 It can get a bit nippy here in the Rio. Your PokerNews heroes often bring a sweater to work to protect against the evening chill that can blow down the corridors. Check out this woman in Event #56: $1,500 No-Limit Hold'em, who brought a hoodie and an actual blanket into the Brasilia room, which isn't even the coldest room here #Don'tPlayTheDailyDeepStackLady #NewIceAgeInPavilionRoom.
PokerNews Well Represented
Here's Senior News Editor Chad Holloway, in his infamous bird shirt, and Senior staff writer and producer Rich Ryan both in Event 56: $1,500 No-Limit Hold'em.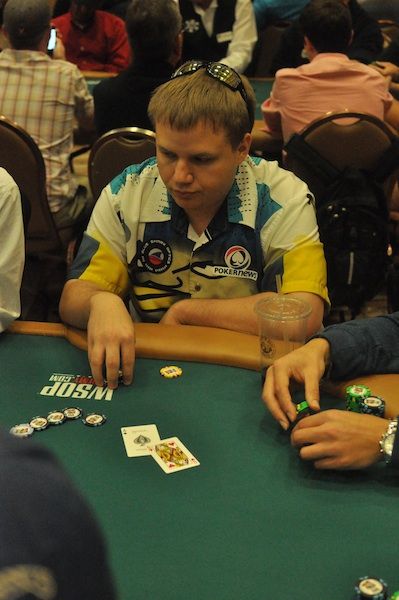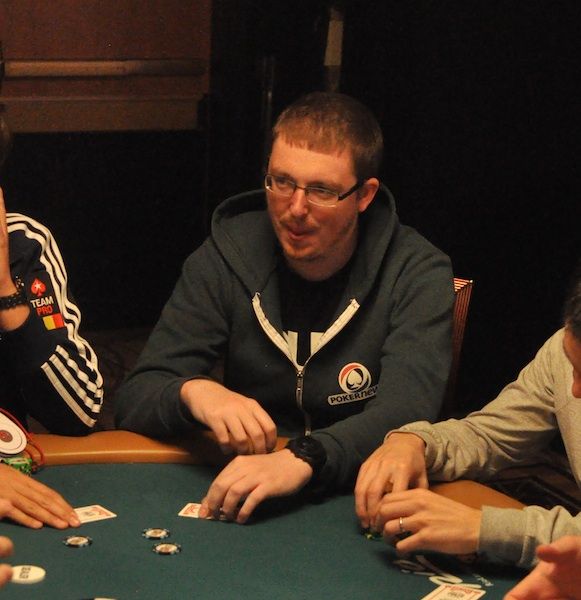 If you haven't done so, check out Holloway's latest article on the One-Drop here and you can listen to Ryan on our PokerNews podcast here.
#JustBadLuck
After a full month of banter, this hashtag has finally had it's crowning achievement - an inclusion in Jason Mercier's tweet about the biggest pot yet in the One Drop.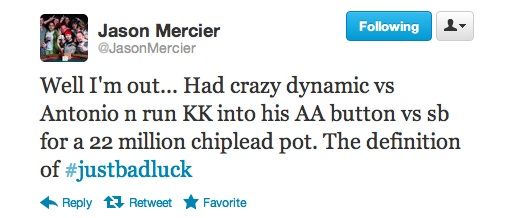 Bricks on Bricks on Bricks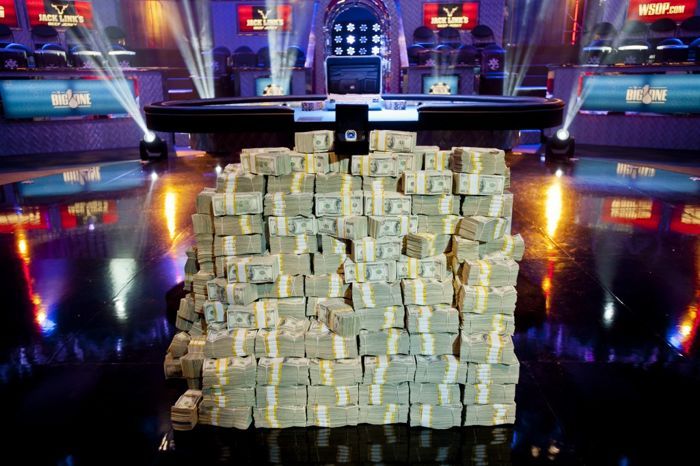 This fat stack of cash is sitting out in front of the One Drop main feature table. We're 90% sure it's not real, but you never know. It's almost impossible to get into the live viewing area for One Drop unless you are family, friends or media, and we've all seen elaborate heist plans to take large sums of money.
If the cash is in fact real, we expect it to be "Oceans Elevened" very soon.
Golf Cart Sighting!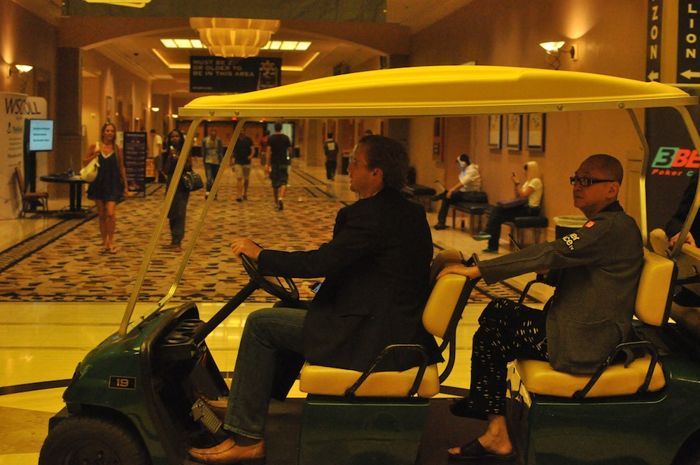 We've been keeping a close eye on our rich friends rallying around the Rio in their golf cart. On today's dinner break we snapped a pic of Asian business man Richard Yong flying down the hallways with his chauffeur and body guards in tow. Wonder where they were head off to? We'll try to find out after break!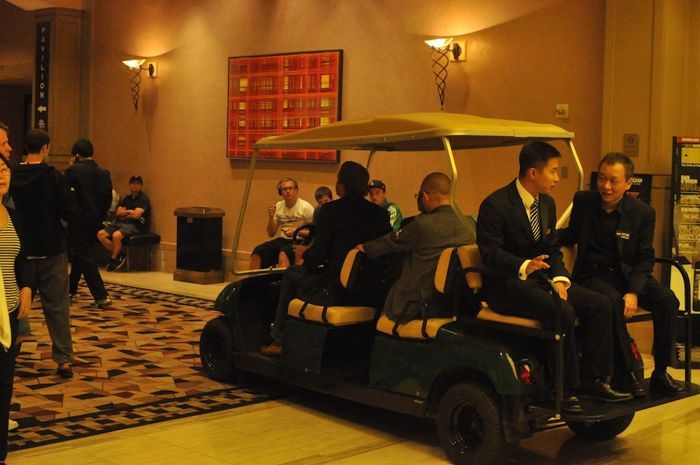 The Human Grape
If you've seen the movie "Willy Wonka and the Chocolate Factory," then you remember the scene where Violet Beauregard blows up and turns into a giant violet ball.
We saw this gentleman playing in Event #56: $1,500 No-Limit Hold'em, and he looked a bit like a giant grape to us. He was wearing a purple hat, with purple shades, coupled with a purple shirt, and a purple bracelet.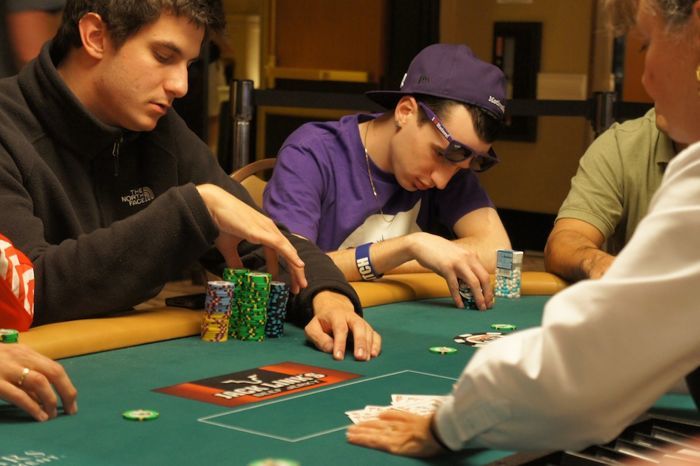 What do you think?
Jared Tendler Podcast
Here's a pic of our lovable hostess Kristy Arnett interviewing Jared Tendler for the Strategy With Kristy podcast. Among other topics, Jared discusses his upcoming second book, which we're all very excited about her at PokerNews. Tune in to the podcast this wednesday for more details.
Richard Yong in PJs
We couldn't go the whole day without making a comment on businessman Richard Yong's outfit.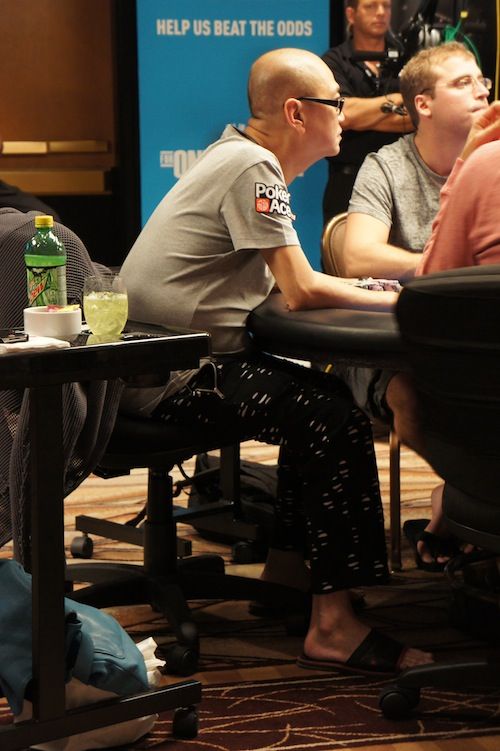 Yong looks like he just rolled out of bed today. He was wearing a pair of pajama pants along with a t-shirt and flip-flops. Our question is, "How to show up to a million dollar tournament dressed for a nap?"
Shia LeBeouf and Jared Tendler?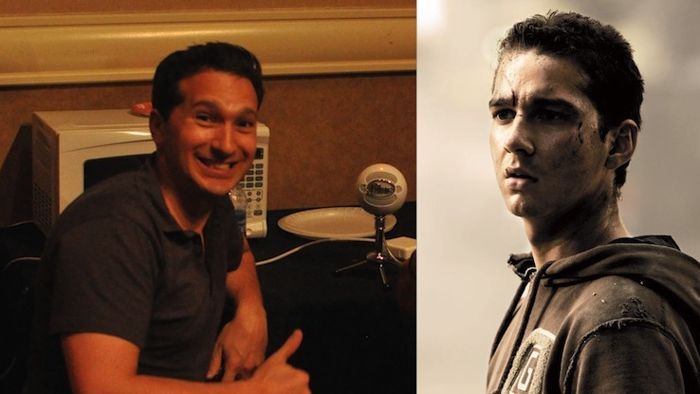 The PokerNews team is divided over whether Jared Tendler Looks Like Shia LeBeouf. Obviously Jared is a little older and his post flop lines a little more mentally optimal, but we really think there's a strong facial connection here. Are we reaching?
There may, or may not, be money riding on the outcome of this poll...
Poker License Plates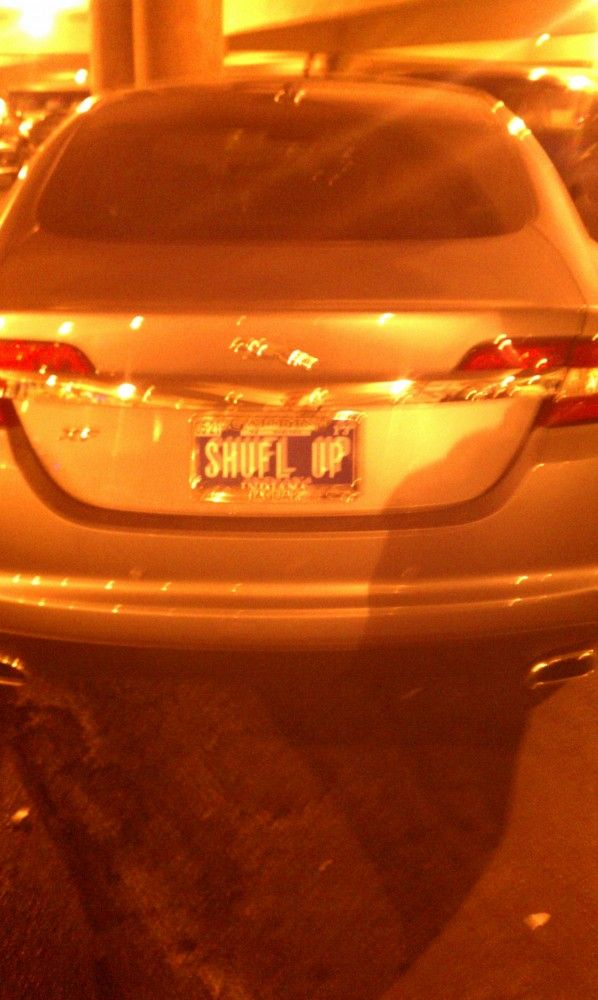 Check out the latest addition to the Muck Poker License Place hall of fame, this Indiana license plate reads 'Shuffle Up'.
What a Birthday!
Some of Sam Trickett's railbirds brought him a cake for his birthday that some of the players have been eating throughout the day.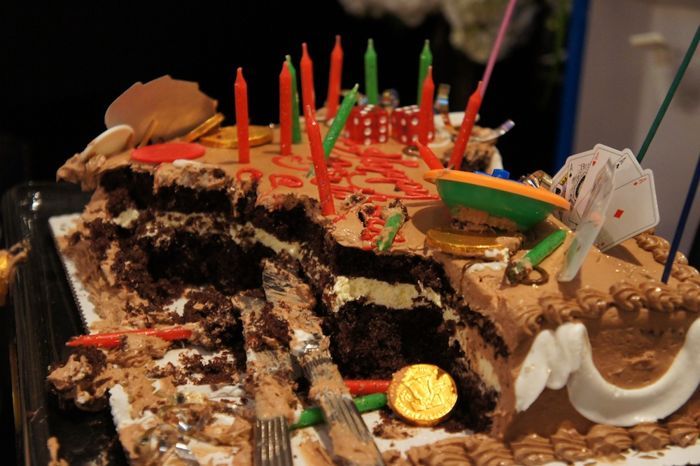 Trickett is currently second in chips in the One Drop tournament. Must be nice to run that well on your birthday.
The Biggest Bubble In Poker History
We just caught the bursting of the biggest bubble in poker history as Ilya Bulychev was just eliminated from Event #55: $1,000,000 Big One for One Drop. Bulychev was eliminated by Sam Trickett after he caught a flush draw but failed to hit on the turn or river.
Here's what bursting a $1,000,000 bubble looks like: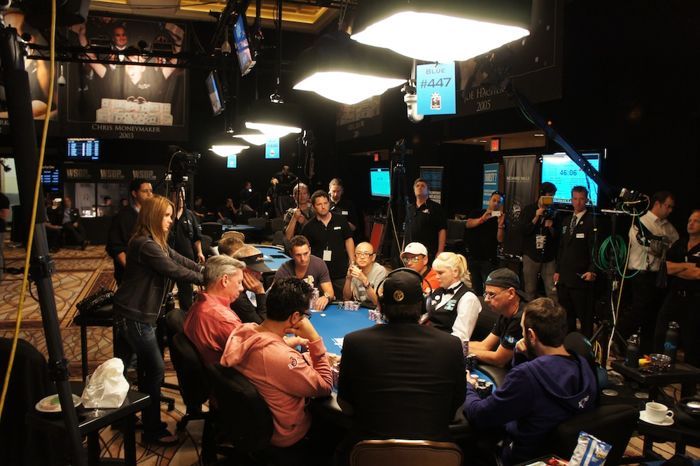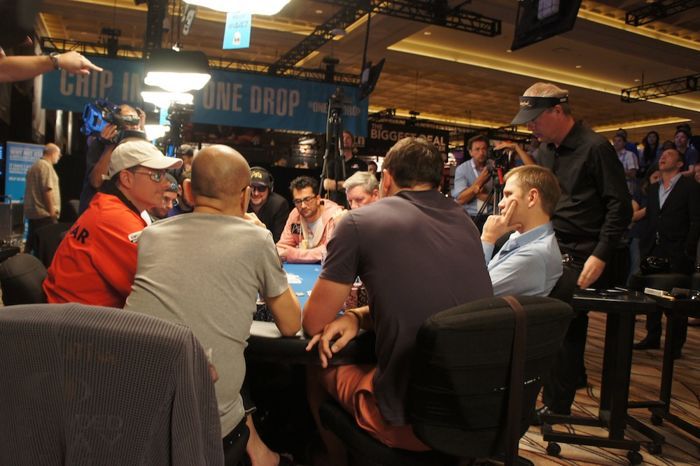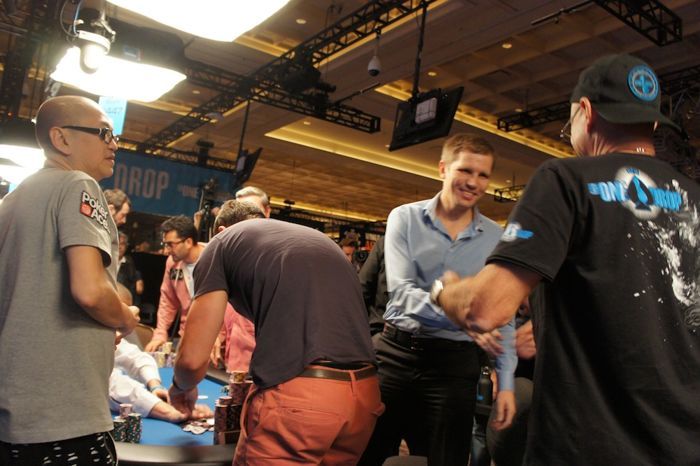 Even Bulychev was all smiles after the bubble was burst. He happily shook hands with every player and it seemed as if there was no hard feelings between the bunch.
"Now I'm free rolling," Antonio Esfandiari said after the elimination. "I can't lose now. Freeroll. Freeroll.com! Weeeee!"
Action will continue in the Big One until one more player is eliminated and will resume tomorrow with the live airing of the ESPN final table.
Richard Yong is a Funny Guy
Richard Yong is quite the character. We've seen him do several odd things while playing in the Big One for One Drop. Of course, first we mentioned his outfit earlier. Next, during one hand, Yong got a phone call after he had three bet. He proceeded to try to hide his phone, then answer it, while he was still in the hand, before he was asked to stop by the floor staff.
We've also seen him traveling around the Rio on a golf cart as well. Last but not least, something we noticed, but weren't quite able to get a picture of. We saw that Yong has a checker print painted on his left big toe. Why? Who knows, but it's not on any of his other toes.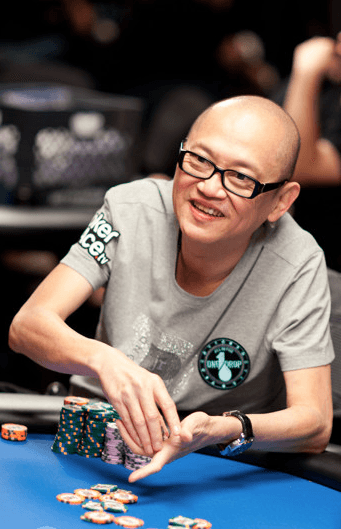 That being said, Yong seems to be having a great time for his money as he has just recently cashed for at least $1.3 million.
Million Dollar Banter
Earlier in the day we showed you the birthday cake that Sam Trickett was given by his friends. Trickett and Antonio Esfandiari just had a little bit of banter about the subject, but to tell the truth, one could write a book about the banter that goes on at a million dollar final table.
"How's it feel kid?" Esfandiari asked.
Trickett shrugged, as if he didn't know what Esfandiari was talking about.
"How's it feel to know that you're the favorite? You've got all the chips. You're a favorite to win," Esfandiari continued.
"It is my birthday," Trickett responded.
"Nobody ever wins anything on their birthday," Esfandiari retorted in jest. "No, I can't say that. I won a WPT on my birthday!"
Trickett is now 26 years old as his birthday has just ended minutes ago and he's getting one of the best presents anyone could ask for, a 1/8 shot at $18 million.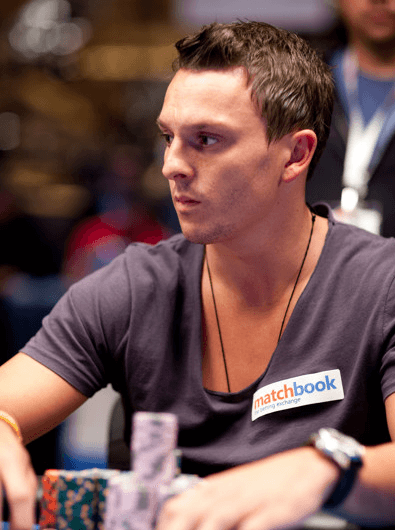 Noticeably Absent
There was a lot of drama surrounding who would, and who wouldn't play the Big One for One Drop. Much of it was caused by the 48 player cap on the event, but twitter also stirred up much controversy with players looking to be backed for the event, and reports of players who would play or not play.
One of the most startling developments in the One Drop registration controversy though, was the announcement that Jean-Robert Bellande would in fact be playing in the event.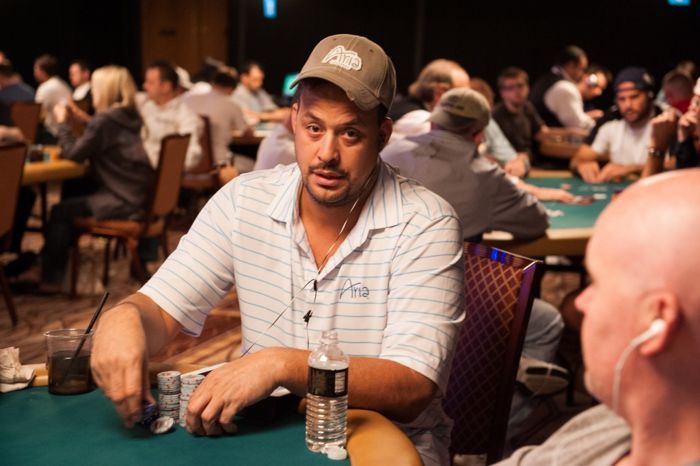 Well Bellande did not in fact play the one drop, citing the excuse that he could only come up with half of the entry. Here is his tweet:
No One drop for me. Even after a 500k commitment pulled up... I still came within 300k of making it.

— Jean-Robert Bellande (@BrokeLivingJRB)
Sadly, that was all she wrote for the Bellande saga as it would've been very nice to see him on the One Drop Felt. Mainly because he is so good.
#forthegame
Just kidding JRB.
Can You See With Those Things On: Day 36
We wanted to bring you one more gift before we closed up shop for the night, and here it is. We saw this gentleman playing in Event #56: $1,500 No-Limit Hold'em wearing a pair of gold framed shades. That coupled with the beard made him one of the coolest players we saw in the field today.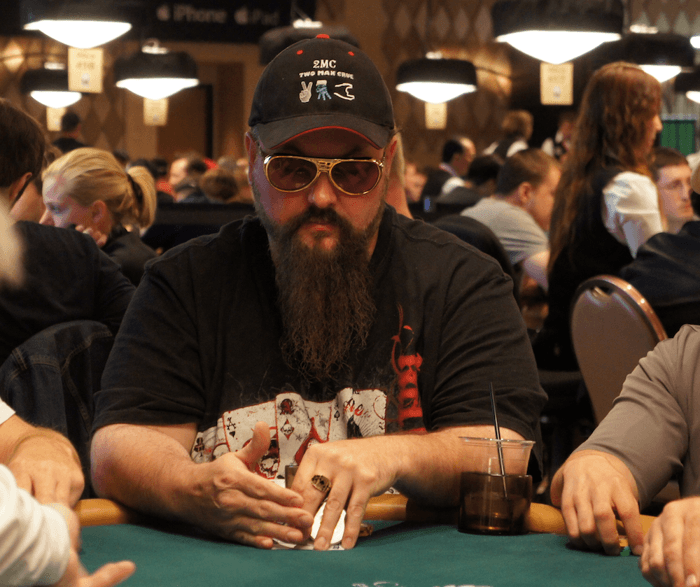 We encourage everyone to get involved with "The Muck." See something you think is Muck worthy Send it to the [email protected] We accept all media including photos and videos.