All Mucked Up: 2012 World Series of Poker Day 37 Live Blog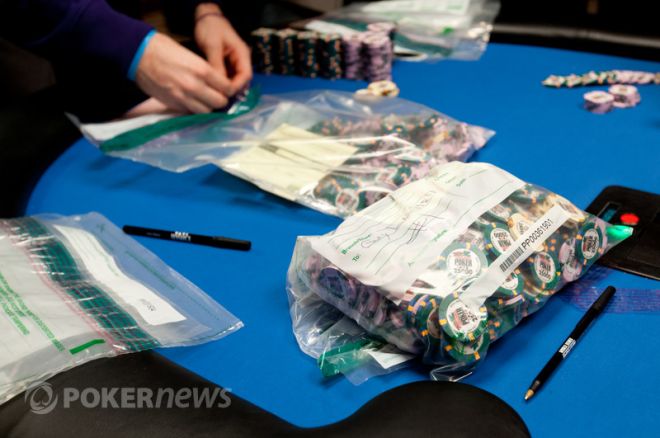 All Mucked Up is a live blog of all the stuff you want to know at the 2012 World Series of Poker, besides hand histories and bad beats. Well, we might add a few in here, everyone loves a good bad beat story — unless it happened to you. Check back often for polls, soundbites, celebrity sightings, and who knows what else!
Check out the odds for today's Event #54: $1,000 No-Limit Hold'em, taking place in the Pavilion room today.
Luis Campelo 18/1
Carl Le 9/2
Ken Fishman 5/2
Nghi Van Tran 17/2
Jeffery Fielder 22/1
Clayton Fletcher 22/1
Brett Schwertley 14/1
Ian Chan 21/1
Jason Thompkins 9/2
Benjamin Volpe 19/2
Muhamet Perati 17/2
Will Jaffe 8/5
Benjamin Grise 13/2
David 'Bakes' Baker 8/1
Joe Kuether 11/1
We know you all want to hear about the odds for Event #55: $1,000,000 The Big One for One Drop - No-Limit Hold'em, but for some reason the Rio Sportsbook isn't offering them. We'll try to find out more as the day goes on. Either way, you can tune into the One Drop here. Enjoy the day.
Stacked Field In 10k 6Max
There's not one table in today's Event #57: $10,000 No-Limit Hold'em / Six Handed that doesn't have a big name pro on it. On the stroke of noon, we took a turn through the brasilia room to see who we recognised, and we saw Brian 'Stinger' Hastings, Lex Veldhuis, Andrew 'luckychewy' Lichtenberger, Terrence Chan and Chris Moorman among many others.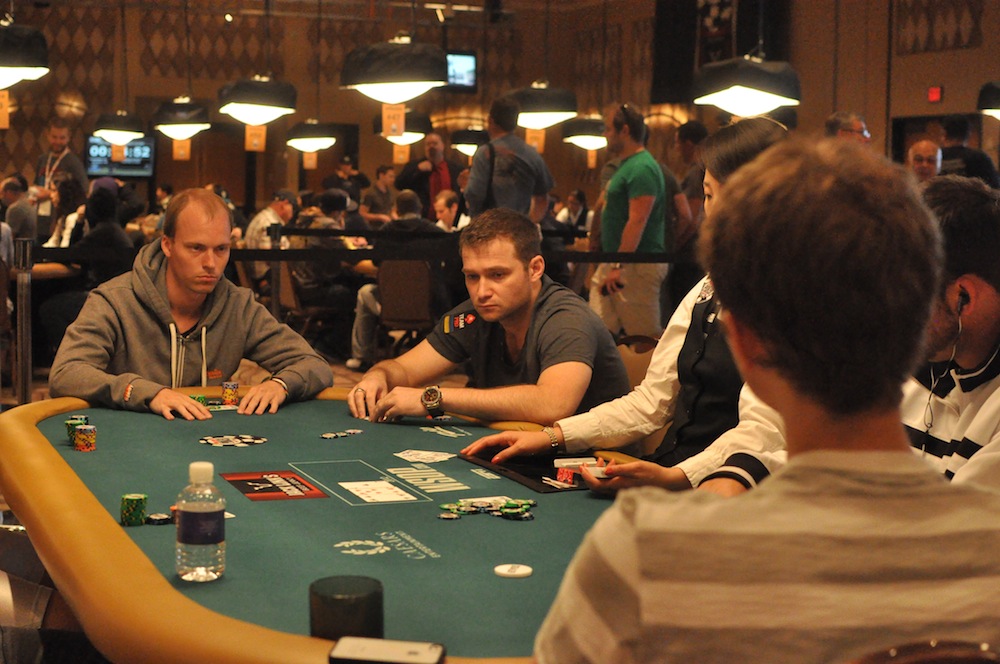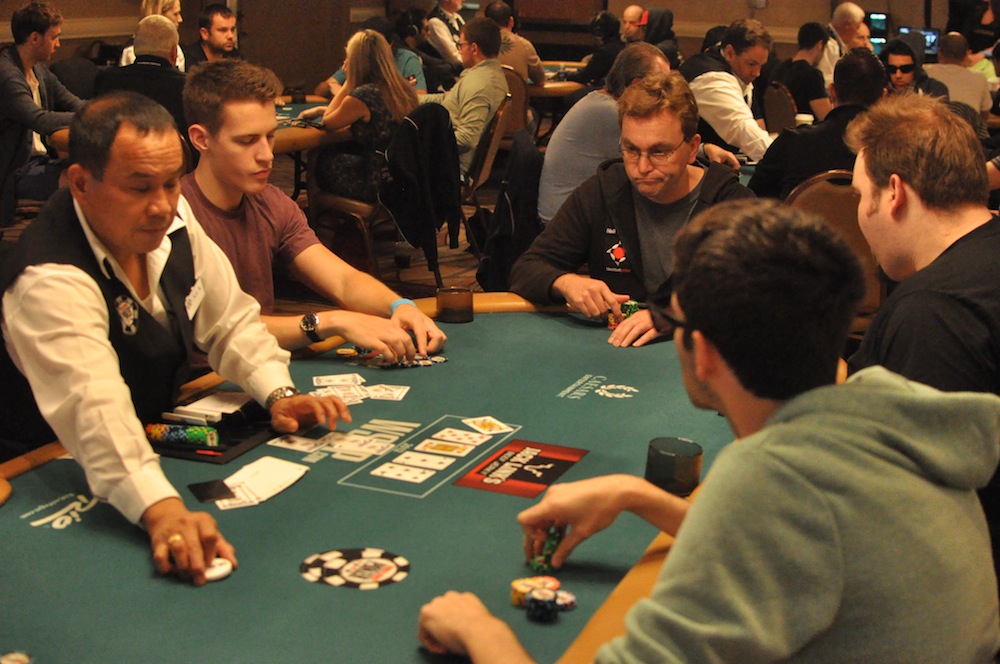 Finally we came across one of the hardest working men in poker, desperate for his first bracelet of the year after busting the One Drop yesterday, Mr. Phil Ivey. Ivey was on time today and in his chair by noon, a sign of how determined he is at this point of the series. Already at 12:15pm he has a mini-rail forming behind him. He's pretty oblivious to the crowd as usual.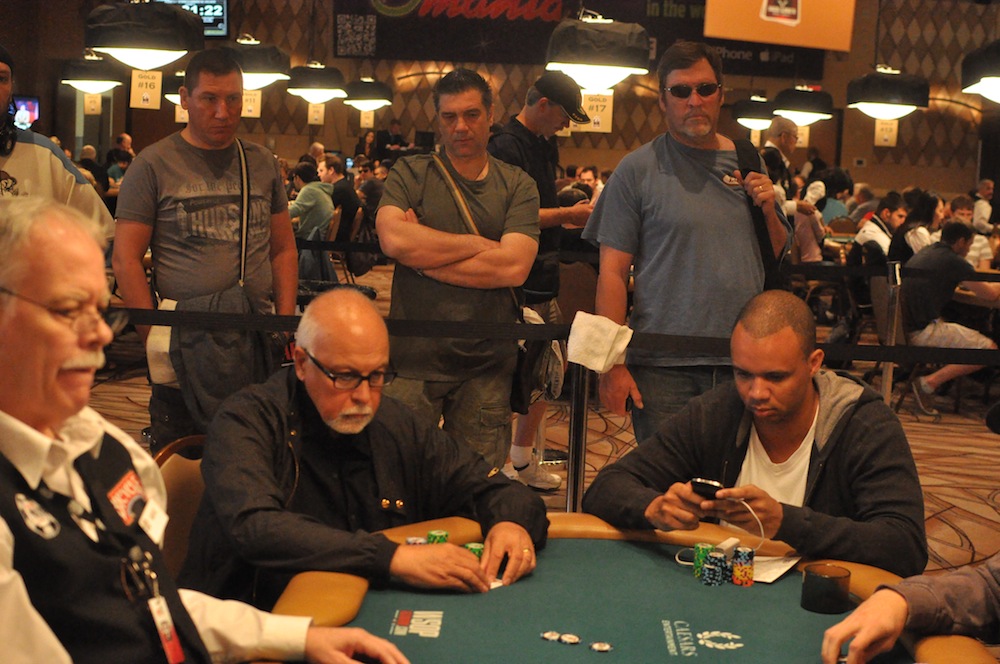 ---ReadMore---
The Build Up To The One Drop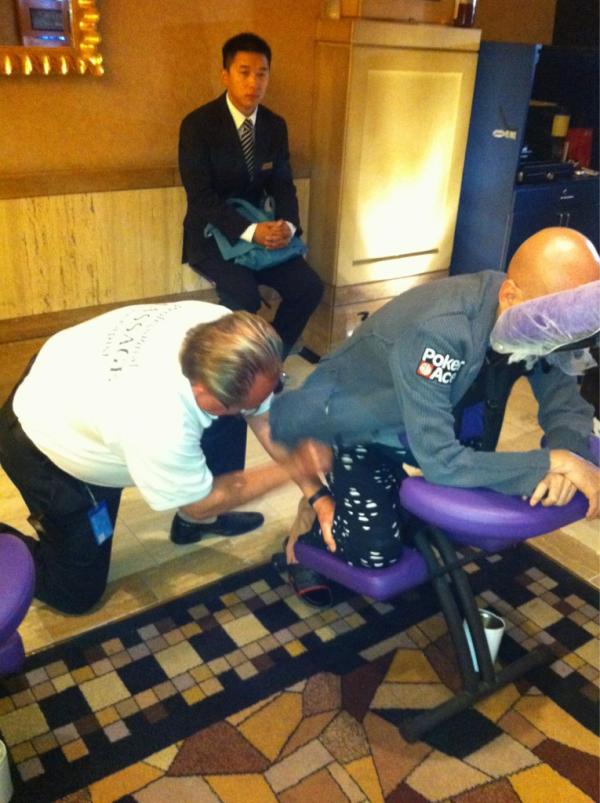 This is how Asian businessman Richard Yong chose to relax before the biggest final table of all time, Event #55: $1,000,000 The Big One for One Drop - No-Limit Hold'em. He's shown here getting a massage in the hallway of the Rio, while his manservant dutifully watches on.
This Rail Is Huge!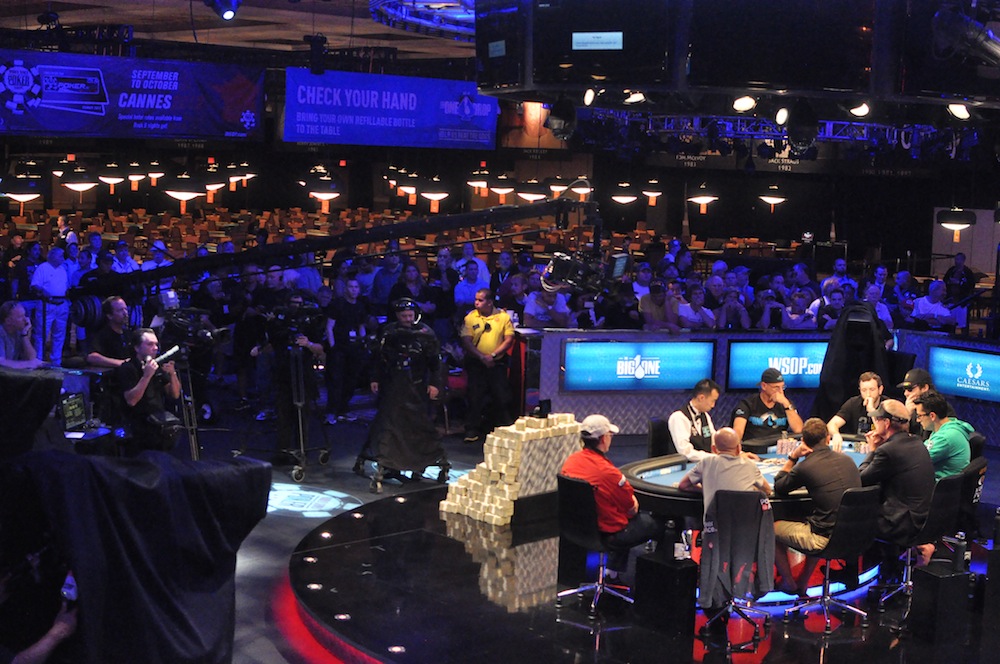 With the One Drop underway, we thought we'd snap a pic of the rail surrounding the ThunderDome. This rail is so thick it's more of a mob: the back ranks comprised of small elderly women, craning their necks to see Phil Hellmuth, and the front full of squashed-up uber-fans who've been in position since 10am this morning, wincing periodically as they get static shocks from the flat metal rail.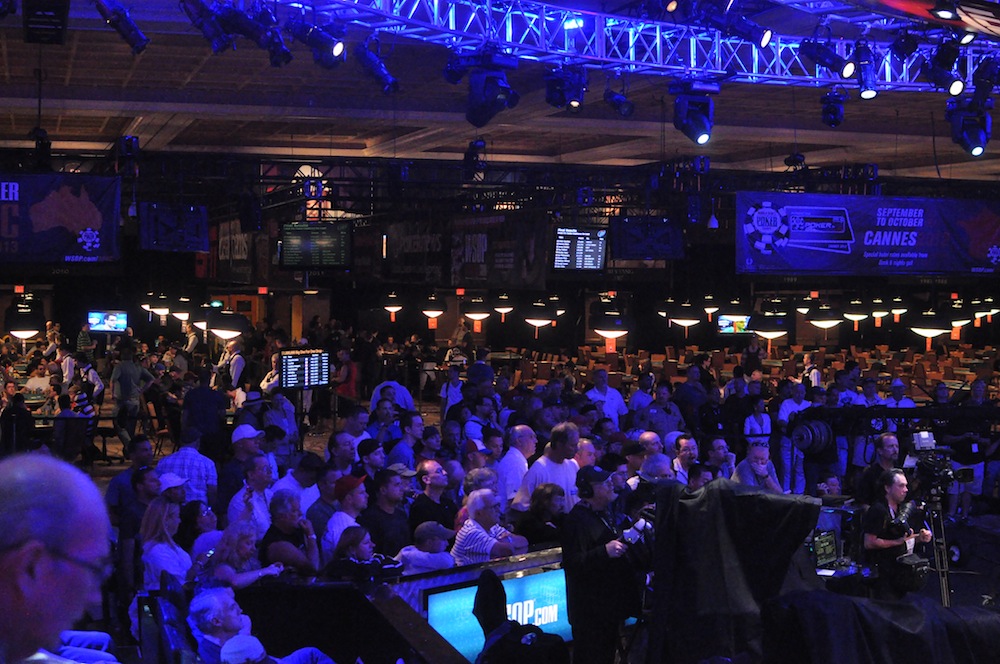 The Virtual Rail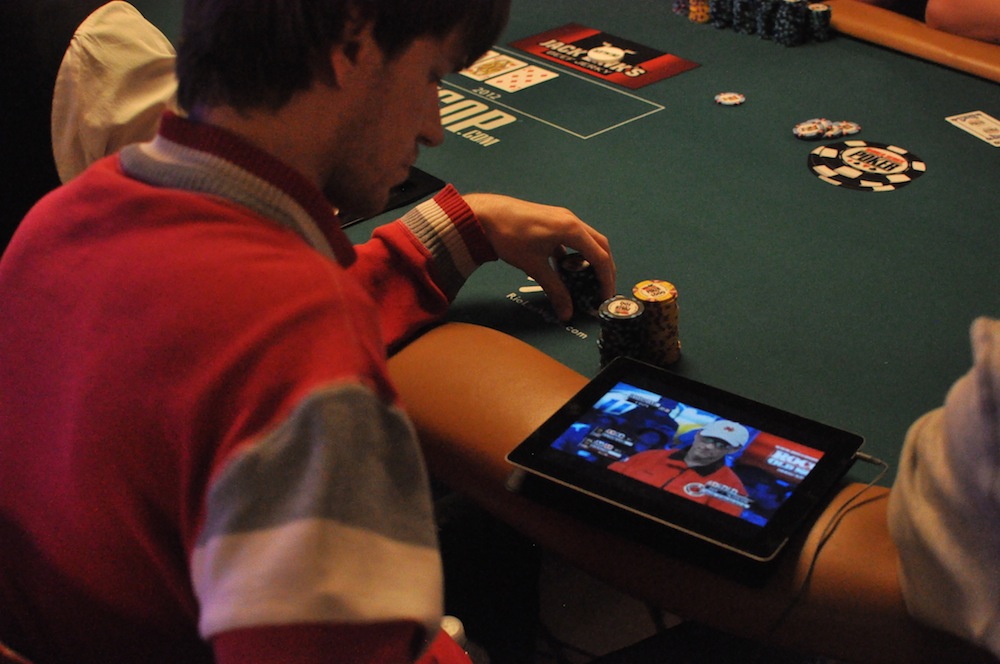 Check out this player, who has made it to day 2 of Event #56: $1,500 No-Limit Hold'em, railing the One Drop from his iPad! There's such a thing as too much poker in ones life!
Gangsters Of Rio
While these gangsters are a far cry from the ones in 'City Of God', The Rio Casino has it's own outlaws, breaking the implied dress code laws left, right and centre.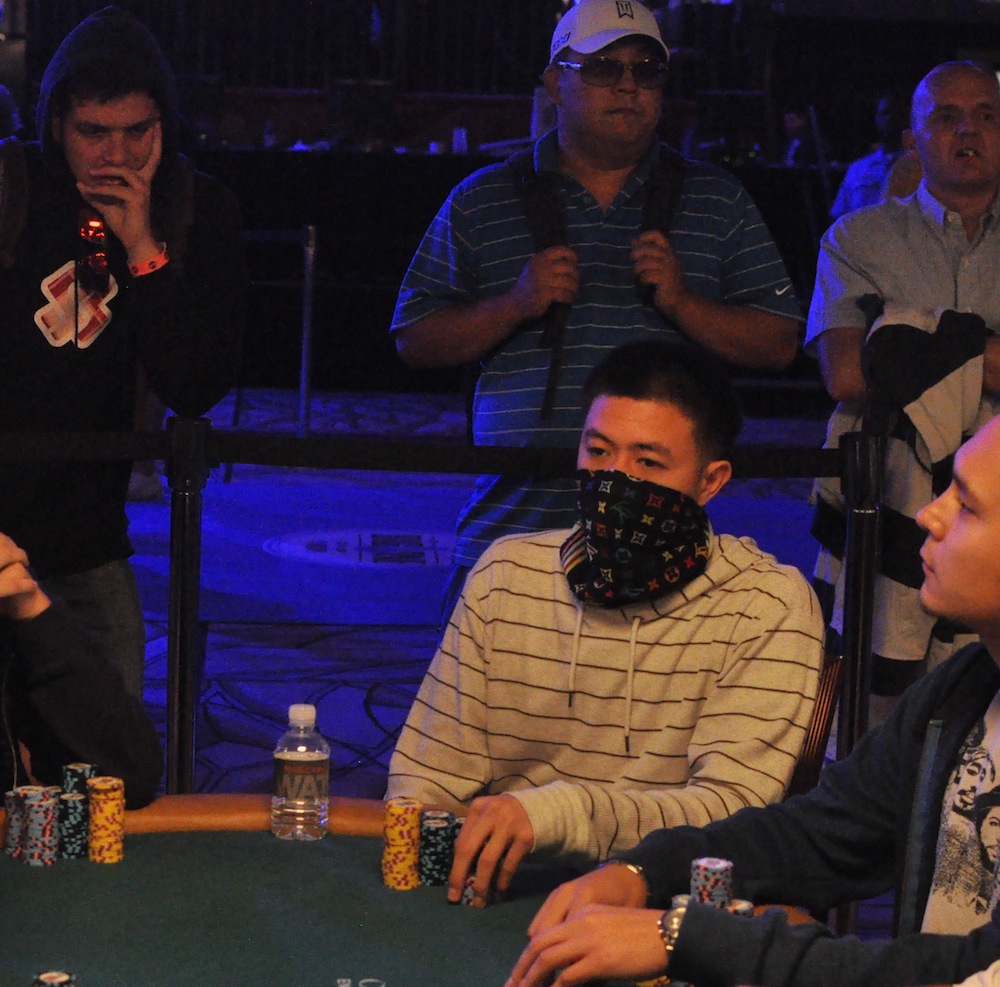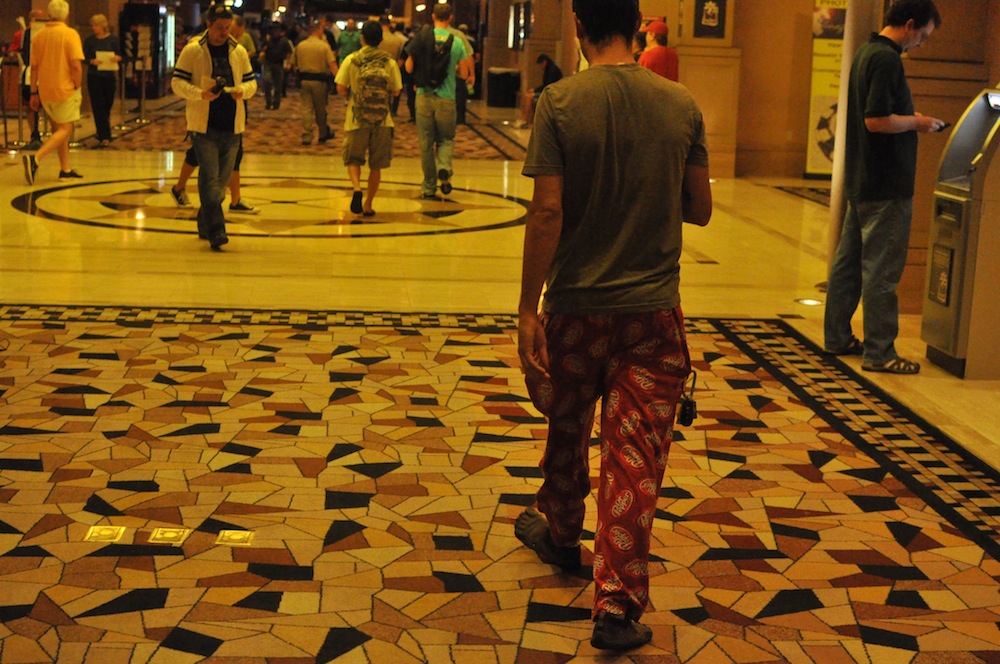 Repping PokerNews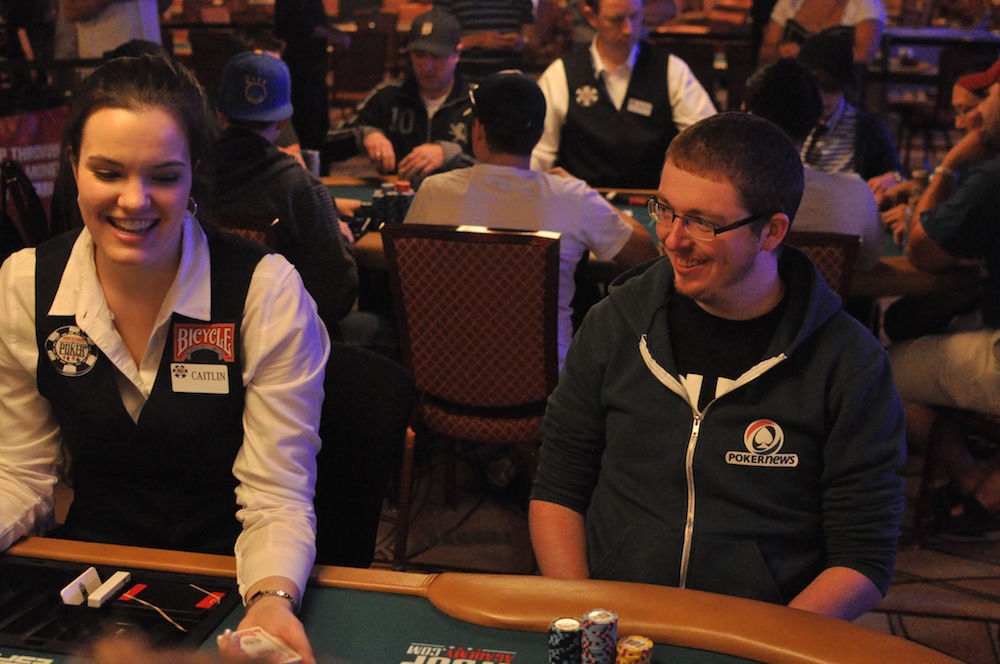 Our PokerNew Podcast presenter (tongue twister much?) Rich Ryan is going deep in Event #56: $1,500 No-Limit Hold'em today, having already cashed. Ryan is out looking for PokerNews first bracelet of the year. GL Rich!
Keep an eye on The Muck during the Main Event, where we'll be tracking any of our employees who brave the huge expected field.
Another Marathon Massage Session?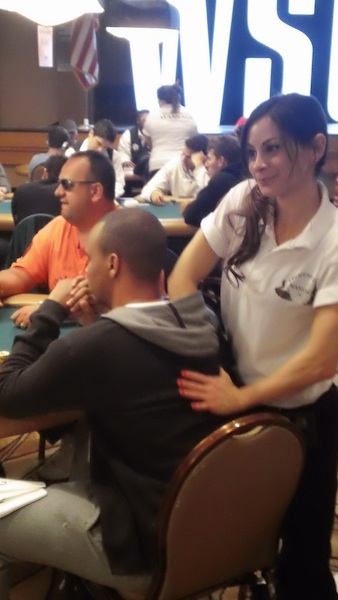 If you tuned in to day one of the One-Drop online stream then you're aware of Phil Ivey's nine-hour calf marathon massage session. Today we spotted Ivey in Event 57: $10,000 No-Limit Hold'em - Six-Handed, getting his back massaged. We'll keep be checking back every so often to see how long this session will last.
Poll
How many hours will Ivey's massage last today?
Reservoir Dogs : Starring Shannon Shorr
We spotted Shannon Shorr in Event 57: $10,000 No-Limit Hold'em - Six-Handed looking quite dapper this afternoon.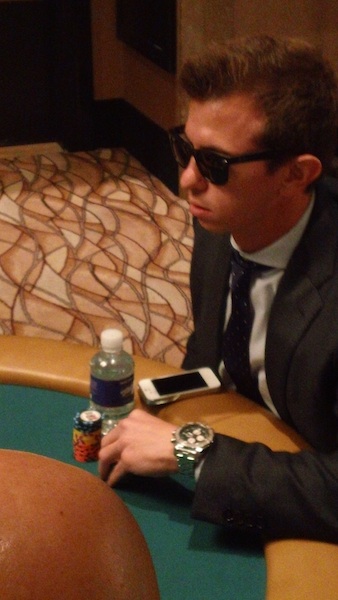 He reminded us of one of the gangsters in the Quentin Tarantino film Reservoir Dogs.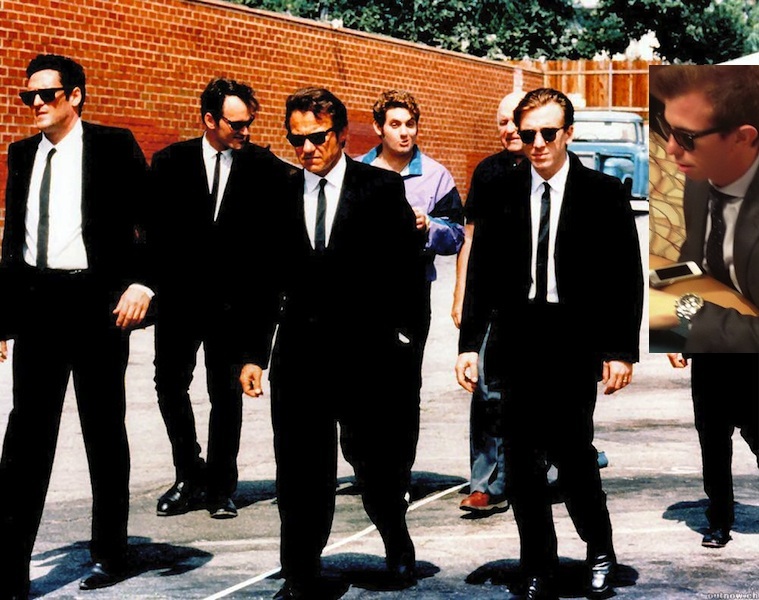 Team Hellmuth
While walking through the Rio today we 'happened upon' a number of pros sporting Phil Hellmuth hats in support of the the big man's Final Table appearance at the One Drop today!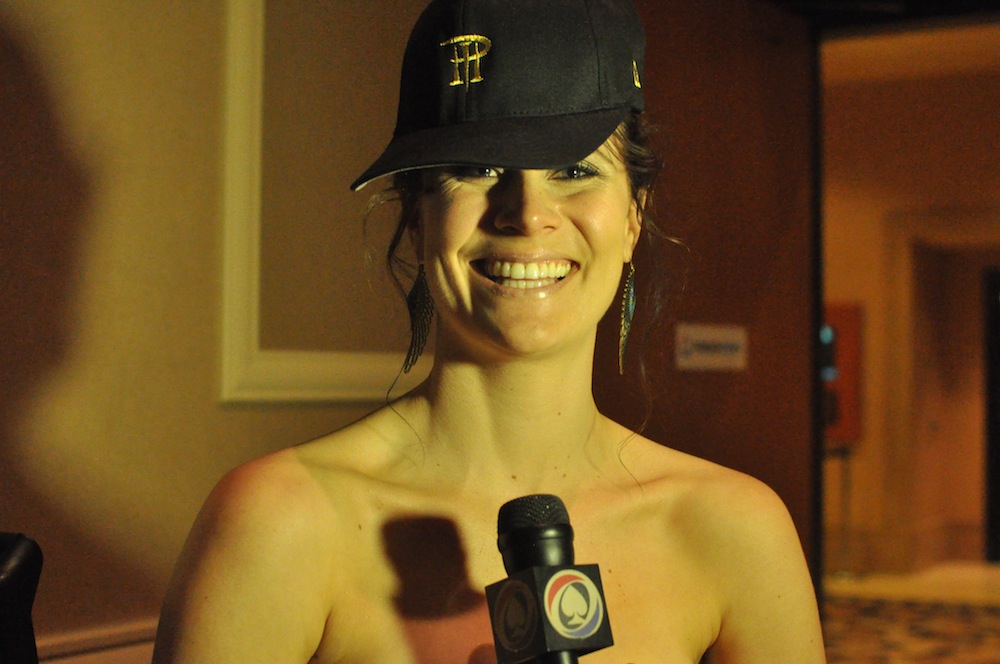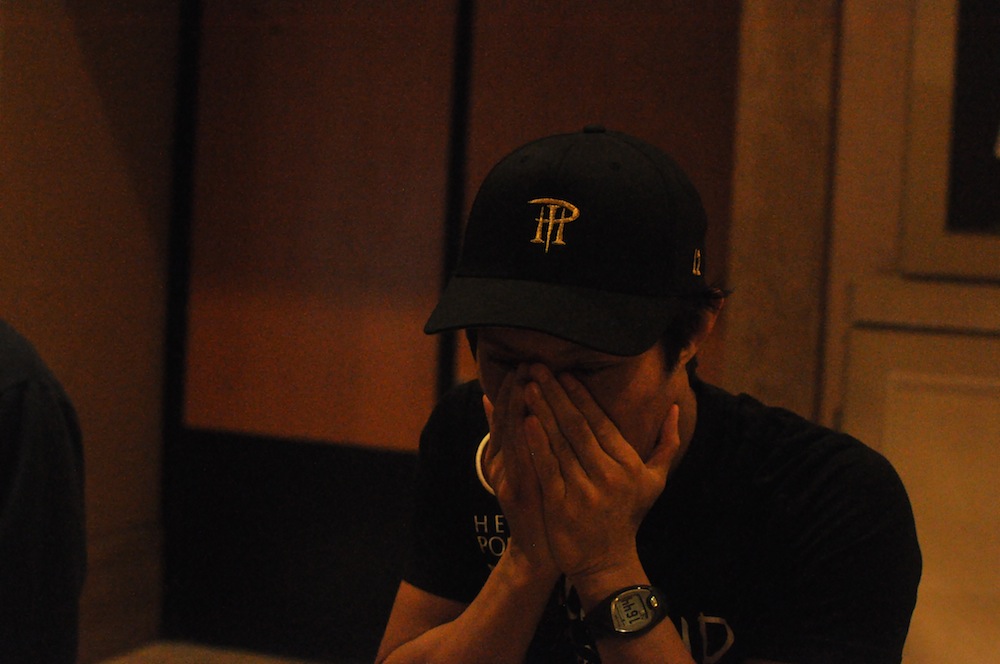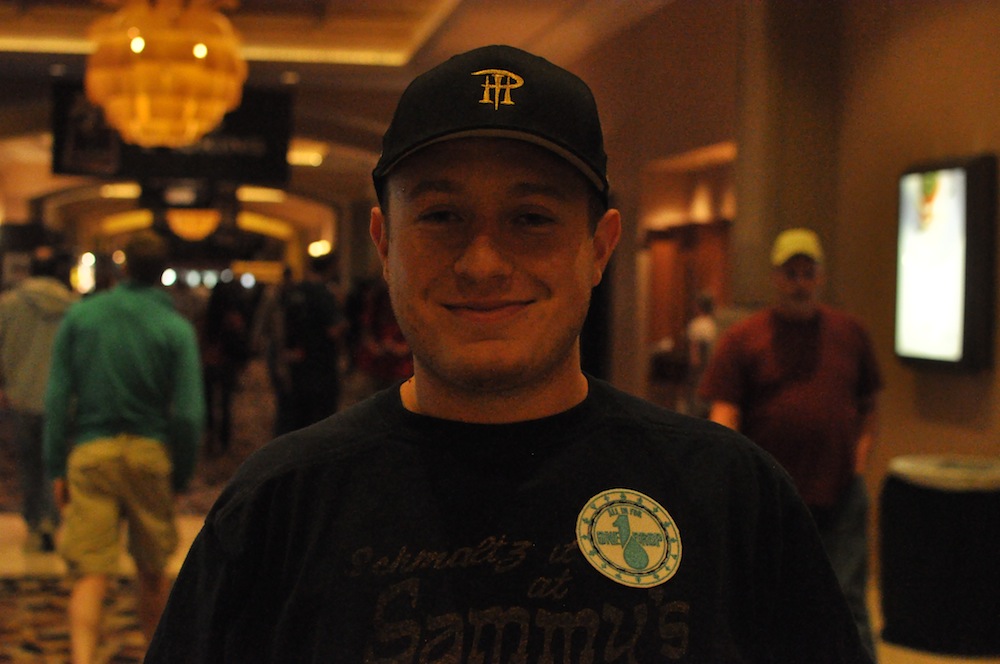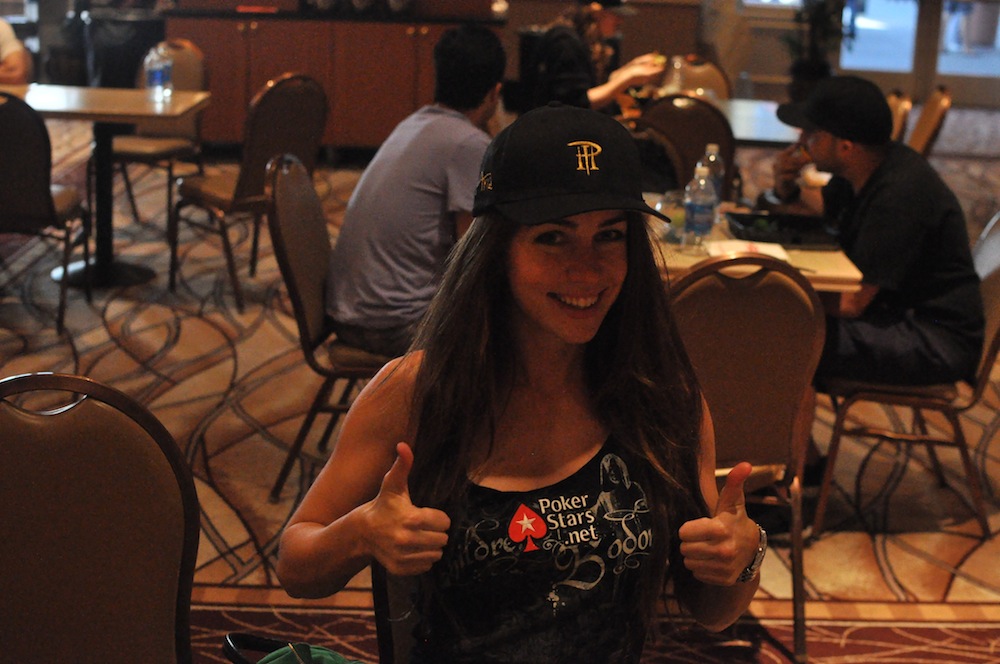 Speaking of Phil Hellmuth, check out this pic of Phil after one of his infamous tilt blow-ups earlier on today. An label has been added to the picture to help you find him.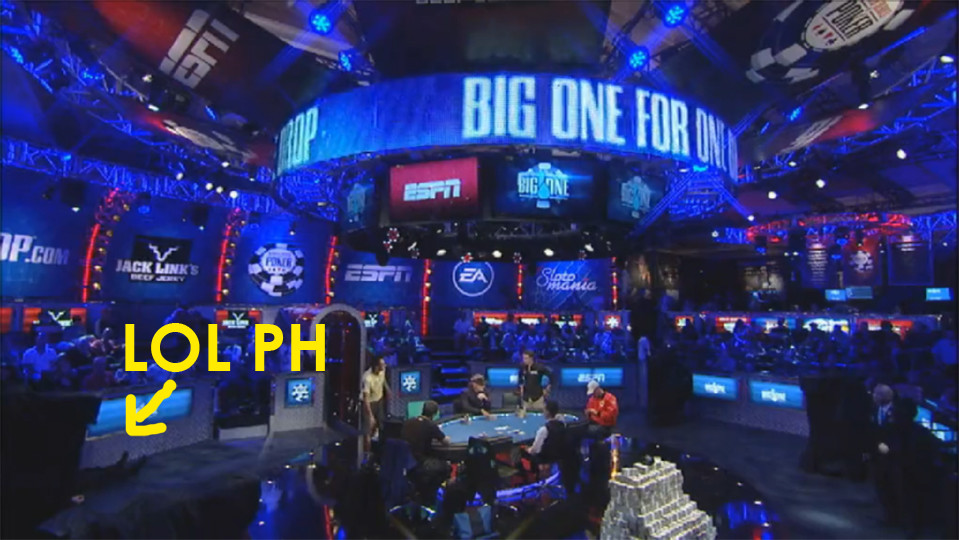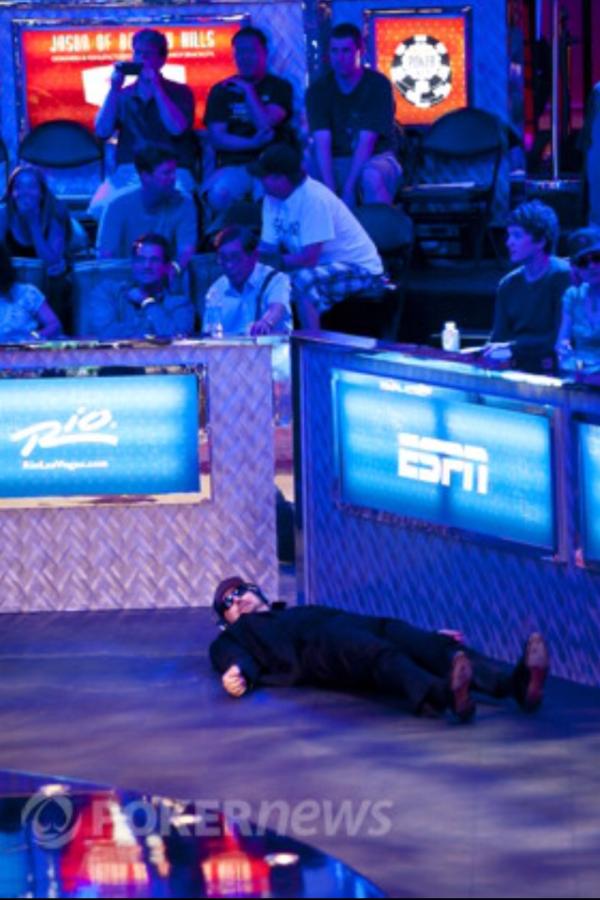 Can you beat Ace High?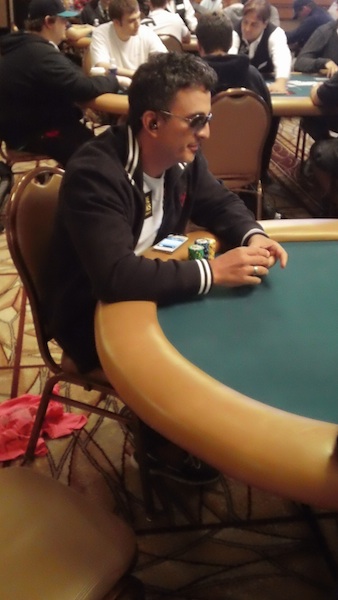 We stumbled across a hand involving 2005 WSOP Main Event Champion Joe Hachem in Event 57: $10,000 No-Limit Hold'em - Six-Handed.
Hachem's opponent fired out a bet on the river with a board showing
. Hachem paused for a moment, and began talking to his opponent.
"Can you beat Ace high," asked a smiling Hachem.
His opponent didn't reply verbally, but let out, what seemed to be, a forced smile.
Hachem continued to probe.
"Can you beat
?"
The man replied, "I don't know."
After a few moments Hachem reluctantly threw his chips in for the call. His opponent showed
for Ace high, and Hachem tabled
for the pot.
We'll try to catch up with the former Main Event Champ on break to find out what tells tipped him off to make the nice call.
Fashion Faux Pas Of The Day
We spotted 2004 WSOP Main Event Champ Greg Raymer in the Amazon sporting the socks and sandals look. Sorry "Fossilman" but your infraction will not go unnoticed.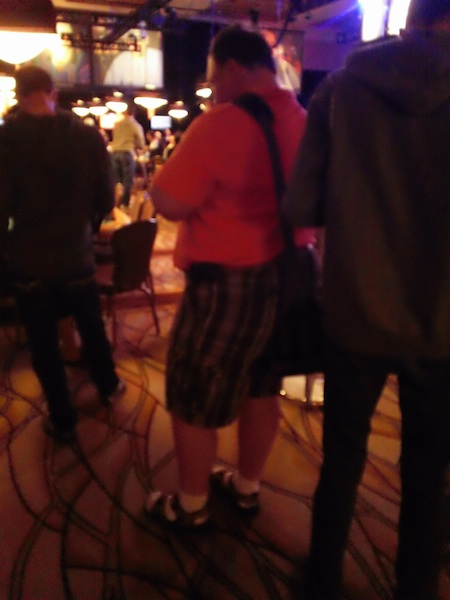 Mission Impossible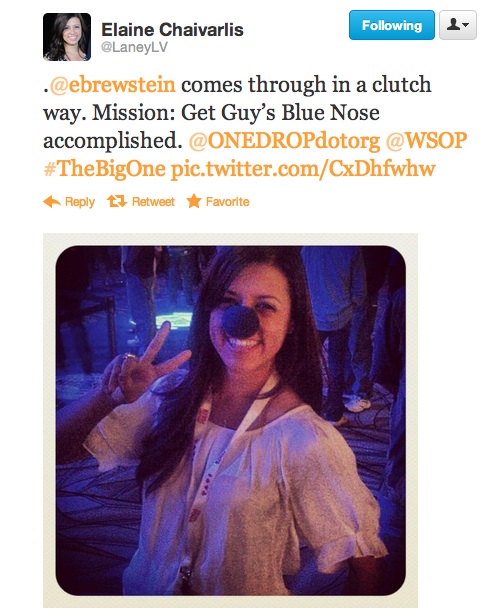 We just saw this tweet from our Editor In Chief Elaine Chaivarlis, whose mission was to steal One Drop mastermind Guy Laliberte's fake blue nose. Looks like it went well then....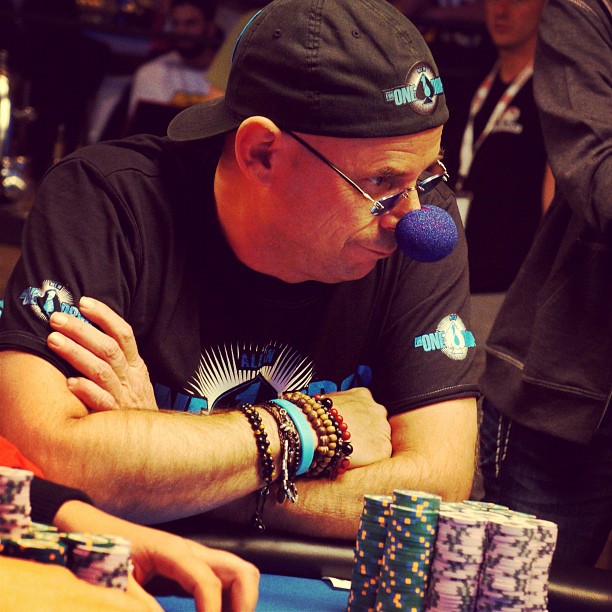 Laliberte, who just busted the One Drop to Antonio Esfandiari, got a standing ovation as he left the thunderDome, a touching moment.
Stranger Hands Negreanu 125K For Free
See Title.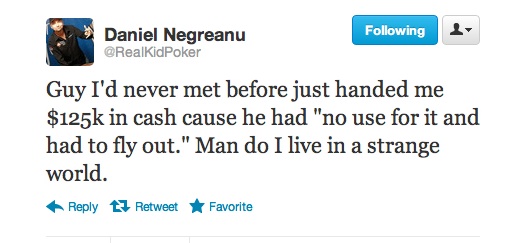 Can You Beat Ace High: Part 2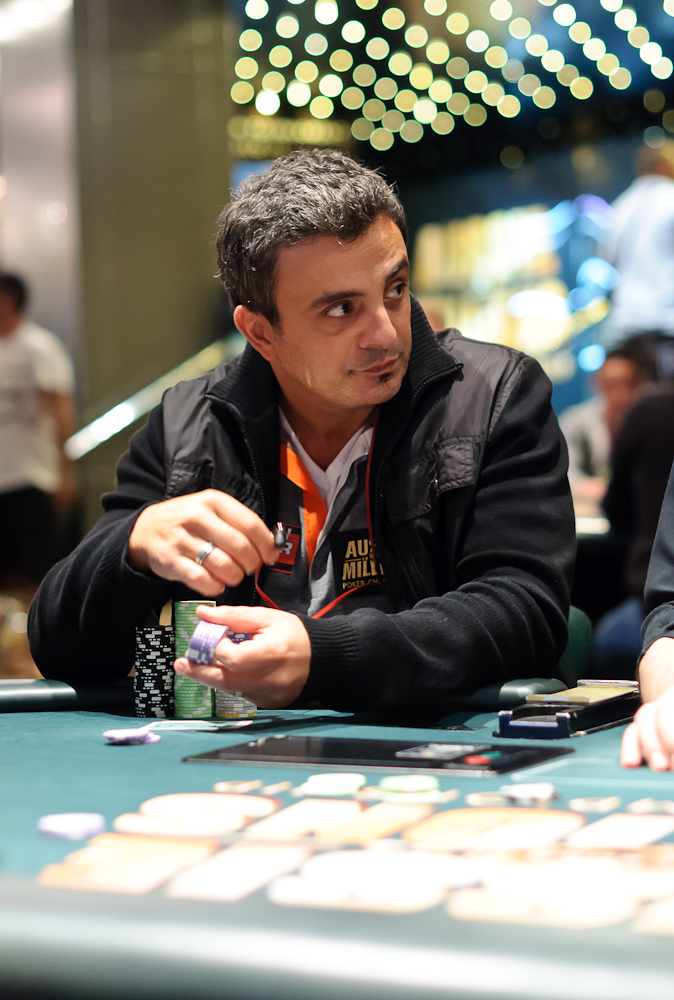 As promised, we caught up with Joe Hachem on break in Event 57: $10,000 No-Limit Hold'em-Six-Handed to follow up on the hand we blogged about earlier in the day (scroll up and read the entry titled "Can You Beat Ace High").
"We had some history. He liked to check raise bluff a lot," Hachem said. "I had called him down once before when he three-bet me from the blinds and triple barreled on a KQ board and I called him down with
to take the pot."
Then Hachem spoke about the hand in question.
"I was almost certain I was calling (with
), but I wanted to get a bit more information out of him. So when I asked him if he could beat Ace high I saw the forced awkward smile out of him, so that made me feel even better about my hand. I then asked him if he could beat AQ. I didn't want to tell him what I had and that's when he replied 'I don't know.' It's definitely something I wouldn't be able to pick up on online."
Just Good Advice

More Like, #WLE (Worst Luck Ever)
You dun' goofed, Jason.
Antonio asked me to swap 1% when he had 12 mill and I had 11 mill and position on him. I declined. Then he busts me KK<AA. Then he wins #JBL

— Jason Mercier (@JasonMercier)
At one point it's just not bad luck anymore. Permanent life tilt anyone?
Bathroom Break With Pius Heinz
We spotted 2011 WSOP Main Event champ and Team PokerStars Pro Pius Heinz entering the bathroom in the Rio, so as a dutiful reporter tends to do, we stalked him 'till he finished his business.
Upon his exit from the restroom we had a quick chat with the reigning Main Event champ.
Last week we snapped a picture of you and your friends sweating Mike "Gags30" Gagliano at the final table of Event #46. It was the same set of friends that sweated you at your Main Event final table last year. How was the experience from the other side of the rail?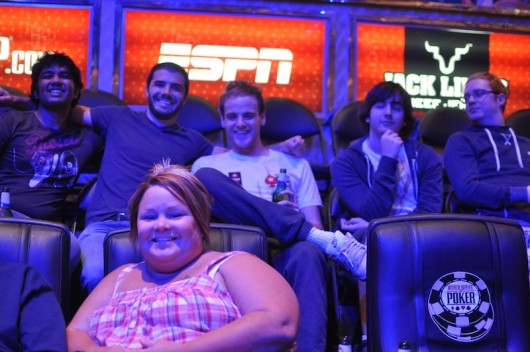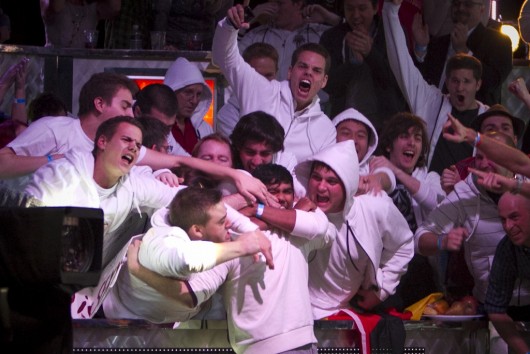 It was fun! I was able to get drunk and just enjoy myself with no pressure. I just wish Gags would've lasted longer (Gagliano busted 7th).
If the One-Drop tournament were to become a mainstay of the WSOP do you see yourself playing it in the future?
Potentially. Especially with the success it's had this year.
What were some of the obstacles you faced when making the transition from online to live poker?
Being comfortable with my body language and getting use to handling chips. Before playing the Main Event last year I had played several live events so I became much more comfortable. I also got in the habit of taking my time when making decisions. When you're playing online you only have so much time to make a decision because you have like eight other tables going.
What Now?
Antonio Esfandiari just shipped the $1,000,000 Big One for One Drop. We were able to grab a few photos of him and the crowd just after his victory: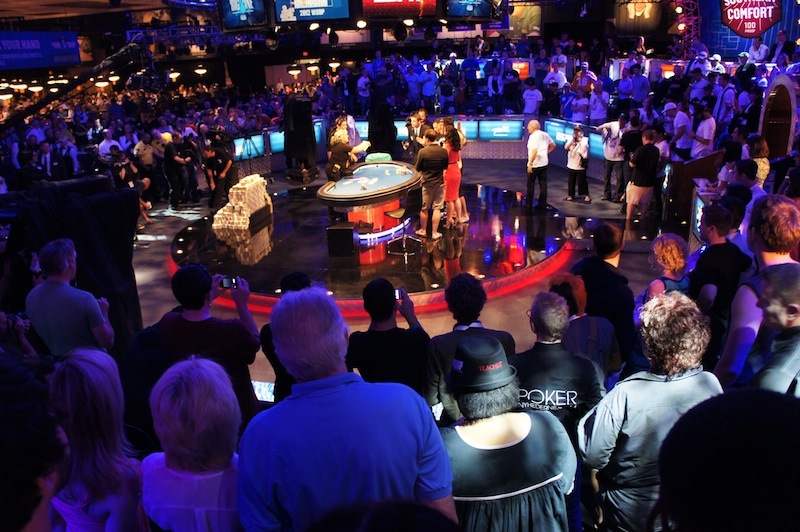 Hundreds of congratulation tweets have gone out to Esfandiari congratulating him after his victory. One of the best ones we saw was from Daniel Negreanu asking where the sure to be legendary after party will be at.
Congrats to @MagicAntonio I'm assuming the after party is going to e legendary!

— Daniel Negreanu (@RealKidPoker)
Which reminds us, where's our invite Antonio?
First Cash Since '09
Peter Eastgate is still alive in Event #56: $1,500 No-Limit Hold'em.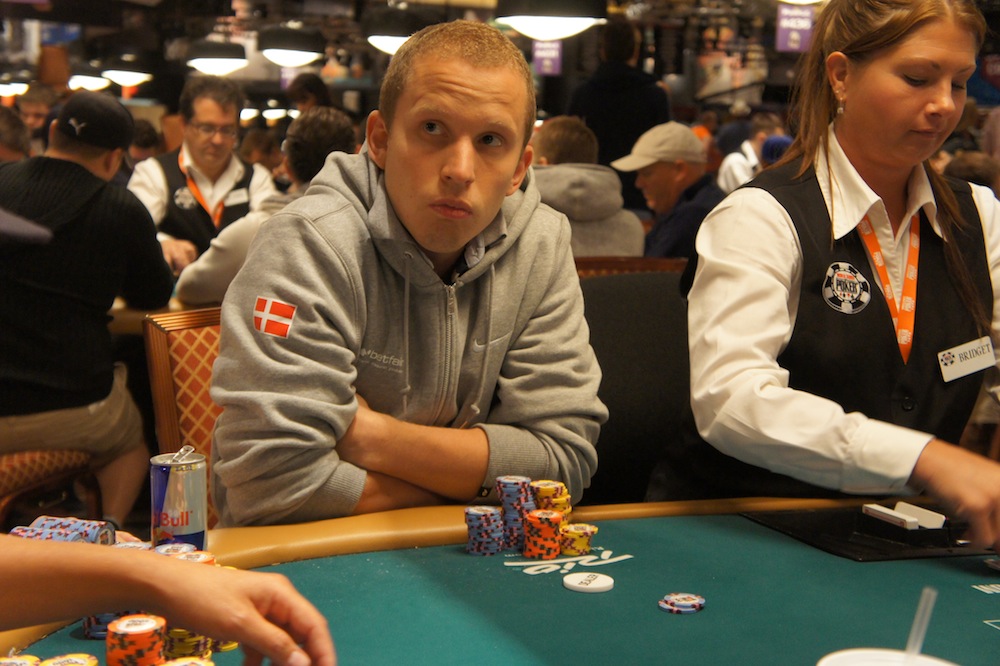 He has already made the money in the event and that marks his first World Series of Poker cash since the 2009 Main Event. We might see another champ make a deep run in an event tonight, as we saw Joe Cada do weeks earlier.
World Series of Blow Ups: Day 37
[From our [URL="https://www.pokernews.com/live-reporting/2012-world-series-of-poker/event-57-no-limit-hold-em-six-handed"+]live reporting blog[/URL] for Event #57: $10,000 No-Limit Hold'em Six-Handed]
Moments ago, after taking a bad beat, Giuseppe Pantaleo snapped. He lost it.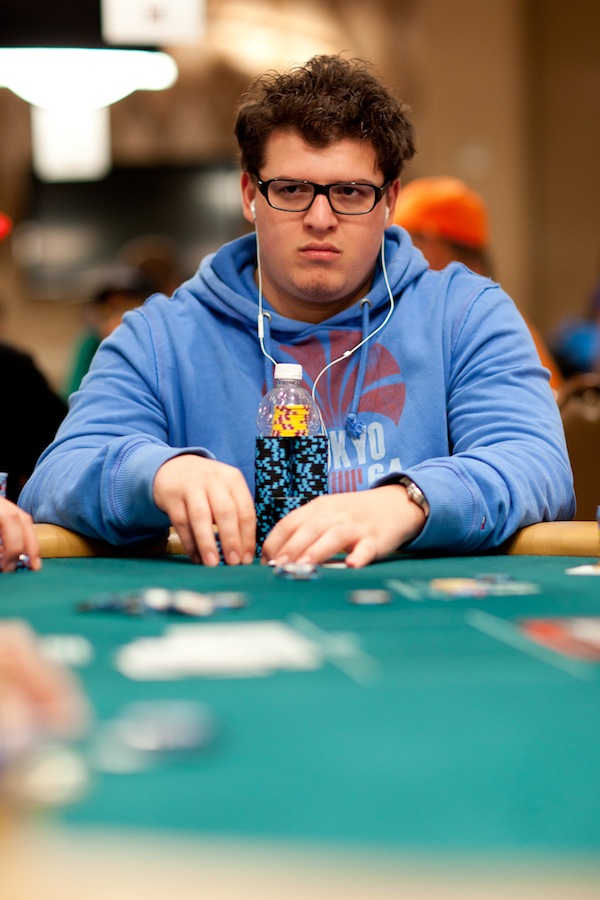 We couldn't decipher most of what he was saying - it was in German - but he was screaming at both Ismail Erkenov (who just eliminated him) and the dealer.
"IS THAT REAL?!?!?!" he finally screamed in English.
Pantaleo stormed away from the table, smacked a nearby chip cart, and exited the Brasilia Room. When we reached the table, we saw that the board was
, and Pantaleo had
. Erkenov had
for trip threes however, and according to a player at the table, Pantaleo was all in preflop for 43,100.
We're not sure what happened to Pantaleo, but the tournament staff wasn't very happy about his behavior.
Can't You Hear Me Singing
As we strolled through the Brasilia room on this fine Tuesday night we found a man who was playing in Event #57: $10,000 No-Limit Hold'em Six-Handed.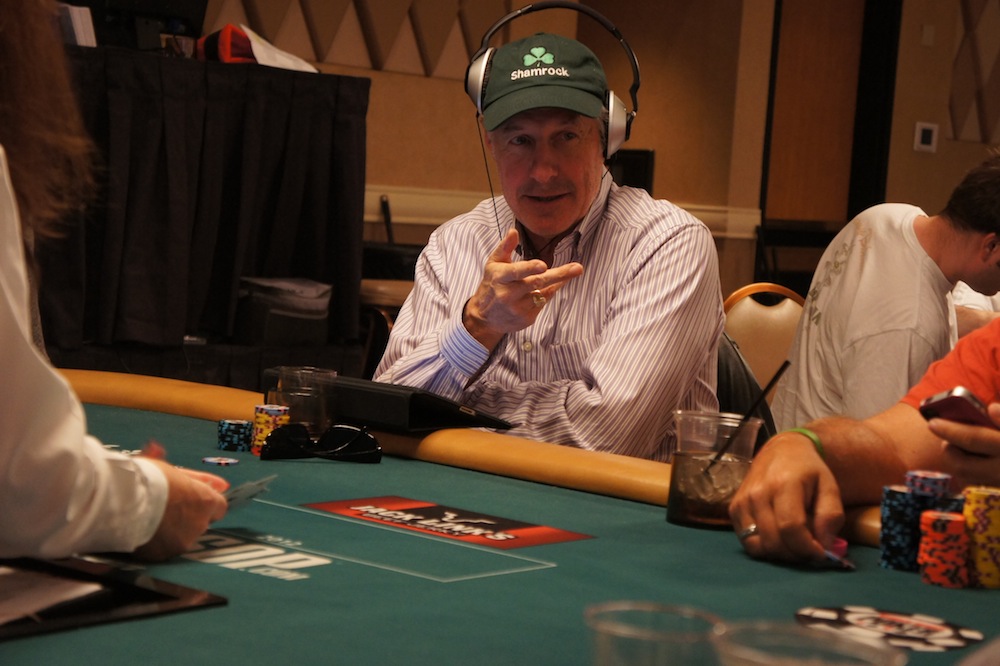 The man, who had his headphones on, was singing the Rolling Stones outloud to no one in particular. He was talking to his tablemates and we think we heard,
"Last time I ran well in a tournament, I was singing the same songs."
Either way, it could be a very effective way to put his tablemates on tilt. We suppose we'll find out soon enough.
Let the Party Begin!
We finally found out where the $18,000,000 party is tonight, thanks in part to a tweet by Phil Laak. There all at the One Oak Club in the Mirage:
Here's a picture he included of the festivities: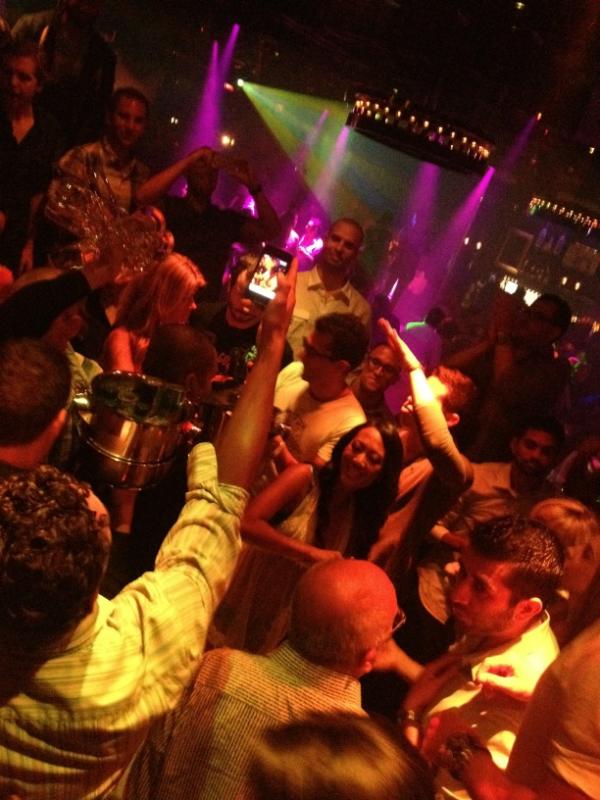 Looks like it's going to be one hell of a night for the Magician. Hopefully he can recover fast because the Main Event is right around the corner.
Prop Bets: Day 37
When we walked by Andrew Brown's table we saw Dwyte Pilgrim pulling out a hundred dollar bill from a Chinese New Year bag and giving it to him around the side of the table.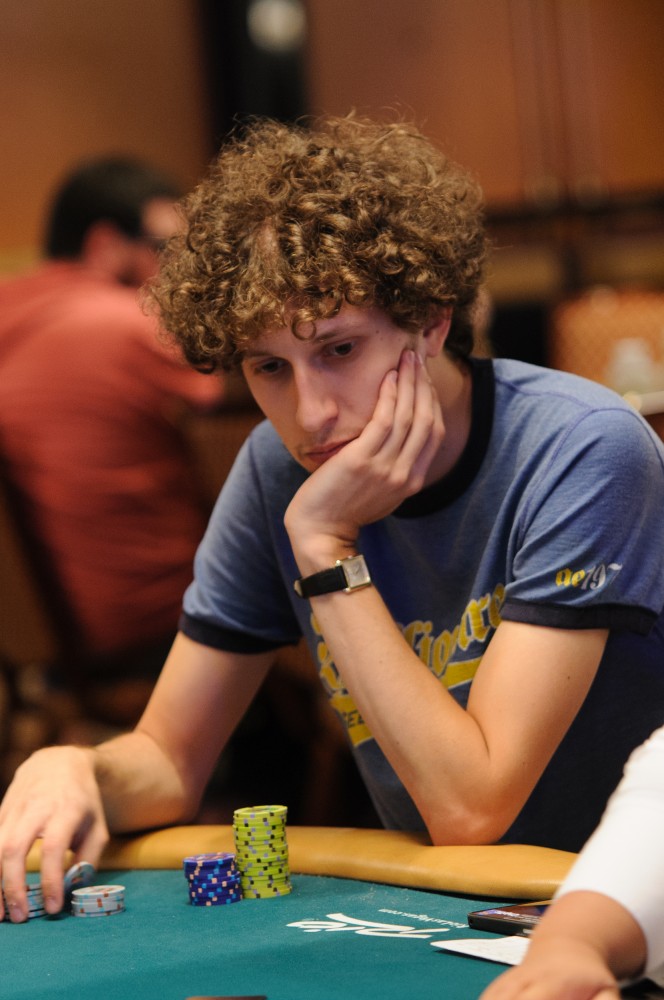 "Now I want you to tweet this one, 'I played poker with the best poker player in the world today, Dwyte Pilgrim, and I beat him in a prop bet for 100$," Pilgrim said.
We don't know the specifics of the bet, but we do know that Brown won. We know that they were also negotiating another bet at the table that had to do with the pull of the card that determines the amount of hands players will play at the end of the day. Layne Flack, who was also at the table, told Brown that if he won the bet he would mention him on twitter.
"I will mention you on twitter if you win this one, and I swear, your followers will jump through the roof."
"I'm not much of a twitter guy," Brown said. "But I do know that when I was playing the $10,000 H.O.R.S.E. and Phil Hellmuth sat down at my table, he tweeted that he was playing with me and my followers tripled in like 10 minutes."
We'll keep you posted on any more crazy, interesting, or fun prop bets that we see throughout the series.
We encourage everyone to get involved with "The Muck." See something you think is Muck worthy Send it to the muck@pokernews.com. We accept all media including photos and videos.