Poker Pros React to Antonio Esfandiari's $18 Million Win and the Big One for One Drop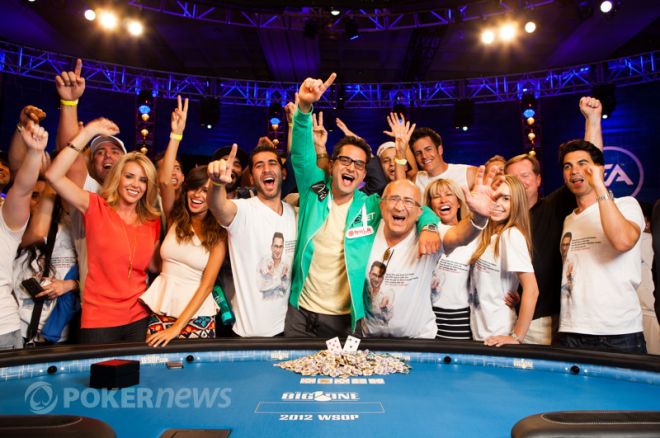 On Tuesday, Antonio Esfandiari was awarded the largest prize in poker history. He defeated Sam Trickett in the $1 million buy-in Big One for One Drop, to pocket $18,346,673. Shortly after his win, we caught up with poker pros who were at the Rio to get their reactions on Esfandiari's win and the event in general.
First we caught up with Jennifer Tilly who was standing in the hallway on break from Event #58: $3,000 Pot-Limit Omaha Hi-Low Split 8-or-Better.
"It was fantastic," Tilly said about the final table. "I was playing in the same room and just listening and watching I got the chills. The hair stood up on my arms. I never doubted that he could do it though. He took a positive mentality lecture a while back and he's been really focused ever since. He sent an email to Phil the other day saying 'This is my time.'"
"It was a fantastic final table though and I think it will be really exciting for the viewers," she continued. "Guy was there, and of course Phil Hellmuth Jr. and he's always a crowd favorite. Then our really good friend Brian Rast was there. I feel like it's going to be awesome for television, but the only thing is that the Main Event is going to feel a little anti-climatic after this."
We noticed that Phil Laak wasn't in the crowd for Esfandiari's win, so we asked Tilly about it.
"He was there for a little bit and he was on the rail, but there was too many people there for him. He doesn't like big crowds. Too much energy. He was watching the closed circuit though and he texted me after he won."
"I cried a lot," Laak said in the text to Tilly. "When he gave the bracelet to his dad, I cried again. Super baller."
"All the boys are out partying now," she told us.
Bertrand "ElkY" Grospellier told us, "I think it's pretty good. It would've been nice to see Guy [Laliberte] win since it was his event and he does so much for charity, but Antonio is a good player and he played great. It's still really great."
Erik Seidel gave us a bit of insight into the outcome of the Big One for One Drop as well.
"I think it's great for poker. For me, it was an odd situation because I wanted the business men to win who were gonna give the money to charity, but it was also cool to see two elite players battle it out heads-up for the money. I think Sam is arguably the best no-limit tournament player in the world at the moment, and obviously Antonio's a great player who's been around a long time so it was a monster heads-up match. I hope I'll still be playing in years to come, I want to. I can't see it being an annual thing though. Bi-annual would be my guess."
Jonathan Duhamel and Haralabos Voulgaris were standing in the hallway on break from Event #57: $10,000 No-Limit Hold'em Six Handed so we asked them for some reactions as well.
"I think it's really cool, and congrats to him for win," Duhamel said. "He's a really good guy and he speaks well so I think he will be a very good ambassador for the poker players. I would've liked to see Guy win though since he does so much for everyone."
We asked the two if this victory will change the landscape of poker, and both of them agreed that not much will change because of this.
"Most of the pros who were playing the event didn't actually have that much of themselves, so it won't change too much. But having a pro win, and a pro come second will be good for the poker economy because that way the money will flow back in, and it won't just vanish," Voulgaris said.
Follow PokerNews on Twitter for up-to-the-minute news.