All Mucked Up: 2012 World Series of Poker Day 41 Live Blog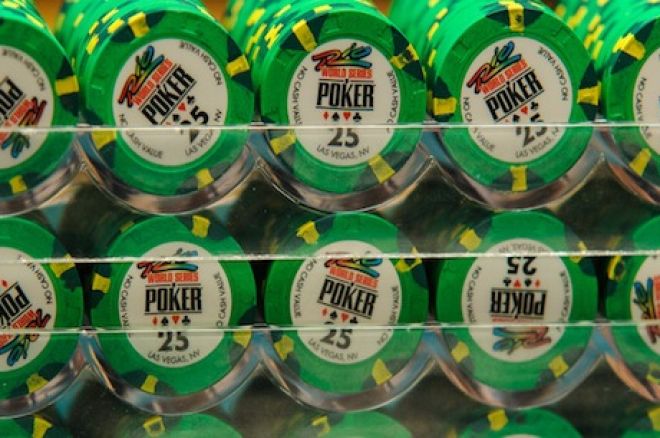 All Mucked Up is a live blog of all the stuff you want to know at the 2012 World Series of Poker, besides hand histories and bad beats. Well, we might add a few in here, everyone loves a good bad beat story — unless it happened to you. Check back often for polls, soundbites, celebrity sightings, and who knows what else!
May The Odds Be Ever In Your Favor
It's here! After five weeks and 60 events the Main Event starts today. The halls in the Rio are buzzing with players, media, and fans. We've already spotted actor Kevin Pollak signing autographs and its not even noon yet here in Vegas, so keep checking back with the Muck as we'll be updating throughout the day.
In the meantime,Event 60: $10,000 2-7 Draw Lowball (No-Limit) resumes today and only 10 players remain. Here are the odds courtesy of the Rio sportsbook:
Benjamin Parker: 19/5
Bob Bright: 10/1
Ali Eslami: 7/1
George Danzer: 4/1
John Juanda: 3/1
Andy Bloch: 25/1
Nick Schulman: 2/1
Ashton Griffin: 3/2
Mike Wattel: 9/2
Larry Wright: 19/2
PokerNews Podcast: Eugene Katchalov
Team PokerStars Pro Eugene Katchalov is our guest on the PokerNews podcast today. Make sure you keep an eye out for it. Katchalov talks about the One-Drop, Mikhail Smirnov's folding of quads, and the Main Event.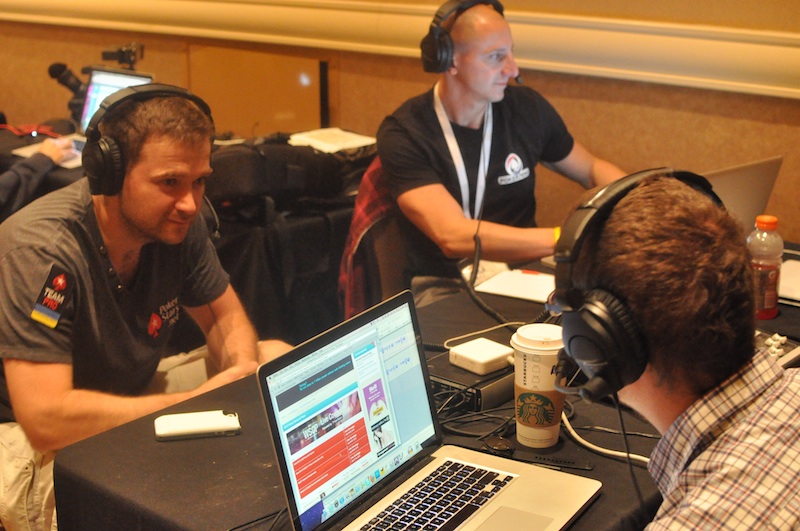 Sights In The Amazon
Day 1a of the Main Event is underway in the Amazon room. Here are some of the more interesting sights seen so far:
We spotted Ray Romano.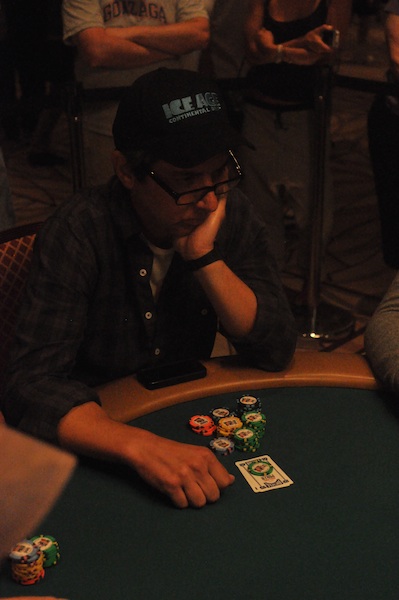 He's been a fixture at the Main Event for several years now. We'll keep our eyes peeled for Romano's friend and former co-star Brad Garrett.
Check out the rail for Romano: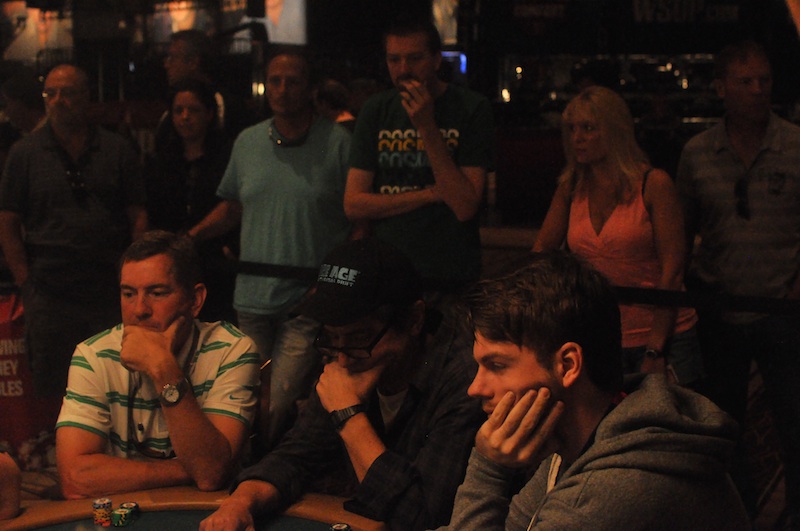 We walked by Kevin Pollak's table just as he was jokingly berating an opponent, in a pitch perfect Robert De Niro voice, for raising his big blind.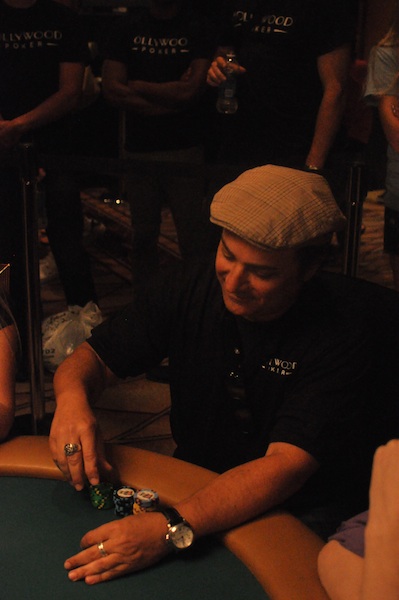 This player must've thought he was playing in the Amazon Rainforest.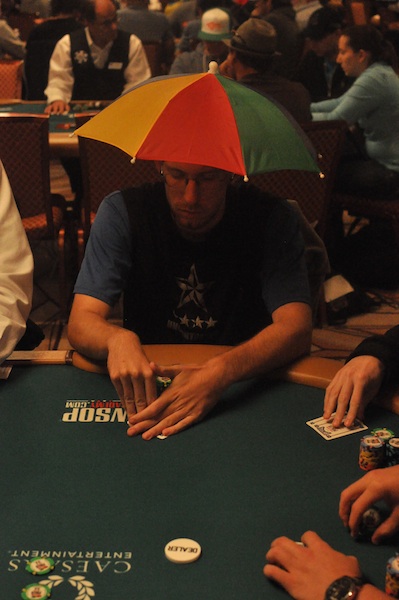 PokerNews' own, Kristy Arnett, is playing in her first ever WSOP Main Event. She's no fish though. Arnett plays plenty of poker and will be a force to be reckoned with. Check out Lynn Gilmartin's interview with her from earlier today.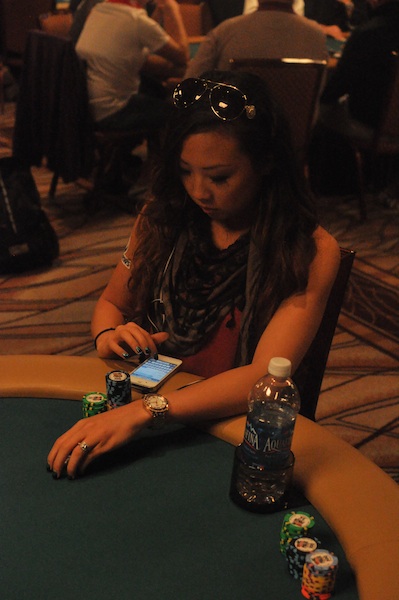 Here are a few shots of the ever growing crowd in the Amazon room: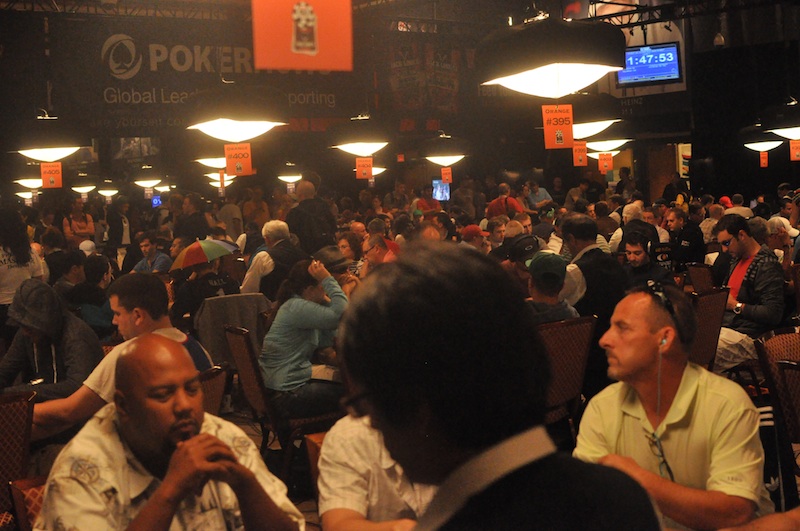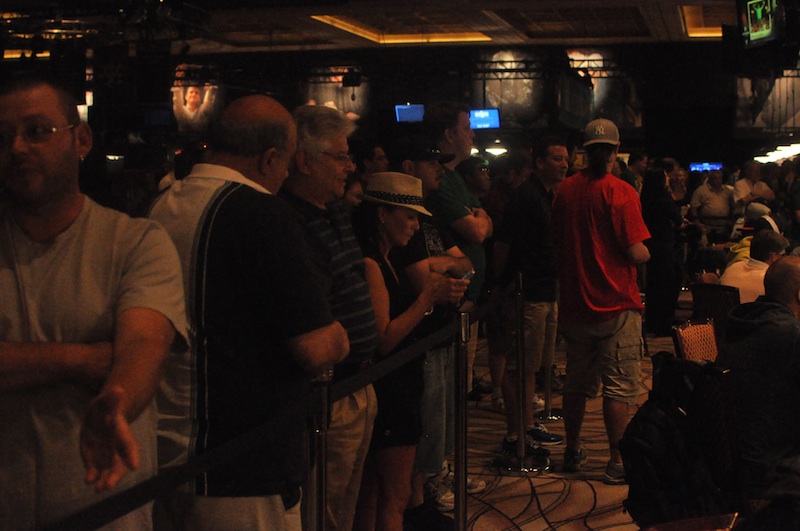 ---ReadMore---
Tattytats Meow-Wows In A Catsuit
We snapped this picture of poker hostess and Bodog Pro Tatjana "Tattytats" Pasalic as she sat at her Main Event table. She lost a prop bet with her friend, poker pro, Mclean Karr. We caught up with Karr to get the details
"We had a last longer bet in Vienna and the loser would have to wear a cat costume to the Main Event," Karr said. "She lost, but it's a win for everybody else."
Judging by the hot tight leopard outfit Pasalic is wearing, Karr is spot on.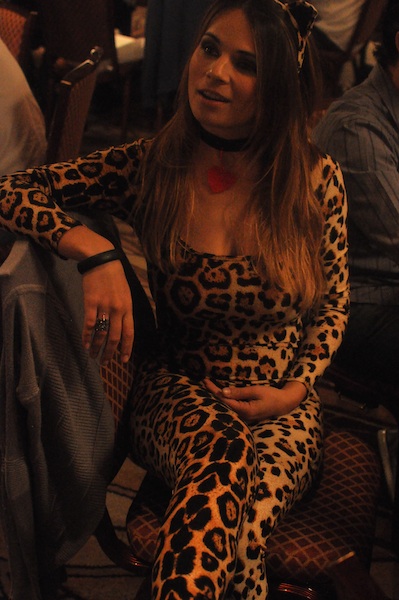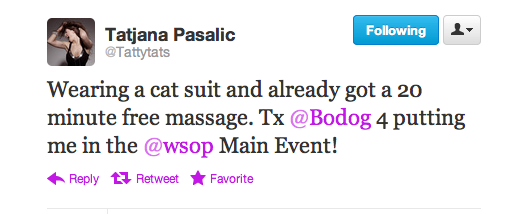 Check out Lynn Gilmartin's interview with Pasalic:
Durrrr's Passport Pic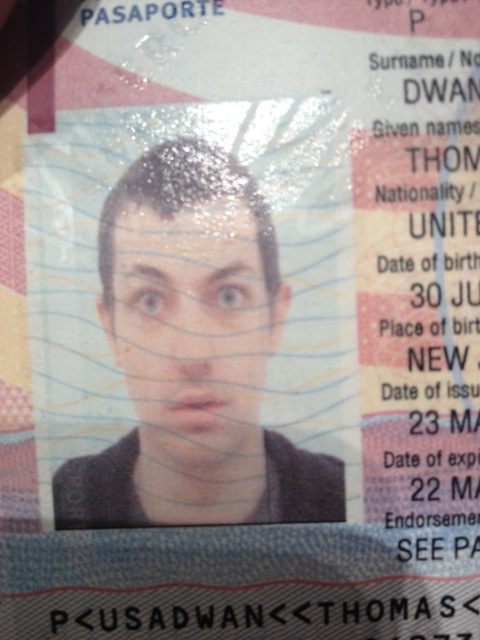 Check out this pic Dan Bilzerian tweeted hot off his 9.5 million win in Aria the other night. It's Tom Dwan doing the durrrr death stare in his passport picture! This has to be done on purpose!
---ReadMore---
Future Stars Of The Felt: Alexa Fisher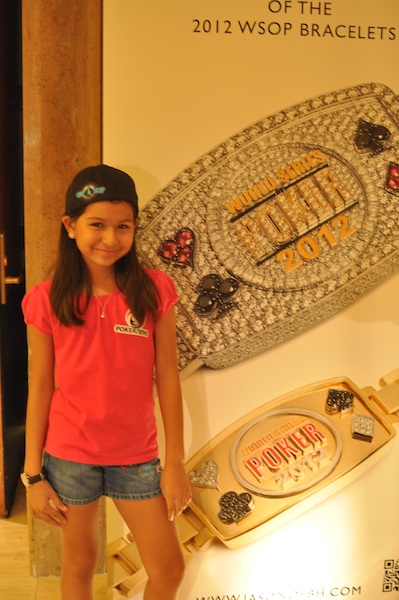 We had the pleasure of meeting 9-year-old poker player Alexa Fisher. Although she won't be eligible to play in a WSOP event till the year 2024, Fisher is getting a head start on the competition. She's proficient in many of the different disciplines of poker and, by age seven, already has a final table appearance under her belt. We had a chance to chat with the young card shark.
How did you get into poker?
I started playing four years ago. I watched it on TV. My dad taught me too.
Who are some of your favorite players?
Barbara Enright. She's the first woman to final table a WSOP main event. Marsha Waggoner, Vanessa Selbst and Scotty Nguyen.
Do you want to play poker professionally when you grow up?
Yeah, I would like to make a lot of money playing poker and become famous too.
What do your friends think about your poker playing?
They have nothing against it. They think it's pretty cool.
What's some of the best advice your dad has given you?
Always keep level headed and always be professional before, during, and after a game.
With advice like that there's no telling how far Fisher's star will rise.
Price Of Poker Going Up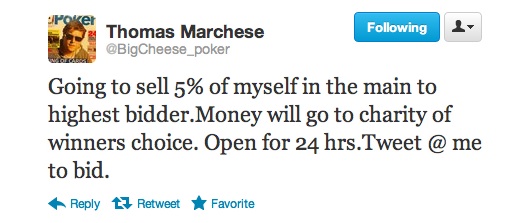 There's a bidding war going on at the moment on twitter for 5% of Tom 'KingOfCards' Marchese's action Main Event action! Marchese said that he wanted to auction of 5% of himself with the proceeds going to charity! He hasn't been short of buyers and the bidding is heating up!





To be clear, the value of that 5% is $500, but after last weekends One Drop poker players seem to be in a charitable mood! Or else, Marchese could be just that good...
Pius Heinz At Feature Table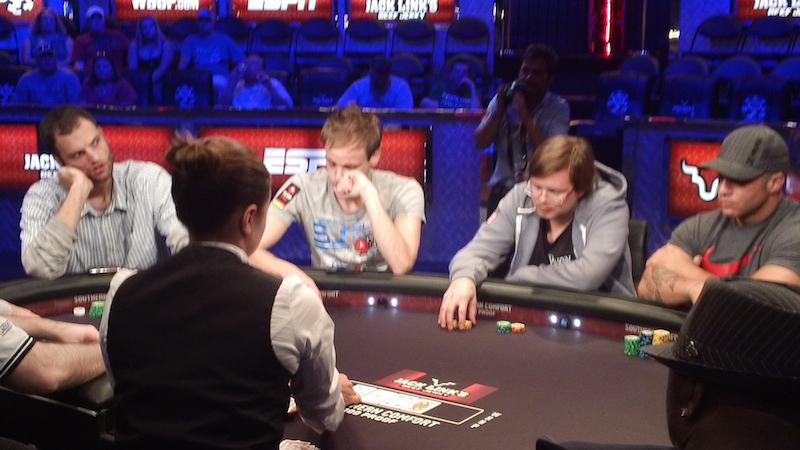 Team PokerStars Pro and reigning Main Event champion Pius Heinz is seated at the feature table in Event 61: $10,000 No-Limit Hold'em Main Event. It's familiar territory for the German pro. It's the same site where he won the 2011 WSOP Main Event.
When asked how he feels about playing in the same venue again Heinz said, "I think it's and advantage for me because I've played a lot of feature tables more than my tablemates."
Heinz is off to a slow start thus far but you can't count him out yet.
Tweet Of The Day
We came across this gem from poker pro Faraz Jaka's Main Event table:
Guy talks about how he wins tournies drunk. I order him"Adios Mother F*er"He LimpShoves 20k on button w/ 25o into my AA. #adiosmotherf***er

— Faraz Jaka (@FarazJaka)
Colorful Characters Of The Main
We snapped pics of the grinders with the most vibrant color schemes on our evening spin around the Event #61A: $10,000 No-Limit Hold'em Main Event today. Today's player count is 1,066 for the main, so we have plenty of to chose from, but the real party starts tomorrow when the Brasilia room frees up and the daily entries are likely to double.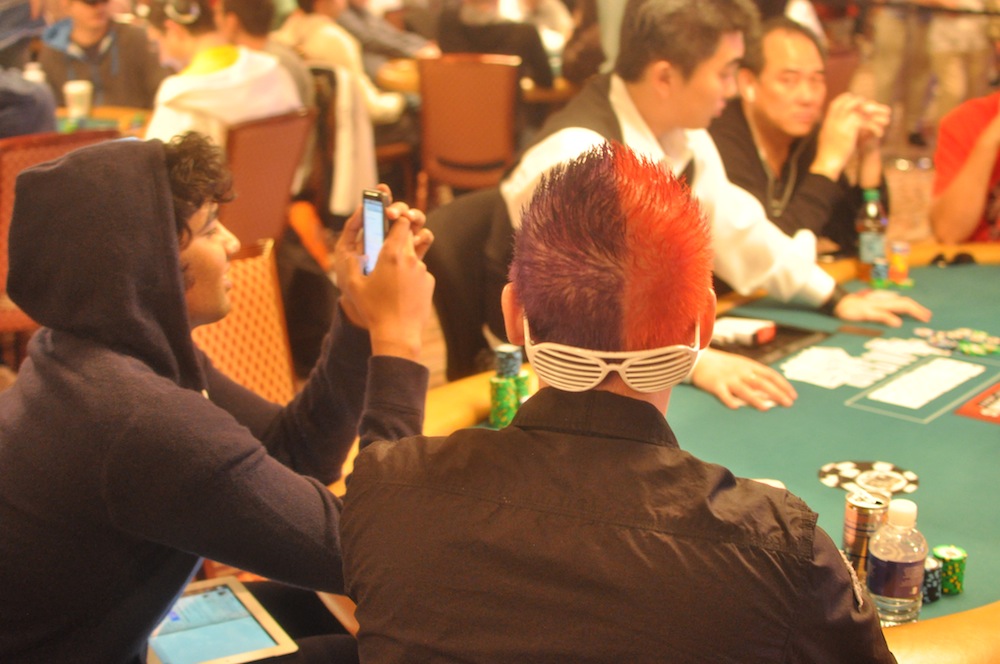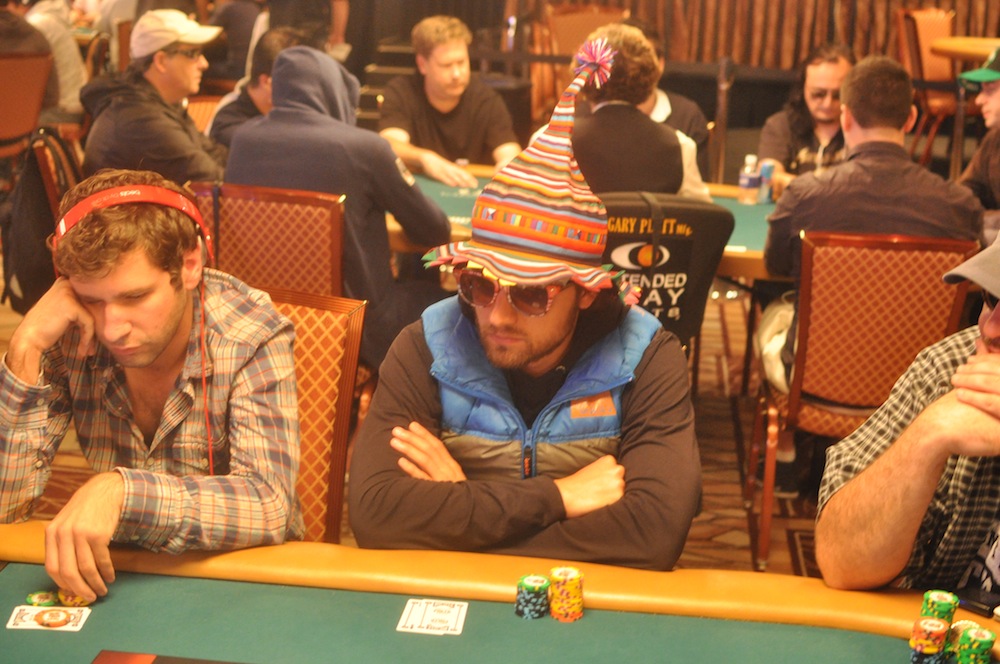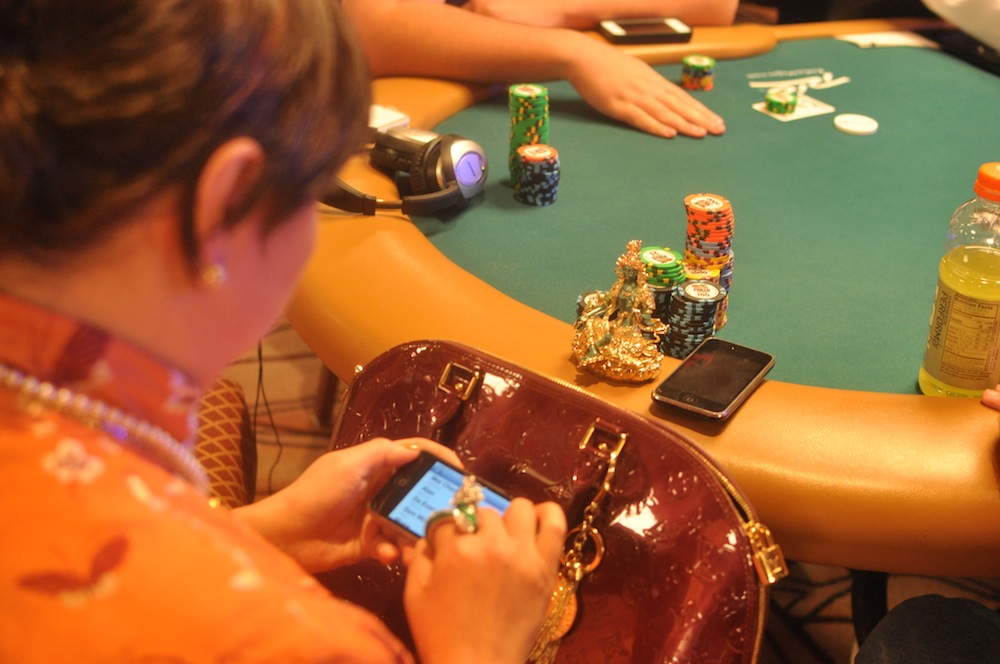 Poll
What Hindu God Does J.J. Liu Use To Protect Her Cards?
If anyone knows this fair play, because we certainly don't! We'll try to ask J.J. Liu later and find out!
Overheard In The Dealer Breakroom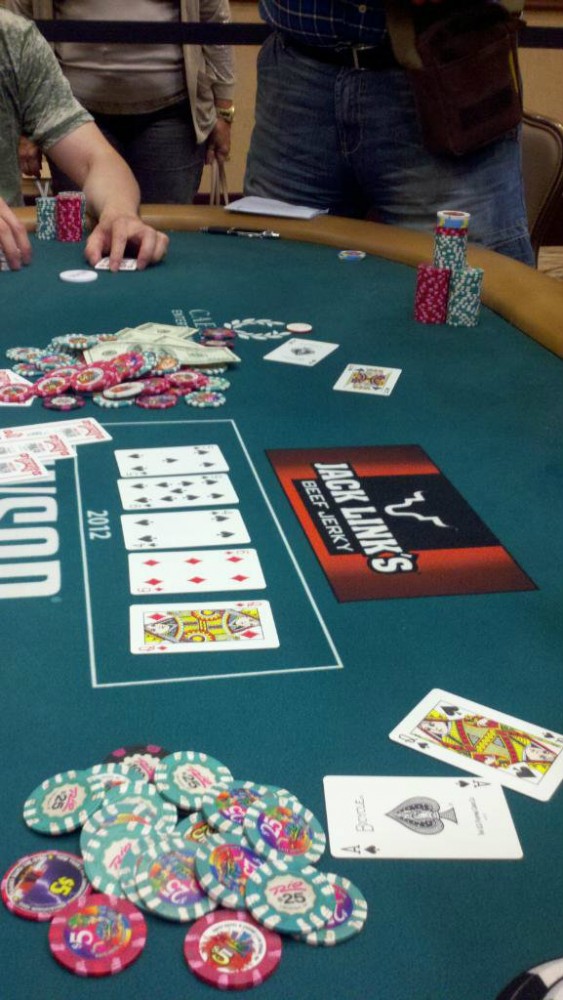 We heard some dealers in the breakroom talking about an interesting hand that was dealt in a 5/10 No-Limit Hold'em Cash Game in the Rio in the last few days. On the flop, two players flopped the nut flush. The hand went to the river and the players got all in, before flipping over
and
! The floor had to be called and the pot was split back up! When asked, the floor manager allegedly said this happened '4/5 times every year'. That's a pretty filthy slowroll with the nut flush!
The Three Hour Bubble
We caught wind that there was a three hour session of hand-for-hand play in the World Series of Poker National Championship. Here's what Eugene Katchalov said about the ordeal:
[TWITTER=" https://twitter.com/EugeneKatchalov/status/221789252550279170"] img=http://a0.twimg.com/profile_images/1360623362/eugene_normal.png nick=EugeneKatchalov name=Eugene Katchalov date=Sun Jul 08 02:14:13 +0000 2012 text=Just got to the money after an almost 3 hour bubble. I'm super short with 18left [/TWITTER]
The bubble finally burst minutes ago when Mitch Schock was eliminated in 19th place. With a three hours of hand for hand play, that must have been one of the most brutal bustouts in tournament history. Schock was eliminated when he shoved all in preflop with
and was called by Matt Keikoan's
. A queen on the flop ended the bubble and Schock's tournament.
Do You Do Porn?
Check out the latest tweet from Olivier Busquet. We found it pretty hilarious:
My taxi driver says to me, "u look familiar, do u do porn?"....uhh not exactly

— Olivier busquet (@olivierbusquet)
Busquet has made a few appearances on late night T.V. before (Poker After Dark), just not Skinemax.
Nap Time With Eric Baldwin
Tournament poker takes a lot out of you. We caught Eric Baldwin taking a nap OUTSIDE during his break in the Main Event.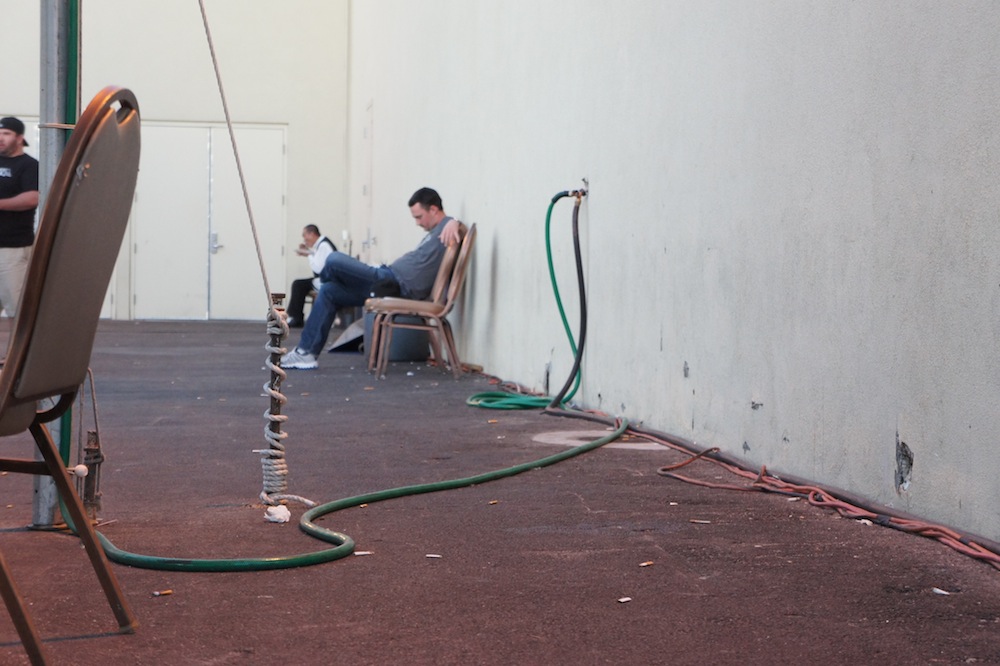 Might not be the best place for him to be taking a nap. We already saw a little sunburn creeping up onto his face.
How To Pass The Time
We saw this gentleman playing in the Main Event and he was trying to kill time between the hands by drawing pictures of his tablemates.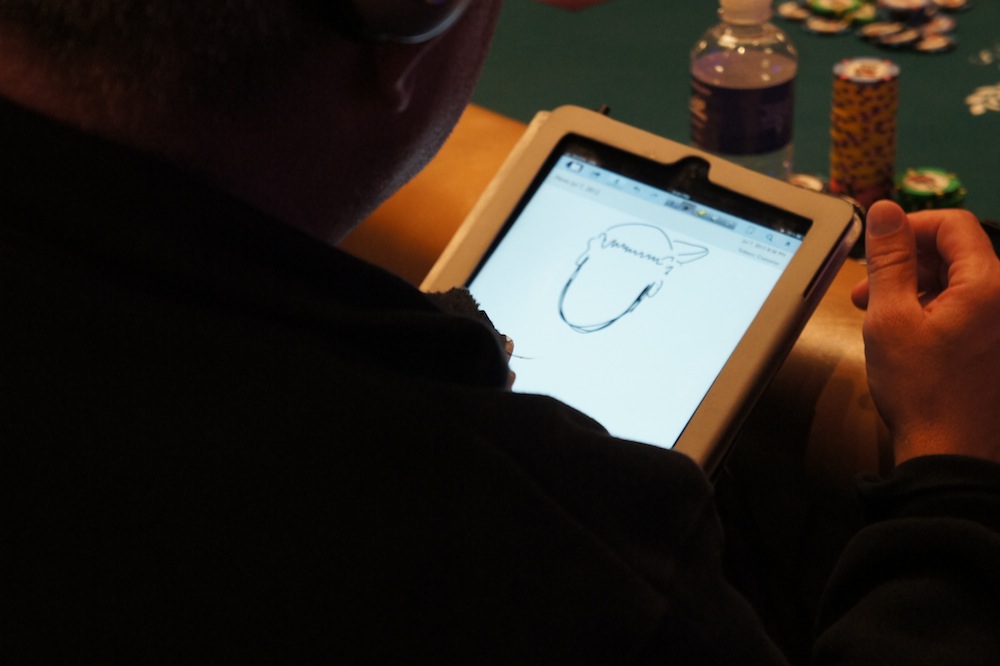 "You already missed all the good ones," the gentleman said to us. "I'll let you know when it's done."
Toupee Of The Year...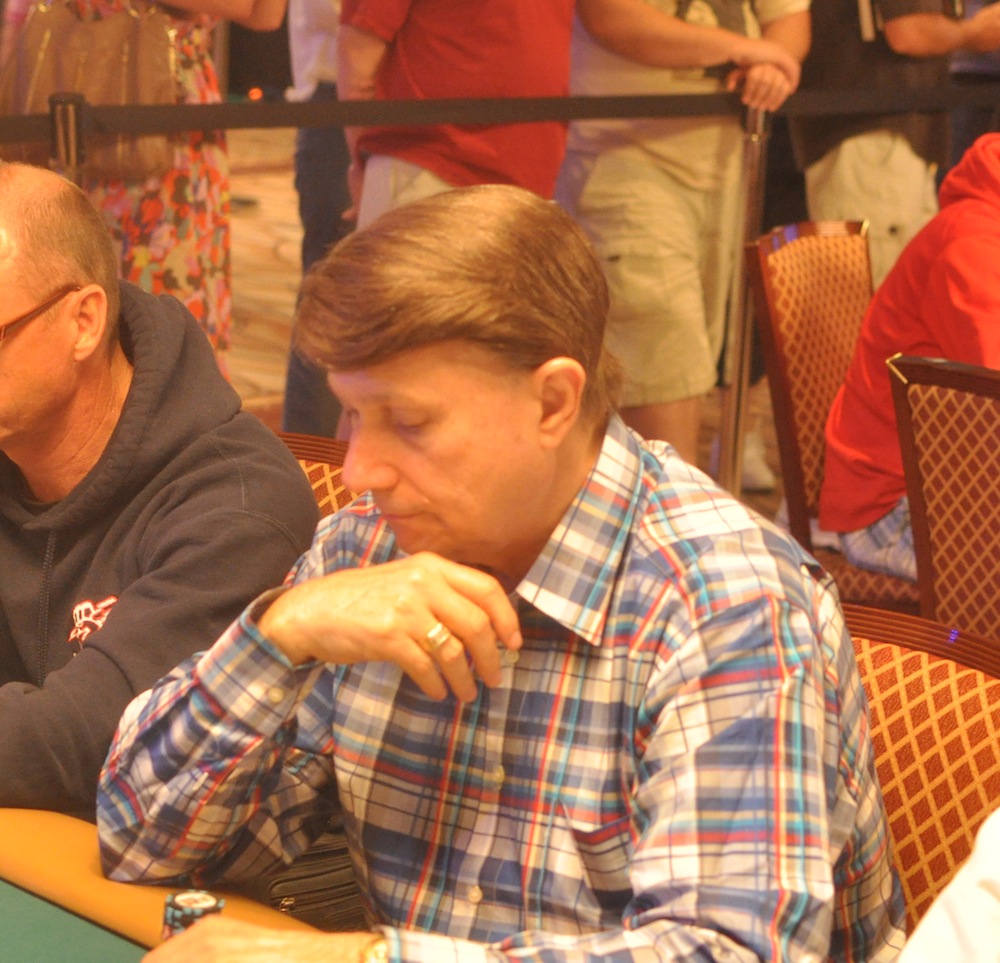 ... and it's not even close #NotNatural #ShinyTho
Canucks Represent!
In the field for Day 1a of the Main Event is Vancouver Canucks Goalie Roberto Luongo: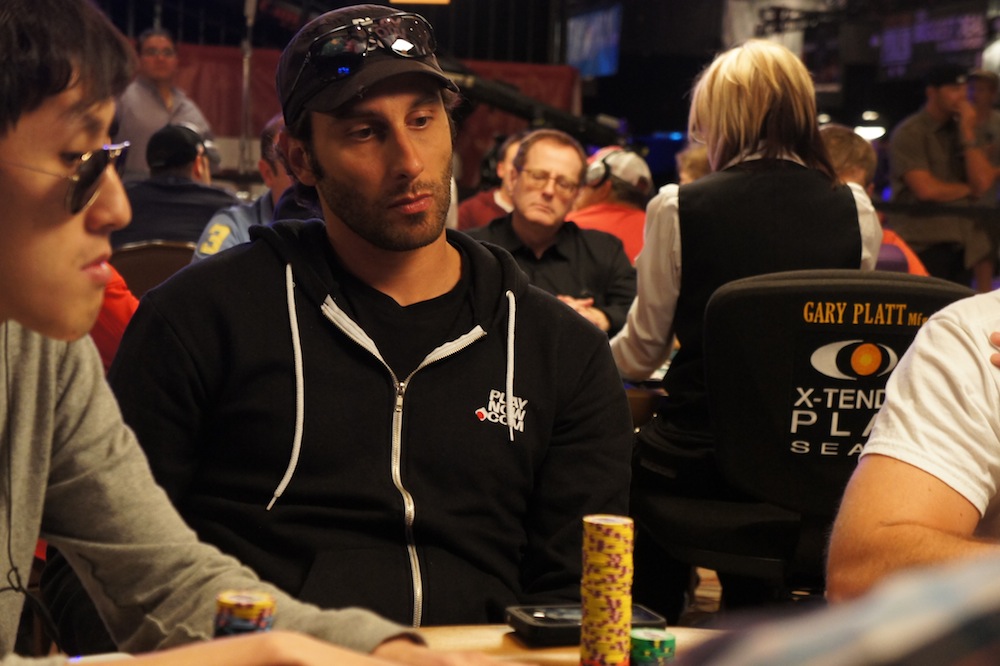 Luongo was the starting goalie for the Gold-Medal-winning Team Canada in the 2010 Winter Olympics and is the 17th winningest goalie in NHL history. This isn't Luongo's first time at the WSOP, having played in the NHL charity shootout in 2009. However, it is his first time playing in the Main Event.
The World Series of Poker Main Event has attracted its fair share of superstar athletes in recent years. Boxing great and former light-heavyweight champion Antonio Tarver took to the poker felt in 2007 and 2009. Mixed martial artist and former UFC great Chuck Liddell played in 2008. Paralympic athlete and gold medalist Marlon Shirley played in 2009. NFL Hall of Fame running back Emmitt Smith gave it a go in 2010. Legendary Major League Baseball pitcher Orel Hershiser took part in the Main Event festivites from 2008-2010. NBA All-Star Paul Pierce took a shot in last year's Main Event and is rumored to do it again this year.
Luongo has already built up a nice healthy stack of 80,000 chips on day one, and it looks like he's been blocking all his opponents shots. Unfortunately for Luongo, he doesn't have as many chips as his little brother Fabio, who is sitting only a few tables down. Fabio has already built up a stack of over 100,000. It's always fun to see some brotherly competition so we'll update you on their progress throughout the main. Sarah Grant is currently preparing for an interview with Luongo, so we'll be sure to post it here in All Mucked Up before the day is over.
Hats of the Day: Main Event Edition
The Main Event has attracted several colorful hats for the first day of play. The first hat we saw today belonged to this woman, who looked as if she was going to a funeral: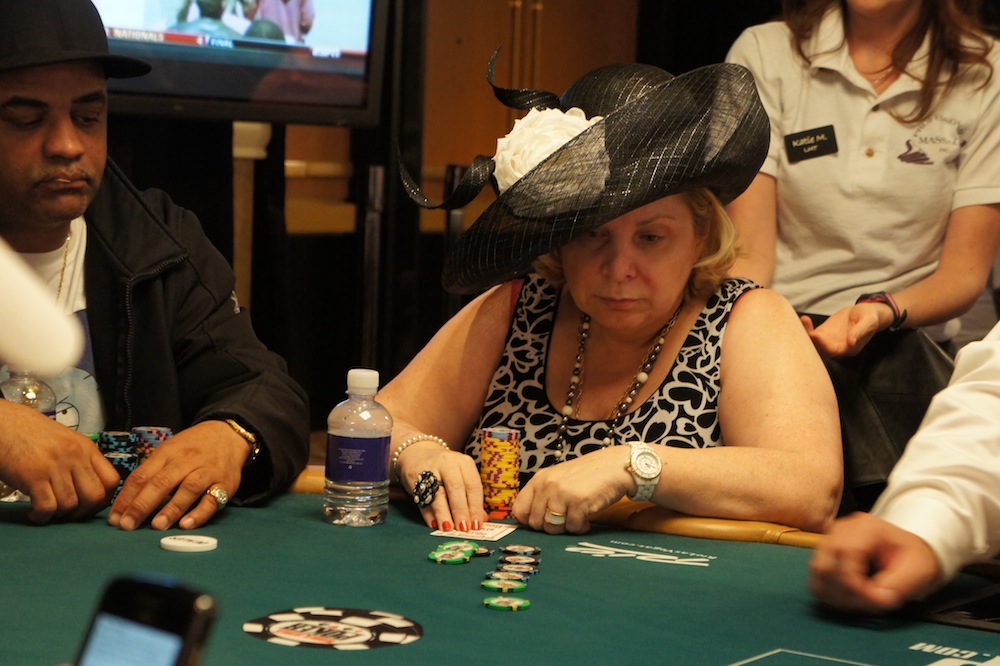 The flower and the size of the hat were a little too much for us, so we went back to what we know best: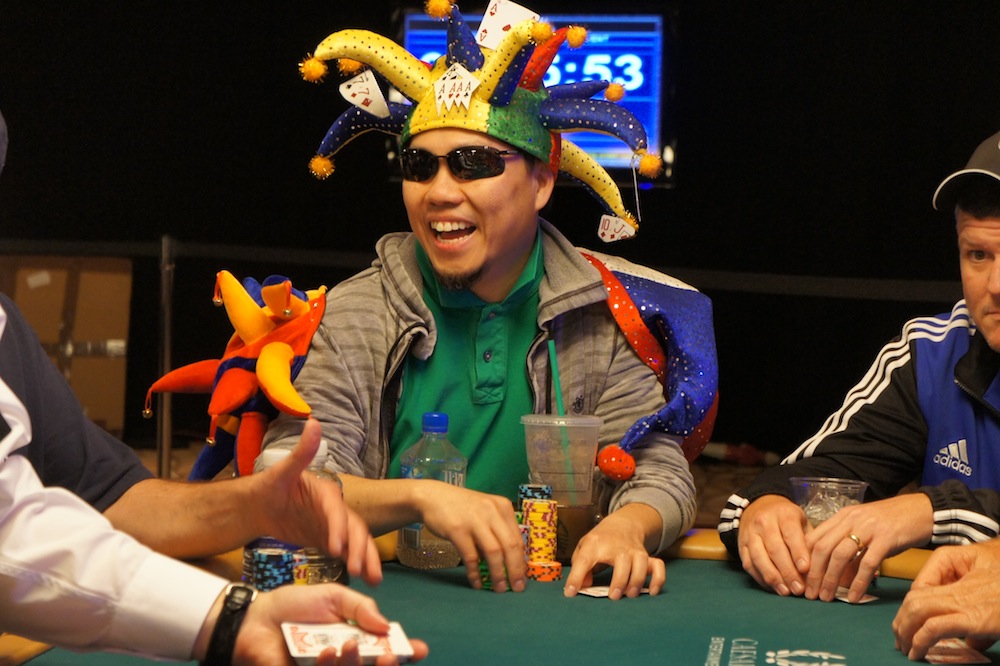 Kennii Nguyen decided to pull out all the stops today and wear every hat that we've seen him in so far. If he keeps this up, he'll have a lock on the Hat of the Year championships.
Main Event Madness: Side Events
Yesterday we brought you a little taste of the side events going on at the Rio, and today we'll do the same. Playing out tonight in the Brasilia room along side the World Series of Poker National Championship is a $550 Mega Satellite to the Main Event. 709 players entered the satellite creating 33 seats to the Main Event and a $7,265 prize for 34th place.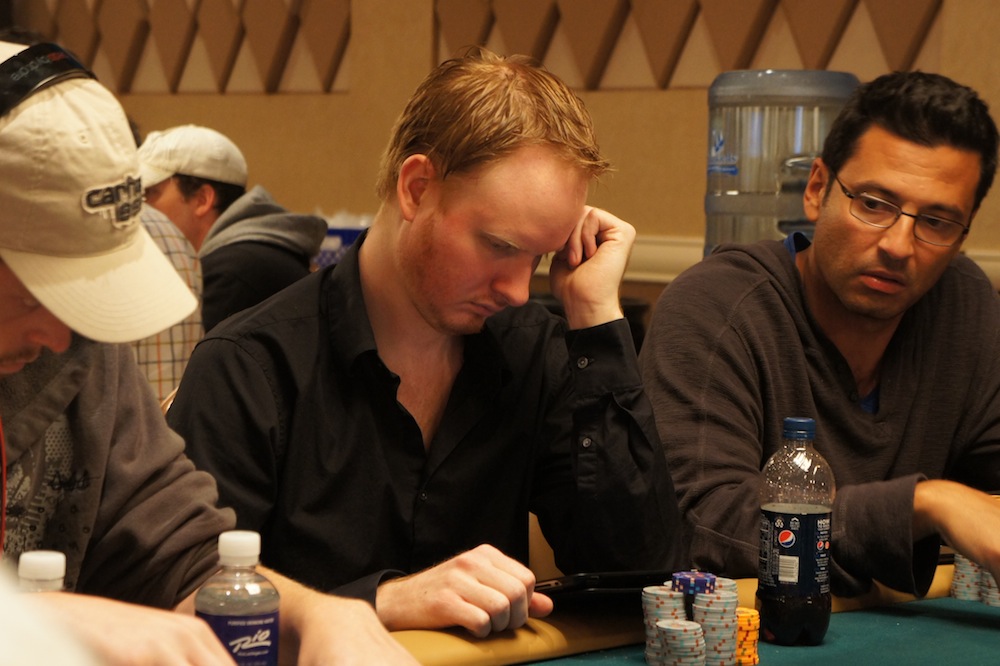 Among the players in the satellite was Jon 'PearlJammer' Turner, who looked poised to win a seat for the main event. We did not see any other notables among the field. We'll keep you posted with all the side action from the Rio and let you know who's playing in what.
Car of the Day
A stroll through the Rio parking lot this afternoon found this beautiful beamer: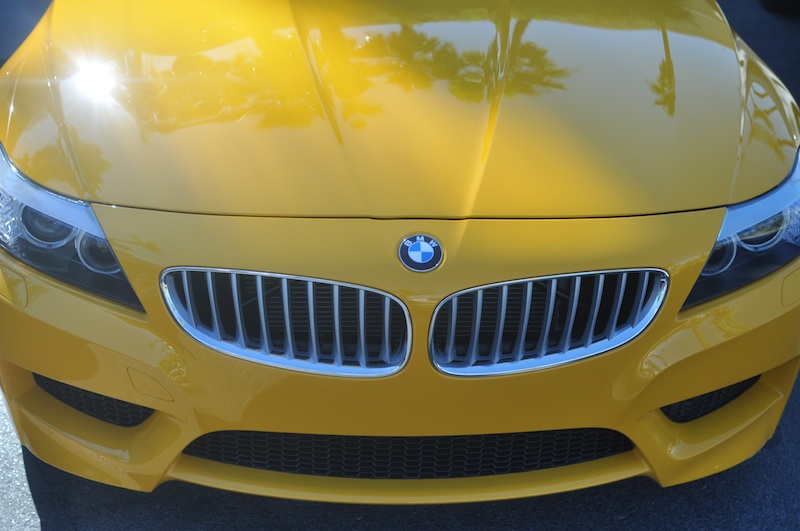 Check out that amazing yellow paint job. We wonder who it belongs to.
The Ferrari Chronicles
Speaking of cars...
We've mentioned the man who calls himself Ferrari several times in the muck. He's often been seen carrying a gold chalice, and we've also seen him with some interesting hairdos and hairdon'ts. But it appears as if Ferrari is pulling out all the stops for his appearance in the main event.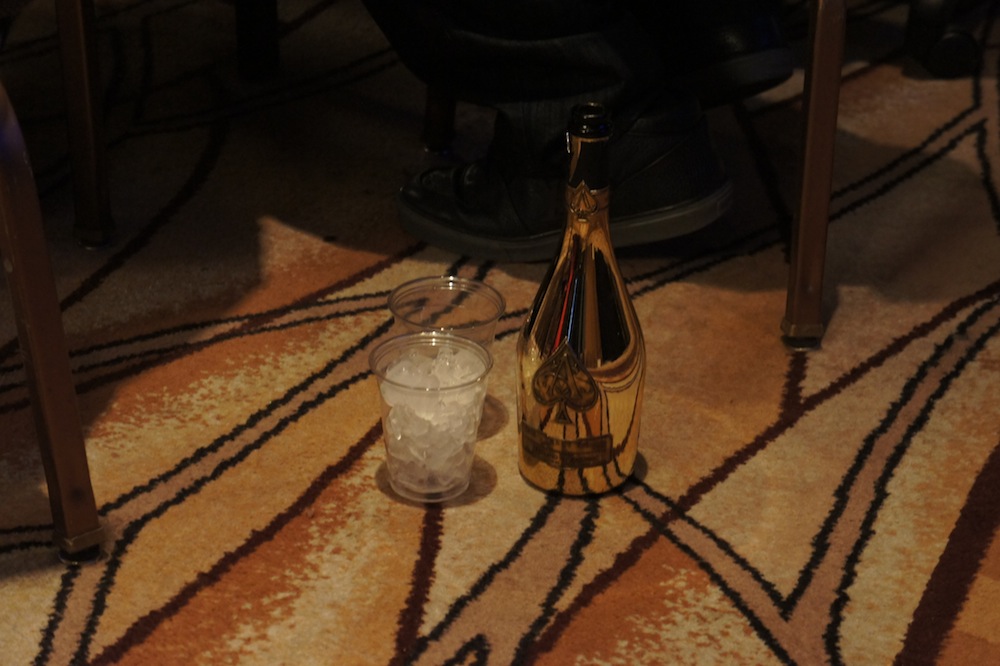 When we walked by the table we saw a bucket of water, which was used to house some ice, but had melted. On the floor next to Ferrari was a very expensive looking bottle of liquor. The bottle was painted gold with the image of a spade on the bottle. We don't know what it was, but we can assure you that it probably cost Ferrari a pretty penny.
Ferrari of course was drinking his happy juice out of another very expensive looking chalice. This one, of course, was blue, covered with what we assume were fake diamonds, and was see through.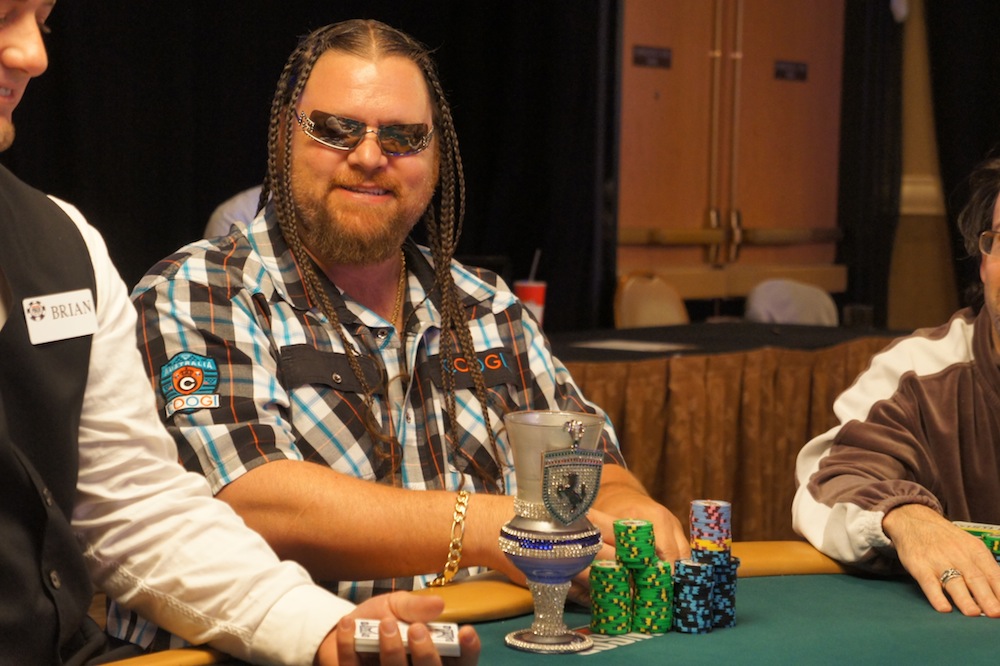 Also on the cup was his trademarked Ferrari logo. Talk about a boss. This gentleman has all the characters of what one would say is "True Swag." He didn't seem to have too many chips, but he still gave us a smile as we took a picture of him.
We encourage everyone to get involved with "The Muck." See something you think is Muck worthy Send it to the muck@pokernews.com. We accept all media including photos and videos.