All Mucked Up: 2012 World Series of Poker Day 45 Live Blog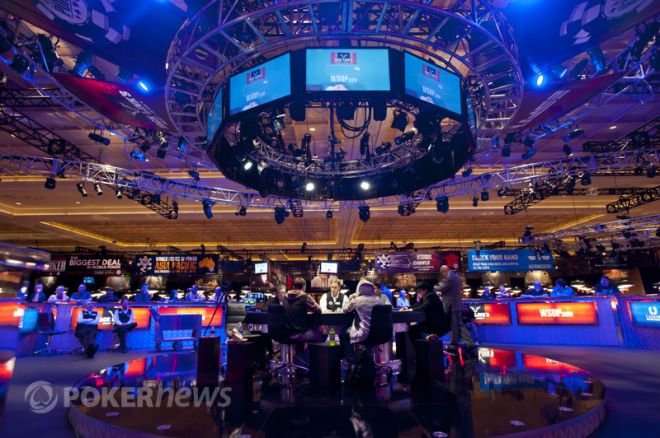 All Mucked Up is a live blog of all the stuff you want to know at the 2012 World Series of Poker, besides hand histories and bad beats. Well, we might add a few in here, everyone loves a good bad beat story — unless it happened to you. Check back often for polls, soundbites, celebrity sightings, and who knows what else!
The Morning Grind
This morning we saw a lot of familiar faces as players return from Sunday Main Event day 1C to play in day 2C today. Notable sighting are Jen Harman, David 'Doc' Sands, Ben Lamb, Jason Mercier and Prahlad Friedman. Today's chip leader is Randy Haddox with 188,275. He'll be hoping to catch tournament chip leader Gale Baumann, who has 505,800, by the end of the day.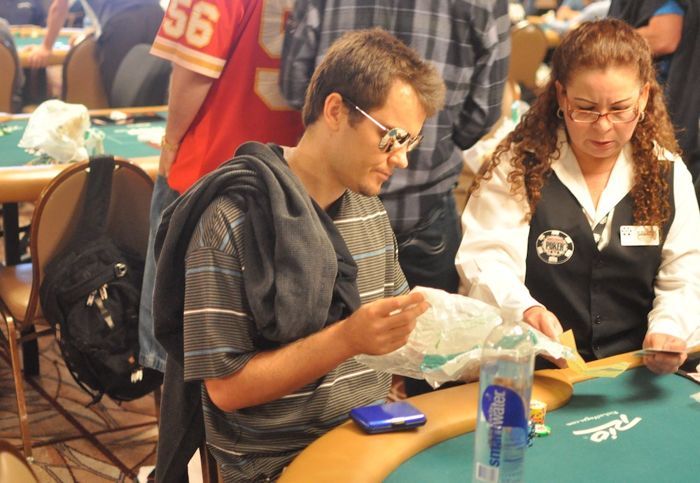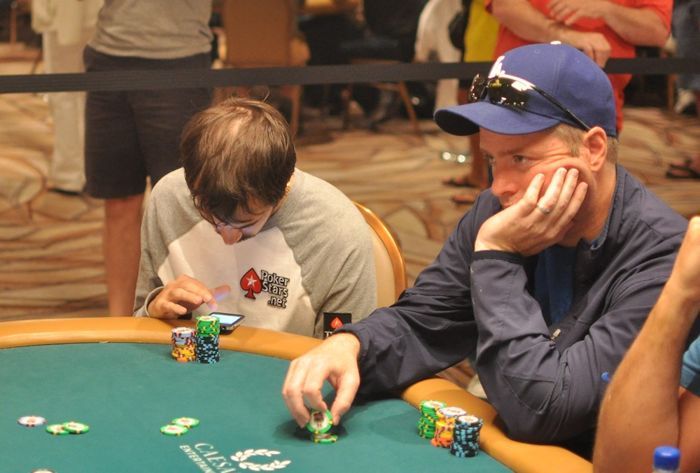 Also going on today is the final table of the 10k National Championship, which will be taking place on the main stage in the Amazon room at one o'clock. The sportsbook is not taking bets on the action today, but here's a summary of the 8 runners remaining and their respective chip counts.
Seat 1 David "ODB" Baker 281,000
Seat 2 Amanda Musumeci 322,000
Seat 3 Sam Stein 651,000
Seat 4 Huy Nguyen 331,000
Seat 5 Yung Hwang 1,224,000
Seat 6 Nikolas Stone 471,000
Seat 7 Matt Keikoan 957,000
Seat 8 Ryan Eriquezzo 474,000
Since there are no odds, we'll give you a chance to pick your favorites here in The Muck.
Poll
Who's Your Favorite?
Read more about the WSOP National Championship Here
---ReadMore---
Old School vs New School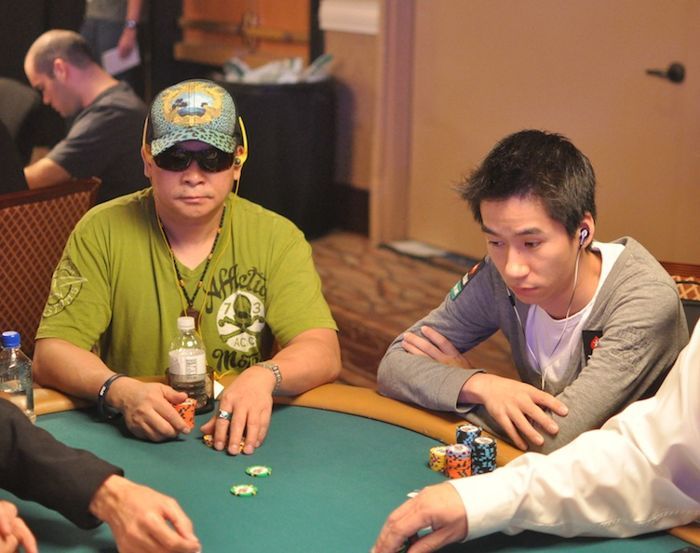 The World Series Of Poker is the one time every year that the internet kids get offline and have to look their older, more experienced opponents in the eye while they play. This is one of the main reasons the WSOP has been so intriguing in years gone by, and today brings us another good match up as Randy 'NanoNoko' Lew, perhaps the most famous online mutli-tabler in the world, sits next to 10 time bracelet winner Johnny Chan. Lew doesn't seem too fazed however, based on his recent tweet.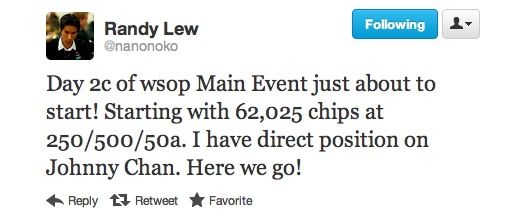 We'll try and catch up with NanoNoko on break and find out how he's dealing with Chan so far.
Meet Morten Mortensen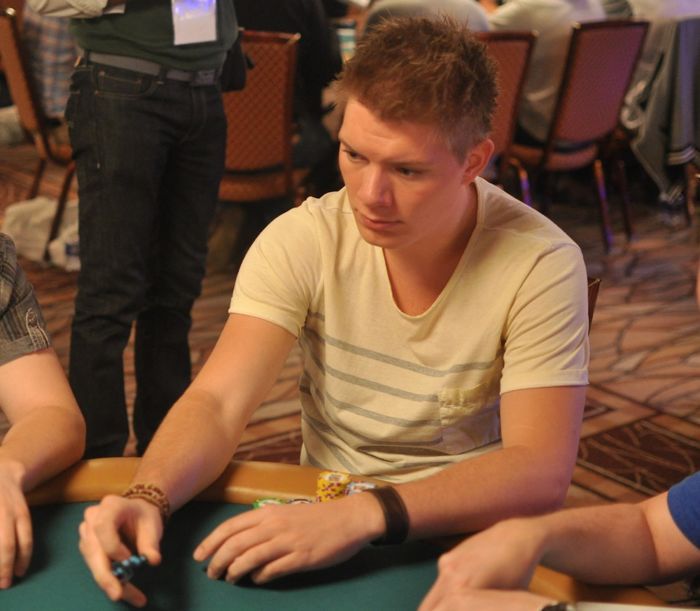 Morten Mortensen's interesting and unique name is causing all kinds of problems this week at the WSOP. For some reason, which we will try to investigate, Morten was listed as 'Juan Carlos Mortensen', a namesake of the former Main Event Champ. The problem is, the real Carlos Mortensen busted the Main Event earlier in the week, so when people saw the name on the list they assumed Carlos has re-entered - a big no-no! Fortunately it's all been straightened out by now, but after the Will Failla Re-Entry fiasco earlier in the summer people will continue to be on the look out for this!
Denmark born Morten Mortensen has had a good WSOP so far, even coming 4th in Event 41: $3,000 No-Limit Hold'em. He'll be hoping to be making the headlines for all the right reasons at the end of this year, at least topping last years run of 386th in the $10,000 Main Event!
A Walk Through The WSOP
We took a stroll through the 3 rooms of the WSOP to see what we could see - we brought a camera with us too!
We walked by Ben Yu's table. Ben is a friend of a Muck team here at PokerNews, and is a very receptive guy to talk to. He flashes us a smile as we got a picture of his sharp pink suit!
Here we see 'The Tuxedo Man'. At the adjacent table to Ben Yu, the Tuxedo Man is in direct competition with Ben for the Pavilion room's best dressed grinder.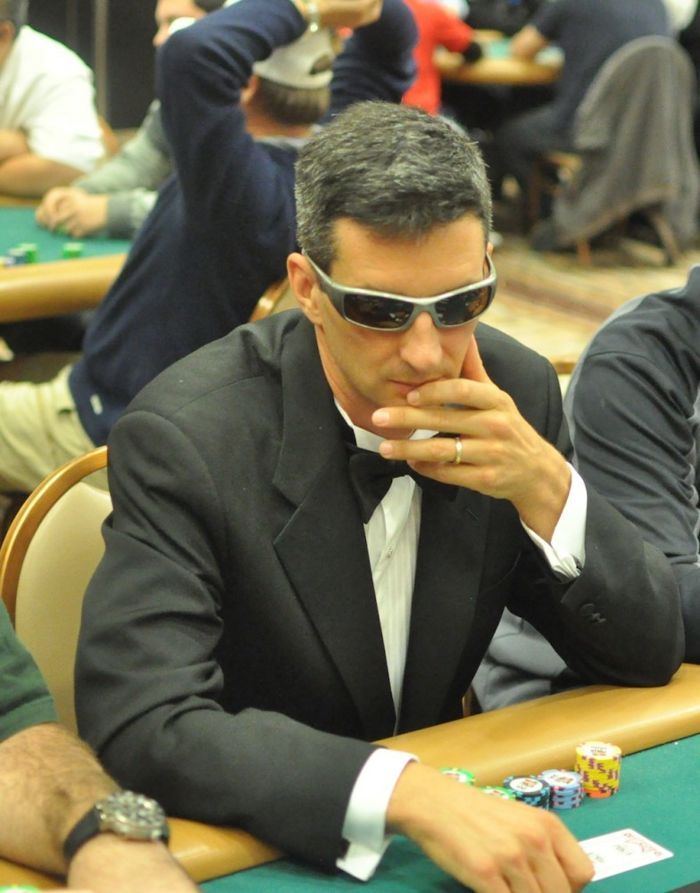 Also up there is this gentleman, who is nursing a pretty big stack and looks very pleased with himself to boot. He brought to mind comparisons 'Brother Muzone', the suited up hitman from Season 3 of 'The Wire'. He certainly has the same air of confidence, and the same potential to be a bully with that huge stack.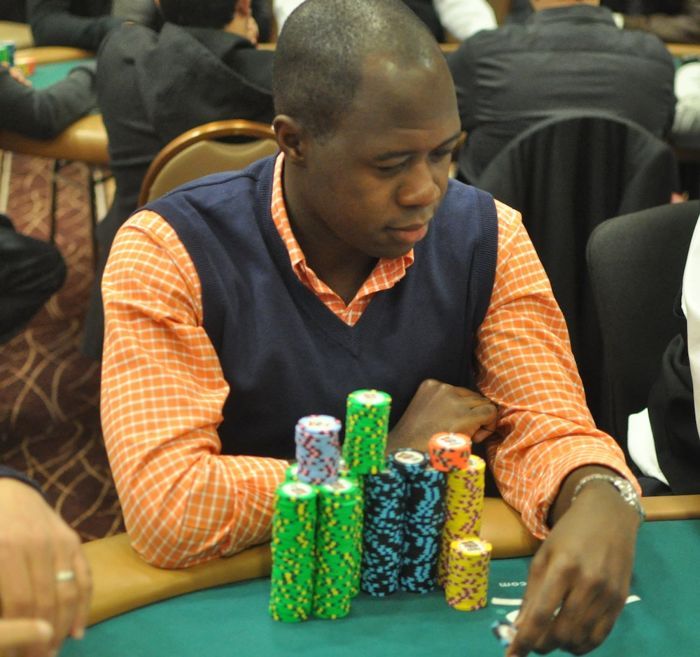 Check out this guy taking after Sammy Farha and relaxing with a huge, unlit cigar.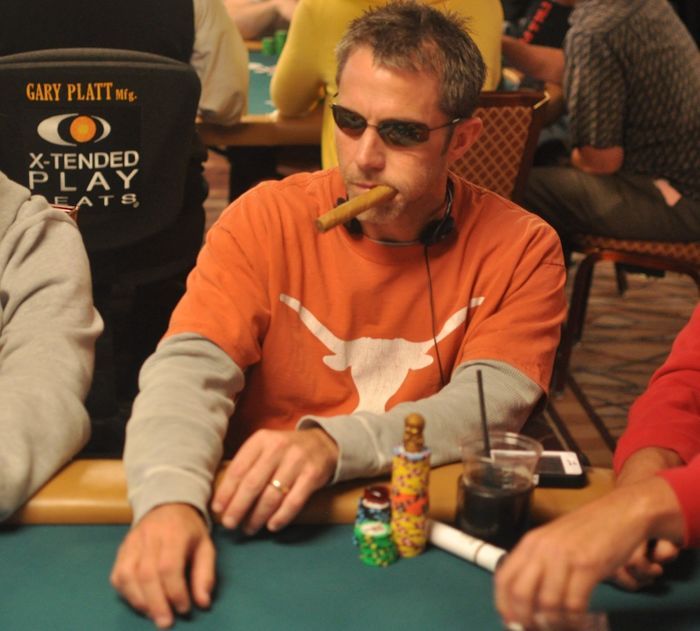 Finally, we saw this railer in his teams Hockey Jersey in The Brasilia room, presumably railing the man on the left in the green shamrock hat.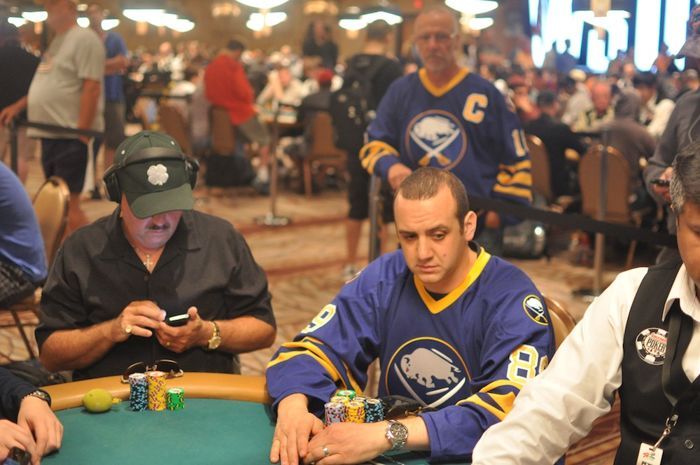 So I say's To The Guy, I Say's...
Phil Laak is at his most relaxed today in the Main Event. He looks more like he's gossiping as a salon than playing the worlds biggest poker tournament!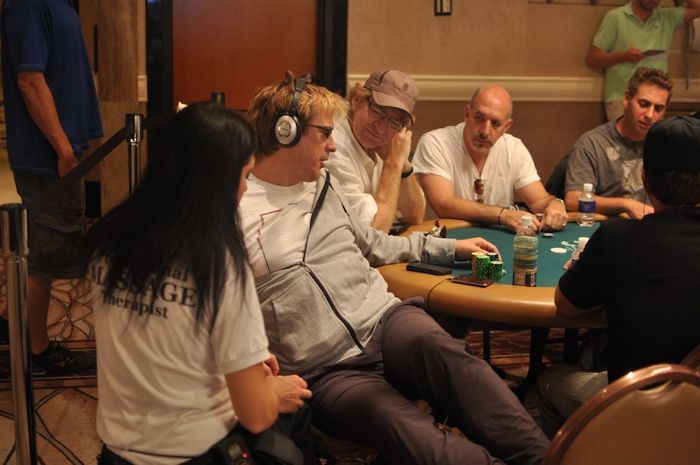 ---ReadMore---
On Break With NanoNoko and Cole South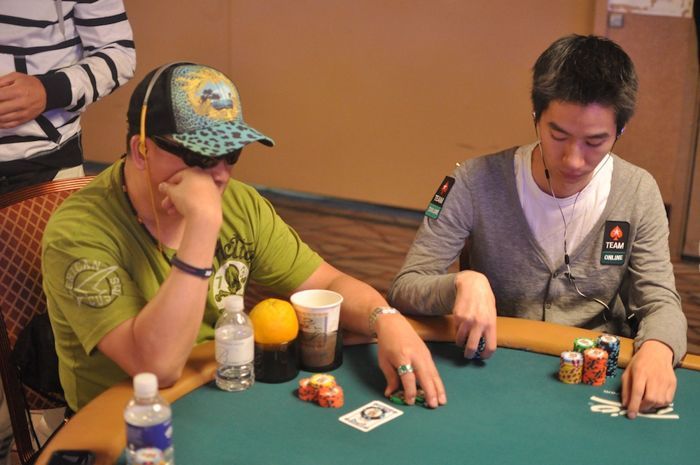 We caught up with Randy 'NanoNoko' Lew on the first break of the day today to find out how he's finding playing with Johnny Chan.
"Well Johnny Chan's a legend, I really admire him - and I liked his film 'rounders' too! He plays pretty tight and solid from what I can tell so far. He asked for a scramble though! So I think that means he's getting bad cards! It was pretty funny to see that."
"I haven't really played any hands with him yet. He raised my Big Blind from the Small Blind one hand and I called just to see him check/fold on an 8 high flop. He's a dangerous player but we haven't crossed paths much so far."
We also spotted Cole 'CTS' South walking through the Amazon room on break. Cole is a legendary nosebleed cash player, and co-author of one of the most expensive E-books ever, the $1, 900 'Let There Be Range'.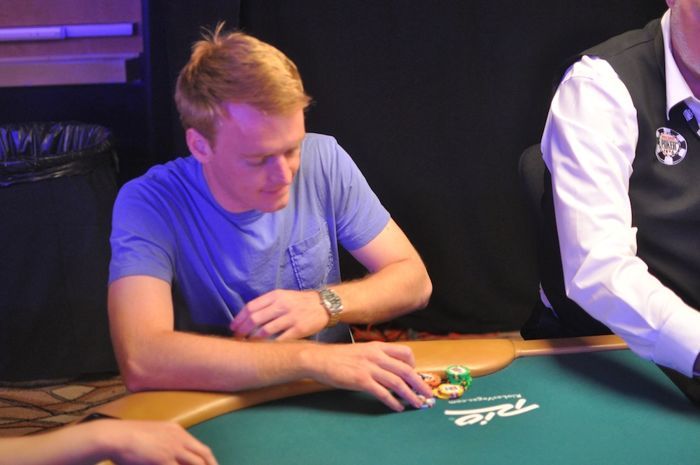 How is your day going so far Cole? Anyone you recognise at your table?
It's been going well, nothing too exciting and no big pots. I have 31k and I've chipped down a little bit today. I just got moved a few hands ago to a table with the twoplustwo author Matt Flynn at it, so he's probably a good player.
You're known as a nosebleed online grinder, what have you been doing since Black Friday?
Well finishing school is my major accomplishment [Cole attended Georgetown University in Washington DC]. I've been concentrating on that mostly. I had to go to summer school actually, so it cut into my World Series Of Poker this year, but I'm here now. Other than that I've been concentrating on business, I'm involved in a few start-ups including Draft Day with some friends like Taylor Caby and Brian Hastings. That's been interesting. As for poker, I have a place up in Montreal so I go up there whenever I can and grind it out.
You're known primarily as a cash player, and as a very loose and aggressive one at that. How do you adjust in tournaments?
Well, don't tell anyone this [Sorry Cole, but we're printing this minutes later] but I play pretty tight in tournaments. I have less experience playing live and in tournaments than the majority of people out there, so I think the answer is to play tight. I have a very aggressive image from my online background, so I think that can help at times, but really I'm not sure how often I get recognized. It's hard to tell.
Dinner With Schmucks
Well, we've been looking for him all summer with no avail, but it appears that a twoplustwo user may have finally cracked the case. Recently, this photo has been floating around the internet and many people believe that it may be Tom Dwan having dinner with none other than Howard Lederer, that man that everyone has questions for.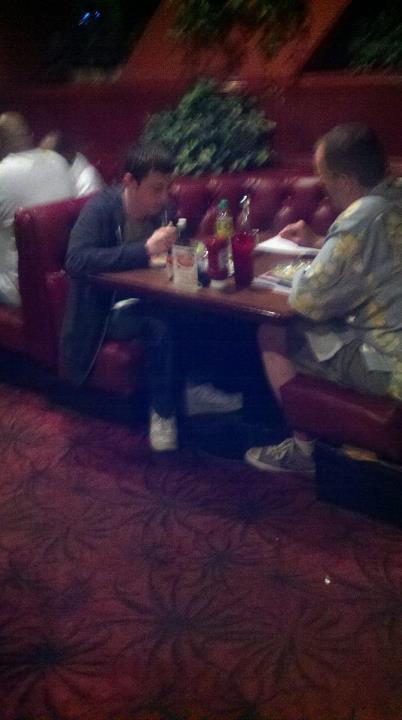 Certainly we can tell that the man facing the camera is Tom Dwan, but who is the gentleman facing away form the Camera. It certainly looks like the shape, size, and hairstyle of Lederer. The dinner was supposedly taking place in Ellis Island. Could it be Lederer? Post any opinions you have on the photo in the comment section below, and let us know what you think in the poll.
Poll
Who is Dwan Having Dinner With?
Dogs Playing Poker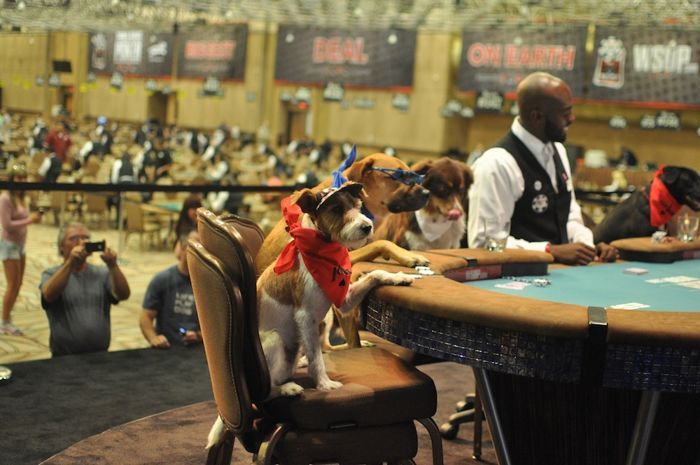 Ok, so not the most creative titles, but if it's good enough for C.M. Coolidge, the artist who painted the original 'Dogs Playing Poker' picture, then it's good enough for The Muck. We heard something of a recreation was going down today on the stage in the Pavilion room, so we went and checked it out. After meeting up with our friend Shaun The Dealer, who was also involved, we got up on the stage, met the dogs, and took some snaps. Check it out!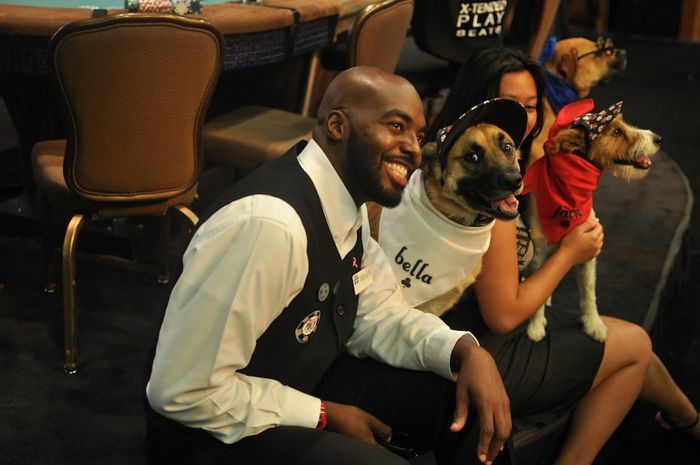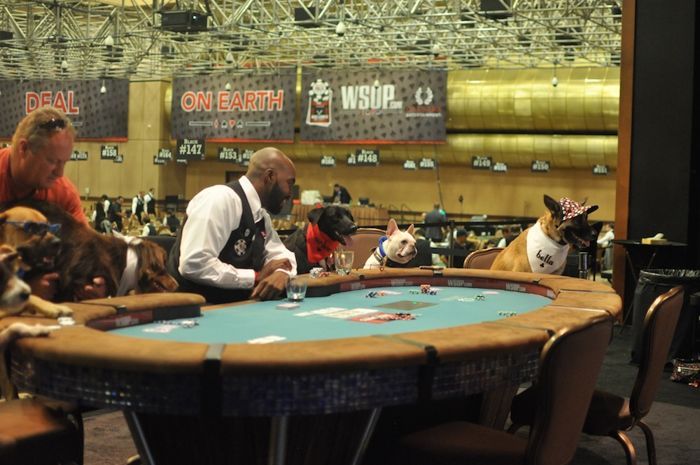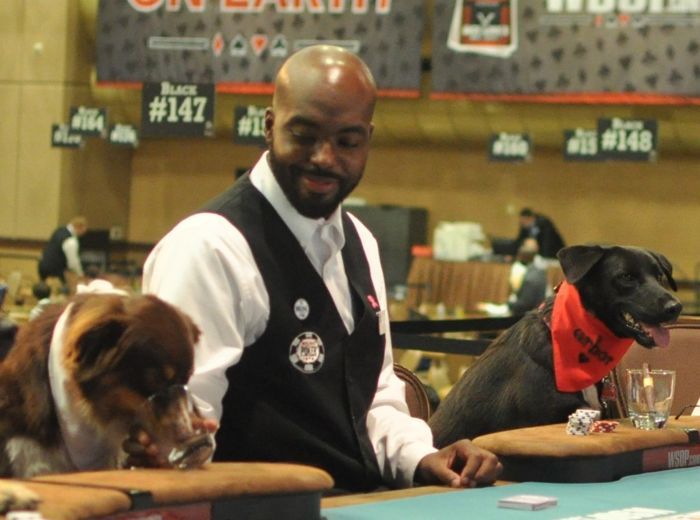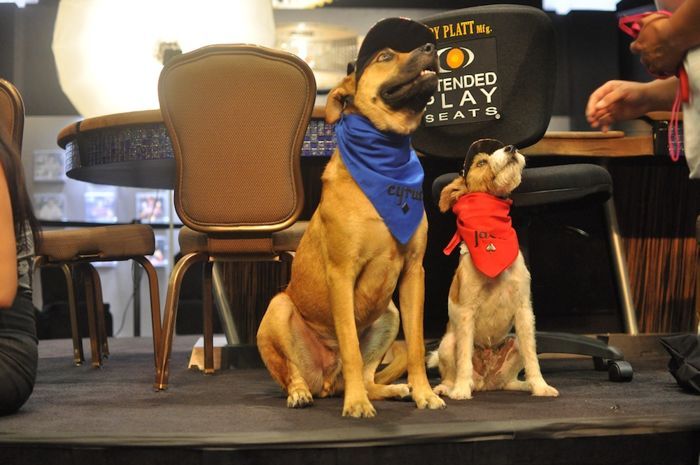 Table of Death
It's not often you find a table so stacked in the main event on the first few days, but we've finally found one here on day 2C. In a field of starters, Johnny Chan, Randy Lew, Shannon Shorr, Lee Watkinson, and Andy Frankenberger have all managed to find their way to the same table.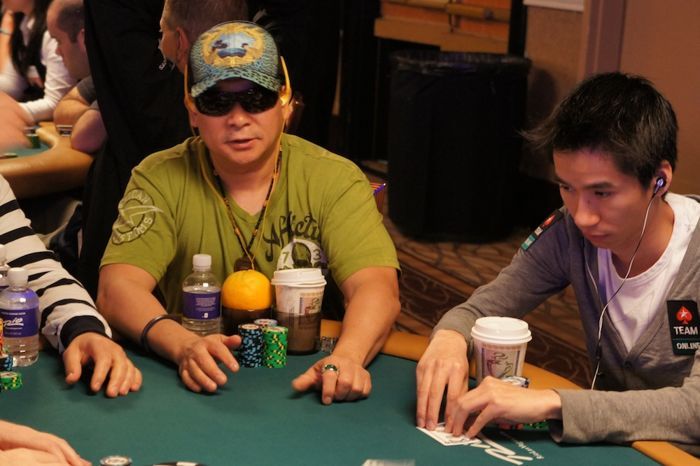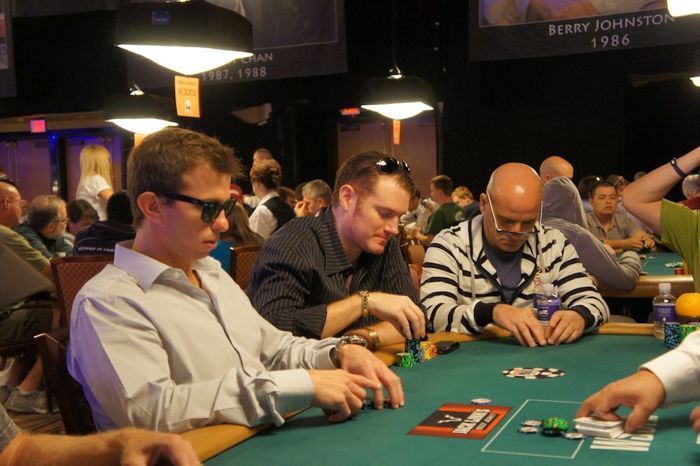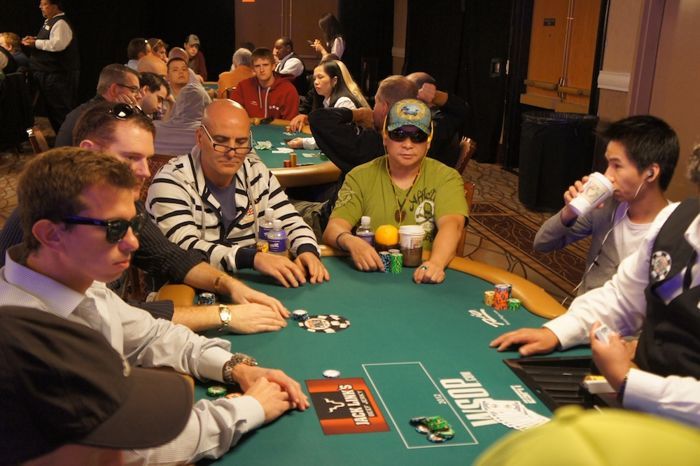 Combined these five players have around $18,500,000 in live winnings. Chan bringing in the most with his $7,000,000 in winnings and Lew bringing up the rear with around $800,000. Lew might be on the bottom of the totem pole in terms of live life time winnings compared to these older pros, but Lew is very young and possesses more chips than anyone else at the table. We will make sure to keep an eye on this table to see who comes out on top.
Phil Galfond On Fire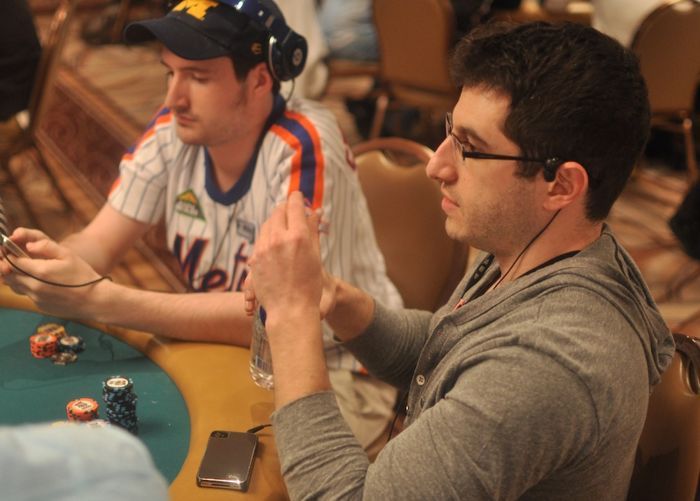 Phil Galfond is in top form today, hitting us with golden tweet after golden tweet! We're going to go brave the casino floor now and try to get a pic of the psychic at his table! Here are some of his funny tweets from the day.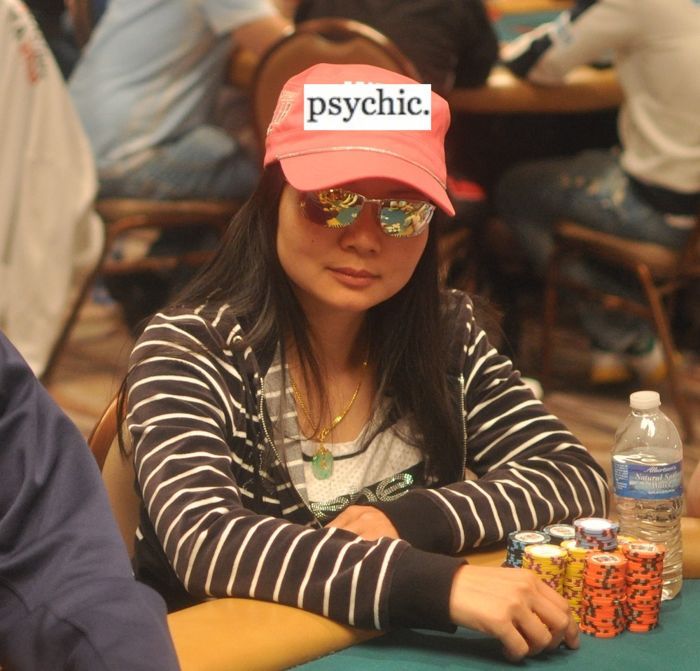 WSOP National Championship
The Main Event continues to be the big story here at the Rio, but the WSOP National Championship is center stage in the Amazon room right now.
Many of the players, in lieu of the $10,000 buy-in, earned their seat by accumulating enough points through the WSOP circuit. Only four players remain: Nikolas Stone, Huy Nguyen (2011 Caesar's Poker Classic Main Event Champ), Matt Keikoan (WSOP POY Qualifier) and Ryan Eriquezzo (2012 Caesars AC Main Event Champ).
These may not be household names, but make no mistake, they're players to be reckoned with.
ESPN is shooting the final table and will broadcast it on August 7th.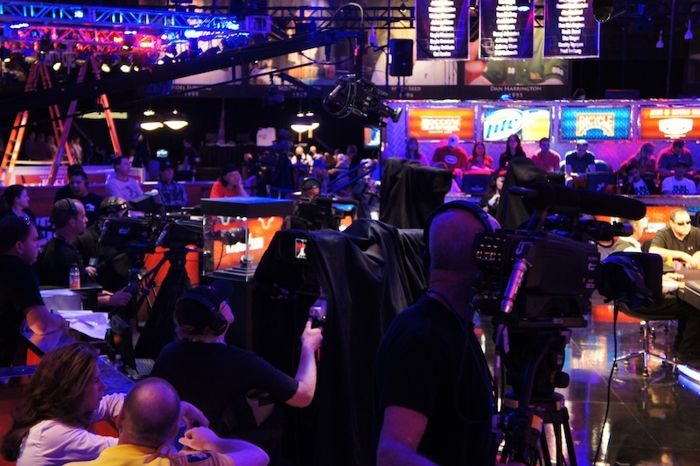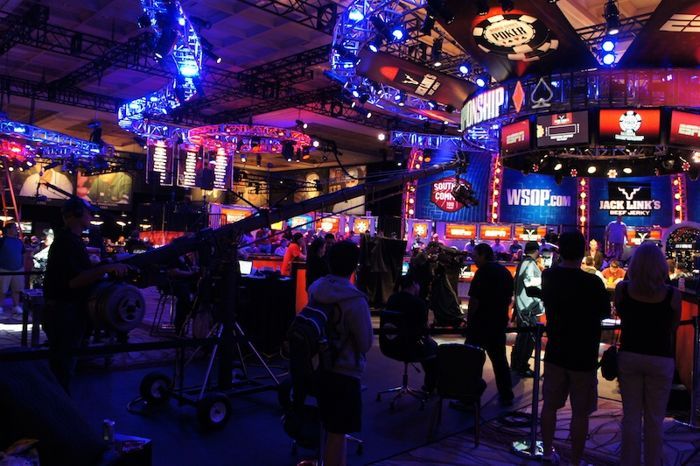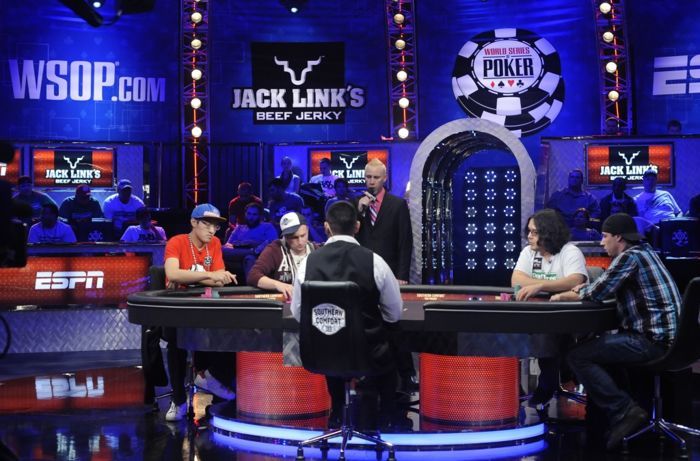 WSOP National Championship: Heads Up
Nikolas Stone and Ryan Eriquezzo are now heads up for the bracelet and the $416,051 payday after Huy Nguyen's
failed to hold against Eriquezzo's
after a
flopped, sending Nguyen to the rail
Here's Eriquezzo rail celebrating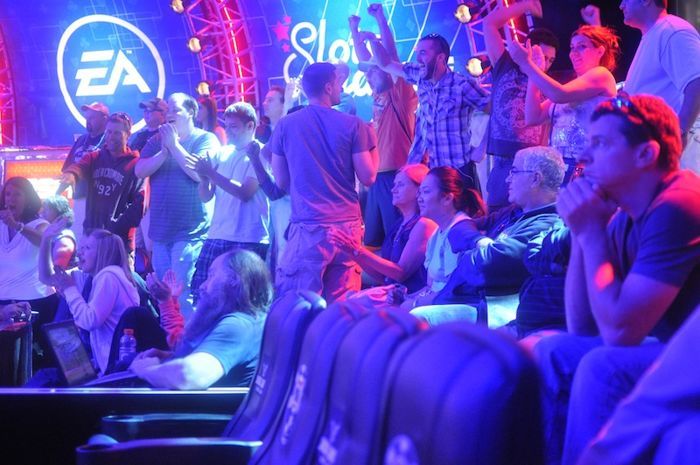 A dejected Nguyen exiting the Amazon, but he'll still be taking home $186,265 for his efforts.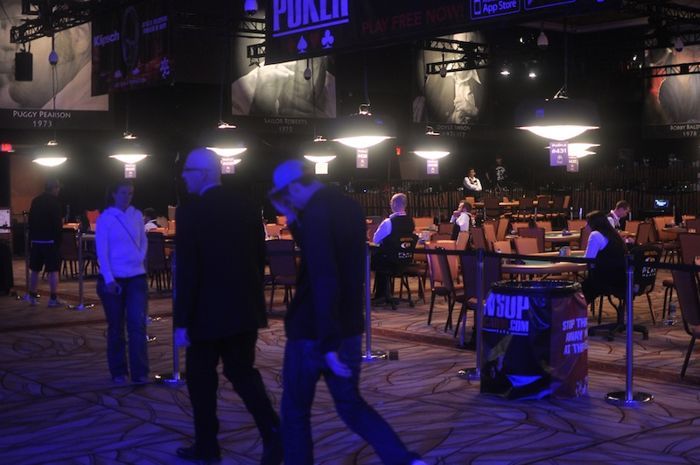 Fashion Faux Pas of the Day: Main Event Blunders
We were only able to quickly catch a pic of these two gentleman, but they were definitely two of the worst dressed that we saw all day. Both gentleman had on matching pairs of bright orange shoes, and one of them was even sporting khakis to match.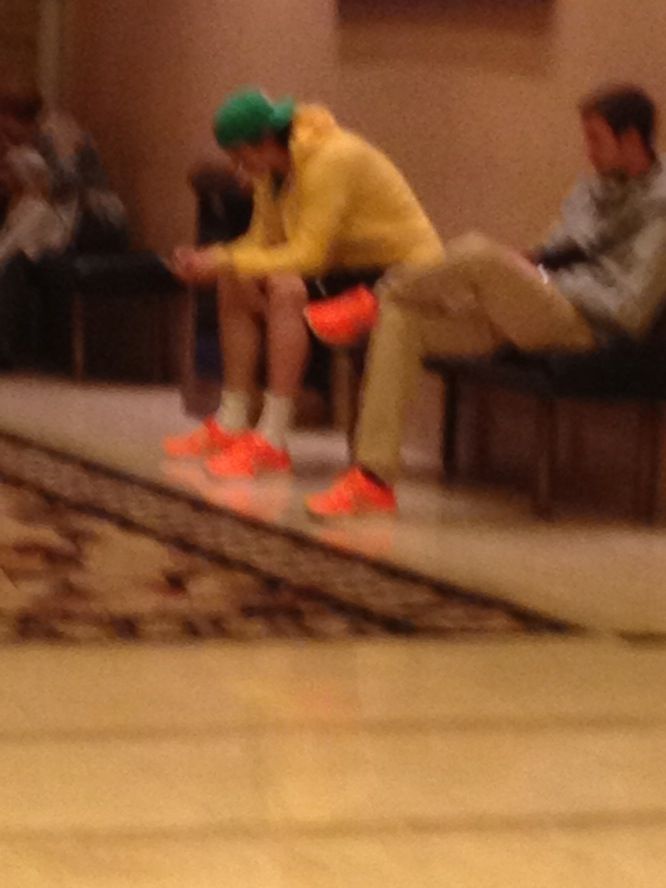 Maybe it's a European thing that just hasn't caught on here in American yet. Either way, this fashion trend isn't something we will be partaking in. Hopefully they are just wearing the shoes for luck, and not for style.
Drinks With Dannemann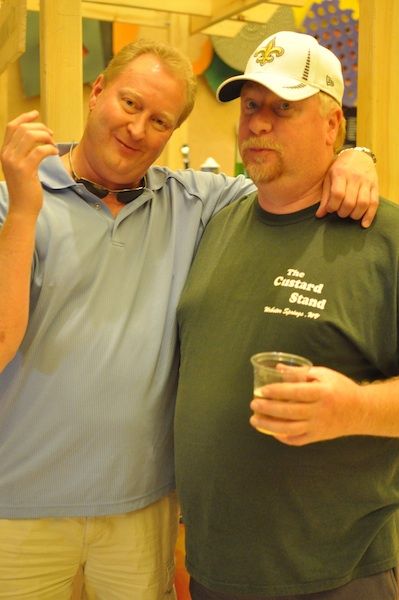 We ran into Steve Dannemann, at the Blue Moon bar in the hallways of the Rio. He was in a jovial mood, hanging out with his friends while enjoying his share of alcoholic beverages. Dannemann gained notoriety for his runner up finish to Joe Hachem in the 2005 WSOP Main Event. Poker fans gravitated to Dannemann for his gregarious personality and modest attitude at the tables. Those same qualities are still present in him; we witnessed Dannemann taking time to talk and pose for pictures with several fans. We had a chance to catch up with him for a quick chat.
Did you play the Main Event this year?
Yeah, busted out 1st day. Quite honestly it's (poker) so boring. I have more fun in home games with friends
Did your second place finish in WSOP take away the enjoyment out of the game for you?
No, it's always been that way. I more interested now in buying a mold-infested house and turning into a palace and selling it. I'm coaching a friend of mine though, who is going into day three. Her name is Dawn Lucarilli.
What advice have you given her?
Play really tight and if some puts you all in and you have AA then fold. You're only an 82% favorite. You'll have more opportunities, just like in life (This elicited laughter from his friends).
How have you seen the game change since 2005?
It's a lot tougher. I'm definitely behind the curve. (His friend echoed that sentiment "ha-ha you can say that again).
Will we be seeing more of you this week?
Oh yeah, I'll be around all week, so if anybody wants to say hi--come on over!
Evening Stroll Patrol
We took our nightly evening stroll thought the Brasilia and Amazon rooms to see what interesting sights we might encounter.
Here's Nick Schulman flipping a toothpick in his mouth with acrobatic-like precision.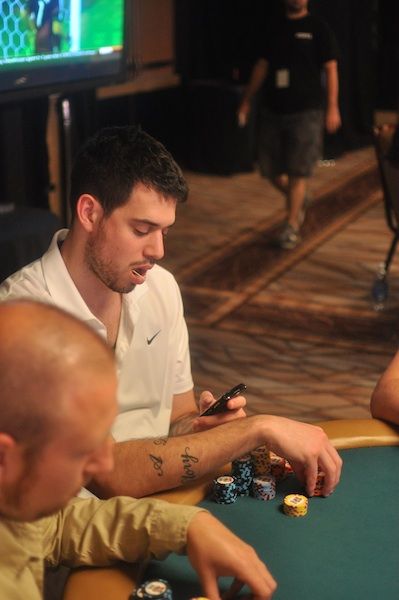 Maybe the alligator protects his hands from being drawn out on the river.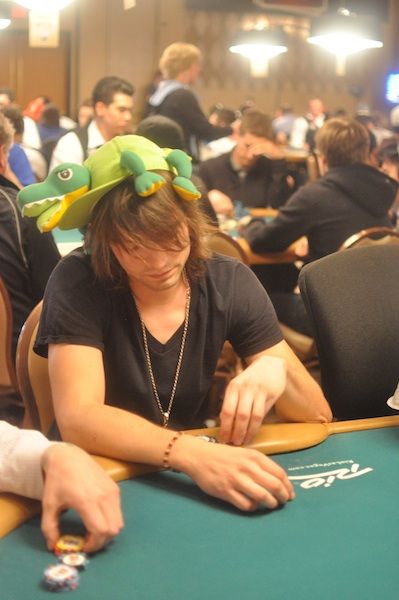 Straight outta Compton!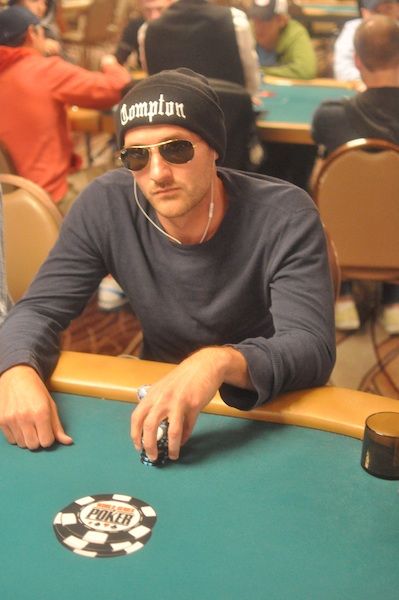 This player is doing his best to grab the checkered flag with his patch-riddled jacket.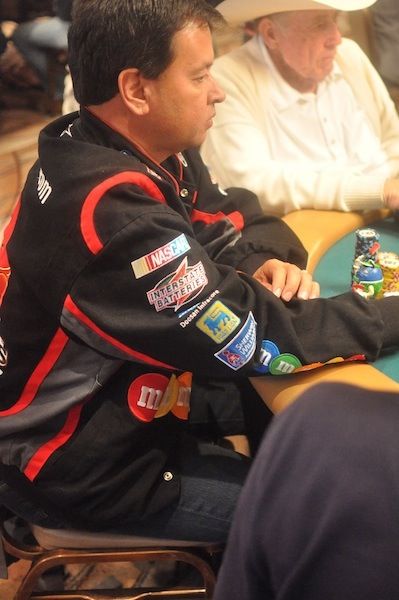 The Magic Man At It Again
We came upon a crowd of railbirds chirping away in the corner of the Amazon. As we made our way, we discovered, One-Drop champion, Antonio Esfandiari chatting it up with his tablemates. He has a good stack going as well. Will he make a deep run in the Main Event, on the heels of his $18 million dollar payday?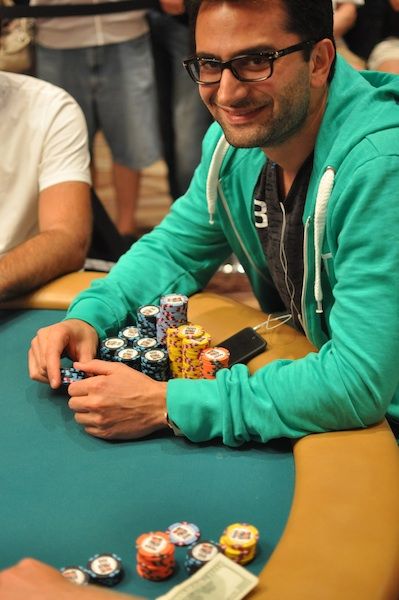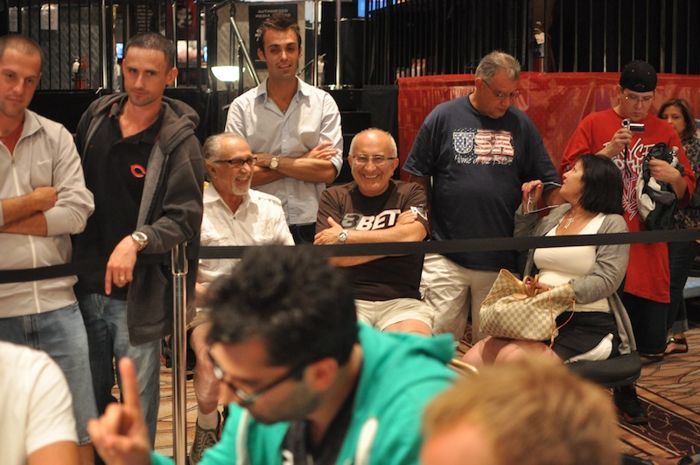 We encourage everyone to get involved with "The Muck." See something you think is Muck worthy Send it to the muck@pokernews.com. We accept all media including photos and videos.