All Mucked Up: 2012 World Series of Poker Day 46 Live Blog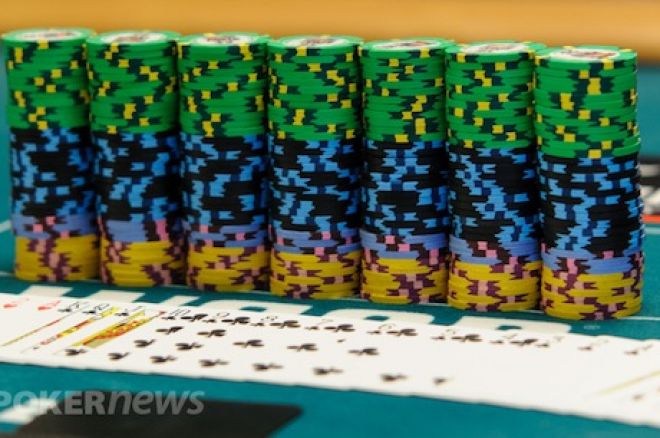 All Mucked Up is a live blog of all the stuff you want to know at the 2012 World Series of Poker, besides hand histories and bad beats. Well, we might add a few in here, everyone loves a good bad beat story — unless it happened to you. Check back often for polls, soundbites, celebrity sightings, and who knows what else!
Early Sights at the Rio
The Rio is still hectic as nearly 1,760 player were rushing to their seats early this morning to get ready to begin day 3 of the 2012 World Series of Poker Main Event. Seen in the hallways this morning was Vanessa Selbst, who is among the chip leaders going in to day 3. Selbst was partaking in an interview with our very own Sarah Grant which we will post later.
Also seen this morning was Kennii Nguyen who has also built a healthy stack of 268,000 going into day 3.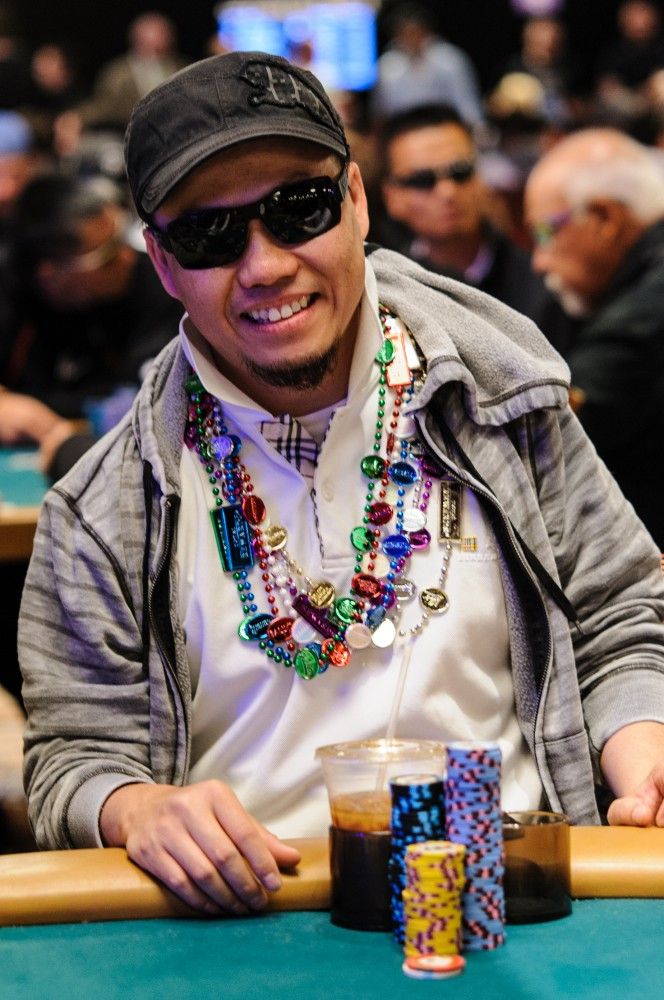 Noticeably missing from Nguyen's wardrobe were his classic trademarked jester hats. He had traded in the hats for a set of Mardi Gras beads as well as shades and a full body pillow. It's just not the same around the Rio without seeing Nguyen's hats.
Also seen this morning was at least one member of the Orange Shoe Brigade from yesterday's Fashion Faux Pas section.
One gentleman was making his way down to his table this morning when he was approached by ESPN cameras.
"I'm at the feature table with Negreanu today," the man shouted. "He's got 200k and I'm gonna take it all before the day's over."
Quite a task for the man, but we'll see how he does.
Dealer of the Year
It was announced today that Timothy "EggrollSlimTim" Louie had earned the honors of Dealer of the Year today for his fine performance throughout the series. Louie was one of the dealers this year for the Big One For One Drop tournament.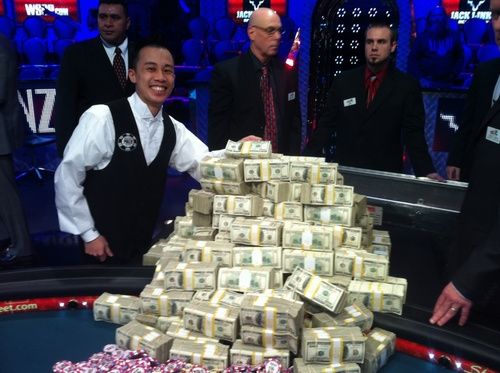 We'll catch up with Louie if we can find him and give you some of his thoughts about winning the Dealer of the Year award.
There Will Be A New Champion
We just got word that 2011 Main Event Champion Pius Heinz has hit the rail.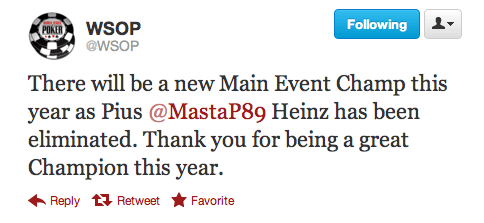 With that announcement, we can confirm that a new champion will be crowned this year. And it could be any one of the nearly 1,700 remaining players.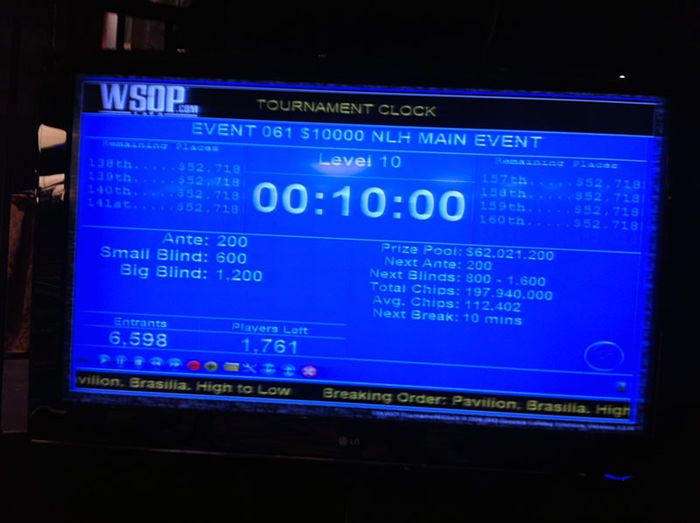 WSOPoses
There are some poses that are just typical in the World Series of Poker. This is one of them: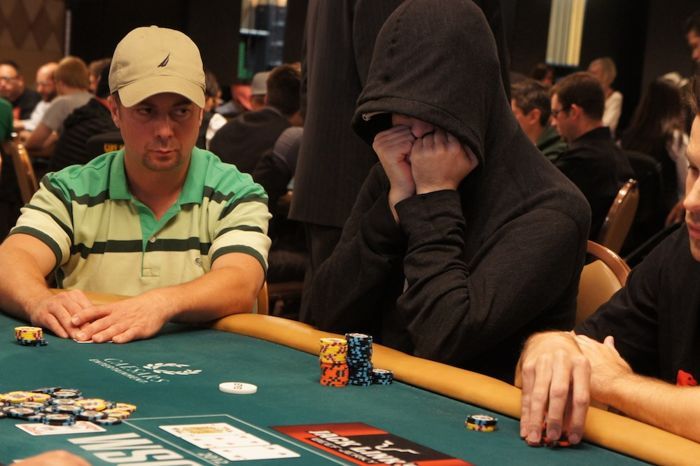 "The Hellmuth," is a pose pioneered by World Series of Poker Twelve-Time Bracelet Winner Phil Hellmuth. Far too often we see Phil taking this pose in an attempt to hide all tells from his opponent. Also fond of this pose is pro Scott Seiver. The only problem that we have with this gentleman is that he isn't even in a hand! What's he hiding from?
And then we found a second gentleman making a similar attempt to hide all of his tells: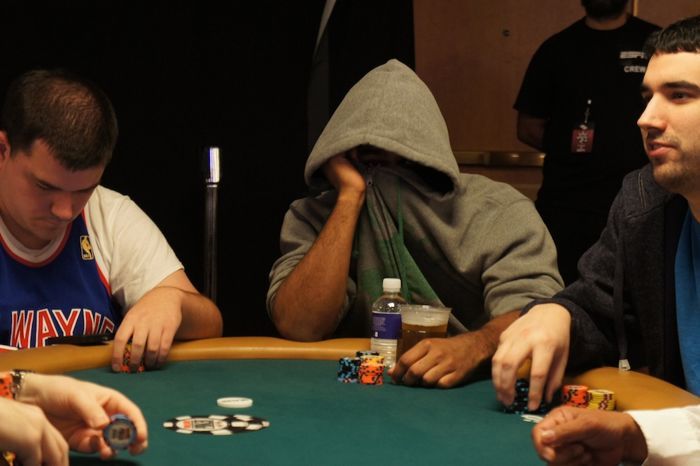 Once again the man isn't even in a hand. What the purpose of hiding 24/7? Maybe he was just hiding from the ESPN camera crews.
Featured
Headlining the two ESPN main feature tables today are poker pros Daniel Negreanu and Antonio Esfandiari. Also, making an appearance in the shot behind Negreanu is the 2012 World Series of Poker Main Event Bracelet: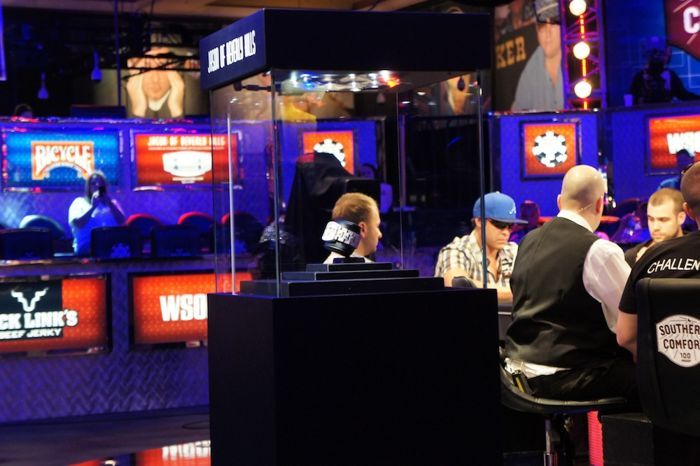 Negreanu doesn't seem to be having the best time at the Main Event Feature Table. Here's a tweet we saw regarding his progress:

At least he's still laughing.
Antonio Esfandiari is at the secondary feature table today and he is trying out some interesting seat poses as his buddy Phil Laak was doing yesterday: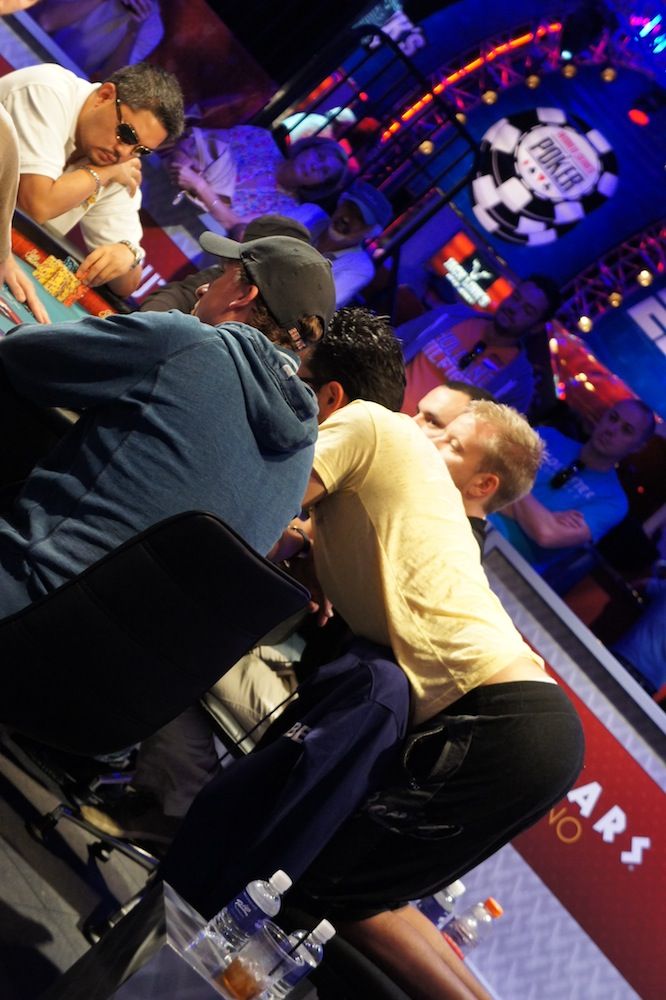 He at least seems to be having a better time than Negreanu is.
ESPN has also set up three more feature tables in Murders' Row. Among the players in Murders' Row today are Ben Lamb, Vanessa Selbst, and start of the day chip leader Gaelle Bauman. It should be a real treat to viewers to see play from all three of those players in Murderers Row when coverages airs on ESPN.
---ReadMore---
Pavilion Cleared Out
Did somebody fart?
No, it's just that time of year again. Time for the Pavilion to be emptied so that clean up can begin until next year. We got a shot of the final few Main Event tables playing out in the Pavilion.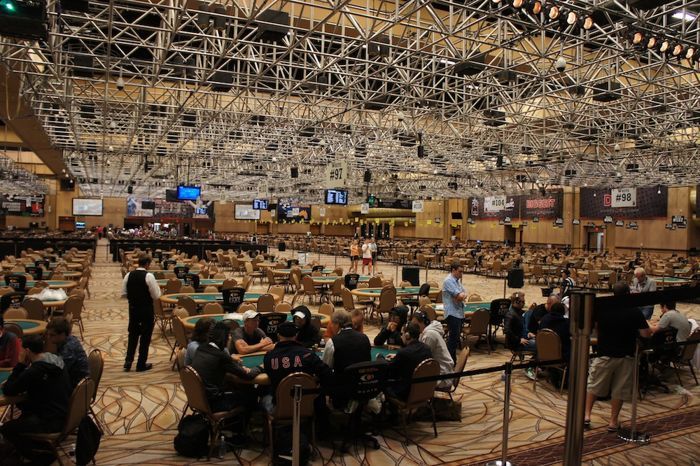 Save for a couple of cash tables, the room is completely empty, and shouldn't see action again until next year, besides the Daily Deepstack Tournaments, which conclude on July 16th.
Hairdos and Hairdonts of the Day: Main Event Edition
Today's just another day at the Rio for us, and that means we'll be collecting some of the best and worst hairstyles of the day.
Hairdo:

If you can, do wear your hair as an awesomely large Afro complete with neckbeard.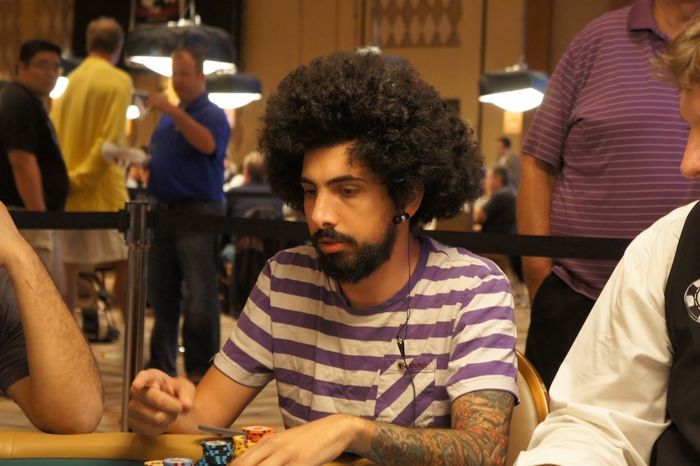 Hairdont
Try to avoid wearing your hair in nasty, unwashed, dreadlocks.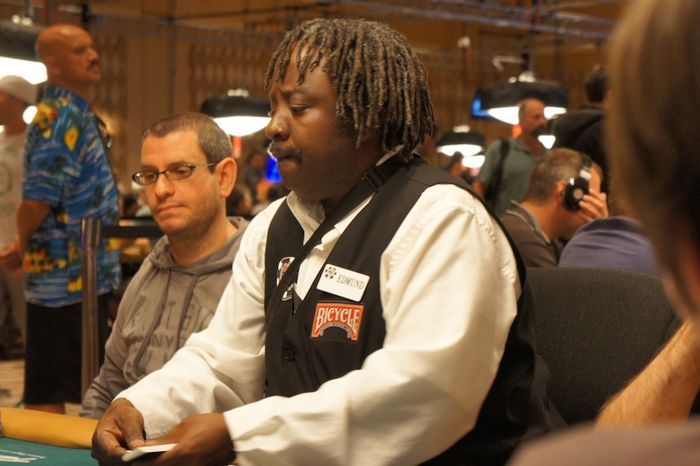 That hairdo died with Rick James. Too soon?
Stay tuned and we'll bring you even more wacky hair from the Main Event's final days.
Post River: Main Event Edition
For a professional poker player, the day you bust out of the main event is one of the worst of the year—Team PokerStars Pro David Williams
You just busted the Main Event. Maybe your aces were cracked…or you lost a huge flip. You're angry, disappointed, and sad. What do you do now? We came upon some tweets from the pros about what they'll be doing to ease the sting.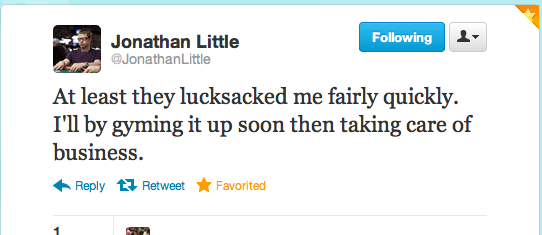 Big Bluff By Gabe Kaplan?
We came upon a hand between former High Stakes Poker commentator Gabe Kaplan and an unnamed player. Kaplan's opponent had the clock called on him after facing an all-in bet on the river, with a board showing
. As the Rio staff counted down the seconds, Kaplan's opponent folded and Kaplan flashed the
.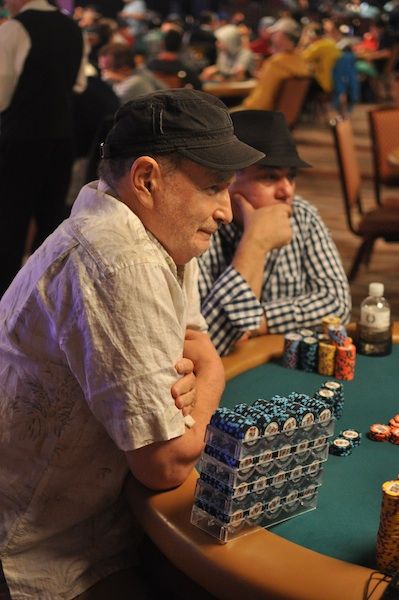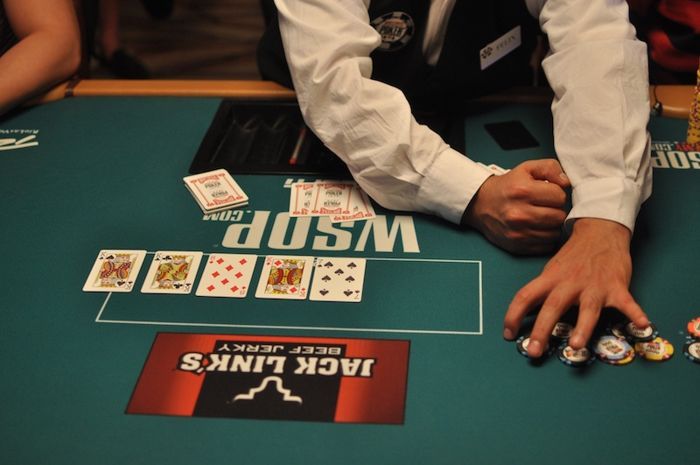 Poll
Was Kaplan Bluffing?
The Card Protector Chronicles: Day 46
Feeling spicy?
This gentleman playing in the Main Event today was as his card protector was a very small bottle of Tabasco sauce: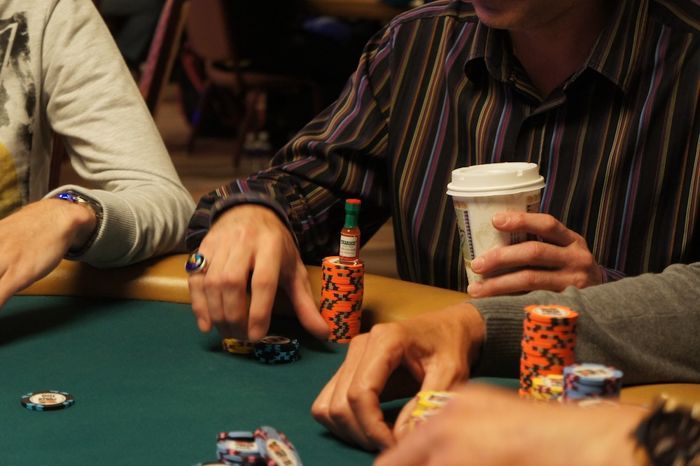 Maybe he's planning on eating some very tiny tacos.
The Biggest Stack So Far
Wanna know what it's like to be chip leader of the Main Event? Ask AJ Jejelowo who has already collected nearly 800,000 in chips.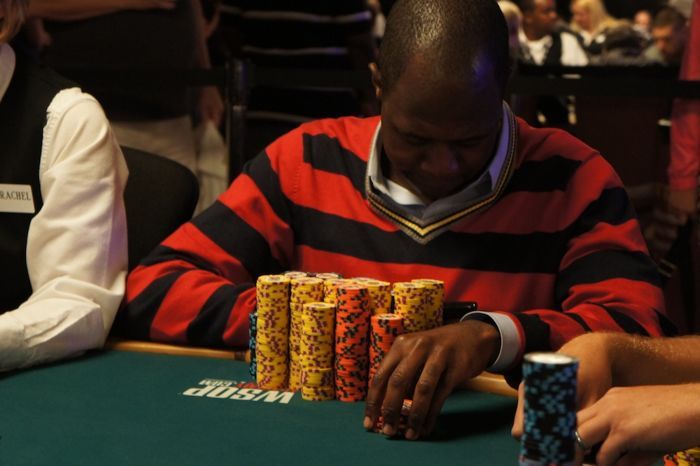 Unfortunately for Jejelowo, he has only collected about .004% of the chips in play so far. Still a long way to go boys!
Fashion Faux Pas Of The Day
We've spotted a few of these throughout the series. You must live under a rock sir.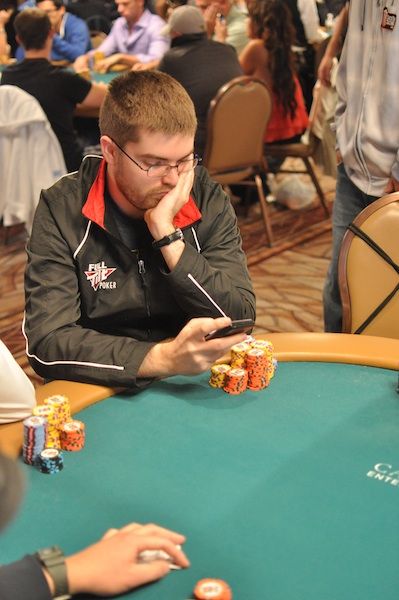 Love Child
We came across an interesting tweet. He reminds us of both Erik Seidel and Team PokerStars Pro Bertrand "ElkY" Grospellier.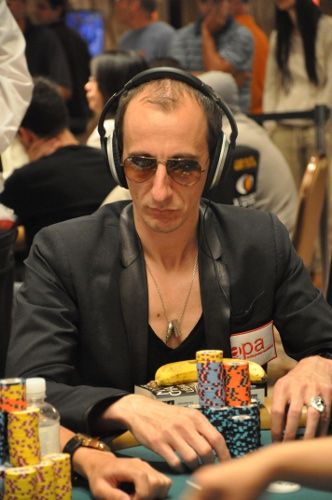 Poll
Is this Erik Seidel's and ElkY's Love Child?
The Consummate Pro
We spotted ESPN WSOP commentator Norman Chad observing and note taking in the Amazon room. We approached him to find out what he was up to.
"Trying to find people with unusual storylines. I also try to get background information on players too. It helps me for the broadcast," Chad said.
The work Chad puts in behind the scenes is a big part of what makes the ESPN broadcast so enjoyable for fans. He really is the consummate pro. The Main Event will be shown on ESPN starting August 14th.
Team PokerNews!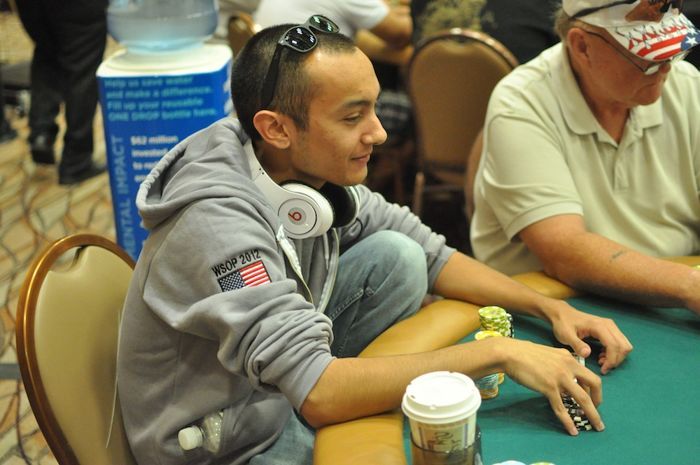 Nobody from team PokerNews has been it to do day 3 of the Main Event... but our intern Sam Cosby is going to ship the 6pm Rio Deepstack, we're sure of it! He's got 30k at the first break after doubling up middle set vs top and bottom pair on A84! GOGO SAM [Sorry for the jinx Sam]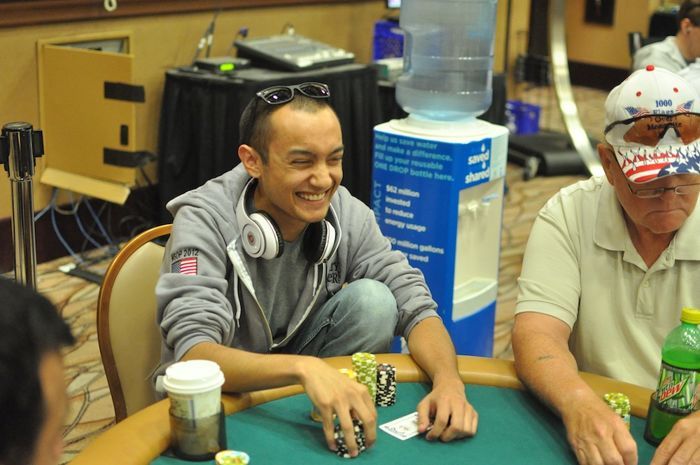 Castle Building
We took a stroll around the Amazon room right after dinner break tonight to find the biggest chip stacks and the most intense moments. Here's what we brought back for you.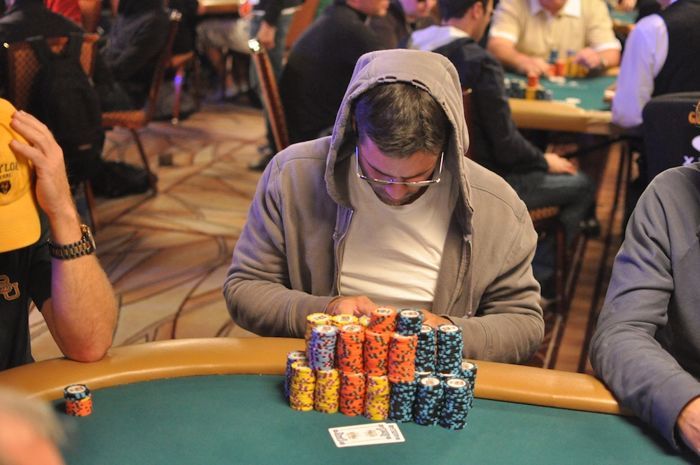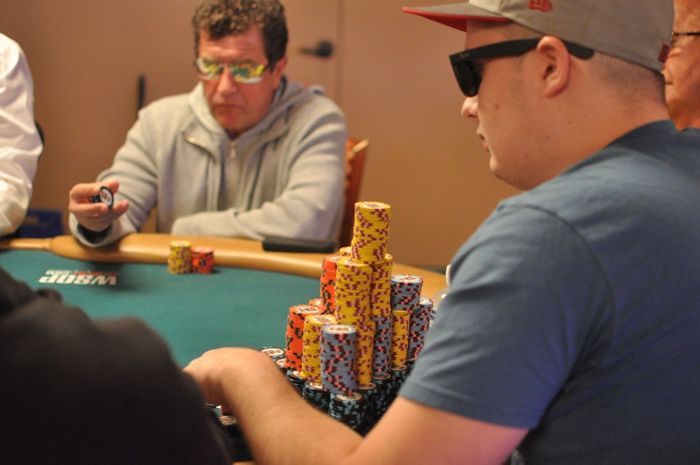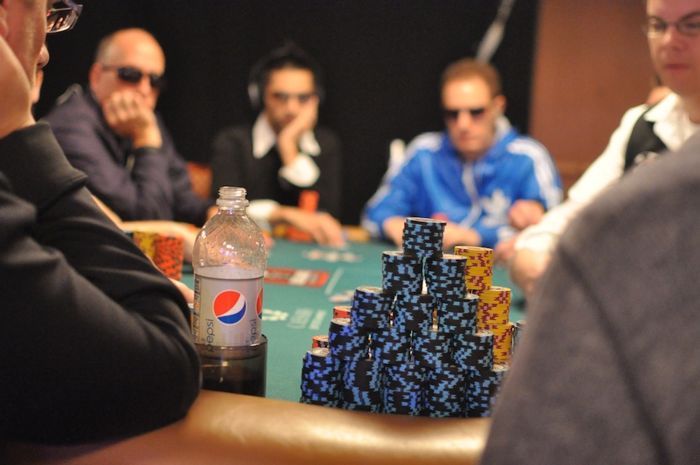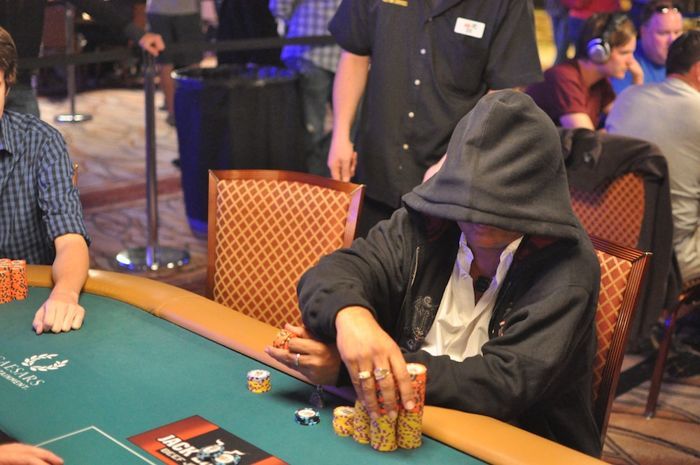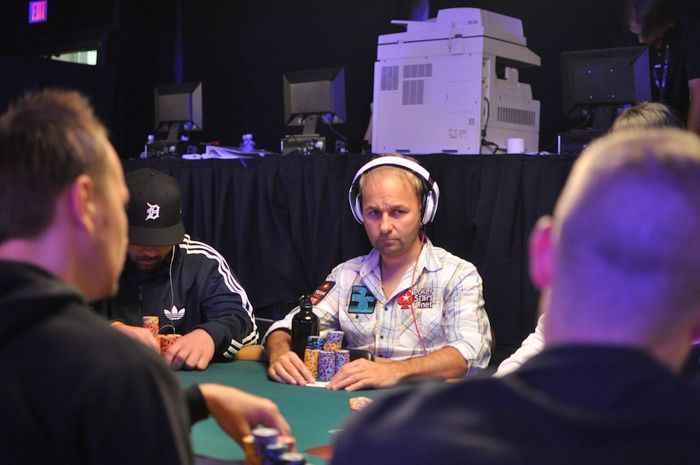 We have to say, the atmosphere in the Amazon room is electric right now! There's a lot of tension around Daniel Negreanu's section, while Daniel has his serious face on, and there's a disappointed Ben Yu on the rail at the far end of the room, having busted earlier today.
Murderer's Row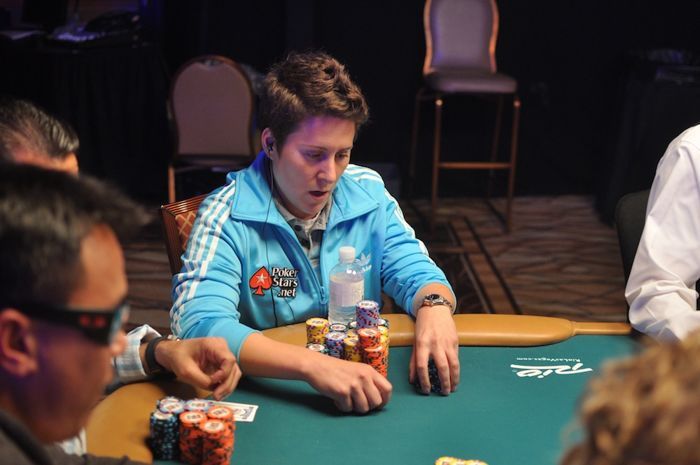 Once again featured on murderer's row today is Vanessa Selbst, followed by what must be one of the toughest table draws of the series so far - Nam Le, Andrew 'luckychewy' Lichtenberger, Katie Dozier and Erick Lindgren! We just got this one picture of the table of death before the tournament director chased us away from the cameras! Apparently ESPN is above The Muck in the media pecking order?!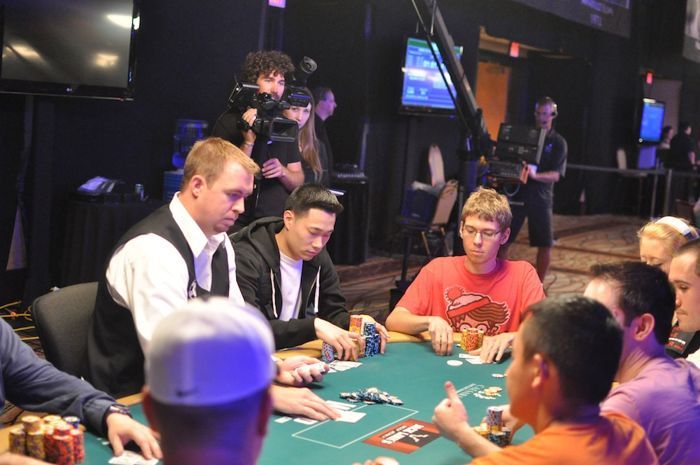 The One Million Mark...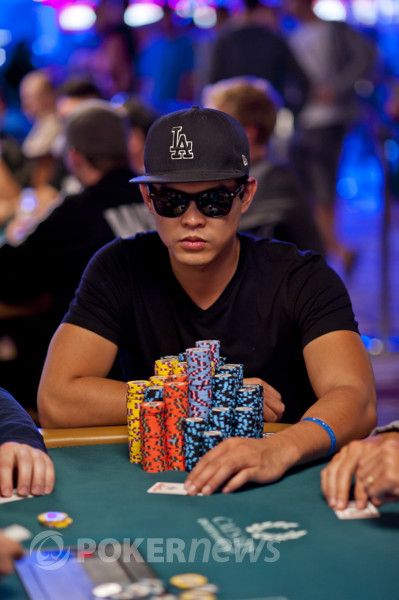 The players just ticked over 999 with 666 getting paid, 2/3rds of this field are in the money! An even bigger milestone that is fast approaching is someone reaching the million chip mark. Ben Alcober is getting very close right now with 980,000...
Hi Mom...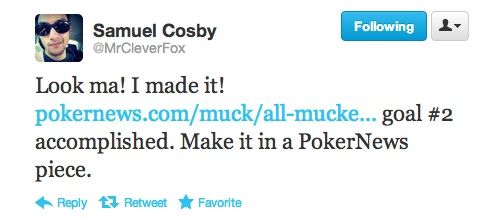 Our PokerNews hero Sam Cosby is in trouble in the 6pm Rio Deepstack, chipping down to 8k after being in a commanding position. To help Sam out which expertly doctored one of the Main Event's huge chip stacks into his hands so that he can show his mother he's a winner!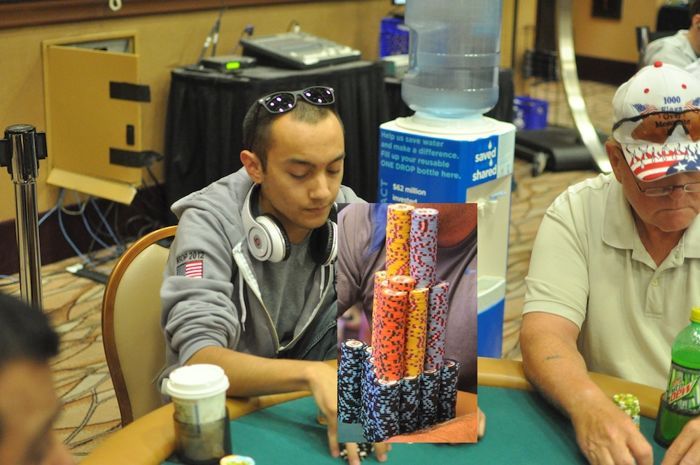 The Phil Files
These tournaments really has been dominated by people named Phil. Today's Phil Files relates to the one and only Phil Galfond, poker's funniest tweeter. Check out some of today's gems.



The Poker Princess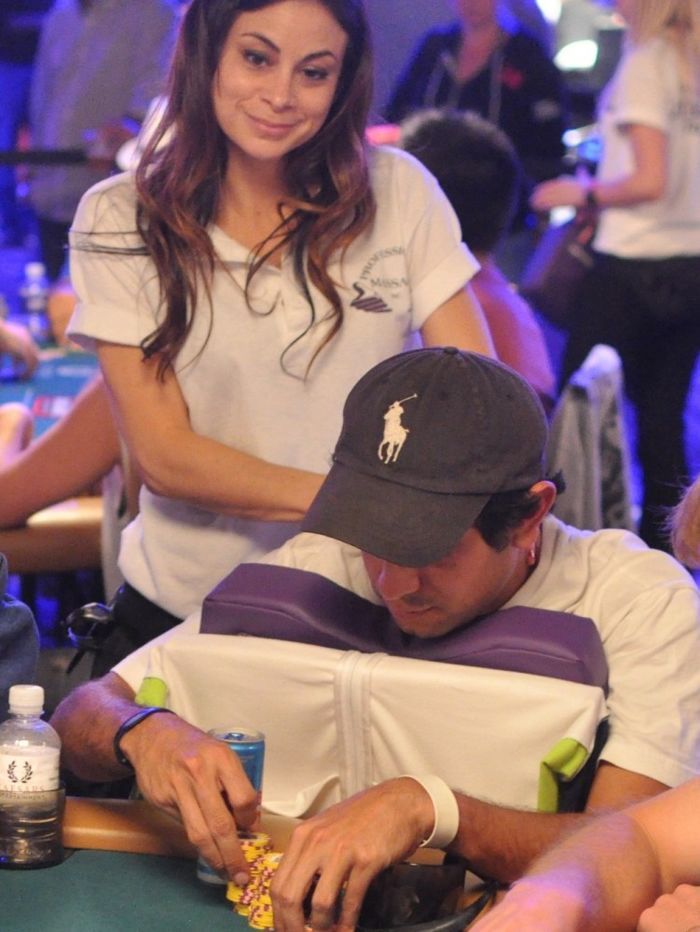 We caught this man, in the middle of his evening massage, ordering a very specific drinks order to one of the Rio's dedicated servers, before handing her his platinum card.
"I want water and Grey Goose Vodka with just a little bit of ice in it, Ok?" He told the cocktail server. "Here's my platinum card to pay".
The server informs our player that all drinks are free to a player in the tournament.
"No, no, I want Grey Goose Vodka" clarifies The Poker Princess. "That's not free".
The server goes on to tell the player that the Grey Goose is absolutely free, leading to the question on everyones lips "The Grey Goose is free?".
Eventually, the dealer tells the server that any charge incurred is to be put on his tab, after which the waiter is allowed to finish taking drinks from the now hysterically laughing surrounding tables. Poker Princess settles back into his deep massage-stupor and life goes on.
Funny Snippets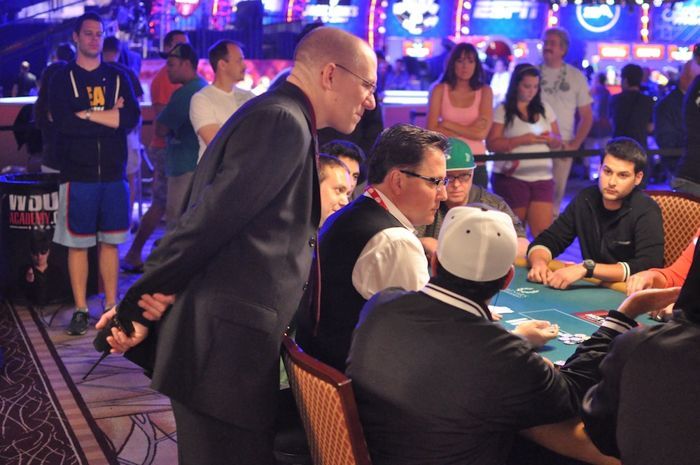 Taking another stroll around the Amazon room, where all but four tables of the Main Event are now contained, we heard some funny snippets of conversation. At one table, a dealer was repeatedly warning a player for not speaking english during hands. At one point the player said "I really want to make day 4" to which the dealer said "If you speak that language again I'm calling a penalty". The player protested "I'm speaking english! I've only ever spoke english!"
The floor was called and the we heard the dealer tell the floor "He say's hes speaking english all the time but I don't ever understand him!"
Elsewhere on the floor, we saw one player walking down the isle talking is a hushed voice on his phone. We feel bad reporting this for in The Muck... but it's our duty! We overheard the player, who was sitting out hands [In the Main freakin' Event!] to be on his phone, say down the phone "... are you sure you're pregnant?"...
Good lord.
We encourage everyone to get involved with "The Muck." See something you think is Muck worthy Send it to the muck@pokernews.com. We accept all media including photos and videos.