World Poker Tour on FSN: Failla & Dunst Headline Jacksonville BestBet Open Final Table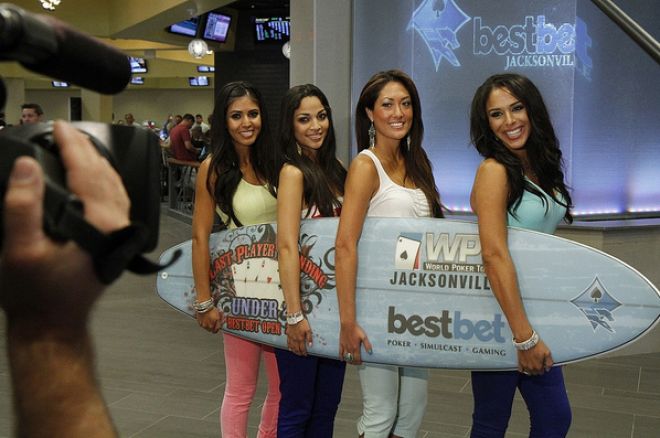 Sunday night is World Poker Tour night on Fox Sports Network as new episodes of Season X are aired each week. In the latest episode, Part I of the inaugural Jacksonville BestBet Open, which took place from in April 27 through May 2, 2012, was shown. The $5,000 buy-in tournament attracted 320 players, created a $1,504,000, and offered a first-place prize of $400,600.
Setting the Stage: The final table of the Jacksonville BestBet Open was shaping up to be something special as both Will "The Thrill" Failla and Tony Dunst were among the final six players. In last week's Seminole Hard Rock Showdown finale, Joe Serock overtook the WPT Player of the Year lead, but Failla's appearance at this final table allowed him to retake it. Tony Dunst followed in Mike Sexton's footsteps by becoming a member of the WPT family to make a WPT final table. "It means a lot, obviously, to be a part of the family and here at this final table playing against such a legend like Will," Dunst told Matt Savage at the top of the broadcast.
Van Patten Taking a Shot: Since it was the first of three episodes of the Jacksonville BestBet Open, the early stages of the tournament were featured heavily in the broadcast starting with Day 1a. It was there that the WPT's Vince Van Patten entered the field. Did you know that it marked only the second time, not counting WPT Celebrity Invitationals, that Van Patten had entered a WPT event? It's true.
Wise Choice: Day 1a, which began with 125 players, saw 62 players make it through the day. That meant a plethora of players returned on Day 1b and exercised their reentry options including Matt Waxman, Raj Vahora, Daniel Buzgon and Shawn Cunix. It proved to be a wise choice for the latter two because both went on to make the final table.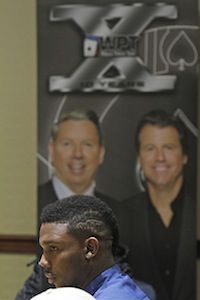 Going the Extra Mile: I've been on the poker circuit for awhile now, and I've witnessed players doing all sorts of funky things with their hair. With that said, I don't think I've ever seen a dealer go out of his or her way to sport a hairdo supporting an event. That's exactly what Jacksonville BestBet Open dealer Brian Woods did when he had "WPT" and the
shaved into the side of his head, something he had done the previous November when the WPT rolled into town. It may come off as a little extreme, but give the man some credit, he knows how to grab some airtime.

The Bubble Boy and an Allen Kessler Min-Cash: Day 1b, which had 195 runners, ended with 98 advancing to Day 2, but that was reduced to 55 headed into Day 3. Those players had their eyes on making the money at the top 36. On the money bubble, WPT champ James Dempsey shoved with
and was up against the
of Matthew Schulte. The board ran out
and Dempsey became the official bubble boy.
From there, the eliminations came quickly as those short stacks who squeaked into the money busted. I wasn't the least bit surprised to see that one of those players was Allen Kessler, who finished in 34th place for $9,610. If you know poker, then you know the "notorious nit" is also one of the game's most consistent cashers.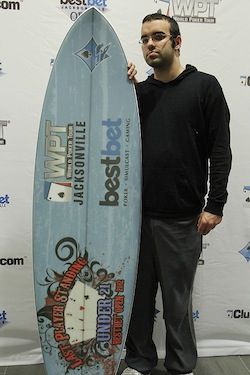 Hang Ten, Dude: Thanks to Florida law, which says players only need to be 18 to play in a casino, BestBet Jacksonville offered a custom surfboard to the last remaining 18- to 20-year-old player remaining. The surfboard ended up going to 20-yeard-old Robert Gorodetsky, though we're guessing he was more appreciative of the $16,263 prize he received for finishing in 17th place.
The Raw Wheel: Day 4 began with 16 players looking to make the final table of six. It was during this time Tony Dunst shoved preflop with
only to run into the
of Daniel Buzgon. Fortunately for Dunst, he got extremely lucky when the board ran out
and he made a wheel. Seems like his shove with deuces might be worth an analysis in his next segment of The Raw Deal. Time will tell whether that happens.
The Final Table is Set: On the TV-final-table bubble, Byron Kaverman was all in preflop holding
and racing against the
of James Calderaro. The
flop gave Kaverman an added gut-shot straight draw to go with his overs, but neither the
turn nor
river helped him, and he was sent him out in seventh place as the TV bubble boy.
Here's how things stacked up at the start of the final table:
WPT Season X Jacksonville BestBet Open Final Table
| Seat | Player | Chips |
| --- | --- | --- |
| 1 | James Calderaro | 2,110,000 (70 BBs) |
| 2 | Daniel Buzgon | 570,000 (19 BBs) |
| 3 | Will Failla | 1,535,000 (51 BBs) |
| 4 | Tony Dunst | 1,315,000 (43 BBs) |
| 5 | Shawn Cunix | 2,770,000 (92 BBs) |
| 6 | Darren Elias | 1,280,000 (42 BBs) |
The Final Table Fashion Report: Mike Sexton argues that it's important for players to dress up a bit for TV final tables to help promote themselves and the game, so how did the Jacksonville BestBet Open finalist fare?
Shawn Cunix: A blue t-shirt, black watch, and a pair on sunglasses. Unfortunately, the shades are the only impressive accessories in this getup. Grade: C-
Darren Elias: A black and grey long-sleeve zip-up jacket. Nothing fancy, but it's alright. Lazy but acceptable. Grade: B-
James Calderaro: He's a man who knows how to dress. A long-sleeve button-up with a fancy pattern and plenty of bling. He reminds me of a "good fella." Grade: A-
Daniel Buzgon: Wearing a long-sleeve white shirt isn't going to win you any creativity points, but it's not going to garner a lot of criticism either. Grade: B
Will Failla: A similar getup to Calderaro, Failla was sporting a long-sleeve black button-up, shades, and a nice watch. "The Thrill" isn't accustomed to dressing up, which is unfortunate because he looked slick. Grade: A
Tony Dunst: The Dapper Dunst is always sporting a suit. It's a bit reminiscent of the old-school David "Devilfish" Ulliot, a look I've always respected and admire. Keep it classy Mr. Dunst. Grade: A+
Buzgon Not Gone Yet: With the blinds at 15,000/30,000 and a 5,000 ante, short-stacked Daniel Buzgon looked down at
and moved all-in for 285,000. Tony Dunst liked his
on the button and moved all in over the top, which inspired both blinds to fold. "Wow, such a real hand for nine blinds," Dunst said upon discovering Buzgon's big hand.
The
flop meant Buzgon didn't want to see a paint card on the turn and river, and he wouldn't as it came the
and
, respectively. Buzgon won with ace high and doubled to 645,000 in what was the last hand of the broadcast.
Tune in Next Week: Part II of the Jacksonville BestBet Open is set to air on Sunday, Sept. 2, on FSN, so be sure to check your local listings. If by chance you miss it, check back next week for the latest recap of all the action here on PokerNews.
Get all the latest PokerNews updates on your social media outlets. Follow us on Twitter and like us on Facebook now!
*Pictures courtesy of World Poker Tour.