The Nightly Turbo: Parker Wins at Borgata, South Carolina Says 'No' to Poker, and More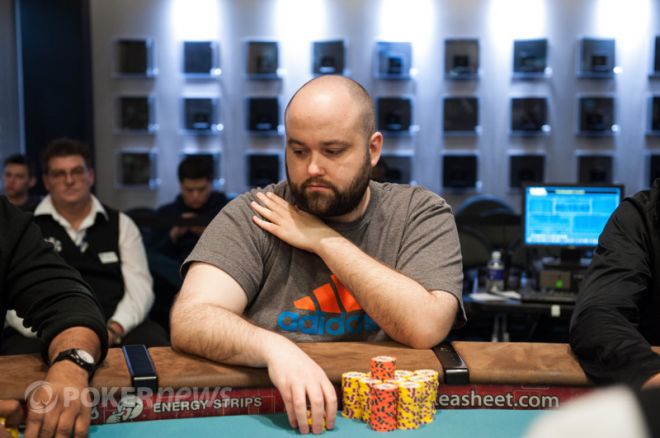 The Borgata Fall Poker Open is a staple on the calendar for all East Coast grinders. Find out who made the final table and who won in this edition of The Nightly Turbo.
In Case You Missed It
Former Full Tilt Poker "Red Pros" have been informed that their contracts will not be honored. Read the entire email and more here.
Jeff Gross held the chip lead after Day 2 of World Poker Tour Montreal. Find out who else is vying for the prize here.
Nick "FU_15" Maimone took down the $500K Guarantee on Full Tilt on Sunday. Check out The Sunday Briefing for more results from the biggest tournaments of the weekend.
The Seat Open series continued with part two of an exclusive interview with 2011 World Series of Poker Main Event champion Pius Heinz. You can check that out here.
Parker Ships the Borgata Fall Poker Open Main Event
On Thursday, in the early hours of Thanksgiving morning, Brock Parker won the Borgata Fall Poker Open Championship Main Event. Parker, a two-time WSOP bracelet winner, bested a field of 644 runners, eventually defeating fellow pro Scott Baumstein heads up to take home $372,568. On the final hand, Baumstein was all in and at risk holding the
on a nine-high flop. Parker had him dominated with the
and held.
Joining Parker and Baumstein at the final table were notables Vinny Pahuja, Jeffrey Papola, Michael Esposito, Matt Stout and Ravi Raghavan. Esposito, who eventually busted in sixth place, recently finished seventh in the 2012 WSOP Main Event. Papola won his first and only WSOP bracelet in 2010 just three days after finishing runner-up to William Haydon in another bracelet event.
Just missing the final table were Christian Harder (11th), Matt Matros (15th), Allen Kessler (20th) and Brian Lemke (27th). Matros is a three-time WSOP bracelet winner, taking down events in 2010, 2011 and 2012, and Lemke won an event in 2009. Kessler doesn't have a bracelet, but has three runner-up finishes in 2005, 2010, and 2011.
Here's how the entire final table wrapped up:
| Place | Player | Prize |
| --- | --- | --- |
| 1st | Brock Parker | $372,568 |
| 2nd | Scott Baumstein | $209,480 |
| 3rd | Patrick Chan | $131,895 |
| 4th | Vinny Pahuja | $107,067 |
| 5th | Jeffrey Papola | $85,344 |
| 6th | Michael Esposito | $70,602 |
| 7th | Matt Stout | $56,637 |
| 8th | Ravi Raghavan | $42,672 |
| 9th | Kambiz "Tony" Behbahani | $29,482 |
For more, head on over to the Borgata Poker Blog.
No Monopoly for South Carolinians
On Wednesday, the South Carolina Supreme Court ruled that organized poker games are illegal, even when held in a private home. The justices also ruled that Texas Hold'em is not exempt from gambling laws, dismissing the idea that it is a game of skill rather than chance.
These decisions came in an appeal case regarding a raid on a home poker game in Charleston in 2006. During the raid, authorities seized thousands of dollars in cash, a small amount of marijuana and ticketed roughly two-dozen people for illegal gambling.
The South Carolina gambling law, penned in 1802, that was used in the case makes illegal any game with cards or dice – including board games like Monopoly.
"Whether an activity is gaming/gambling is not dependent upon the relative roles of chance and skill, but whether there is money or something of value wagered on the game's outcome," the court wrote.
Chief Justice Jean Toal agreed with the decision, but wants to revisit the 200-year old gambling statute, calling it "hopelessly outdated."
CBSNews.com has more.
William Hill Struggling
The revenue for William Hill, a poker room on the iPoker Network, is down 24 percent after the third quarter according to Pokerfuse. Playtech, the company that owns the iPoker Network, showed a 27 percent decline in poker revenue.
Poker seems to be the only branch of William Hill that's doing poorly – net revenues for the group were up nine percent, and operating profits increased 26 percent.
William Hill, like bwin.party, has been blacklisted by Belgium. They have also pulled out of the German sports betting market due to the German Intrastate Treaty on Gaming, which levies a five-percent tax on every wager made.
The company is reportedly extremely unhappy with the lack of European Union support and believes that the German Intrastate Treaty on Gaming breaches EU law.
"We believe the new treaty… is not compliant with the fundamental principles under the EU treaties to allow service to be provided free of unnecessary restrictions," the company writes.
William Hill is currently in a transitional period – CEO Henry Birch is stepping down, while Andrew Lee has been appointed Managing Director responsible for William Hill Online.
For more, check out PokerFuse.com.
Grinding in Parliament
According to The Telegraph, members of the French Parliament were photographed "taking online poker bets" in the National Assembly. Other députés, some of them Ministers, have also been caught reading adult cartoons, playing chess, browsing online clothing catalogues and ordering fine wine on their mobile devices.
Danièle Hoffman, Socialist MP for Paris, admitted to reading the paper on her tablet, calling it "practical." No one has admitted to playing online poker, however.
Some are calling for parliament to shut down their wireless Internet "for the sake of democracy." Jean-Louis Debré, the president of France's constitutional council, is appalled.
"One doesn't elect representatives of the people for them to turn up and play cards," he told The Telegraph. "In that case, I'd frankly rather they didn't show up at all."
The Telegraph doesn't specify what online poker site the members of parliament were grinding on, and the photo included in the story only shows text documents. If a wider image of the National Assembly were provided, we would simply have to find which member of the parliament is wearing a hoodie and basketball shorts.
Perhaps this is the only upside to the United States' staunch approach to online poker – then again, even in the absence of PokerStars and Full Tilt Poker, the country is still headed for a "Fiscal Cliff."
The Telegraph has more.
The ISPT Finds a Partner
The International Stadiums Poker Tour has teamed up with MyPokerSquad.com. MyPokerSquad.com is the first site dedicated to participatory financing players and enthusiasts of poker. After three years of continuous growth in Belgium and France, the company plans to open new platforms in Germany and the United Kingdom.
"MyPokerSquad offers new opportunities for pro players, extending its staking system worldwide." David Benyamine said in a statement. "This is a new way for all players to take part in ISPT. I am please to bring my experience to this project."
Florian Lang, the CEO and founder of MyPokerSquad.com added, "The success of our adventure is the culmination of three years of action and work in the service of our players and our community of investors. MyPokeSquad is proud to become the official partner of the ISPT, the most innovative adventure in poker. Good luck to all!"
For more, head on over to ISPT.com.
Underground Poker on Nat Geo
National Geographic launched a new show on Sunday titled Inside Underground Poker. The show takes a look at underground poker games in New York City, particularly a high-stakes game run by Mikey Tatts. The next airing is on Sunday, December 2nd at 9 a.m. EST.
Here's a short clip from last night:
Follow PokerNews on Twitter for up-to-the-minute news.