DeepStacks Poker Tour Mohegan Sun National Championship Day 1: David Stefanski Leads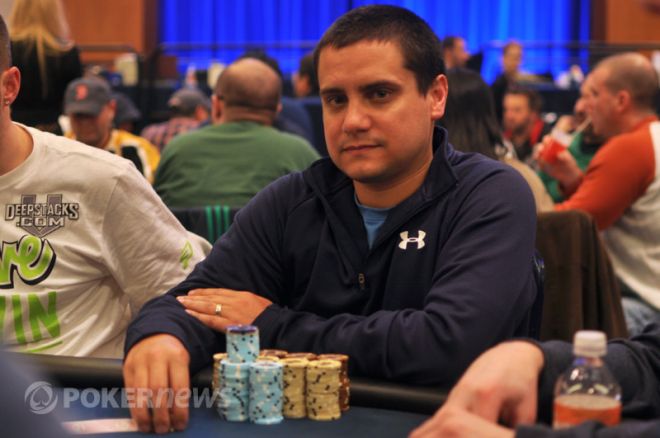 The 2012 DeepStacks Poker Tour Mohegan Sun National Championship kicked off on Saturday with Day 1 of the $2,500 buy-in event. A field of 242 participated in the re-entry affair and after 10 levels of play, 121 players remain. Leading the way is David Stefanski, who bagged a stack of 348,100 — nearly double the amount of his next closest competitor.
Stefanski was among the top three stacks at the beginning of Level 10 (500/1,000/100) and clashed in a massive pot with fellow big stack Nesrine Kourdourli. As described to us by Stefanski, a player in early position opened to 2,200. Stefanski called in the cutoff, Kourdourli called from the button, and Mike Dentale called from the big blind. The flop fell Kx6x2x with two clubs and Dentale checked to the original raiser who bet 3,800. Both Stefanski and Kourdourli called, Dentale folded, and the Q♠ followed on the turn to put two spades on the board. The original raiser checked it to Stefanski who bet 10,500, but Kourdourli popped to 24,000. A fold from the original raiser led to a Stefanski re-raise to 38,000. Kourdourli called to see the A♠ river where Stefanski bet about 28,000, leading to a Kourdourli shove for roughly 115,000. Stefanski called with 6x6x for a flopped set, which was good enough to take down the massive pot.
Team DeepStacks Pro was well represented in the field today as Mike Matusow (140,200), Chip Jett (56,600), Darrel Dier (39,900), and Tristan Wade (25,800) all made it through with their first buy-in. Michael "The Grinder" Mizrachi went 0-for-3 on Saturday, but with the option to re-enter until the beginning of Day 2, we expect Mizrachi back in action.
Vanessa Selbst knows a thing or two about winning tournaments at Mohegan Sun, winning back-to-back North American Poker Tour Championships in 2010 and 2011. She was off to a fine start and increased her stack nicely after flopping broadway in a limped pot during Level 5 (150/300/25). With the board reading A♣Q♥10♣, Selbst saw three checks and a bet of 700 in front of her before she raised to 1,600. The first player to check the flop re-raised to 6,425, forcing folds from the rest of the table, but not Selbst. She called to see the 3♦ turn, which both players checked. The 4♦ hit the river and the bet was 11,300 to Selbst. She declared a quiet all-in, leading her opponent to call all-in for another 21,000 or so. Selbst tabled K♥J♦ for the nuts to up her stack to roughly 100,000 at the time, en route to ending the day with 162,600.
Other notables who survived the day were Jared Jaffee (157,000), David Paredes (133,700), Matt Affleck (133,300), Aaron Massey (100,300), Ashton Griffin (92,300), Kurt Jewell (78,700), and Scott Baumstein (67,300). Matt Glantz fired two bullets and made the most of his second chance, finishing with 83,300. Allen Kessler also made it through on his second try with 38,200.
Here are the top ten Day 1 chip counts:
| Place | Player | Chips |
| --- | --- | --- |
| 1 | David Stefanski | 348,100 |
| 2 | Michael Guadano | 192,000 |
| 3 | Artyem Perlov | 186,000 |
| 4 | Frank Conte | 181,600 |
| 5 | Michael Shail | 166,100 |
| 6 | Art Pappas | 165,400 |
| 7 | Vanessa Selbst | 162,600 |
| 8 | Benny Bianco | 161,000 |
| 9 | William Leppert | 159,300 |
| 10 | Peter Jankowski | 158,900 |
Day 2 kicks off at 1200 EST on Sunday and we expect a few more players to join the 121 survivors. PokerNews will be on hand to bring you live updates on all of the exciting action, so be sure to check it out.
Following us on Twitter is the best way to keep up with the rest of the news from the tournament circuit and beyond.