Dan Sun Wins Mid-States Poker Tour Player of the Year Award
Mid-States Poker Tour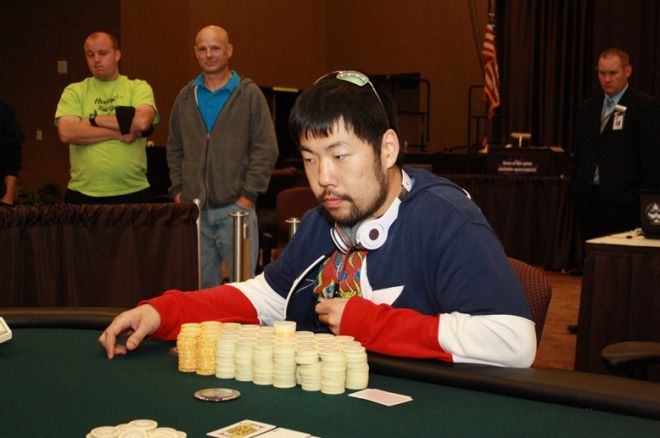 When it comes to poker, Dan Sun is greater than all the Avengers combined. That's because the 30-year-old Iowan enjoyed a career year and dominated the Mid-States Poker Tour in 2012 to the tune of $154,007 in winnings to earn Player of the Year honors.
Greg Raymer has earned much of the attention for his big year in 2012 on the Heartland Poker Tour, but what Sun did is arguably just as impressive. Sun earned two wins and a third-place finish on the MSPT without the luxury of unlimited reentries, and had Sun's pocket aces held against Matt Kirby's king-queen three-handed, he might have won a third event.
Sun was born in Houston, Texas – his parents were originally from China – and was the first in his family to be born in the United States. His parents moved to Iowa to open a restaurant when he was four years old, and he has lived there since, currently residing in Cedar Rapids.
As a child, Sun enjoyed playing intellectual games like chess, even playing chess competitively in high school where he won numerous tournaments. That background served him well as he learned to play poker, and his love of superheroes as a kid may have attributed to his killer-instinct in tournaments and at the poker table, as well.
Sun went on to study computer science and mathematics at the University of Iowa. He has worked as a software engineer for seven years.
It wasn't until Sun started watching poker on ESPN in 2004 that he and his college roommates began playing home games several times a week.
"I remember there were times where we would play until the sun came up and then go straight to class," Sun said. "My parents are against gambling of any kind, so while I was growing up I was never really exposed to the game."
Sun never traveled much to play poker until 2011. Before then, he played casually a few times a month, mostly small tournaments and cash games at the local card room. One of his buddies called him in late February to let him know about a tournament in Oklahoma with a $100,000 guarantee for first place. He declined initially because of the long drive and the $1,100 buy-in, which at the time was a lot relative to his bankroll. After his friend's constant nagging, Sun reluctantly agreed and collected his largest career cash to date of $21,835 with a fourth-place finish.
"That is really when my poker career started to take off," Sun explained. "I began to take it more seriously and travel more to play."
Sun began to follow the MSPT in 2012, and last July, at Meskwaki Casino Hotel in Iowa, he defeated a 301-player field to earn his first major win and $77,103. Sun had to get through Jeremy Dresch, a well-known Midwest closer, heads up to win. Dresch already has one MSPT title and three HPT titles under his belt.
"I knew Jeremy was a great player, I had played with him in the past," Sun said. "I was definitely concerned when he drew the seat immediately to my left at the final table. We had played in a tournament a year prior three-handed, a tournament I should have taken down, so he knew how badly I wanted the win. He didn't have a very big stack at the final table so I really wasn't expecting us to go heads-up until close to the end."
As it turned out, the two battled heads up, and Sun prevailed in what turned out to be just the beginning of an exciting run.
"It was a sweet victory and beating a great player like that heads up was definitely a confidence booster. That win meant a lot to me and I will cherish that MSPT bracelet forever. For me, it was really one of those next steps I had been waiting to accomplish."
A few weeks later, Sun went on to win the next MSPT event at Grand Falls Casino Resort in Sioux Falls, South Dakota. This time, he outlasted 215 runners to earn another $60,486.
"It was very unexpected to win two tournaments in a row; its hard enough to win one," Sun said. "After that, I really felt like anything was possible."
A month later, Sun strolled into Ho-Chunk Gaming Wisconsin Dells, focusing on an improbable three-peat.
"This is the tournament where I felt the most pressure. I had so many people I didn't even know coming up to me and congratulating me and wishing me luck on my third win," he said. But all that pressure may have been too much, leading to his busting out early.
With the weight of the streak off his shoulders, Sun was able to relax and get back to business. Just a couple months later at Grand Casino in Minnesota, Sun find himself back in the mix with a shot at another MSPT title.
This final table was stacked with a who's who in Midwest Poker. Sun was surrounded by Nate Fair, the 2011 MSPT Player of the Year, Erick Wright, the 2012 Minnesota Poker Magazine Player of the Year, Kirby, who already owned one MSPT title, and Everett Carlton, the MSPT all-time final-table leader (six) and number-of-cashes leader (eight) who also owns a World Series of Poker Circuit ring.
Wright cashed three times for a total of $73,205 in Season 3, placing him second in the MSPT Player of the Year standings behind Sun. Kirby finished the MSPT POY race in third – earning two wins, three total cashes and $96,296 in Season 3.
Eventually, Sun maneuvered into position for a potential third title in six events, with only Wright and Kirby standing in his way. Unfortunately for Sun, that's where his tournament came to an end.
With blinds at 15,000/30,000, Sun had about 500,000 behind. Erick Wright was in the small blind with roughly 800,000, and Kirby was in the big blind with over two million in chips. After Sun limped the button, Wright raised to 90,000 with
suited. Kirby thought for a bit and shoved
. Sun snap-called, Wright folded, and Sun rolled over
.
"I decided to shove here, given my read on Wright's raise and stack sizes," Kirby explained. "Sun had open limped five or six times throughout the final table and never had a big hand. That was a beautiful hand that Sun set up like a chess master."
Sun recounted the hand: "Matt Kirby was having a great tournament. He had the chip lead and played it aggressively. I tried to keep him from bullying the table by making a few loose calls, even showing some aggression at times just to make my presence known. Since I had been limping with weak hands I figured that a big bet would scare them off so I just limped on the button. When Kirby shoved, I snapped called to get Wright out of the hand. The flop came out 6-4-3 with all red cards, so the only way he could win the hand was a king or queen on the turn AND the river. When the turn and river landed king-king, it was devastating, but that's how it goes. It was a long drive home."
Kirby went on to defeat Wright in heads-up play for his second MSPT title of Season 3. Check out what Kirby had to say about the hand in his recent interview with PokerNews.
As Sun's best year to date concludes – earning $154,007 on the tour alone – the MSPT Superhero keeps things in perspective.
"I love spending time with friends and family. I like to hunt and fish whenever I have time and I love to watch movies and sports. My girlfriend and I just had a baby boy back in April. He is my first child and it has made traveling away from home a lot harder. I could never do all this without an understanding and supportive girlfriend and parents who help watch the boy all the time."
Sun certainly strives to continue his success on the felt.
"With my winnings this year, I took a vacation and I definitely plan to keep playing poker and continue to learn and play better. Oddly enough, I've never been to Las Vegas, one of my goals has always been to play in the World Series of Poker and to win a bracelet."
We'll see if Sun can accomplish these goals in 2013.
Check out the upcoming PokerNews MSPT Season 4 schedule at MSPTPoker.com, and follow the PokerNews MSPT on Twitter and Like PokerNews MSPT on Facebook now!