Two-Time MSPT Champ Matt Kirby Talks Titles, Family & Poker in the Midwest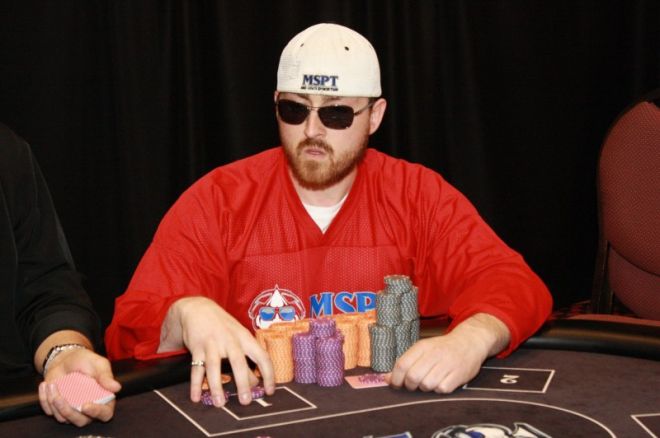 With sunglasses, a stocking cap and a full ginger beard, Matt Kirby reminds you of an extra from the TV show Sons of Anarchy, though he is far more comfortable sitting at a poker table than on a motorcycle. That's because the 28-year-old Minnesotan is enjoying a 2012 career year with $158,384 in winnings.
A regular on the Midwest circuit, Kirby is a regular on the World Series of Poker Circuit and never misses a stop on the Mid-States Poker Tour, which is just wrapping up its third season. While he has been playing on the latter tour, formerly known as the Minnesota State Poker Tour since its inception, it wasn't until this year that he finally broke through by winning not one, but two titles — Northern Lights and Grand Casino Mille Lacs. The two scores brought his MSPT lifetime earnings up to $101,523, made him just the second player to win multiple MSPT titles, and saw his celebrity rise in his home state.
Granted, low six figures is not overly striking, but it did change the life of this small-town Midwesterner who haphazardly found his way into poker approximately three years ago.
Kirby grew up in a card-playing family in the small town of Bemidji in northern Minnesota, the northernmost city on the Mississippi River and home to folktale character Paul Bunyan and Babe, his blue ox. "Playing card games with my dad at a young age really helped me develop my analytical processes as he would often take time to think about his moves and try to get reads on," Kirby said. "I still held [my own] no matter what game we were playing."
Those games mainly consisted of cribbage and the like, but when he turned 18, Kirby began playing poker for money in local home and bar games. For the better part of a year, players twice his age consistently relieved him of his $20 buy-ins, making him one of the game's biggest losers. After graduating from high school, Kirby left Bemidji to attend the University of North Dakota, which is where he took his game to the next level.
"I realized I needed to get better, I didn't have friends who played online or for a living, so I turned to books," Kirby explained. "First I read Harrington on Hold'em. My game got quite a bit better and I started seeing some results. The first tournament I ever won was at a small smoky bar called Charlie Brown's which was a $100 buy-in with about 55 players, which wasn't much, but it got me hooked."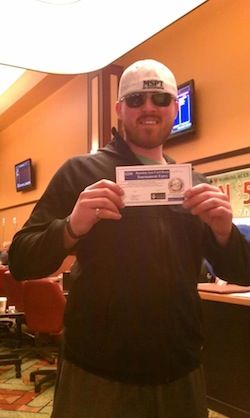 Kirby continued to play in similar bar tournaments on his way to obtaining a bachelor's degree in entrepreneurship and beginning law school, which is where he met online pro and FTOPS winner Lance "kingpin023" Harris. "We didn't get to know each other too well at that point, but about six months later I moved to the Twin Cities area to work on my MBA and continue law school there," Kirby said. "I lived in Apple Valley, Minnesota, with a couple of friends, and I happened to run into Lance again. It turned out we lived about a mile away from each other. At that point, we became friends, and he invited me to come sweat him online and talked me through his thought processes of online tournament play. After a few sessions, he took time to come to my place and watch me and tell me what I was doing wrong and so on. I feel like I owe so much to Lance. If it wasn't for our coincidental meeting I wouldn't be where I am."
With Harris mentoring him, Kirby began to grind online with increasing success. Unfortunately, that's when Black Friday hit. "I started to get pretty good in the last few months of online leading up to black Friday," Kirby said. "I won some decent tournaments for $10,000-$12,000 and had a couple deep runs in some FTOPS events."
It was also at this time that Kirby spontaneously decided to pursue poker full time — a decision that came one year through his two-year MBA program at Hamline University in Saint Paul.
"I remember going to class one night. I got there a little early and we were kind of waiting for the professor to show up. I had my laptop open and was looking at the schedule for the Minnesota State Poker Tour at Running Aces that week. There was a qualifier that night that started in less than an hour. I remember thinking for about five seconds and said, 'Screw this.' It was going to be boring sitting there, so I packed up and went to play poker and won a seat to the Main Event. The next night came around and the thought of going back to class didn't even enter my mind, I just went and won another seat. I never went back to school, never talked to anybody there about it, and just didn't go back. I didn't do anything in the Main Event but made a few thousand off of the seats I sold and decided to get to work building a bankroll."
Kirby proceeded to hit the live scene in his homes state, including building a bankroll at Canterbury Park in Shakopee and in MSPT events. "I started by grinding all of the satellites that were available to me and often won 3-5 seats into the Main Event," Kirby expounded. "So I would sell all but one seat and play the Main Event that way. I still play almost all of the satellites on the MSPT, as they are great bankroll management tools, as well as the fact that they are a nice way to get to know your opponents in time for the Main Event."
While beginning a career in poker, Kirby also fell in love with a nurse who also grew up in Bemidji, and she is now his fiancé. What's more, the two welcomed a son, Joseph, back in April. "I've met people who think they have a great wife, but they must not have ever met Ruth because she is the most understanding, sexy, funny, coolest girl a guy could ever hope for," Kirby said with a big smile. "This situation makes it a little more difficult to be on the road for long periods of time given the fact that I not only have to be away from her, but Joseph as well."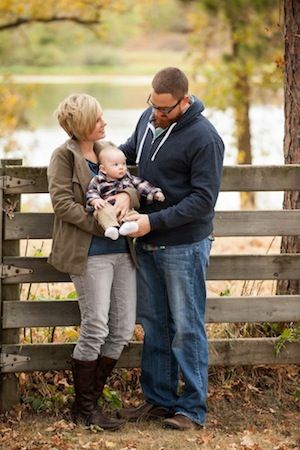 Kirby admits being on the road while trying to build a family is tough, but he's able to do it thanks to a solid support system.
"As the great Chris "Fox" Wallace — my fellow MSPT FT commentator — once put it: 'If you marry a girl who is currently a stripper you just have to deal with that, but if she becomes a stripper after you marry her that's a whole different story.' He then analogized that in the reverse situation with us being poker players. Ruth had already accepted that I wasn't going to be doing anything else and she was willing to work with the situation. It has turned out to be a good decision for us given my results over the last year and a half. We also have a really solid support system around us, Ruth's parents step in when I'm gone on the road and help take care of [Joseph]. I don't know what I did to be so blessed, but I am very thankful for my current situation and successes this year."
In 2011, with the support of his family, Kirby began to venture out of the Midwest, even traveling to the Arizona State Championship in August of that year. Although he faced some stiff competition in that event such as Sean Getzwiller, Eric Baldwin and Kristy Gazes, Kirby managed to make it all the way to the final table as the chip leader. Unfortunately for him, the cards turned on the final day of play and he made an unexpected exit in eight place for $32,000. Despite his disappointment, Kirby used the experience to set a new goal for himself. "Although the finish wasn't great, I felt pretty good about my game and made it a point to finish a tournament and take home a title," Kirby explained. Less than a year later, he did just that at the MSPT Northern Lights.
"The Northern Lights MSPT was only about 45 minutes from where I live and it was just a few weeks after our son was born, so I really wanted to do well there," Kirby said. "As Day 2 of the Main Event wound down, I started to run over the tournament. I was picking up some big hands in really good spots and also made a couple of nice trap plays. By the time the final table started, I held just over 50% of the chips in play. I wasn't going to let anything stop me from winning this one."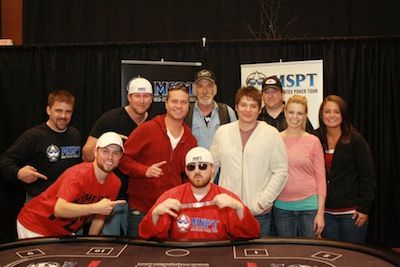 With a win in his pocket and a newfound confidence, Kirby traveled to Las Vegas this past summer for his first World Series of Poker where he managed a deep run in Event #43: $1,500 No-Limit Hold'em, finishing 78th out of 2,770 for $6,208. However, the highlight of his summer came when he won a Rio Daily for $52,000. Having held his own in poker's premiere series, Kirby returned home and went right back to work on the MSPT.
In November, Kirby traveled to the Grand Casino Mille Lacs and ended up making his third MSPT final table. Interestingly, Dan Sun, at the time the only two-time MSPT winner, was also at that final table. If the MSPT had a poster boy, Sun was it, but that did not deter Kirby, who actually got lucky to send his opponent home in third place.
"That was a beautiful hand that Sun set up like a chess master," Kirby recounted the hand. "He had open limped 5-6 times throughout the final table and never had a big hand. In this particular hand, he limped the button three-handed at 15K/30K blinds. He had about 500K behind and another great player, Eric Wright, was in the small blind with about 800K. I was in the big blind with about 2 million in chips. After Sun limped, Wright raised to 80-90K, and I looked down at
and thought for a while before shoving given my read on Wright's raise and the stack sizes. Sun called and Wright folded. Sun rolled over
, which wasn't good for me. The flop came out almost as bad as it could have for me
all red. I had no backdoor straights or flushes, but the dealer rolled a
on the turn and another
on the river. It was a great play by Sun, just an unfortunate result for him."
Kirby went on to defeat Wright in heads-up play to capture the $46,970 first-place prize and his second MSPT title. "Winning my second MSPT bracelet was quite special," Kirby said. "I feel that an average player can run good, play well, catch a couple breaks and take down a tournament, but to win two has only been done by one other player over three years. I feel it speaks to how much my game has grown over the last year or so."
As his best year to date winds down, the bearded charmer has done a good job keeping things in perspective. "I'm a small town guy," Kirby said. "I have a lot of great friends up north and it's quite peaceful to be able to spend time with my family, go fishing with my Dad or friends, or just relax in a place where you aren't going to find a traffic jam."
Kirby, who is in the process of buying a house with his fiancé, may have established his roots, but he's not letting that hold him back. "I fully intend to be the greatest poker player in the world," Kirby casually stated. "Poker will be my career for quite a while and in whatever I do, I always strive to be the best at it."
*Pictures courtesy of MSPT and Matt Kirby.
Get all the latest PokerNews updates on your social media outlets. Follow us on Twitter and like us on Facebook now!