Interview with PokerStars Ambassador and Last Comic Standing's Gerry Dee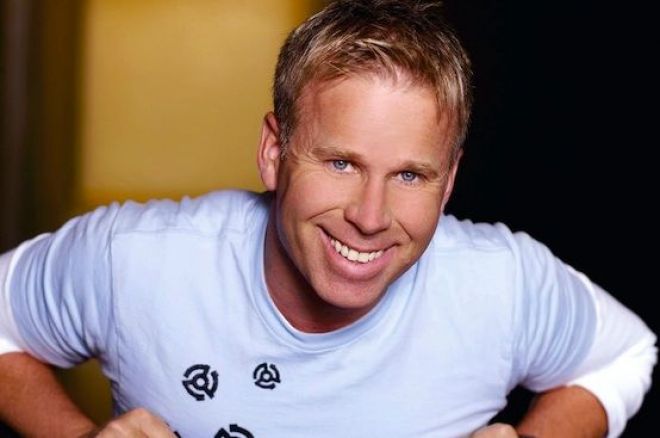 If you're a fan of stand-up comedy, there's a good chance you've heard of Gerry Dee. The former physical education teacher and hockey coach placed third in Season 5 of NBC's Last Comic Standing, and he is well known as Canada's favorite TV teacher on the weekly sitcom Mr. D. More recently, Dee reached a sponsorship agreement with PokerStars that saw the comedian travel to this year's PokerStars Caribbean Adventure.
In exchange for PokerStars.net signing on as the title sponsor of the Gerry Dee Comedy Tour, Dee has agreed to appear in TV commercials and at live events. "I'm better at math and statistics than the teacher you see on TV, so I'm not a bad poker player," he said when the agreement was reached. "I'm no pro, but I've always been a bit of a poker buff. I really admire the skill it takes to compete at the top level. I'm excited about this partnership and am looking forward to improving my game."
Long before Last Comic Standing, Dee, born Gerard Donoghue on Dec. 31, 1968, was already building a successful career in comedy. He had his own special on Canada's The Comedy Network, performed at comedy clubs like Just For Laughs and Yuk Yuks, and had a small role in Trailer Park Boys: The Movie. His appearance on Last Comic Standing, during which he missed the birth of his daughter, helped establish him as one of comedy's elite.
Since his appearance, Dee has garnered even more attention. Since 2007, he has hosted the Gerry Dee: Sport Reporter segment on Canada's cable channel The Score, and he's interviewed such sports notables as Michael Jordan and Charles Barkley . Furthermore, Dee won a Canadian Comedy Award for Best Make Stand-Up Comic in 2008, and in January 2012, his sitcom, "Mr. D," had its premier on CBC Television. "Mr. D" was recently renewed for a second season.
Dee got a chance to test his poker skills at the 2013 PCA, where, in addition to conducting interviews and filming his Bahamian experience for a TV special, he played in the $10,000 Main Event.
Here's a look at the PokerStars commercial Dee appeared in to help drum up excitement for the PCA:
PokerNews had the chance to speak to Dee about his foray into the poker world.
PokerNews: How did you learn to play poker?
Gerry Dee: I learned like any college kid, just your buddies play. I played sports and it seems to be a crossover between that and having poker nights with the buddies. I was at a golf course and poker nights would happen once a week there, so that was the first time I played live poker. I play a little bit online at PokerStars for real money.
It was nice to play in a couple cash games, and I did well. You know, you're sitting at the tables and I don't know the people I'm sitting next to, so it's probably better that way. It's amazing how you do stand out [as an amateur].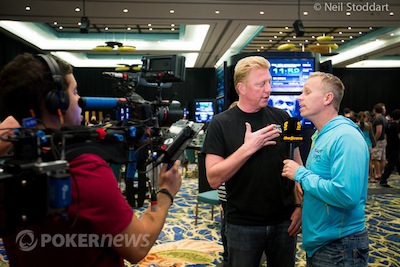 How did the PCA Main Event go for you?
I took out Vanessa Rousso at my table. I had four head-to-heads with her and I won those, which can obviously happen to anyone, but it was pretty cool for me to do that. Daniel Negreanu was at my table. Unfortunately, I didn't take him out, but he busted. Jonathan Duhamel busted on Day 1. I talked to Jason Mercier and Chris Moneymaker, as well. All of those people busted before me, so that's my big claim to fame — that I lasted longer than those five people.
Was this year's PCA the first major tournament you've played in?
Only one ever. Some of the terminology, the antes and big and small blinds, I haven't been in many games like that. In poker, there's obviously a lot of luck, and I think a lot of pros know that. My lasting longer than those pros I just mentioned is probably a one-in-a-million chance for me. I ended up busting on a stupid play. I was low-stacked and tried my first bluff in two days. It was probably a bad time to bluff, and you know that's something you might know if you played more — that you don't want to bluff at that stage. The bluffing should maybe come when you're higher stacked. I was talking to a pro at my table on Day 1, and he told me some of the good plays I made and some of the bad plays I made. I called an all in of a guy who had the nuts, so I lost about 40,000 right there, but a great experience.
Can we expect to see you on the tournament circuit moving forward?
No. I'll play the PCA in the future. I have a family. I'd love to go to the World Series of Poker and do things like that, but PokerStars and I have a relationship as a public figure, not as a poker player. They told me they were shocked that I made it to Day 2. I held my own. As good as Daniel, Vanessa and all those people are, they can tell you that all it takes is a couple of bad beats. I knew enough to hold my own, obviously.
Speaking of your relationship with PokerStars, how did that opportunity come about?
In Canada, since Last Comic Standing, I've done a couple things. I'm on TV regularly. I've got my own sitcom that had turned into a hit there, so in Canada I became a bit of a face. I've been fortunate enough to do that, and PokerStars, in Canada at least, wanted to try something to grab attention. I guess [their hiring me as an ambassador] was sort of a win-win. When they came to me, I told them, "You know I actually play, and I like it." So that was a bonus. Making it to Day 2 in the PCA gave me a little bit of cred in the poker world. I can act, and I think the acting helped.
I do a sports show back home. I interview on a sports network, you know you have ESPN in the States, but in this one is called The Score, and I have my sitcom there on another channel. I do my standup across the country, and I also do theater tours now. It's really gone well since Last Comic Standing. It's fun for me. The PCA is fun, but it's draining. I couldn't do it everyday. I have a lot of respect for the pros that live their life sitting at a table all day and mentally staying focuses. I give them a lot of credit for doing that and making a living at it.
"You just can't win them all," Team PokerStars Pro Daniel Negreanu consoled Dee at the conclusion of the interview. Interestingly, Negreanu recently filmed an episode of Dee's hit TV series "Mr. D.," which is slated to air later this month.
Check out Kristy Arnett's interview with Dee at the PCA:
Finally, from now until March 30, PokerStars is running the "Meet Gerry" promotion for Canadian players. The promotion allows players to compete for three prize packages, which include flights to Toronto, hotel accommodation and $500 spending money, along with tickets to see Dee's stand-up and a private meet-and-greet with the comedian. Freerolls run every evening from January 7-March 30 and each nightly tournament awards three players with a seat to a monthly final. Players can also buy-in directly to the finals for just $0.99, or purchase a ticket from the VIP Store for only 80 FPPs. The three finals where prize packages will be awarded will be played at 18:00 ET on February 3, March 3 & 31.
Interested in getting in on the action? Check out our PokerStars review page today and take advantage!
Get all the latest PokerNews updates on your social media outlets. Follow us on Twitter and find us both Facebook and Google+!