Online Chat: PokerStars SuperNova Elite David "MissOracle" Yan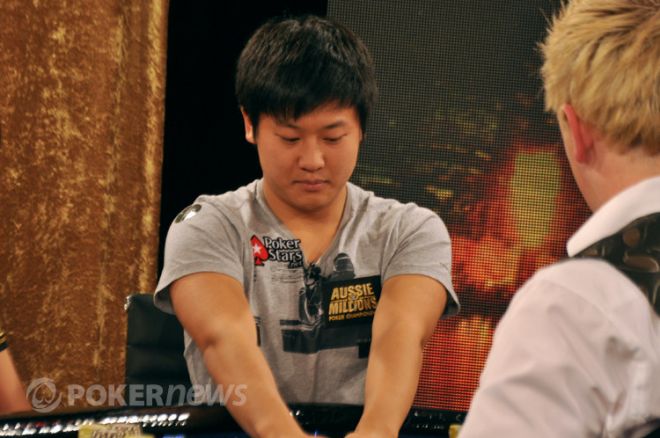 Becoming a Supernova Elite on PokerStars is no easy task, but there is no higher honor on the acclaimed online poker site. New Zealand's David "MissOracle" Yan, who is only 19, has not only attained this ultimate VIP status, but he has made a splash in the live realm by finishing sixth in the 2013 Aussie Millions Main Event for $232,254.
Despite not being old enough to play in the World Series of Poker, Yan has been busy establishing himself as a formidable force in the poker world and was kind enough to sit down with PokerNews to talk about his start in online poker, his progression through the stakes, and his notching the biggest score of his young career.
PokerNews: You're primarily an online player, so people might not know a lot about you on a personal level. Can you enlighten us a bit?
[Removed:17]: My parents are both Chinese, but I was born in Auckland, New Zealand, where I grew up. Before playing poker professionally, I spent a lot of my childhood selling various small things on the New Zealand equivalent of eBay for some income, accumulating over 1,000 unique feedbacks. In addition, I also got a job at McDonald's for a few months at one point. I am 19 years old and did my first year of university studying commerce and arts at the University of Auckland in 2011. I took 2012 off to take poker more seriously, as well as allow myself more freedom to travel. There's definitely a chance I'll go back in the future, but for now I'm going to enjoy the opportunities of freedom and flexibility that poker offers.
How did you learn to play poker?
Like many people, I learned poker from a group of friends who I played small-stakes home games with. We played about once or twice a month, either a $5 SNG or $0.10/$0.20 cash games. That was a lot of fun, although I was pretty bad. Eventually one of the guys in our group starting doing pretty well online and inspired me to follow in his path. I started playing online at the smallest stakes, $1 SNGs and $2NL, $5NL, etc., and eventually moved up the stakes from my small initial deposit. In terms of actually getting better talking strategy with friends, reading on forums and mostly importantly playing a lot of hands has been the most important.
When did you make the decision to play online poker professionally and what sort of factors led to that decision?
After I started doing quite well, I realized that the earning potential was very good for someone of my age. In addition, I never really wanted to be someone who was employed and worked an office job, so it made a lot of sense to play poker since I wouldn't have pursued careers which are comparable in terms of pay anyway, such as medicine or law. I also really enjoy the game, so am happy doing this as a job, at least for now. I really, really love the flexibility poker offers and really appreciate the fact that I can basically play as much as I want to, whenever I want to and where ever I want to. Obviously there are a few exceptions because of legislation, but I enjoyed traveling a lot in 2012, and was able to both see some of the world and "work" by playing poker at the same time. Also when I feel like I need money or want to make money, I can just play more hours at whatever time I want to. Ultimately the financial freedom at such a young age, as well as being my own boss and having ridiculously flexible hours, made it an easy decision.
What has been the reaction of your family and friends?
Most of my family were kind of a skeptical at first, as you may expect, but ultimately my family is fine with my decision now after a continual display of success. My family in general aren't as strict as some others, particularly those of Asian culture, so I'm quite fortunate in that sense. I was never pressured to be a doctor or lawyer, and my family has been pretty supportive from the start. I think my interest in business and being an entrepreneur at an early age definitely helped as my family learned to trust me when it came to money and the ability to have good judgment on simple positive expectation risk-taking.
You are a Supernova Elite on PokerStars. How hard was it to accomplish that feat and what did it mean to you?
Making SuperNova Elite is probably my proudest poker achievement to date, even more so than my recent cash at the Aussie Millions. The reason is because a big cash in a tournament requires a lot of short-term luck, and while it is cheesy to say, "anyone" can do it. Becoming Supernova Elite requires a lot of hard work, dedication at a consistent level and a generally strong work ethic. In order to put that much volume in and actually win money in the process is in my opinion pretty difficult so I'm really happy to have done it.
For me personally, I didn't have to work as hard as others may have, because I was playing fairly high stakes throughout the year, and I am also a pretty strong multi-tabler. I didn't have to play as many hours as some other Supernova Elites had to, and even though I made it quite late in the year, I made it fairly comfortably considering I traveled so much. I was physically unable to play for two months in the year as I was either in the Australian desert or Fiji where there wasn't suitable Internet, or in LA or NYC in the States.
What sort of games and stakes to you play online?
I consider myself a fairly diverse player as I have played a significant amount of cash games, MTTs and SNGs. Last year I made about 400K or 40% of the 1 million VPPs required for Supernova Elite from SNGs, and about 60% in cash games. I mostly play either hyper-turbo SNGs at the high stake level ($100 and $200), and 6-max zoom cash games at the 500NL ($2.5/$5) and 200NL ($1/$2) level. I also played some other games throughout the year like other forms of SNGs and some MTTs. I didn't play as many MTTs as I would have liked to simply because the time zone in New Zealand isn't ideal. Waking up at 3AM for the Warm Up is kind of brutal for example.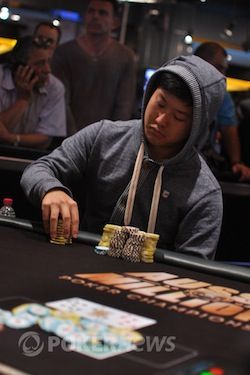 Can you tell us a little about your progression through the online stakes?
I basically started off at the smallest stake at every game format, although at some point I stopped playing cash games and moved pretty quickly up in the MTT and SNG stakes, essentially skipping the small-mid stake level. When I started playing cash games again, I jumped into 500NL Zoom without really having played 200 or 400NL, but it worked out alright for me as I'm a fairly fast learner in general, and I also learned a lot of poker concepts that more or less transition while I was learning MTTs and talking to some very good players.
What is you online screen name and is there a story behind it?
My PokerStars screenname is "MissOracle" and unfortunately there isn't really an interesting story behind it. For some reason, the idea of having a feminine screen name was amusing at the time.
Do you prefer playing online or live? Why?
I think I really like having a mixture of the two. If I play too much of one, then I have a big urge to play the other. Overall, I like playing online more because the flexibility is so much greater. For the most part I can play most stakes anytime I want to, whereas live games aren't always running, especially at reasonable stakes. More importantly, I can play a lot more tables online and play way more hands per hour, as well as play from the comfort of my home or a friend's home. Live can unfortunately be a little slow sometimes, but that being said, there are some nice benefits of playing live. It is usually a lot more exciting, and the social aspect is quite appealing to me as I love meeting people. I've had some pretty enjoyable talk at the table with both recreational and regular players.
What is the poker scene like in New Zealand?
I think poker is quite popular in New Zealand in general and definitely has the potential to be more popular with the help of marketing to raise awareness. Unfortunately, I'm not quite old enough to play the live games here yet, despite being allowed to play in Australia and Europe, but I have seen that there is definitely a decent number of poker enthusiasts in the community. I know, or at least know of most of the players in New Zealand who play professionally and can happily say they are a nice bunch of people.
What inspired you to play this year's Aussie Millions Main Event?
I played in the Aussie Millions Main event last year, as well, but mostly just wanted to play because it's a tournament with a really great structure that I think is really profitable, and a lot of fun. There is a big list of side events that are quite nice too; with a great diversity of formats and options available. I also really love the city of Melbourne and definitely think that the atmosphere, culture and energy of the city is truly world class. Finally, I had quite a lot of friends from around the world who were going, and this was a nice opportunity to catch up with some of them that I otherwise would rarely get a chance to see.
What is you best memory from the Main Event, be it a hand or what have you?
One of the most memorable moments of the Main Event was when I coolered one of my opponent's lower straights with the nut straight on a board reading
rainbow. I had
, and he had
. This was a pot for over 1.5 Million late on Day 4 and was really crucial in my late-game run. The turn actually brought a heart, and since he had two hearts this meant he could hit either an
to chop or any heart to scoop the pot so that was a massive sweat. PokerNews reported I let out a sigh of relief after the river bricked off and they were right. In addition, the moment I realized I had made the final table after playing for close to 50 hours in four days felt really great and unreal, although I was a bit too tired to let it truly sink in since we had played for over 14 hours that day.
You ultimately finished in sixth place for AU$220,000. Are you satisfied with that result?
This is by far my biggest score to date, and I am very happy with the result. It's a lot of money and well over my expectation for the series. Obviously being that ridiculously close to the first prize of $1.6 million does mean I was a bit disappointed, but I'm still really happy.
What was the reaction of your family and friends to your large score?
My friends were extremely supportive of me throughout my deep run, and I got a lot of kind comments and posts on my Facebook, Twitter and twoplustwo accounts, even from friends who don't normally play or follow poker. One of my friends even flew in from New Zealand to rail the final table, which was a special experience for my friends and I. My friends were really happy for me and I've received many congratulations from my them and the poker community. To be honest, my family basically had no idea what happened. I flew back a day after the final table and told my mother, who I think still kind of doesn't really get what happened.
Did you make any big purchases with the cash?
Not in particular, yet. I bought an iPad on the way back but that purchase was a little overdue anyway. I'm not really one to splurge or ball out of control so unfortunately I don't have anything more interesting to say.
Will you be playing the WSOP APAC in April? If so, what are you most looking forward to at that event?
Yes, I almost definitely will be playing the WSOP APAC. I think I am mostly looking forward to the Main Event since the buy-in is very big and the idea of having the chance to win a lot of money again is very exciting! In addition, I'm going to try to explore the city a bit more with my friends this time, and I look forward to that, as well.
Get all the latest PokerNews updates on your social media outlets. Follow us on Twitter and find us both Facebook and Google+!