World Poker Tour President Adam Pliska Talks Season XI on FSN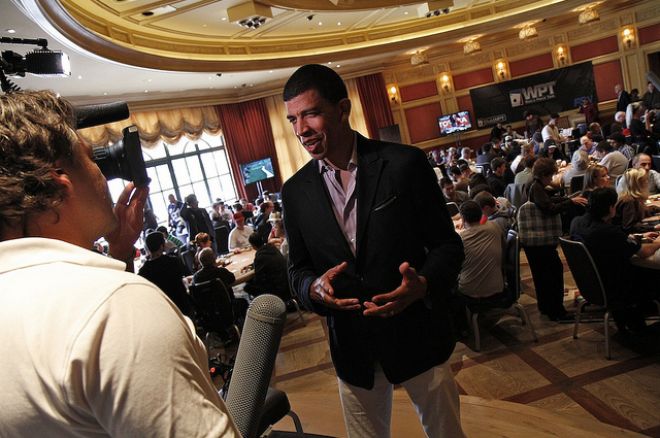 With the recent completion of the World Poker Tour Lucky Hearts Poker Open, Season XI of the WPT is more than halfway complete. On Sunday, Feb. 24, the first episode of the season will air on Fox Sports Network with the first of three one-hour episodes from the Parx Open Poker Classic. Of course PokerNews will once again provide WPT on FSN recaps, and to help build anticipation, we sat down with WPT President Adam Pliska to talk about the upcoming season on FSN, and how the WPT has been able to persevere through 11 seasons.
PokerNews: It seems Fox Sports Network has turned out to be a great place for the WPT. Why do you believe it's such a good fit?
Pliska: The relationship has been excellent for us in part because one of the issue that we dealt with at the beginning is that we wanted to make sure that the show was characterized as a sport, and that is one of the things the WPT has been invested in since the beginning. The Travel Channel was incredibly important because they were the company that took a risk, that put poker on prime time, and at the time for two hours an episode, and then we had some time on the Game Show Network (GSN), as well. But really, poker is a sport, and now I think people see it and appreciate it as a sport, and having it on a sports network was important to us, so that part of the equation we feel is fantastic.
What has happened over the last three seasons is that as we made changes to the show, we saw that the rating had smoothed out. After a significant investment in the show, we saw rating, go up over 30% in that first year. We see overall viewership still increasing, going up last year over 9%. The relationship has just grown stronger. FSN has done a great job at promoting the times and events, and we're going to be doing some new things this year that will really allow people to know what's going on, feel like tour is active and they can interact with it, and we even have a promotion coming up where a person can win a trip to the Bellagio, get the whole WPT experience, go behind the scenes, and FSN has been terrific about that in the promotion of the show.
ClubWPT is returning as the sponsor for Season XI. Can you talk a little bit about the decision to sponsor your own show using ClubWPT?
I'm quickly approaching my ten years with the WPT, and I have to say that the decision to sponsor our own show was one of the top five decisions in WPT history. First of all, it's obviously been successful, so we're happy about that, but it's very organic to what we're trying to do. The idea is to make the WPT approachable to anyone at any place and time . . . We send people to everyone of our events [through ClubWPT], so it's great to see someone who can't risk a large amount of capital suddenly find themselves in Venice, Italy, or Paris or the Borgata, and they are our home team. Our group loves them, take care of them, they become part of our family. Our talent will take them out, the Royal Flush Girls will go partying with them, Mike and Vince will make sure that they have a good time, and so one of the most rewarding things about ClubWPT is that it allows our customer base to touch us for a very modest investment.
So many poker shows have come and gone over the years, especially after Black Friday. How has the WPT remained so steadfast for 11 seasons?
First of all, the WPT wanted to set out to be the gold standard in poker sports television, as opposed to just entertainment television. So that meant we made a lot of sacrifices. Our production quality and our production costs are much higher than other productions because we weren't just doing it to be a promotional activity, we were there to show the sport, we were concerned about ratings, and we were concerned about all the things that other sports television does.
It certainly didn't hurt in the early days that we were the first poker company going public. At a time when poker television was coming out every other week, we didn't have the advantage of some of the online capital. What we did have was a bit of a war chest that allowed us to get through some turbulent waters and invest in the brand. Build up the brand, not dilute the brand for a quick buck, and that allowed us to build this and build some credibility. In the last three years, what you've seen is a significant and positive change as we've been able to stay when the market has thinned out. At the end of the day, people want their names on that Champions Cup. It is important to them, this is not a one-off poker special, and it's not just about getting on TV. It's far more about the prestige and what it means to become a part of the Champions Club.
Kimberly Lansing is returning as the show's anchor after having a child last year. Are you excited to have her back?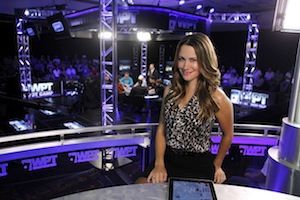 My instinct is to say something sarcastic because she is a great practical joker and has a great sense of humor, but I am just so pleased she is returning. Kimberly was made for that position. She knows poker and she appreciates it, but she also has all of the finesse and the talent of an anchor in that position. That's not easy. She makes it look easy, but to be there and having that balance, knowing when to go back down to Mike and Vince, just that right balance of information is not an easy thing to do. She does it, she makes it look effortless, she's beautiful, funny and warm, and she connects to an audience.
As you mentioned, you're going on ten years with the WPT. In that time, what has been the biggest surprise for you?
I think the biggest surprise is that there was never a year without surprises. It is one of the great business cases in the last 50 years, just the poker industry and the poker boom. One of the things I'm happiest about is how the WPT has been able to maneuver the waters and continue to keep its brand in place. It's not always been easy. If you're aware, there was a time when competition and other things in the market gave us real concern as to what the future would bring.
To answer your question, the biggest positive surprise to me is this renaissance that we've seen over the last three years. It didn't go from, 'Oh, we need to reinvest in the brand and therefore people will continue to come to the events.' The truth is we invested in the brand, we redesigned a lot of elements of it, some pretty major changes, and the WPT's never been in a better place. We're going to have over 50 events in total this year. There's always a WPT event. You can see things growing, how the assets have been used, and most importantly, the response of the players. I didn't create the WPT, I was originally in as the general consul, so I get to step back and realize just how much players have had an impact on that and to get the positive feedback from them right now just means the world.
Will we be seeing any news stops added to the WPT anytime soon?
We haven't announced the full calendar yet, so I would continue to look for European stops. Also, as you know we just had the first WPT-sanction Texas hold'em event in China. I think it's fair to say that we'll be going back to Asia.
Are there any other new things you'd like to highlight?
We will be highlight various stops in the show in a segment that will show people just how active the WPT is. One of the major changes that we made a few years ago is that we started to show the play down. It was probably the thing that I received the most comments from. I used to make the analogy that it was like we went to the Academy Awards and we only filmed the stage, forget about the fact that Angelina Jolie is sitting in the audience and there's Jack Nicholson and everyone else. From an entertainment point of view, we were missing some of the great action. Highlighting the play down has been very successful. Similar to that, many people watch this and they don't know we have more than 11 stops. We have 50 events and people are winning all the time, so we're going to highlight some of those.
The Ones to Watch this year is going to be great. I think we have four women in the One to Watch, and it's been a very popular segment. We've brought in Joey Carson to serve as executive producer on the television show this year to help us out, to kind of help us inject new aspects into the show. Joey has done The Real World, Simple Life, and all those famous reality shows, and I think we'll see in this year more opportunities to meet the talent individual. More chances to see who the Royal Flush Girls are, and Mike and Vince, and to see them in some situations we haven't seen them in before.
Finally, the WPT Foundation that started last year, one of the aspects that we've done is partnered with our casinos to find local charities. We go out there and help them for a day, help highlight them, and we're going to do that in the show. You're going to see our talent going out to various places and help these various charities. That's just a way to give back to the local communities, and we're very proud of that.
*Lead photo courtesy of WPT Blog.
Get all the latest PokerNews updates on your social media outlets. Follow us on Twitter and find us both Facebook and Google+!
Executive Editor US, PokerNews Podcast co-host & 2013 WSOP Bracelet Winner.