WPT on FSN Legends of Poker Part I: Marafioti/Aguiar Drama Bomb, Fashion Report & More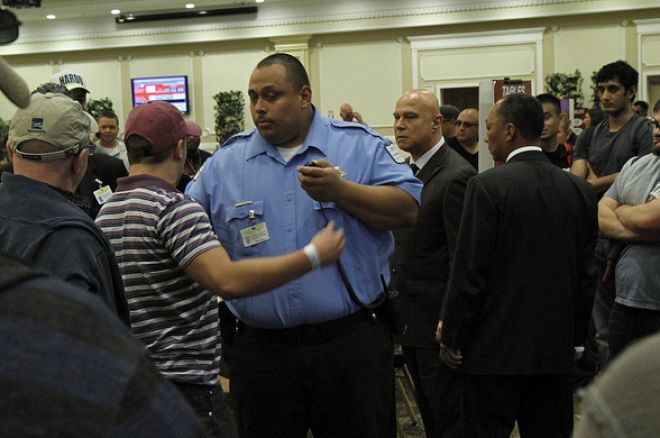 Season XI of the World Poker Tour continued on Fox Sports Network last Sunday with the first of three episodes from the Legends of Poker, a $3,500 Main Event that attracted 622 entries at the The Bicycle Casino in Bell Gardens, California, back in August 2012. The $2,111,690 prize pool was distributed to the top 63 players, with $500,000 reserved for the eventual winner.
The First Casualty of the Day: The Legends of Poker, which has been on the WPT schedule since day one, is one of the most prestigious tournaments in the poker world. This year's occasion was a re-entry event, meaning that players who busted on Day 1a could fire a second bullet on Day 1b. That was good news for Vanessa Selbst, who made an uncharacteristically early exit as the first elimination of the tournament.
"I made the right read on someone and he hit a two outer on the turn," Selbst explained before indicating that she'd try again the next day. Others who soon joined her on the rail, as shown on the broadcast, included Tuan Le, Dan O'Brien, Justin Young, Galen Hall, A.P. Phahurat and David Williams.
"Definitely the Short Guy": If you recall, August of last year was about the time Matt Marafioti was facing some highly critical off-the-felt controversy. At the Legends of Poker, Jonathan Aguiar called Marafioti out on it, and it didn't go well — as captured by the WPT cameras. Marafioti, who was supported by a hired bodyguard, had a verbal confrontation with Aguiar on the tournament floor and eventually shoved his antagonist. This resulted in Marafioti being escorted from the tournament floor by security, though both players eventually returned to action. Leave it at home, boys.
"I'd go with the short guy," UFC announcer Bruce Buffer said of the fight. "Definitely the short guy."
Kessler Closing in on 100: As he's often prone to do, Mike Sexton made the rounds on the tournament floor and visited with some of the players. One such man was Allen Kessler, who was playing his 98th WPT event at the Legends of Poker. Interestingly, the "Complainsaw" has more cashes than anyone on the WPT circuit.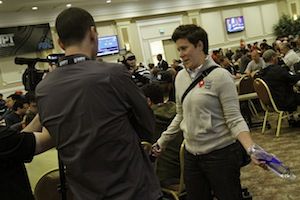 All Hale, Selbst: After busting Day 1a, Vanessa Selbst was at it again on Day 1b but to no avail. She got her stack all in preflop holding the
only to run into the
of amateur Josh Hale. According to the PokerNews Odds Calculator, Hale was a 69.42% favorite, while Selbst had a 22.75% chance of surviving the hand. The
flop was kind to Hale as it paired his jack and made him a 91.52% favorite, which left Selbst with a 6.36% chance of survival. The
turn meant Selbst's only hope was a 9.09% chance of a tie, but that didn't happen as the
blanked on the river.
Day 2 Action: Three hundred and two players returned for Day 2 action, but the majority of them went home empty handed. They included Owais Ahmed, Eric Davis, Dee Dozier, Brian Hastings, Andy Frankenberger and defending champ Will "The Thrill" Failla. By the end of play, just 84 players remained with WPT Season IX Legends of Poker finalist Ali Eslami leading the pack with 618,500.
Foxy Bubble Boy: With 64 players remaining on Day 3, the money bubble was in full effect. Everyone was intent on securing a minimum payday of $7,500, and that's just what they did when Elio Fox got all in holding the
only to run into the
of WPT Season VII World Champion Yevgeniy Timoshenko. The board ran out a dry
, and the 2011 World Series of Poker Europe Main Event champ became the Legends of Poker bubble boy.
Down to the Final Table: With only 18 players returned for Day 4 action, it didn't take long for the field to whittle itself down to a final table of six. Joseph Cheong was the first to go in 18th place for $18,100, and inaugural WSOP Circuit National Championship winner Sam Barnhart followed him out the door a short time later in 15th place for $23,800. After Stephan Graner fell in eighth place for $49,800, the TV bubble was on.
A few hand later, Jim Willerson got all in preflop holding the
, but was coolered as Hale turned over the
. A clearly disappointed Willerson watched helplessly as the board ran out
and then shook hands with his opponents before exiting in seventh place for $60,400.
Here's how things stacked up at the start of the final table:

WPT Season XI Legends of Poker Final Table

| Seat | Player | Chips |
| --- | --- | --- |
| 1 | Max Steinberg | 1,020,000 (17 BBs) |
| 2 | Jeff Madsen | 1,035,000 (17 BBs) |
| 3 | Raouf Malek | 3,130,000 (52 BBs) |
| 4 | Greg Mueller | 3,490,000 (58 BBs) |
| 5 | Josh Hale | 7,325,000 (122 BBs) |
| 6 | Ali Eslami | 2,700,000 (45 BBs) |
The Final Table Fashion Report: Mike Sexton has always said it's good for the games when players dress up for the TV final table. So did the Legends of Poker finalists take his advice? Here's my take on each of the players' wardrobes.

Jeff Madsen: When I think of Jeff Madsen, I don't think GQ, I think quintessential hoodie-wearing poker grinder. Madsen wasn't wearing a hoodie, though. He opted for a light long-sleeve blue getup instead. While the color was nice, it wasn't anything special. Grade: C-
Raouf Malek: I like retro, and Malek's black and white polo had a 70s look. Not classy per se but certainly unique and memorable. Grade: B
Josh Hale: A grey button-down with too many pockets and about two sizes two big wasn't very flattering. Top it off with a black San Diego baseball cap (how do they allow the "SD" initials here, but make Paul Volpe block out the patented "P" on his cap?), and you'd think Hale was going fishing as opposed to playing for $550K. His watch was nice, though. Grade: D+
Max Steinberg: It takes a confident man to sport a striped pink button-down while displaying a forest of chest hair. That's just what Steinberg did, and it actually came across better than you might expect. Grade: B
Greg Mueller: The former hockey player reps 3Bet Clothing, so it was no surprise to see him patched up in a long-sleeve black shirt. It was noting special, but Mueller topped it off with a nice pair of shades and a long chain around his neck. He looked like a poker player. Grade: C+
Ali Eslami: The slick-backed hair and sharp sunglasses, Ali Eslami has always got it going on. Reminiscent of a young Sammy Farha, Eslami completed his final table getup with a sleek zip-up jacket. It's far from traditional, and I like it. Grade: A
Madsen the First to Go: On what would become Hand #20 of the final table in Level 28 with the blinds at 30,000/60,000/10,000, action folded around to Steinberg in the small blind, and he coyly limped with the
. A short-stacked Jeff Madsen then looked down at the
in the big blind and moved all in for 1.2 million. Steinberg snap-called, and Madsen knew he was in trouble.
"You couldn't have had kings or something," Madsen laughed before rising from his seat. The
flop was as dry as could be for Madsen, and the
turn left him drawing dead. The young pro shook hands with all the remaining players as the meaningless
was run out on the river and then exited in sixth place for $75,400.
"I only had 18 big blinds to start, so you know, my decisions were pretty straightforward," Madsen explained in his post-elimination interview with WPT sideline reporter Matt Savage. "Just kind of all-in-or-fold situations, and the last hand, blind versus blind, I have a suited ace. If he shoves I'm calling, so it didn't matter that he limped."
Tune in Next Week: Part II of the Legends of Pokers is set to air on Sunday, March 24 on FSN, so be sure to check your local listings. If by chance you miss it, check back next week for the latest recap of all the action here on PokerNews.
Who will be the next player to add his or her name to this prestigious list of champions?
Past Legend of Poker Champions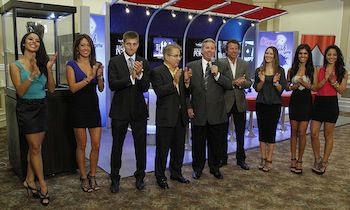 | Season | Player | Earnings |
| --- | --- | --- |
| 1 | Chris Karagulleyan | $258,000 |
| 2 | Mel Judah | $579,375 |
| 3 | Doyle Brunson | $1,198,290 |
| 4 | Alex Kahaner | $1,125,900 |
| 5 | Joe Pelton | $1,577,170 |
| 6 | Dan Harrington | $1,635365 |
| 7 | John Phan | $1,116,428 |
| 8 | Prahlad Friedman | $1,034,500 |
| 9 | Andy Frankenberger | $750,000 |
| 10 | Will "The Thrill" Failla | $758,085 |
| 11 | ??? | $500,000 |
*Pictures courtesy of World Poker Tour.
Get all the latest PokerNews updates on your social media outlets. Follow us on Twitter and find us both Facebook and Google+!