2012 World Series of Poker Main Event Champion Greg Merson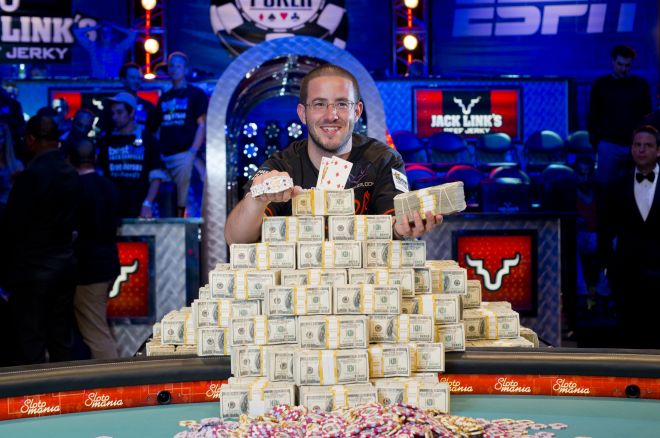 Greg Merson had quite the 2012 World Series of Poker. Not only did he win the Main Event to the tune of $8,531,853, but he also won the $10,000 No-Limit Hold'em — Six-Handed event for $1,136,197, placed fifth in the $2,500 No-Limit Hold'em — Four-Handed event for $70,280 and ran deep in one other. All of that earned Merson the 2012 WSOP Player of the Year title, truly solidifying his name in the poker record books.
Becoming the first player to win the WSOP Main Event and Player of the Year was clearly one of the brightest moments in Merson's life, but he has been through some very dark times, as well. Before 2012, Merson was just a poker-playing college dropout with a big drug addiction. Fueled by his poker winnings, Merson's habit grew worse over the years before he eventually realized he needed to change. He checked into rehab in 2007, looking to turn his life around.
After rehab, Merson returned to the grind of online poker before Black Friday hit and took away his job. Like many, Merson sought to escape and moved to Toronto to continue playing online. It was here that his drug addiction reared its ugly head and became a problem once again. So much so, that before he knew it Merson had blown through half of his net worth thanks to his destructive lifestyle.
At the beginning of 2012, Merson locked himself in a hotel room in Las Vegas and forced a detox upon himself for a few days. It became a matter of determination to get better, and Merson put his mind and body to the test, quitting completely cold turkey.
It's now been nearly 17 months since Merson came out of that hotel room a changed man, albeit still in his mid twenties and much the kid we all still are. By getting clean, Merson realized his outstanding potential in poker, something that motivated him to get clean, stay clean, and eventually reach ultimate poker greatness.
Although Merson hasn't recorded any cashes since his big Main Event victory, the critics shouldn't jump to one-hit-wonder conclusions just yet. Everything that Merson has let on leads us to believe he's in poker to be the best and to make the most money possibly — tournament accolades and global fame aren't what he's chasing. It's the reason Merson has gotten as good as he has because he knows what he's after.
Since becoming champion of the greatest poker event on Earth, Merson has elevated his passport game, taking trips to Australia and Macau. He's also a charter member of IveyPoker's Team Ivey.
If you get a chance, it's highly recommended that you check out Merson's blog on his website. Through his writing, Merson often paints a candid picture of his life and thoughts. Recently, he touched on his first trip to Macau where he dove head first into the cash games. It began with a $300,000 upswing the first couple of days, but followed shortly thereafter with a $500,000 downswing. Merson went on to leave up "a little bit" for the trip, but debated about even revealing anything about Macau in his blog.
"I had been debating weather or not to release this part of the Macau details publicly, but I think it's the nature of the live pro to be sneaky and greedy at all times, and I've had my issues with a few of the guys I played with out there (in the past, not while I was there) regarding etiquette and private games," Merson wrote. "Overall, I think live poker is extremely cutthroat, and I could care less if other pros get upset about me telling the truth about Macau. Overall, I think most players who can play that big have been there, are going there or know that they should be there, so I don't think it's really that big of a deal. Get to China people, get some gold."
Like him or not (and what's not to like?), Merson tells it like it is in his blog, which you have to respect. He comes off much more mature than his age suggests, and that's the same sentiment often received by those who interact with him.
About a week and a half later, following that Macau blog post, Merson wrote another blog. In it he discussed returning to online poker a bit in Toronto, some thoughts on the WSOP and a bad habit rearing its head. No, it's not drugs, but smoking — a habit Merson was trying to quit.
While putting up tournament results may be the first and foremost thing poker fans look for in a player, you can believe us when we tell you that Merson is still very much working on his game and getting better and better. He logs hundreds of hours online playing anywhere from $3/$6 to $25/$50 no-limit hold'em, and he has spent long days and nights in private cash games around the world.
Whether or not Merson will be able to repeat either feat of becoming Main Event champion or Player of the Year is still left undetermined. Only three players have successfully won the WSOP Main Event in back-to-back years in its current freeze-out format: Doyle Brunson in 1976 and 1977, Stu Ungar in 1980 and 1981, and Johnny Chan in 1987 and 1988.
There's no doubt that Merson has the skills to continue to be a force in poker. Looking ahead to the 2013 WSOP, we're simply left wondering if he's going to be chasing more gold bracelets by playing a large volume of events or if he'll keep things to a select minimum and continue to crush the large cash games available in Las Vegas during the summer.
Only time will tell, but you can keep tabs on him right here on PokerNews as we track the defending champ all summer long.
The 2013 WSOP kicks off May 29, and PokerNews happily invites you to take part in all our official live reporting coverage.
Get all the latest PokerNews updates on your social media outlets. Follow us on Twitter and find us both Facebook and Google+!