Best Steakhouses in Las Vegas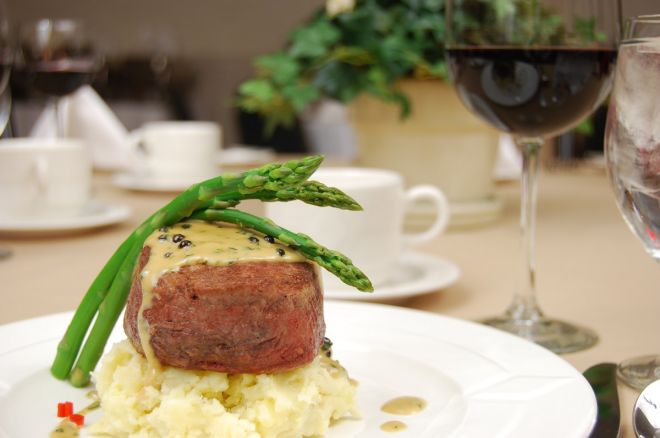 Food connoisseurs are always on a quest to find the best steakhouse, and there's certainly no shortage of greatness in Las Vegas. Famous chefs from all over the globe have opened steakhouses in Sin City, all dedicated to the consumption of aged and seasoned beef. It's up to you to decide your favorite, so we've listed some of the highest rated joints in the city:
Gordon Ramsey Steak at Paris
Gordon Ramsey opened his Las Vegas steakhouse with a bang in 2010. The two-story, fine-dining venue offers a wide variety of signature Ramsey dishes, including his renowned beef wellington. All steaks are aged and seasoned to perfection. Be sure to save room for one of Ramsey's French-style desserts.
Prices
18oz Bone-in New York Strip: $63
8oz Filet: $56
24oz Bone-in Rib Eye: $59
32oz Porterhouse $105
Craftsteak at MGM
Craftsteak at MGM is famous for its steak, of course, but award-winning chef Tom Colicchio is serious about creating menu items that satisfy everyone's tastes. The restaurant's specialties include Kobe beef, Braised Short Ribs, lobster bisque, and salmon, Colicchio only uses ingredients from small family farms and other specialized venues, ensuring that every dish gushes with flavor.
Prices
16oz Bone-in New York Strip: $48
10oz Filet Mignon: $56
18oz Ribeye: $55
32oz Porterhouse $96
Carnevino Italian Steakhouse at Palazzo
If you're in the mood for an upscale meal, try Carnevino at Palazzo. Sure, some of the dishes will run you the cost of a cash game buy-in, but if you're in Vegas why not splurge for the best once in a while? Carnevino's portions are massive, especially if you add a pasta dish to your entrée, so prepare to go home with some leftovers. Carnevino is famous for its all natural BBL beef and its minimum five-week dry-aging process.
Prices
Bone-in New York Strip: $61
Filet Mignon: $50
Bone-In Ribeye: $144
La Fiorentina (Porterhouse): $160
STK at Cosmopolitan
STK has locations in New York City, Los Angeles and Miami, but none have the atmosphere or trendy vibe like the restaurant's setting in Las Vegas. In addition to the spectacular steaks, food lovers can enjoy signature dishes like shrimp rice krispies and lil' Big Macs while taking in the musical stylings of an in-house DJ.
Prices
16oz Sirloin: $49
10oz Filet Mignon: $52
20oz Bone-in Ribeye: $53
24oz Porterhouse $65
Photo courtesy of SXC.hu