WSOP Runner-Up Jesse Sylvia Talks WSOP-APAC, Greg Merson, and Desire to Win a Bracelet

Brett Collson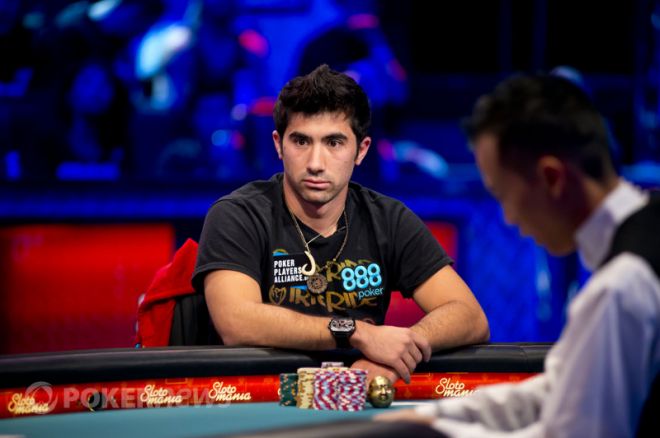 Team 888 poker pro Jesse Sylvia was one of hundreds of players who made the trip to Melbourne, Australia this week for the inaugural World Series of Poker Asia-Pacific festival. The 2012 WSOP Main Event runner-up made Day 2 of the historic "Accumulator" event and was one of 90 players to reach the money, putting him in position to reach back-to back final tables in WSOP bracelet events.
Sylvia sat down with PokerNews during a break on Day 2 — with about 50 players left — to discuss the WSOP-APAC "Accumulator" event, as well as his runner-up finish in the WSOP Main Event, his thoughts about Greg Merson, and his newfound motivation to win a bracelet.
This is your first World Series of Poker tournament since finishing runner-up in the Main Event last year. How does it feel to jump right back in and have some success?
Good, definitely good. I won't consider it a success until we get really deep but I feel good about how I'm playing today. I showed up and I just absolutely punted the first day ones. I've just never had jetlag affect me like that. I just sat down and played miserably for 30 minutes on both days. If felt good to actually play well yesterday, and I think I'm finally starting to get acclimated to the time change. It's weird; we came in at Aussie Millions and it was no problem so I didn't see this coming at all.
How do you feel about this Accumulator event? Do you like the format? Dislike it?
I think it's really cool. We had dinner with Jack [Effel] last night, and he was talking about how he came up with different concepts for tournaments. I think Mixed-Max is probably the best creation of a no-limit tournament that there's been since they started making different types of no-limit tournaments. He's always innovating, which makes it really cool. And it's good because the World Series is known as the best tournament series. Sometimes things get stale, but he's not letting that happen.
Did you attack this tournament any differently than you would have attacked a regular no-limit hold'em freezeout?
Yeah, I definitely went in with more of a reckless attitude. In any tournament, you're playing good poker, but taking some gambles might be worth it in this. The fact of the matter is, if you're a winning player it's going to be good for you to play all three days, but if you make it to Day 2 on the first Day 1, any chips you pick up on the other Day 1s will be worth less. So you're losing a little bit of value compared to the other players in the field who don't play another day. It's a lot about priorities and what matters to me. After taking second in the Main Event, I'm pretty big fan of winning bracelets (laughs).
Did finishing runner-up on such a big stage give you extra motivation to play more tournaments? You used to be more of a cash game grinder.
Yeah, I think I started really getting into tournaments after the Main Event. I realized that I like the glory of it. I spent years playing really, really good players online and live in big cash games and nobody was ever like, "Oh he's a really good tournament player." But after I did well in the tournament everyone was like, "Oh he's the best!" It's pretty funny, but that's how it works.
But yeah, I've really gotten into tournaments for the glory of it, and I also love traveling so I've been working on my tournament game a bit. I always say that taking second was great for me because it really gave me that fire — now I really want to win a tournament. I want to take something down, and I know when I win one I'm gonna want to win more.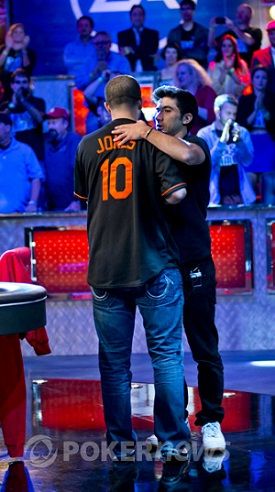 Do you ever think about the fact you could be the world champ? Does is it ever cross your mind how your life would be different?
It crossed my mind for three months. I wanted it really, really bad. I guess my life would be a little bit different. When they announced the big-name players that are here they would have said my name instead of Greg's, but it never really fazed me that much. If fading off into the spectrum of less significance means winning $5 million, I'm not that upset about it (laughs), but I never really felt like it was such a bad thing that happened.
I was really happy for Greg, too. I remember I woke up the next morning — I only got like four hours of sleep after we played that marathon match — and I put on the TV and SportsCenter was on. And they happened to be showing our final table for a second. I was still replaying the last hand in my head and thinking "Did that really happen?" and about whether I liked my play or not. So I saw [the replay] and Greg was bawling, and that was the moment I knew he deserved it; he puts everything into poker.
I had spent years playing poker for a living, but I never considered myself a big poker player. Greg's always been a poker player. It's what he lives and breathes. So I was really happy for him in that moment and I felt really great. And like I said, you're never upset when you win $5 million (laughs). It would be really cool to be the world champion, but I guess I'll just have to do it next year.
Do you feel like you and Greg have bonded or formed a friendship since the Main Event?
Yeah, I always get excited when I see him. I think he's always happy to see me. It's like an experience that you share with someone; it'll never be the same again. It's not like we started hanging out a lot more or anything. I actually knew him before the final table. He staked my roommate for like a year and a half, and we almost lived together like two years ago. He wanted to move to Las Vegas; if he had, it would have been him, my roommate at the time and me living together. That would have been kind of interesting. And then Russell [Thomas] was my roommate two years ago, so it was a really weird final table. It was a bunch of guys that all grinded $1/$2 together four years ago and just worked hard to move up.
How would it feel to come back and win this event right now?
This would be great. This would be really cool because I'm already planning to win the Main Event next year, so if I can win this and then the Main Event... I don't even think Phil Hellmuth can accomplish something like that.
Phil is still alive in this one. How cool would it be to play him heads-up?
That would be a lot of fun. You know what? When we got to three-handed in the Main Event, I made [my coach] Vanessa Selbst text Phil. Since Greg had to win the tournament to beat Phil for player of the year, I made her text Phil and tell him that if I knocked Greg out I get a case of Dom Pérignon. And he was like, "Sure whatever." He was hoping that someone would knock Greg out of it, but Greg is a tough person to knock out of a tournament.
Do you still talk to Vanessa a lot?
Yeah, definitely. We stay in touch. We're in a lot of the same tournaments, so we hang out a good amount. I hung out with her at PCA and we played blackjack with Michael Phelps for like an hour and a half. It was me, her, Phelps, Russell and one of my other friends just drinking and hanging out at the blackjack table. The next morning I thought about it and was like, "What a crazy experience. I love hanging out with Vanessa — she's cool."
Stay tuned to PokerNews.com for more interviews, feature stories and daily tournament reports from the WSOP-ASAP at Crown Casino in Melbourne.
Get all the latest PokerNews updates on your social media outlets. Follow us on Twitter and find us both Facebook and Google+!