World Series of Poker Invites Kobe Bryant To Play 2013 Main Event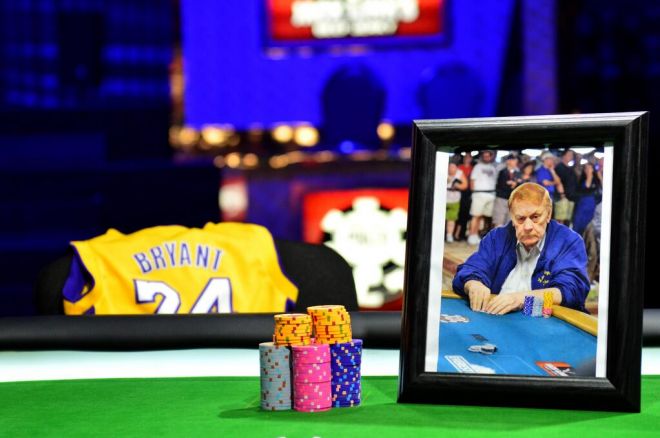 Plenty of NBA players have taken their talents to the felt of the World Series of Poker. Paul Pierce, Shawn Marion, Jordan Farmar and Earl Barron are among those to do so, and even the late Dr. Jerry Buss, owner of the Los Angeles Lakers, was a regular competitor in the greatest poker event on Earth. Unfortunately for sports fans and poker fans alike, Kobe Bryant will not be playing in the WSOP Main Event just yet.
According to a report from Eric Pincus of the Los Angeles Times, Bryant was invited by the WSOP to play in the 2013 Main Event on behalf of Buss, but has declined the offer. Bryant cited his injury as the reason for not being able to compete in the event, as he wouldn't be able to spend the long hours needed to play stuck sitting in a chair at the poker table. On Friday, April 12, 2013, Bryant tore his Achilles' tendon, which ended his season.
"Poker misses Dr. Buss. Game. Class. We invite @kobebryant to play in tribute. #sharksvsmamba" was the tweet from the WSOP with a link to this image featuring a Bryant jersey with a picture of Buss playing in a WSOP event on the the WSOP main feature table.
"@wsop Thanks for the invite, means a lot. Doc says no go. I'll be there in spirit, no bluff. Dr. Buss, best owner ever." was the response from five-time NBA champion.
While Bryant may not be at the Main Event this year, hopes are in the air that he makes the trip to Las Vegas for the event soon. With more and more athletes wanting to test their skills on the felt, the WSOP provides the greatest venue to do so. One of the highlights so far at the 2013 WSOP was Arizona Cardinals defensive end Calais Campbell.
Photo courtesy of WSOP.com.
You can follow all of the PokerNews coverage from the 2013 WSOP on our live reporting pages.