Doyle Brunson Bets on Himself in $50,000 Poker Players' Championship; Players Weigh In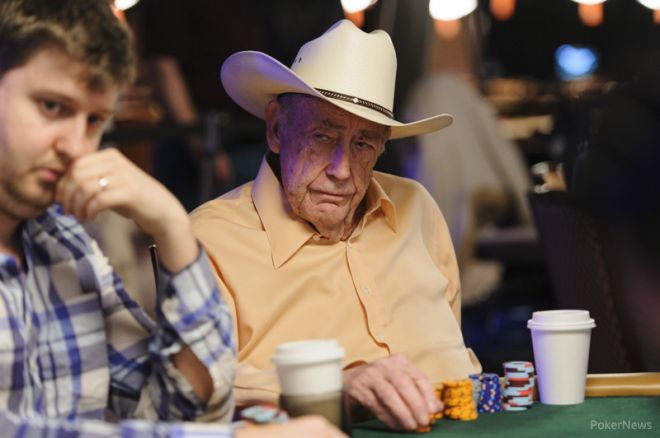 The biggest buzz at the World Series of Poker this week has been the return of Doyle Brunson. Event #55: $50,000 Poker Players' Championship is the only event Brunson has participated in this summer, and there's no indication that he will play another event this summer.
Prior to playing the $50K, the 79-year old poker legend posted a series of tweets that showed he still has a hunger for big action. Brunson apparently made bets with 28 players that could see him win up to $800,000 depending on whether he cashes, makes the final table, and/or wins the $50K tournament.
Going to the 50k tomorrow. I have bets aganist 18 of the very best players.30k to cash, 30k to make final table, 30k to win. #rungood

— Doyle Brunson (@TexDolly)
I figure to lose money on my bets in the 50k but if I go deep, there will be lots of blood on the carpet. Lose a little, but can win a lot!

— Doyle Brunson (@TexDolly)
Time closing in on the 50k. I've got so many bets my head is spinning. These young guys evidently think I can't compete.#wewillseeCHIPREESE

— Doyle Brunson (@TexDolly)
Total 28 bets.Not as high as it seems. Total of 800k. Seems like a lot, but bets are to cash, final table, win.#lotsofactionforasickolikeme

— Doyle Brunson (@TexDolly)
If I lose (and I'm a fav to lose) I will lose between 80K-140k. But if I win, I could win up to 800k maximum. Hoping to at least cash.#gulp

— Doyle Brunson (@TexDolly)
Even at his age, Brunson is hardly an underdog to do well in this event. In the inaugural event in 2006, when it was a H.O.R.S.E. tournament rather than an eight-game mix, Brunson finished eighth for $274,560. Two years later he made another deep run, taking 16th place to pocket $124,320.
Brunson declined an interview to discuss his bets with us on Monday. We did, however, snag a few comments from players regarding Brunson's chances of doing well and the reasons behind his bets.
"I actually have no idea who took some took action (against Doyle)," said Shaun Deeb. "I can say that I wasn't involved. I like Doyle's chances though. If he's willing to make bets then he knows he has the best of it. It's more motivation for him to come in and play an event. I know he adjusted his sleep schedule for this tournament. He looks really comfortable on the tables and enjoying himself and I'm sure he's playing his A-game."
"I've heard bets similar to this before," said Brian Rast, who told us he didn't have any bets with Doyle. "It's scary to take because essentially you're betting on someone versus a whole bunch of people. Most of the people aren't going to cash. In Doyle's instance, if he does cash then those people are going to lose a lot of money. It's an interesting bet. I didn't make any bets like that in this tournament because it feels like a bad sweat. You win a little bit most of the time but then other times you lose a lot."
Jason Mercier did confirm that he was one of the 28 players involved. "He made these bets because he wanted motivation to play well. He probably struggles with the long hours. It's tough for most of us so it's got to be more strenuous on him at times and you can't blame him. He wanted to try to maintain focus so he bet on himself because he can win a ton of money just if he cashes."
David Oppenheim insinuated that he might be involved in the action. He said, "Oh I definitely know why he made the bets. With the bets that he made he basically bet himself against a bunch of other players. If he happens to get deep then he will win a lot of money and doesn't stand to lose that much."
Erick Lindgren joined in on the conversation with Oppenheim and added, "It turns out Doyle is actually really smart. The rest of us are all really dumb and learning. So it's a good bet for him to make."
"Doyle is probably a favorite in the bets because he plays all the games, while most of the young players are strong at just no limit hold'em or pot limit Omaha," said Barry Greenstein, who has cashed four times in the $50K. "The only downside to these bets is stamina. Doyle is still pretty tough even though he's 79; he's one of the strongest guys you will ever meet. Without the bets he gets bored with tournaments. A lot of times he doesn't even feel like playing. Part of the reason he made the bets is just to give himself incentive to stay focused. Doyle and I don't usually bet against each other so I'm not involved. We used to in the past but now it's like we are on the same team. We're the old guys trying to fight the young guys who think they play better."
Allen Kessler believes that the side action is having an effect on the way Brunson is playing his hands.
"He actually caught a break yesterday with pocket jacks," said Kessler. "He got his chips in with an over pair to a
board, while the other play flopped a set with threes. Brunson hit runner-runner
for a bigger full house that helped to keep him alive. Before that he had been calling like 40,000 bets preflop and folding so it seemed like had lost his concentration. But after that hand helped build his stack he was playing a lot better. The bets he made were obviously an incentive to play better because he hasn't played in so long. If he stays focused I think he'll do well."
At the time of publish, Brunson was hanging on with only 115,000 chips in play with the average stack sitting at 380,000 with only 52 players remaining. Be sure to follow his progress in the PokerNews Live Reporting blog.