European Poker Tour President Edgar Stuchly on the Upcoming Season 10 and More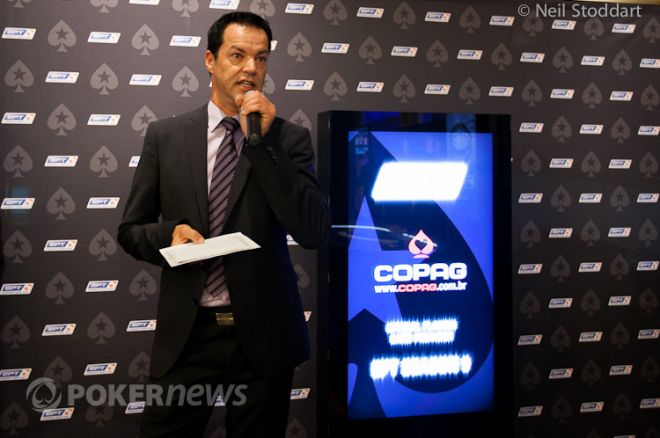 Season 10 of the PokerStars European Poker Tour kicked off this week in Barcelona, Spain. PokerNews has already set the stage with our EPT Barcelona Numbers Look and a special Where Are They Now featuring all nine past champions. Now, we'll present you with an interview with EPT President Edgar Stuchly, who took over the EPT at the start of Season 8.
Stuchly was previously Head of Poker at Casinos Austria and has more than 22 years experience in the poker industry. In 2009, he won the 'Poker Staff Person of the Year' Award for his contribution to live poker in Europe and has henceforth helped transform each EPT stop into a festival as opposed to a mere poker tournament.
PokerNews had the opportunity to sit down with Stuchly to talk everything EPT, both past, present and future. Before we get to that, remember, the PokerNews Live Reporting Team will be in Barcelona to bring you updates from the three big events: the High Roller, Main Event, and Super High Roller. You can follow the action beginning August 30 by visiting our live reporting section.
PokerNews: Why do you think the EPT has stood the test of time and has continued to get better despite a changing poker market?
Stuchly: We have a great partnership with PokerStars, offering players a variety of opportunities to join us via the online qualifiers. We have some great staff that are committed to creating world class poker events and are passionate about what they do. We have great poker, a great player experience, top destinations and venues, and we are constantly looking to innovate. For us, staying the same is not an option. The EPT evolves with the players, and we have always listened to player feedback. For us, the player always has, and always will, come first.
What is your favorite moment from the first nine seasons of the EPT and why?
Opening of Season 9 in Barcelona when I realized that players are excited by the new look and feel of the EPT and I saw the completely packed room. There I thought "yes, we have done the right thing."
Why do you think there hasn't been a double winner yet? If and when do you think the EPT will get a double winner?
I think this is just a matter of time and size of the events. It will happen for sure but don't ask me when — maybe in Season 10.
For you personally, what is (or has been) your favorite stop on the EPT and why?
I like them all because each one has its own flair. I love the combination of big city and beach, so I guess Barcelona is my favorite.
The EPT has decreased the quantity of stops during the entire season, but increased each stop in regards to more events and a larger festival of poker. What lent itself to this decision and do you believe it was a successful adaptation?
We listened very carefully to the feedback of the players and then took a decision to have fewer stops, more poker variety, bigger festivals, and a better player experience. Yes, it is very successful, just look at the numbers. We have also got a lot of great feedback from the players about how much they like the new schedule format.
What sorts of factors are considered when determining whether or not to add or drop a stop?
Past or expected participation, player feedback, easy access (travel), size of the venue, accommodation options, and experience away from the poker tables.

Most stops on the EPT have morphed from a series of tournaments to more of a festival complete with parties, events, and extracurricular activities. This seems to be popular amongst the player base. How do you go about scheduling a stop?
Organization of the events takes months of advanced planning, with a variety of dedicated EPT teams. We start with the location and venue — which venues have worked in the past and are popular with players, is there enough accommodation nearby for them to stay? We then move onto the event schedule, and decide how many events we are able to run, and what types. Open-face Chinese has appeared on the schedules at the last couple of events, and we often speak to the players to ask them what they would like to see on the schedule.
We have around 60 EPT and PokerStars staff that help to put together an event, 130 tournament staff, and six articulated lorries that drive across Europe to each destination, carrying over 20 tonnes of equipment. We have two TV sets, 90 TV crew, 85 poker tables, 200,000 poker chips, 10,000 player cards, and 500m of electrical cabling, so organizing an event is s a huge undertaking.
Do you try and find the best time slots in between other events around the world?
Due to the size of our events, we really have to plan very far in advance. We don't run an event in June and early July because it's good to have a break, both for the players and us, but that's it. Competitors also avoid clashing with us.
What are your expectations and goals for Season X of the EPT?
We want to grow our events further and deliver even a better player experience than in Season 9.
Qualify for EPTs, WSOPs, UKIPTs, and many more live tournaments: Download PokerStars today!
Can we expect any sort of special event or celebration to commemorate the 10th year of the EPT?
We want to make the whole season special, so we have a vast amount of improvements planned for Season 10 which will improve the player experience right through from qualification to the event. For example, we are increasing the range and availability of online qualifiers, with over 20 direct EPT satellites running every week, which will include new formats and a wide range of buy-ins and package types. There will also be increased guarantees on satellites running on the last Sunday of the qualification period for each event, with 10 seats guaranteed to most events,
We're also extending late registration for all events. So for the Main Events, the High Roller, and Super High Roller tournaments, players will be able to register as late as the start of Day 2, and for all other side events, registration won't close until the start of Level 5. Plus, we're also guaranteeing that for every EPT Main Event Day 1a, tables will be nine-handed, meaning a much more comfortable playing experience for those wishing to get their action in early.
As you may have already seen, we are welcoming Duracell Powermat as the newest sponsor of the EPT, and we are incorporating their wireless charging technology into the design of the EPT Season 10 tables, allowing players to charge their phones while sat at the tables. We are the first poker tour to offer this to our players.
Finally, we are aware that the EPT experience isn't all about poker, so we're looking at offering special free player activities at all stops during Season 10, starting with yacht party trips in Barcelona, giving players and their guests the opportunity to get away from the tables and relax.
Get all the latest PokerNews updates on your social media outlets. Follow us on Twitter and find us on both Facebook and Google+!