The WSOP on ESPN: Ivey & Hellmuth Fall, Steinberg Crushes & PokerNews' Bracelet Moment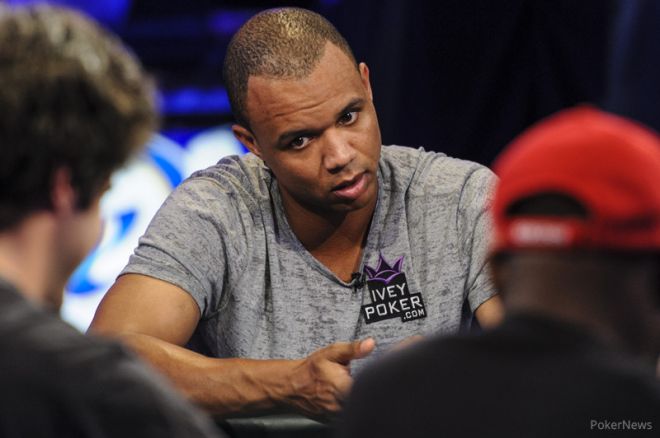 The 2013 World Series of Poker continued on Tuesday night with two brand new episodes of the Main Event on ESPN. Last week, the Main Event kicked off with two hours of coverage from Day 3 that featured Mark "P0ker H0" Kroon and Phil Ivey, among others.
This week's action picked right back up on Day 3 with 1,086 players remaining. Here are the top ten chip counts at the top of the broadcast:
| Place | Player | Chip Count |
| --- | --- | --- |
| 1 | Somar Al-Darwich | 802,500 |
| 2 | Matthew Huey | 703,200 |
| 3 | Michael Mizrachi | 569,700 |
| 4 | Victor Figueroa | 528,500 |
| 5 | Kevin Williams | 524,300 |
| 6 | Dick Van Luijk | 521,200 |
| 7 | Rachid Ben Cherif | 501,600 |
| 8 | Rep Porter | 492,200 |
| 9 | Chun Chen | 479,900 |
| 10 | Ryan Olson | 466,400 |
Hellmuth's Entrance: ESPN took a look back at Phil Hellmuth's off-the-wall and over-the-top entrances over the years, including his General Patton and Caesar outfits, and the numerous times he's entered with a harem of beautiful women. This year the "Poker Brat" made no spectacle, instead taking his seat with a simple greeting. Don't get me wrong, I think Hellmuth's past entrances were corny, but I liked them. I can't help but feel like poker is losing its flavor. Bring it back in 2014 Mr. Hellmuth!
Side Action: In the front of the Rio All-Suite Casino Hotel there is a poker room. It is far removed from the madness of the WSOP located in the convention center, but it is usually full of locals and visitors looking to escape the crowded hallways. This week, Hellmuth and last year's WSOP Main Event runner-up Jesse Sylvia paid a visit to the poker room to play some low-stakes hold'em. Needless to say, the players at the table were surprised and excited to play alongside players they've no doubt watched on TV.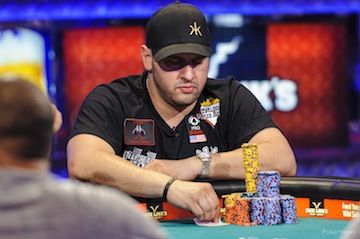 Hellmuth then bought a bottle of Dom Perignon for the $1-$3 table, which of course was a well-received treat. For me, this was a great segment that helped bridge the gap that exists between the players that play low and high stakes. It also helps reinforce poker celebrity, which is of course good for the game. I'd love to see pros make surprise visits to different rooms throughout Vegas. It's certainly gets the juices flowing.
Steinberg vs. Mizrachi: Max Steinberg, who has been on a tear in 2013 and was featured heavily in our WSOP on ESPN National Championship recap, is known for his aggressive style and making large bets. Likewise, Michael "The Grinder" Mizrachi is also aggressive and isn't afraid to put chips in the pot. When these two are at the same table, which they were in the first hour of broadcast, there's going to be fireworks.
In one hand, Steinberg held the
in early position and opened for 9,000 when the blinds were at 1,200/2,400. Action folded to Mizrachi in the big blind and he defended with the
. The
flop was anything but dry as it gave Mizrachi a double-gutshot straight draw and Steinberg top pair with a flush draw. The former ended up check-calling a bet of 13,000 from the latter, the
turned and Mizrachi led out for 25,000 with his straight. Steinberg, who had made his flush, popped it to 70,000, Mizrachi called, and the
completed the board on the river.
Mizrachi returned to checking and Steinberg bet a hefty 120,000. Mizrachi called for about a third of his remaining stack and saw the pot pushed to his opponent. With that, Mizrachi lost 48% of his stack and dropped to 233,500 while Steinberg chipped up to 612,300.
Did You Know?: The last time there wasn't a double bracelet winner was way back in 1999? That's right, it for more than a decade at least one players has one multiple bracelets. Here's a look at those who have done so since 2007: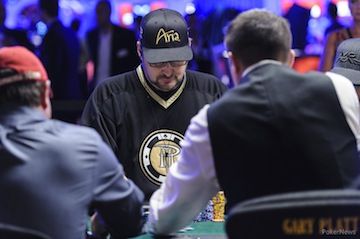 | Year | Player | Bracelets |
| --- | --- | --- |
| 2013 | Tom Schneider | 2 |
| 2012 | Greg Merson | 2 |
| 2012 | Phil Hellmuth | 2 |
| 2012 | Antonio Esfandiari | 2 |
| 2011 | Brian Rast | 2 |
| 2010 | Frank Kassela | 2 |
| 2009 | Jeff Lisandro | 3 |
| 2009 | Phil Ivey | 2 |
| 2009 | Greg Mueller | 2 |
| 2009 | Brock Parker | 2 |
| 2009 | JP Kelly | 2 |
| 2008 | John Phan | 2 |
| 2008 | Jesper Hougaard | 2 |
| 2007 | Tom Schneider | 2 |
Hellmuth's Run is Done: Over at the secondary feature table, Vic Cianelli opened for 5,200 with the
and Hellmuth called with the
on the button. The
flop was trouble for Hellmuth as it brought all low cards and his overpair was no good. Cianelli was first to act and bet 10,200, Hellmuth min-raised to 20,400 and Cianelli moved all in.
"Alright, I guess I call," Hellmuth said and called off his last 15 big blinds. Hellmuth discovered the bad news, got out of his seat and put on his jacket. The
turn gave him a flush draw, but the
river missed it. Hellmuth, who has 99 WSOP cashes (the most in history) and 48 final tables (also the most), shook hands with the entire table and told each player, "Good game."
Hellmuth the Valet: Headed into the second hour of broadcast, just 861 players remained in contention and obviously Hellmuth was not one of them. With that said, he was back at the Rio, but not as a player. Instead he was serving as an attendant at the Rio valet! Donning a grey polo, Hellmuth parked cars, collected tips (including a $5 one from Greg Merson and Anthony Gregg) and did his best to "work." Seriously though, I wonder if Hellmuth ever had a menial job growing up.
Everyone seemed flabbergasted yet willing to have the former world champ park his or her car. Need I remind you that the Rio parking lot is the very same one where Hellmuth crashed a racecar a few years back. I think I'll use the self-park!
Ivey Eliminated: Midway through the second episode, Ivey got involved in a hand against Steinberg in which both had flopped a set (there was a third player in there too). Unfortunately for Ivey, as well as his millions of fans, his bottom set was bested by Steinberg's middle set. Ivey ended up moving all in on the flop and of course Steinberg called.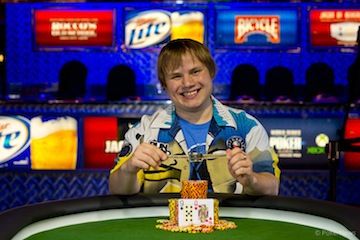 "C'mon man," Ivey moaned upon seeing the cards. There was 909,000 in the pot, but the legendary Ivey was unable to catch his one outer. Just like that, Ivey was sent packing late on Day 3 short of the money while Steinberg became the new chip leader with just over a million in chips.
Chad Holloway's Front Page News: Every episode of the WSOP on ESPN features quick bracelet moments from the preliminary events. Having won a bracelet in Event #1 $500 Casino Employees for $84,915, I thought they might make mention on the broadcast. Well, they did this week and did so by not only making mention, but also by showing footage from play and my winner's interview. For more than a decade I've hoped to get on ESPN through poker, and while I've been in the background of hands in previous years, nothing compares to Lon McEachron saying your name on air.
Tune in Next Week: The WSOP on ESPN will continue every Tuesday through November. You can check out the full schedule by clicking here. Next week's episodes will feature the start of Day 4 of the Main Event. If you happen to miss it, check back right here on PokerNews for a full recap of the action.
Play for a share of $15,000 in the 3x $5,000 Gala Poker Freeroll Series
Get all the latest PokerNews updates on your social media outlets. Follow us on Twitter and find us on both Facebook and Google+!