The WSOP on ESPN: Kroon's Blowup, Ivey's Misstep and More on Day 3 of the Main Event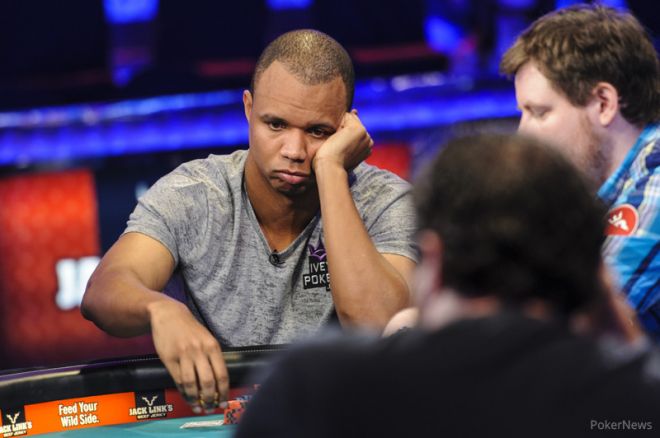 ESPN's coverage of the 2013 World Series of Poker continued Tuesday night with the first two episodes of the Main Event in Las Vegas. The action began on Day 3 with the 1,723 remaining players all seated together first the first time inside the Rio All-Suite Hotel and Casino.
The coverage kicked off with several notables still alive, including Phil Hellmuth, Phil Ivey, Greg Merson, Doyle Brunson, Michael Mizrachi, Annette Obrestad, and comedians Kevin Pollak and Ray Romano. They were all chasing Mark Kroon, who entered the day with 507,300 in chips.
Here's a look at the top stacks when play began:
Start of Day 3 Chip Counts
| Place | Player | Chip Count |
| --- | --- | --- |
| 1 | Mark Kroon | 507,300 |
| 2 | Victor Figueroa | 460,600 |
| 3 | Dick Van Luijk | 435,000 |
| 4 | Nick Schwarmann | 413,600 |
| 5 | William Reymond | 405,000 |
| 6 | Michael Mizrachi | 394,600 |
| 7 | Jason DeWitt | 382,900 |
| 8 | Aage Ravin | 370,900 |
| 9 | Ryan Olson | 364,700 |
| 10 | Sergio Castelluccio | 360,500 |
The Feature Tables: Nine-time bracelet winner and former November Niner Phil Ivey headlined the ESPN feature table. He was joined by several amateurs, including Facebook software engineer Ola Okeloa, farmer Phil Mader, and Willie Horton, who was seated directly to Ivey's right. In a pregame interview with ESPN's Kara Scott, Horton said Ivey is one of his idols and he was "super nervous" going into the day.
On the ESPN secondary table, the legendary Doyle Brunson was wielding a healthy stack with more than 210,000 chips. He was joined by high-stakes pro Minh Ly and notorious trash talker Shawn Sheikhan, best remembered for his encounters with Mike Matusow deep in the 2004 WSOP Main Event.
A Big Left Hook on the Turn: The broadcast began with a few hands from Ivey's feature table, but the first big hand took place at the secondary table — and none of the aforementioned notables were involved. From under the gun, Pawel Zawadowicz raised to 3,500 with the
and Alan Weiland called from the big blind. The flop brought
, giving Weiland a full house and a stranglehold on the hand. Both players checked, and Zawadowicz hit gin with the
on the turn, giving him a bigger boat. The polish player bet 4,500 and Weiland called, bringing the
on the river. Weiland fired out 10,600 and was put to a decision for all his chips when Zawadowicz raised enough to put him all in. Weiland called and discovered the bad news, and he grabbed his bag before making his way out of the tournament area.
Bellande Crippled: The ESPN crew has filmed many of Jean-Robert Bellande's WSOP misfortunes in the past. They found him in trouble again on Day 3; the former Survivor star was holding pocket kings and facing a four-bet worth 40,000 from Kevin Williams. Bellande decided to move all in and Williams snap-called with pocket aces. A 415,400-chip pot was on the line, and the
board left Bellande with just 34,300. He instantly began reliving a similar situation from a few years back when he had aces against kings deep in the Main Event and his opponent hit a king on the river. He then pulled up Twitter on his phone and hashtagged: #brokewithnochips.
Kroon Blooms: With his close friend Phil Hellmuth standing behind him for a quick chat, Mark Kroon found
and got into a preflop raising war with Michael Hurey, who had
. After Hurey four-bet to 34,000, Kroon announced "all in" to put Hurey at risk, and Hurey made a quick call.
"Thank you, Phil!" Kroon happily exclaimed as he tabled his aces. "I've never said that before. Never in my life. I might be cheering too quick though."
A harmless
board ran out for Kroon, who gave Hellmuth a fist pound before stacking his new chips and extending his chip lead. This was the first time viewers got a good look at the energetic Kroon, who played poker for a living before opening a bar in his home town of Madison, Wisc.
Side Action: In ESPN's new feature segment, actor and comedian Kevin Pollak is shown having a conversation with a digital cartoon-ish version of the 2013 WSOP Main Event bracelet. Only, the bracelet's voice is that of Pollak ... doing an impersonation of Christopher Walken. If it sounds weird and uncomfortable, that's because it is. Let's move on.
Mader's Big Laydown to Ivey: Late in Tuesday's broadcast, Ivey was kicking himself for the way he played a hand against Nebraska farmer Phil Mader. This is the hand he was talking about: Mader raised preflop to 3,500 from early position and Ola Okeloa (late position) and Ivey (big blind) called. The three biggest stacks at the table saw a flop of
and Ivey, with
for a set of fours, checked. Mader had
and bet 5,500 with his top pair. With
and middle pair, Okeloa called, and Ivey responded with a check-raise to 18,000. Only Mader called, and the
hit the turn. Ivey had Mader drawing dead and bet 35,000. Mader called.
The
peeled off on the river, giving Ivey a full house and Mader trip queens. Ivey moved all in, and the broadcast went to a commercial break while Mader went into the tank. When the show returned, Mader made a huge fold, and Ivey scooped a big pot.
Later on Day 3, Ivey's flopped two pair was upended by Mader's rivered set of jacks after all the chips went in on the flop, costing him a good portion of his stack. Ivey grumbled that he should have bet smaller on the river in the previous hand so that Mader would have called with his tips queens and been crippled — therefore his damage on this hand wouldn't have been nearly as substantial.
Moneymaker's 10th Anniversary: ESPN took a trip down memory lane, looking back at Chris Moneymaker's elimination of Phil Ivey on the 2003 Main Event final table bubble. Ivey was all in on the turn with a full boat (nines full of queens) against Moneymaker's trip queens, but the amateur accountant hit an ace on the river to make a bigger full house and eliminate Ivey from the tournament. The rest, as they say, is history, and Moneymaker's eventual win helped spark the poker boom.
"It was obviously a pretty crucial bust because he would have been a force to be reckoned with at the final table", Moneymaker said on Tuesday's broadcast.
Everybody Goes Broke Here: The witty Norman Chad came up with that line when Ray Romano, the star of the sitcom Everybody Loves Raymond, was at risk preflop with kings against an opponent's aces. Romano didn't get any help on the queen-high board, and he graciously exited the Amazon Room.
Mic Check with Daniel Negreanu: "Daniel's whole life is a mic check and he never says the wrong thing," said Norman Chad about the Team PokerStars Pro. I'll politely disagree with the second part of that statement, but Negreanu certainly is entertaining. ESPN ran several short clips of Negreanu chatting with tablemates, fans on the rail, dealers, and even himself during the Mic Check segment. Unfortunately, Negreanu busted on Day 2 and was unable to gain any ground on Matthew Ashton for WSOP Player of the Year.
An Embarrassed Chip Leader: Mark Kroon was cruising early on Day 3, but he got out of line against Somar Al-Darwich by running a huge bluff, gifting 60% of his stack to Al-Darwich in the process. With the board reading
, Al-Darwich slyly checked with
for the nut straight, and Kroon bet 51,800 into a pot of 113,600. Al-Darwich fired back with a raise worth 167,500. Kroon elected to make a move and raised again, this time for 311,800. Al-Darwich quickly moved all in for about 28,000 more, giving Kroon 27-to-1 odds to make the call.
"You know I don't have a hand, obviously," Kroon told his German opponent as he went into the tank. "But obviously I can't fold." Kroon did indeed call and handed the chip lead over to Al-Darwich.
Tune in Next Week: Almost every week leading up to Nov. 4, ESPN will air two episodes of the 2013 WSOP Main Event. Next week's coverage will begin with 1,086 players remaining and Somar Al-Darwich leading the way with 802,500 in chips. Be sure to either check your local listings or come back next week for our recap of the action.
Don't forget to follow us on Twitter and like us on Facebook.