Inside Gaming: London-Based 2UP Close to Purchasing Atlantic City Casino, and More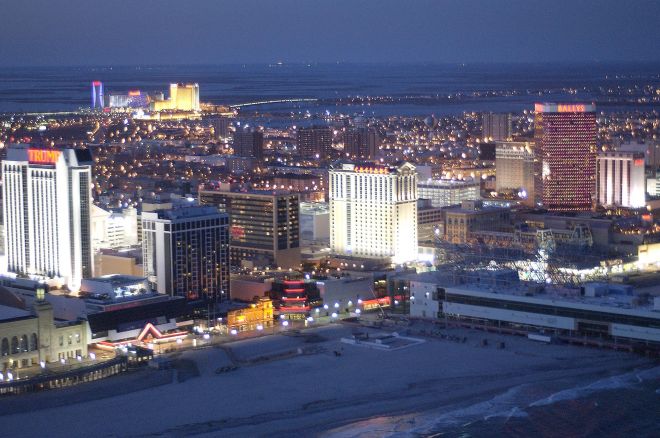 This week's Inside Gaming takes a look at 2UP's plan to purchase a casino in Atlantic City, Marlyland's record casino numbers, Suffolk Downs' formal casino development plant, and Sri Lanka's potential mega casinos.
2UP Plans to Buy Atlantic City Casino
In July, we reported that London-based company 2UP Gaming and New York-based MidOil USA had acquired $330 million in funding to buy and refurbish a casino in Atlantic City.
The group refuses to give any information regarding the casino, other than it is on the Boardwalk. There are nine casinos located on the Boardwalk, including the Showboat, Trump Taj Mahal, Trump Plaza, Caesars, Tropicana, and Hilton.
Vince Crandon, managing director of MidOil, says that Asian financial backers are also involved with the project. In July the two companies were in talks with several casinos, but the financial backers are now traveling to the United States to finalize a deal.
"We've agreed on the price and the other conditions. I just need to get a final agreement done," Crandon said.
Crandon initially wanted to make an announcement by Labor Day, but due to negotiating and visa issues, he was forced to wait. He also said that, had they been unable to purchase an existing casino, the two companies would have built one on the Boardwalk. That plan is off.
"Building is off the table," Crandon said. "It's absolutely an acquisition of an existing property."
Matthew Levinson, chairman of the New Jersey Casino Control Commission, says he has met with Crandon, but that his group hasn't filed any papers yet with the commission. Levinson believes that the project could show renewed faith in the AC market.
"This shows that people are still interested in Atlantic City," Levinson said. "If 2UP buys or builds or even if nothing happens, it still shows that companies like 2UP and MidOil are interested. Hopefully, I'll see more of these projects come to my door."
2UP wants to use AC as a launching pad for online wagering in the United States. New Jersey is scheduled to launch internet gambling on Nov. 26.
The Press of Atlantic City has more.
Maryland Casinos Crush August
According to the Washington Post, Maryland's four casinos raked in $71 million in August, a record for the Old Line State. More than $28 million was sent to the state's Education Trust Fund.
Maryland's State Lottery and Gaming Control Agency released the figures on Thursday, and three-fourths of the revenue came from Maryland Live, the state's largest casino. Located in Arundel Mills, the airport-terminal-size property earned more than $53 million in gross revenue last month, bringing in more than $50 million for a fourth consecutive month.
Maryland Live's 4,339 slot machines generated $35.5 million and their 122 tables, featuring blackjack, baccarat, craps, and other games, generated $17.4 million. The new poker room, which Inside Gaming looked at last week, generated $350,000 in only three and a half days of business.
Casino officials believe that the split-level, 52-table poker room will generate more than $1 million a month. Since opening, it has been one of the busiest rooms in the country, and according to the Washington Post, only the Commerce Casino had more tables running on Wednesday night.
Casino gambling has been growing at a rapid pace in Maryland since the voters approved an expansion in November. Excluding Rocky Gap Casino a small resort in Western Maryland, casino revenue was up about 50 percent ($22 million) when compared to last year. Maryland Live alone was up $20.9 million.
Slot revenue at Maryland Live and Hollywood Casino Perryville is taxed at 67 percent. Rocky Gap (50 percent) and the Casino at Ocean Downs (43 percent) are both taxed more leniently. The casinos with table games are taxed at a 20-percent rate.
The Washington Post has more.
Suffolk Downs Files Formal Casino Development Plan
According to Boston.com, the owners of the Suffolk Downs racetrack have filed formal plans to build a $1 billion gambling resort in East Boston.
The proposal, released by the Boston Redevelopment Authority on Tuesday, includes a massive, 150,000-to-250,000 square foot gaming space with between 4,000 to 6,600 gaming positions designated for either slot machines and table games. The property would also include two luxury hotels, providing a total of 450 rooms, between 24,000 and 46,000 square feet of meeting and entertainment space, bars, nightclubs, up to 17 restaurants, up to 30,000 square feet of retail space, a spa, thoroughbred horse racing, and simulcast wagering.
There would also be one or more World Series of Poker rooms.
Suffolk Downs filed the proposal now because they wanted it in before a new mayor takes office. Some candidates don't support a casino at the racetrack, while Mayor Thomas M. Menino does.
Last week, the track entered a community agreement with Menino that guarantees Boston an annual payment of at least $32 million if a casino is developed there. The deal, which still needs to be approved by the voters, also guarantees 4,000 jobs and a $33.4 million up-front payment to East Boston.
The development review process will take place while the racetrack contends for the only state gambling license in the Boston region. Suffolk Downs is entrenched in a battle with Steve Wynn, who wants to build a resort along the Mystic River, and Foxwoods Massachusetts, which is trying to build a casino in Milford.
The state is expected to choose the winning proposal next year.
Wynn and Everett officials have openly accused Menino of unfairly obstructing the Everett proposal. Both the City of Boston and Wynn Resorts met in Boston on Wednesday, and the state gambling commission gave the two sides the rest of the week to resolve their dispute. If they don't, there will be a formal hearing held to decide the matter.
Boston.com has more.
Photo courtesy of djoybeat.com
Get all the latest PokerNews updates on your social media outlets. Follow us on Twitter and find us on both Facebook and Google+!