2013 WSOP Europe: Daniel Weinman Talks OFC, Poker With John Smoltz, and More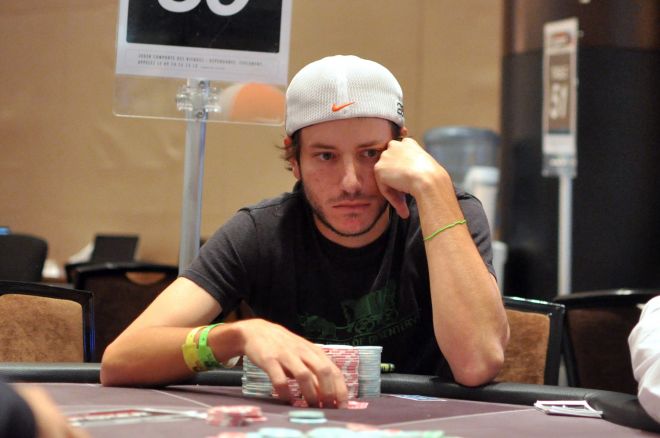 With less than $700,000 in career live tournament earnings, Daniel Weinman isn't a famous professional poker player. He isn't patched up, he only has 613 followers on Twitter, and even the most hardcore poker fans would likely walk by him without even thinking of doing a double take.
PokerNews became familiar with Weinman on the World Series of Poker Circuit in 2013, as he made the final table at Harrah's Cherokee (finishing second for $154,772) and Harrah's New Orleans (fourth for $77,238). He says that he hates tournaments, though, which is why we were so surprised to see him in the PokerStars.com European Poker Tour London Main Event and now in France for the 2013 World Series of Poker Europe.
"I'm chasing the open-face [Chinese poker] action to be honest," said Weinman, who is still alive with two tables left in Event #2: €1,100 No-Limit Hold'em Reentry.
Weinman played in the €2,000 open-face Chinese poker (OFC) event at EPT London, but says that the rules were changed in the middle of the tournament and it cost him a victory. Despite not being able to take home the title, he's still pleased that Phil Hellmuth won the tournament.
"It's great, he thinks he knows what he's doing," Weinman said, grinning. "There's always a seat open for Hellmuth."
A former Supernova Elite on PokerStars, Weinman believes he is the best OFC player in the world.
"It's not even close," he said, smiling. "I'm serious. Everybody thinks they're the best, that's why the game runs."
Weinman became a professional poker player after graduating from Georgia Tech. He says he's never looked back since making that decision, and after binking a few big scores on the tournament circuit this year, he now has "some money to gamble with."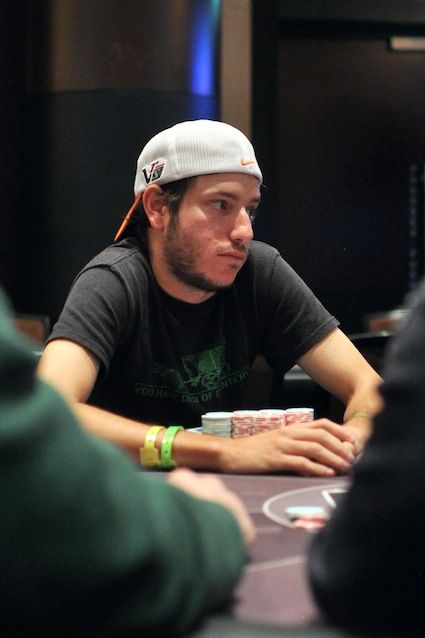 At the 2012 WSOP Europe, where he first learned to play OFC , Weinman met Hellmuth, Brandon Cantu, and David Benyamine. It was trial by fire for Weinman against the big-named pros — he lost between $30,000-$40,000.
"Beyamine got me. They were calling me everyday, wondering where I was," said Weinman. "Now I've learned a bit and I still get the action. The game has changed a lot. Nobody knew what they were doing last year, including me, and I was playing too big."
Weinman resides in Atlanta with Luke and Michael Schwartz. He opted not to move after Black Friday, despite being SNE, because he liked to be at home and travel the circuit. According to him, all the trio does is play golf and OFC. Weinman is a two handicap, but can't get it down scratch.
"I play way too much [golf]," said Weinman, who was once a nationally-ranked tennis player before suffering a shoulder injury. "I'm going to take my first golf lesson ever pretty soon."
On the golf course, Weinman regularly tees it up with Atlanta Braves legend John Smoltz. Smoltz, who is one of two MLB pitchers to ever win 20 games in a season and record 50 saves in season, is likely to be enshrined in the Baseball Hall of Fame one day and often plays with Tiger Woods.
"He beats me up on the golf course," said Weinman. "And he's addicted to open-face."
Weinman doesn't play OFC on any of the apps anymore, except against Smoltz. The two have eight games going against one another.
The pair took a golf trip to New York with a few other friends and played "three of the nicest courses in the country," and yet all Smoltz could concentrate on was the OFC action.
"He'd hit a shot then go running back to the cart to deal another hand," said Weinman. "It's $500 to play this round of golf, we have nice caddies, and he just wants to fire open-face in the cart the whole time."
Weinman says that the OFC game of choice right now is pineapple, but also made mention of another variant called "chainsaw."
"That's a whole different thing," said Weinman. "I don't even want to play it anymore."
He believes that pineapple is the future of OFC, even if it feels like flipping coins some times.
"It's fun," said Weinman. "It's good for the game."
The winner of Event #2 will walk away with €129,700 along with the WSOP gold bracelet, and Weinman knows that the deeper he goes, the bigger his OFC bankroll becomes.
Get all the latest PokerNews updates on your social media outlets. Follow us on Twitter and find us on both Facebook and Google+!