Alex Millar and Marc-Andre Ladouceur Discuss Team PokerStars Online Deals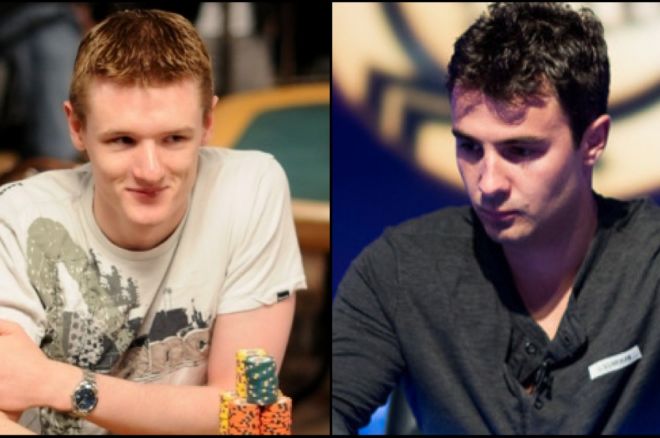 On Friday, Team PokerStars Online introduced two more players to the team, Marc-Andre "FrenchDawg" Ladouceur and Alex "Kanu7" Millar. Ladouceur and Kanu join a well-respected group of online professionals, including Ike Haxton, Randy Lew, Mickey Petersen, Shane Schleger, and many more.
Ladouceur is a regular in the mid-stakes cash games, achieving SuperNova Elite status each of the last four years, and travels to most all of the PokerStars-sponsored live events. Millar is far from a regular on the live tournament circuit, but he is one of the most feared heads-up no-limit hold'em players in the world, regularly sparring with the likes of Viktor Blom, Douglas Polk, and Ben Sulsky in the largest games offered.
"I feel very fortunate and very lucky," Ladouceur said. "I've always played exclusively on Stars ever since I started, and to actually join Team PokerStars Online is really, really cool to me."
For Millar, who frequents the nosebleeds, the union between PokerStars and Full Tilt Poker was paramount in his decision to join Team Online.
"I wouldn't have been able to do the deal otherwise," Kanu said. "I play the most on PokerStars, but I definitely couldn't have stopped playing on Full Tilt in order to take a sponsorship deal. That was pretty crucial."
Kanu says he wouldn't accept the deal he has with PokerStars from any other company, even if they offered three times the amount of money.
Both of the new members of Team Online believe they can bring their online ring game experience to the company, and help bridge the gap between customers and the red spade.
"I hope I can be a liaison between the regs I know, from either playing live or online, and Stars," Ladouceur said. "I don't claim I can fix anything myself. I know right now there's quite a bit of buzz about seat scripts, and I know Stars is looking into it."
Millar, who helped develop the PokerStars All-Star Showdown before he was even a member of Team Online, agrees that that there are a lot of complicated problems that won't be fixed easily.
"There's a big problem with bum-hunting," said Millar, referring to the idea that some regulars will sit at tables and only play if a fish sits down. "You can't really blame the guys who do it. If they have an opportunity to make five figures a year ... and can't beat anyone except fish, then they're going to do that."
Millar said he stopped playing six-max entirely because only players with seating scripts were able to get into the games, but PokerStars only lists one table that's not running now. Millar also says that the company is prepared to roll out beneficial changes to heads-up games as well.
"The future is looking a bit brighter," said Millar. "There will be less people bum-hunting and more people looking to play poker, which is good."
Ladouceur and Millar were both introduced to poker during their years at university, Ladouceur at the University of North Carolina Greensboro and Millar at Warwick University. The Brit had a more traditional start, depositing a small amount of money online and running it up, while Ladouceur, who was running home games and managing a club in the First in Flight state, knew a friend that was mass multi-tabling to attain SuperNova Elite, and opted to dive headfirst onto the virtual felt.
"I got started 24-tabling $1/$2 cash games," chuckled Ladouceur. "I just dove right into it. I think the first time I played I had 12 or 14 tables, and then I was playing 24 within two weeks ... It took me a while to break even, but then I caught on and moved up to $2/$4 and $3/$6. Nowadays, SuperNova elite is a lot easier on me because I can play bigger."
Millar believes he wouldn't be where he is today if he didn't win at the start of his poker career.
"If you run hot to start with, then when you do hit a bad run you remember what it's like to win. You can then put in the effort to get to the stage where you're winning again," he said.
Off of the felt, Millar and Ladouceur will have new social responsibilities as members of Team Online. Both players will have to start a blog, and Millar joined the world of Twitter.
"If they're going to pay me to represent them and help their brand then I have to have a way of doing that," Millar said with regards to his new Twitter account (@kanupoker). "Sitting in my flat and doing nothing doesn't really do that."
Ladouceur, who already has a Twitter account (@MarcAndre_FDawg), hinted that his blog will focus on the more social aspects of traveling the poker circuit. The French Canadian will be in Las Vegas next week to support his friend Marc McLaughlin at the World Series of Poker Main Event final table, so perhaps he will write up a small piece about the atmosphere in the Penn & Teller Theatre.
For a look at the entire PokerStars Team Online roster, click here.
Get all the latest PokerNews updates on your social media outlets. Follow us on Twitter and find us on both Facebook and Google+!